Peloton will hold another Bad Bunny artist series as part of their Latinx & Hispanic Heritage Month celebration. The series will include 3 classes, including a two-for-one ride with Camila Ramón and Cody Rigsby. Peloton shared the news via Instagram:
You guys can't get enough of our @badbunnypr Artist Series classes, so by popular demand, he's back for the three-peat! Join @milamariana, @codyrigsby, @la_tiamariana, and @radlopz starting Sat., Oct. 1 to move through the best of Benito as we continue to celebrate Latinx & Hispanic Heritage Month.
The series will launch on Saturday, October 1 and will include three classes across three modalities. You can view the complete class list below:
Bad Bunny Peloton Classes & Schedule & Workouts – Featured Artist Series
30 min. Bad Bunny Two for One Ride – Camila Ramón and Cody Rigsby – 10/1/22 @ 9:30am ET
30 min. Bad Bunny Yoga Flow – Mariana Fernández – 10/5/22 @ 10:00am ET [On Demand]
30 min. Bad Bunny Full Body Strength – Rad Lopez – 10/5/22 @ 6:30pm ET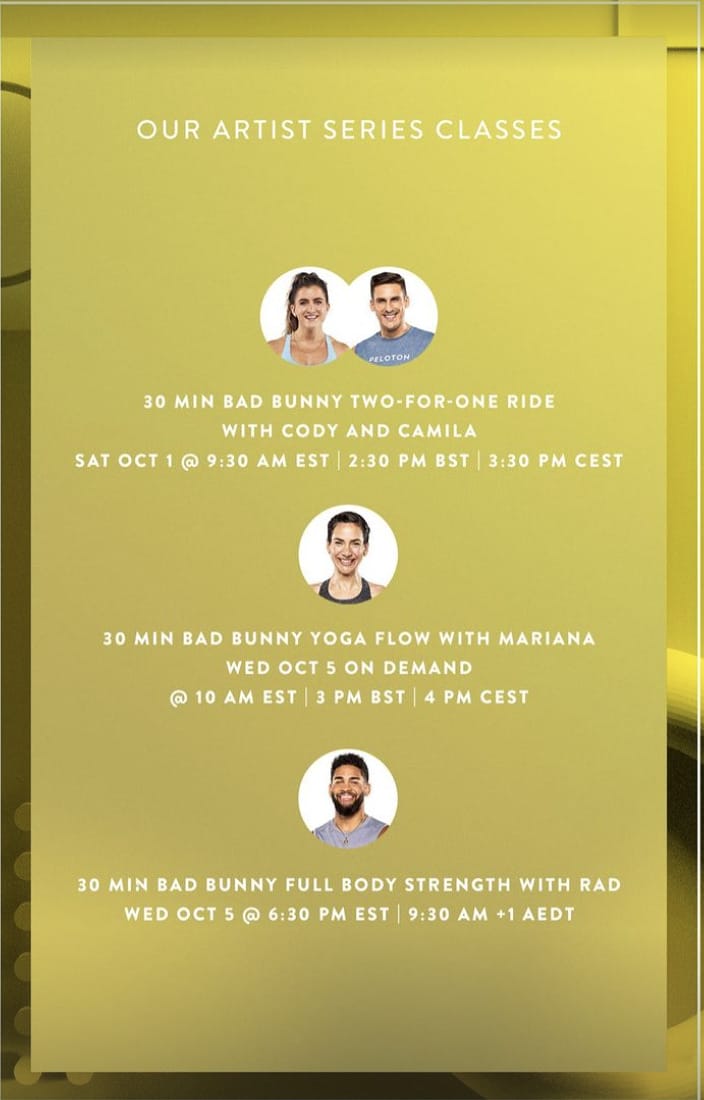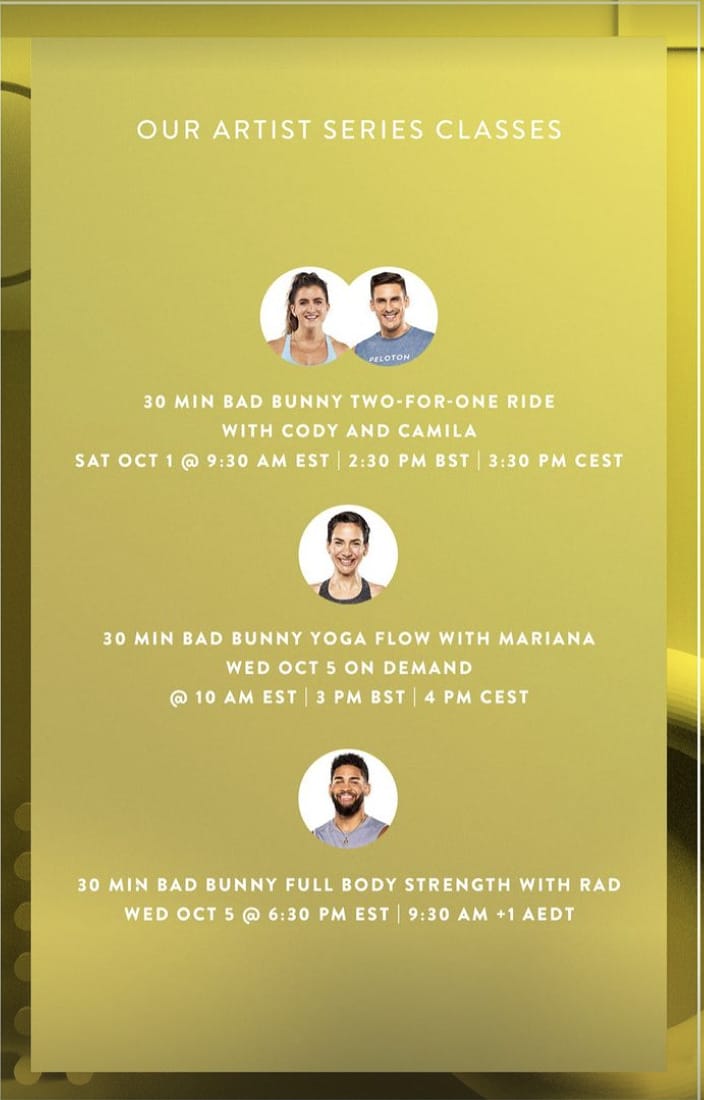 Cody and Camila teased a potential collaboration on social media yesterday via a video of them dancing to Bad Bunny. Cody's caption read: "Start a rumor! It might just be true."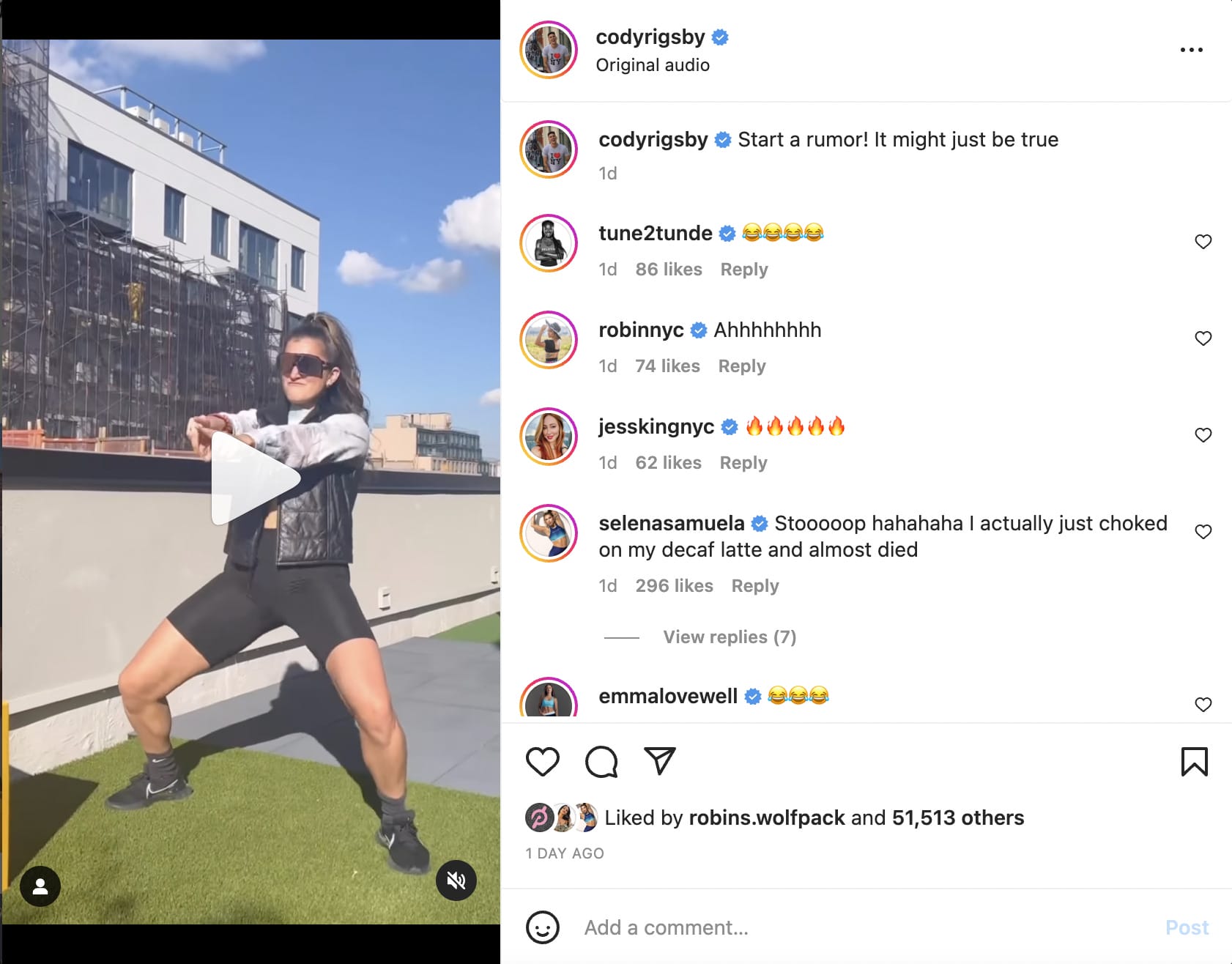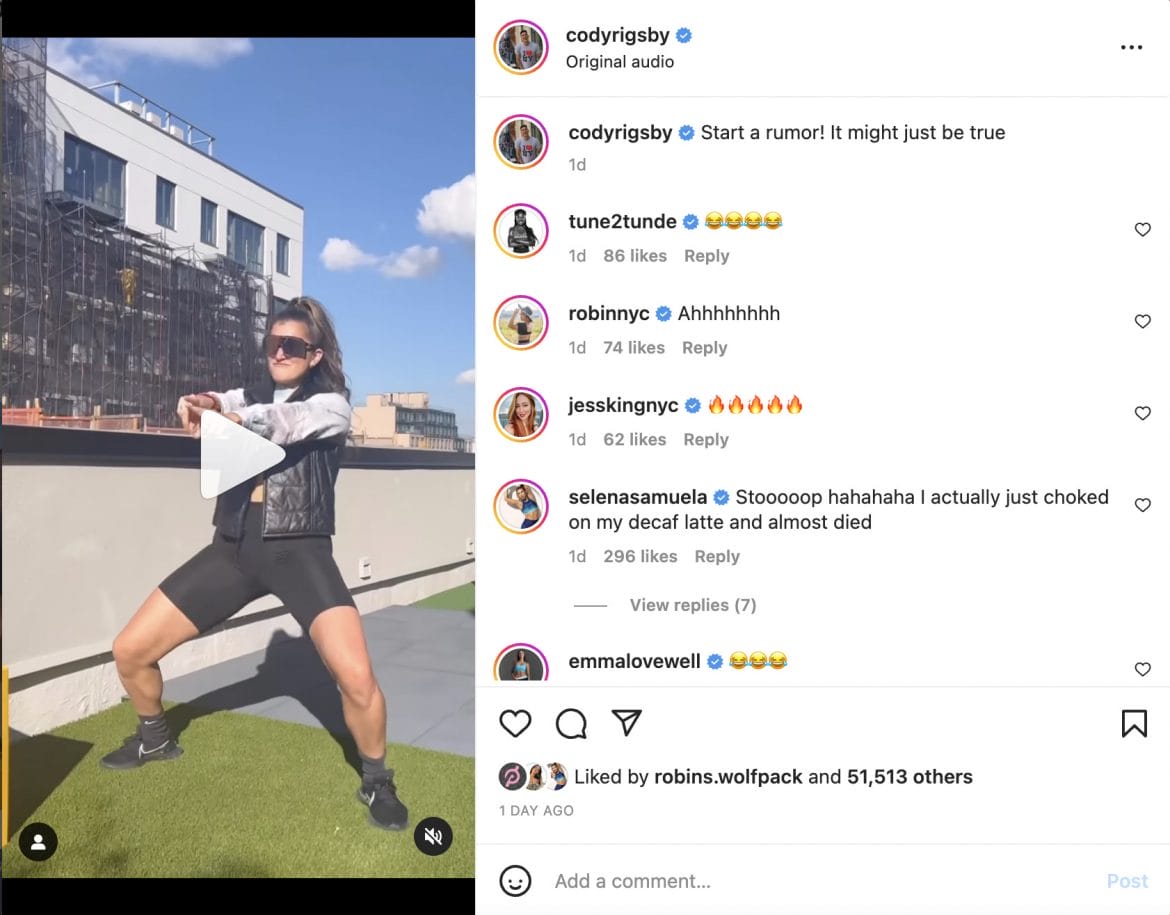 If you enjoy Peloton's classes that feature multiple instructors, check out our two-for-one and multiple instructors class list.
This is Peloton's third Bad Bunny artist series. Cody taught a ride in 2019; and Camila and Mariana Fernández taught a ride and yoga flow, respectively, in Spanish last year. Bad Bunny is one of the most popular artists in the world, and he made history at last month's MTV Video Music Awards (VMAs) by becoming the first non-English language performer to win the Artist of the Year award.
Members can expect to earn an artist series badge – and likely a Latinx & Hispanic Heritage Month badge – for completing any of the Bad Bunny classes. If you're looking to acquire additional badges, you can always browse the complete list of available badges in our guide.
If you're looking for other past Peloton featured artist series, you can browse our comprehensive artist series list.
Be sure to check out all of Peloton's Latinx & Hispanic Heritage Month content, which will run through October 15. You can find all classes in the Latinx & Hispanic Heritage Month Collection via Peloton, or via our Pelo Buddy list.
Will you be opting into the newest Bad Bunny artist series?
---
Want to be sure to never miss any Peloton news? Sign up for our newsletter and get all the latest Peloton updates & Peloton rumors sent directly to your inbox.