Peloton is hosting a virtual community event on Thursday, September 29 in honor of Latinx & Hispanic Heritage Month. The event description reads:
Our lived experiences and cultural heritages are a part of our being, whether consciously or subconsciously. Latinx and Hispanic culture is really a collection of diverse cultures that are all beautifully unique, while also sharing so many remarkable similarities. There's power in this community coming together, and moving forward as a collective.
In keeping with the commitments of the Peloton Pledge, we are honoring Latinx & Hispanic Heritage Month by hosting a virtual community event with instructors Mariana Fernández and Hannah Corbin on the power of Latinx, how we can come together and celebrate one another, and how we can tackle the inequities we face when it comes to mental health, physical health, and the lack of representation in most major industries.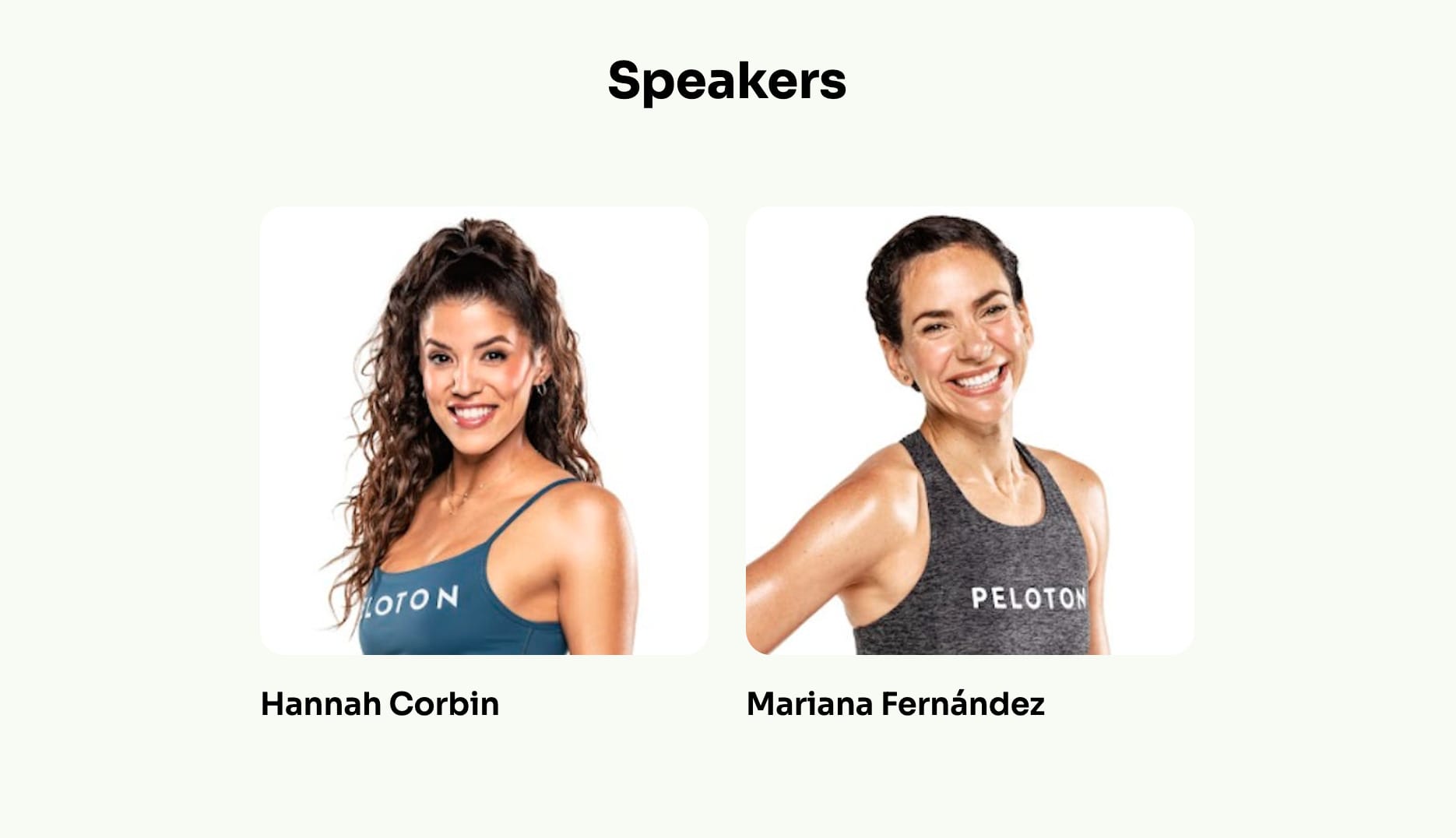 The virtual event will take place at 4:00-4:35 p.m. ET on Thursday, September 29. The event will feature instructors Hannah Corbin and Mariana Fernández.
You must register for the free event in advance in order to attend. Upon registration you will receive a confirmation email containing a link from Hopin. The event will be recorded for those who cannot attend live. You can also use the registration form to submit questions in advance of the event.
Peloton occasionally holds these virtual community events throughout the year. Earlier this year, instructors Camila Ramón and Charlotte Weidenbach participated in a Power in Identity panel in celebration of Women's History Month. In 2021 instructor Rebecca Kennedy participated in an event about supporting other members on the leaderboard.
Be sure to check out all of Peloton's Latinx & Hispanic Heritage Month content, which will run through October 15. You can find all classes in the Latinx & Hispanic Heritage Month Collection via Peloton, or via our Pelo Buddy list.
You can sign up for Peloton's Latinx & Hispanic Heritage Month virtual community event here.
---
Want to be sure to never miss any Peloton news? Sign up for our newsletter and get all the latest Peloton updates & Peloton rumors sent directly to your inbox.