It's less than one month until Thanksgiving in the US, and Peloton plans to continue their annual "Turkey Burn" tradition – which are live classes on Thanksgiving Day. This year it will take place on Thursday, November 24th 2022.
For the past 3 years, Peloton has had Thanksgiving Day anchored by two classes: Alex Toussaint on the Bike at 8:00am ET, and Robin Arzon on the Bike at 11:00am ET. Prior to that, from 2016-2018, Robin Arzon had classes on the bike at 10:30am ET.
With the news today of Alex Toussaint teaching Tread classes Turkey Burn will look slightly different this year. While both Alex & Robin will still be teaching – Alex Toussaint will have a Turkey Burn Run at 9:00am ET, while Robin Arzon will have a Turkey Burn Ride at 10:00am ET.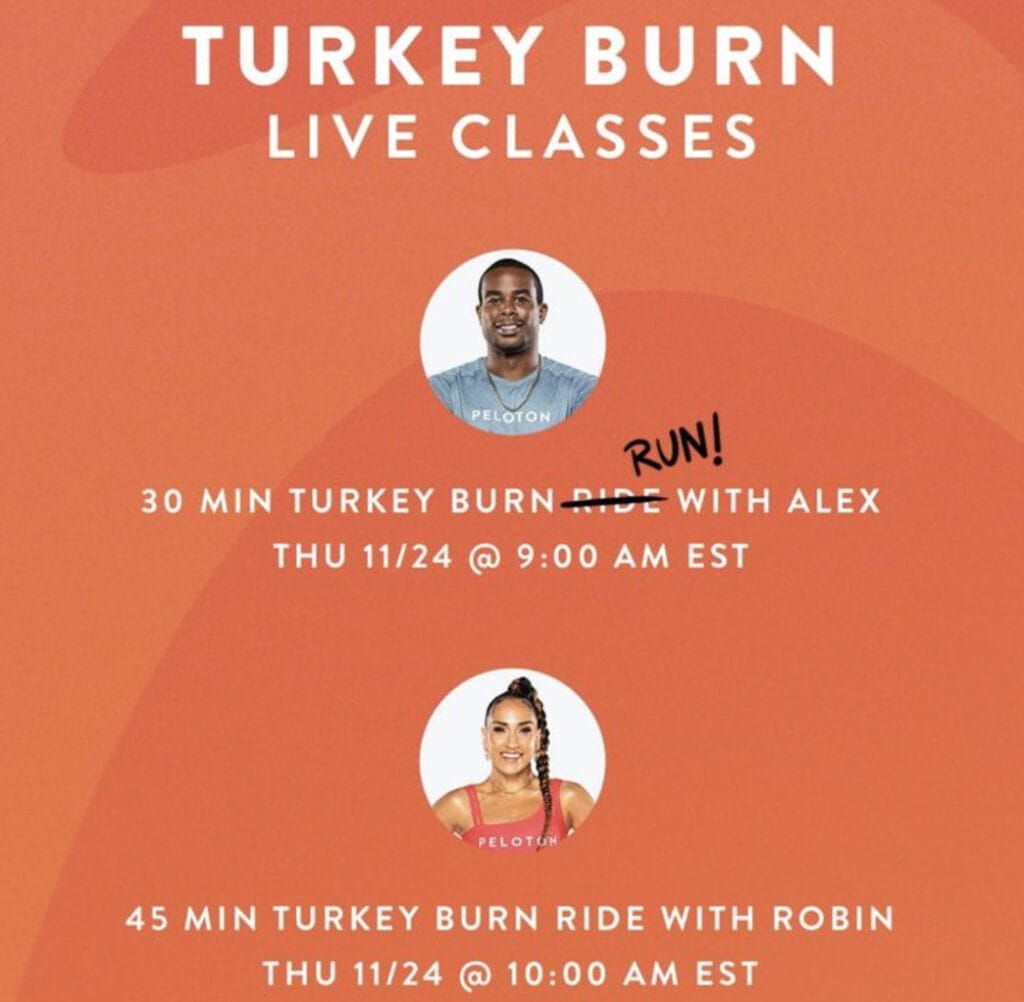 Alex's Turkey Burn Run is expected to be his premiere live class on the Tread.
In addition to the two live classes with Alex & Robin, there will also be a Turkey Burn Row (encore) with Matt Wilpers, and a Fit Family Fun class with Jess Sims and a special guest. You'll be able to find a full list with links of all the Turkey Burn classes here.
Although currently the studios are officially only fully open Fridays, Saturdays, and Sundays – Peloton is opening up the studio for these two classes on Thanksgiving Day, which is a Thursday. Members will be able to sign up for these classes on Friday, October 28th @ 12:00pm ET.
Peloton traditionally hosted a "gratitude week", with themed classes the entire week of Thanksgiving the past few years – but does is not doing that this year. You can read about the 2021 classes here. In addition to the Turkey Burn & Gratitude classes, other names have included "Bring the Heat", "Heat it up", and "After Burn" classes. You can see a list of all previous Thanksgiving Peloton classes here.
Expect there to be a lot of demand, a long queue, and a very slim chance of getting into these classes. You can read our guide to booking Peloton classes in person at the studio here.
This isn't the only time Peloton is opening up the studio to members during the week in November. Just last week we shared how there are two "Special Event Classes" with Cody Rigsby, one on Tuesday Nov 1st and one on Thursday Nov 10th, which will have members in studio as well.
There are likely to be some other Turkey Burn classes Thanksgiving Day dropping on demand, plus the many other Bring the Heat & Gratitude Week classes. We expect these to be announced in a few weeks.
---
Want to be sure to never miss any Peloton news? Sign up for our newsletter and get all the latest Peloton updates & Peloton rumors sent directly to your inbox.