Peloton instructor Emma Lovewell announced today that she has written a book! Aptly titled Live Learn Lovewell: Lessons From a Life of Progress Not Perfection (affiliate link), the book will be released on May 2, 2023. Emma shared the news via Instagram:
Acknowledge the fear and do it anyway!? I'm doing it now— I wrote a book!!
Thrilled I finally get to share this with you. I've been working on it for a year and a half, and it's finally happening. You can pre-order the book now anywhere books are sold, it comes out May 2, 2023!! Thank you for all of your support. Truly. Can't wait for you to read it! 🥰 @penguinrandomhouse #livelearnlovewell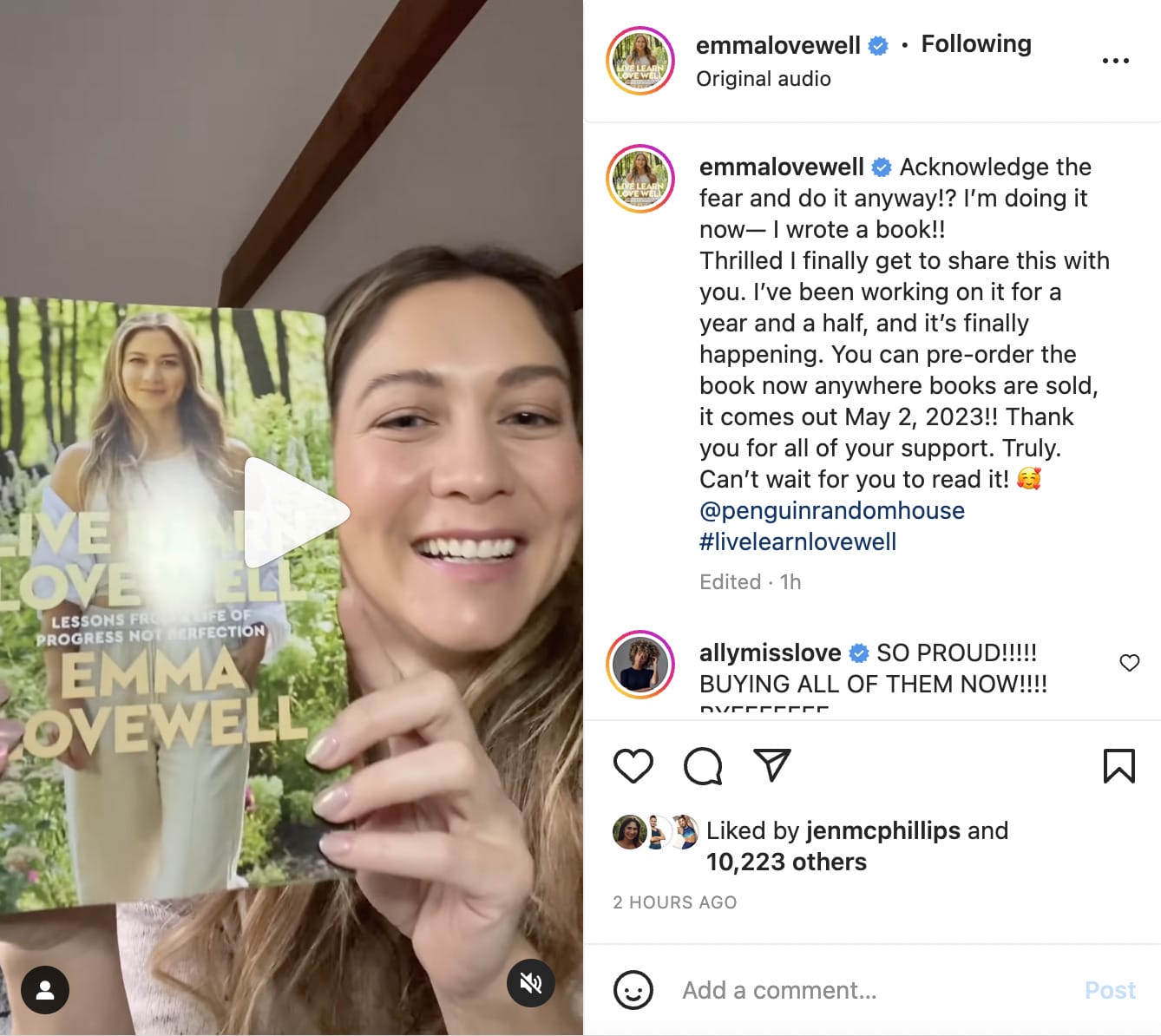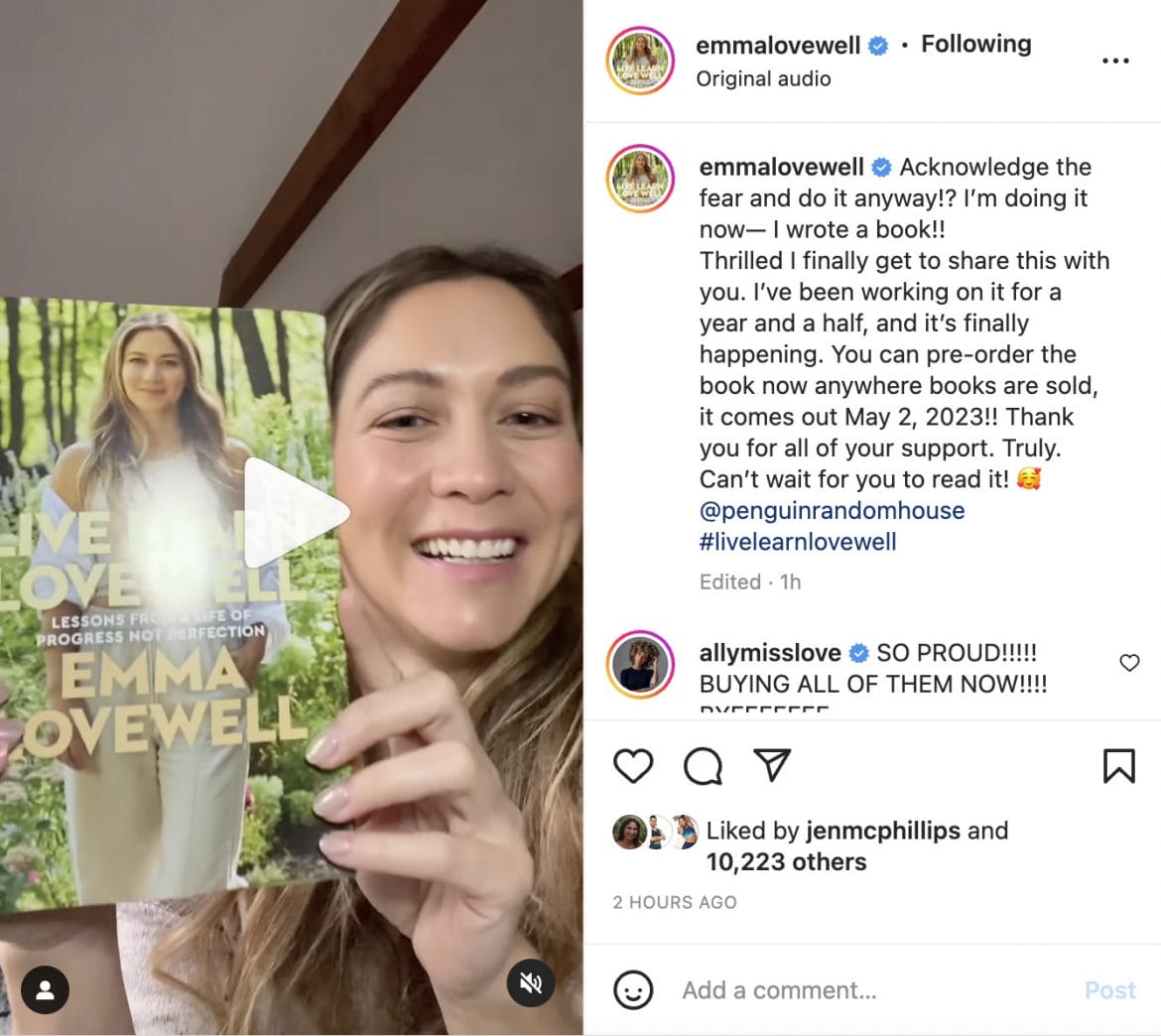 In the video Emma mentions that May is Asian American and Pacific Islander Heritage Month, which is very important and special to her.
Emma provided an exclusive interview to People, in which she talked about what she hopes readers will take away from the book:
"It's really a book of stories chronicling my life, my career, and my personal life, physical and mental fitness; the whole journey that has created the person I am today," she says.
"It's more than just a prescriptive fitness book. It's a lot of stories. Some are sad, some are heartwarming, some are funny."
"I'd like to look at it as a resource for people, anyone who feels stuck or overwhelmed or scared to make a change. [It's] just showcasing that, even the smallest amount of change, can really redirect or change the course of your life."
The book is being published by Ballantine Books and is 240 pages in length. The official description reads:
Emma Lovewell is a star instructor at Peloton, a global fitness brand and media content company, but her journey to success began with a simple realization: Change is inevitable, but growth is optional. She chose to grow. In Live Learn Love Well, she shares the moments in her life that shaped her into the woman she is today―from growing up in a modest home amidst the affluence of Martha's Vineyard, to struggling with her biracial identity and fitting in, both in the white community and the Asian American community, to health setbacks and relationship challenges, to moving to New York and striving for a career in dance and fitness.
Just as Lovewell is more than a fitness instructor, she's learned that wellness is more than just a physical condition. She shares the moments where mental fortitude shaped her outlook on the world and how the idea of "progress, not perfection" became a guiding principle.
Filled with surprising insights, charming anecdotes, and never-before-shared moments, Live Learn Love Well is for anyone who feels stuck or overwhelmed, who worries there's too much to change to even get started, or who simply needs a little inspiration to make tomorrow better than today. Lovewell's stories, along with her easy-to-initiate tips, will give readers the confidence to know that even the smallest modifications can have truly outsized impacts on their lives and wellness.
Emma is joining the ranks of fellow Peloton instructor authors Robin Arzón and Tunde Oyeneyin, both of whom have had books published in the past year.
Robin released her first children's book, Strong Mama, at the beginning of the year, and announced that her second children's book, Strong Baby, will be released in 2023. Robin is also the author of Shut Up and Run: How to Get Up, Lace Up, and Sweat with Swagger, which came out in 2016.
Tunde released her memoir Speak earlier this year. If you're interested in learning more we have a book review on our site.
You can pre-order Emma's new book, Live Learn Love Well: Lessons from a Life of Progress Not Perfection, on Amazon – it is currently available both in hardback and Kindle editions. Note that the above links are affiliate links – if you buy through our link you pay the same price but help support our site.
---
Want to be sure to never miss any Peloton news? Sign up for our newsletter and get all the latest Peloton updates & Peloton rumors sent directly to your inbox.