Peloton has quietly rolled back a change made last year which locked down the referral program to only be available to the "account owner" (or primary member) of All-Access memberships.
Starting today, any profile or member that is tied to an All-Access membership (i.e. you own a Bike, Tread, or Row) can once again take part in the referral program. This means every user on a Bike, Tread, or Row should once again have your own referral code. You'll be able to make up to 6 referrals a year (the limit was changed from 12 to 6 at the beginning of this year).
Update – Peloton has sent out an email saying it is "through the end of the year":
Now through the end of the year, every All-Access Membership user is eligible for our Referral Program. That means everyone in your household that is actively* tied to a Bike, Tread or Guide can help build the Peloton Community.
Note that app memberships are still not eligible to take part in the referral program.
Peloton's support page about the referral program has been updated to indicate this change took place.
From October 2021 until now, when the program was restricted to the "account owner", the page said the following:
"You are eligible to participate in this Referral Program if you are (i) a Peloton Hardware owner; (ii) an active All-Access Membership Owner (defined below); and (iii) a resident in a country where we deliver. "Active" status is determined by Peloton in its sole discretion. An "All-Access Membership Owner" is an All-Access Membership account holder who pays for such membership on a monthly basis."
This previously meant if you and a partner lived in the same household, and shared one bike (or Tread), only the person who was paying the bill of the Peloton membership could be part of the referral program – the other person could not.
Now, the terms have been updated to read as follows:
"Any active Peloton Bike or Tread Members are eligible to participate in this program. "Active" status is determined by Peloton and will be indicated by a referral code tab shown in the user's web profile. This includes Bike or Tread owners with active Memberships and other Members in their household as well as studio users. App users are not eligible for this referral program at this time."
Note that the language about "Membership owner" has been totally removed. In the example above, this means both you and your partner would have your own unique referral codes – and each of you would be able to make 6 referrals a year.
Secondary members (i.e. those who weren't the account owner) should regain access to the Bike/Tread referral section throughout the course of the day.
If you don't know what your referral code is, the easiest way to find it is with a desktop web browser. From from 3 dot menu at the top right, you'll see a "Refer Friends" link. When you click into that page, it will default to showing you how to refer an app. However, there's a tab at the top of the page to change from app to Bike/Tread. You can also go directly to the referral page here: https://www.onepeloton.com/settings/referrals/equipment.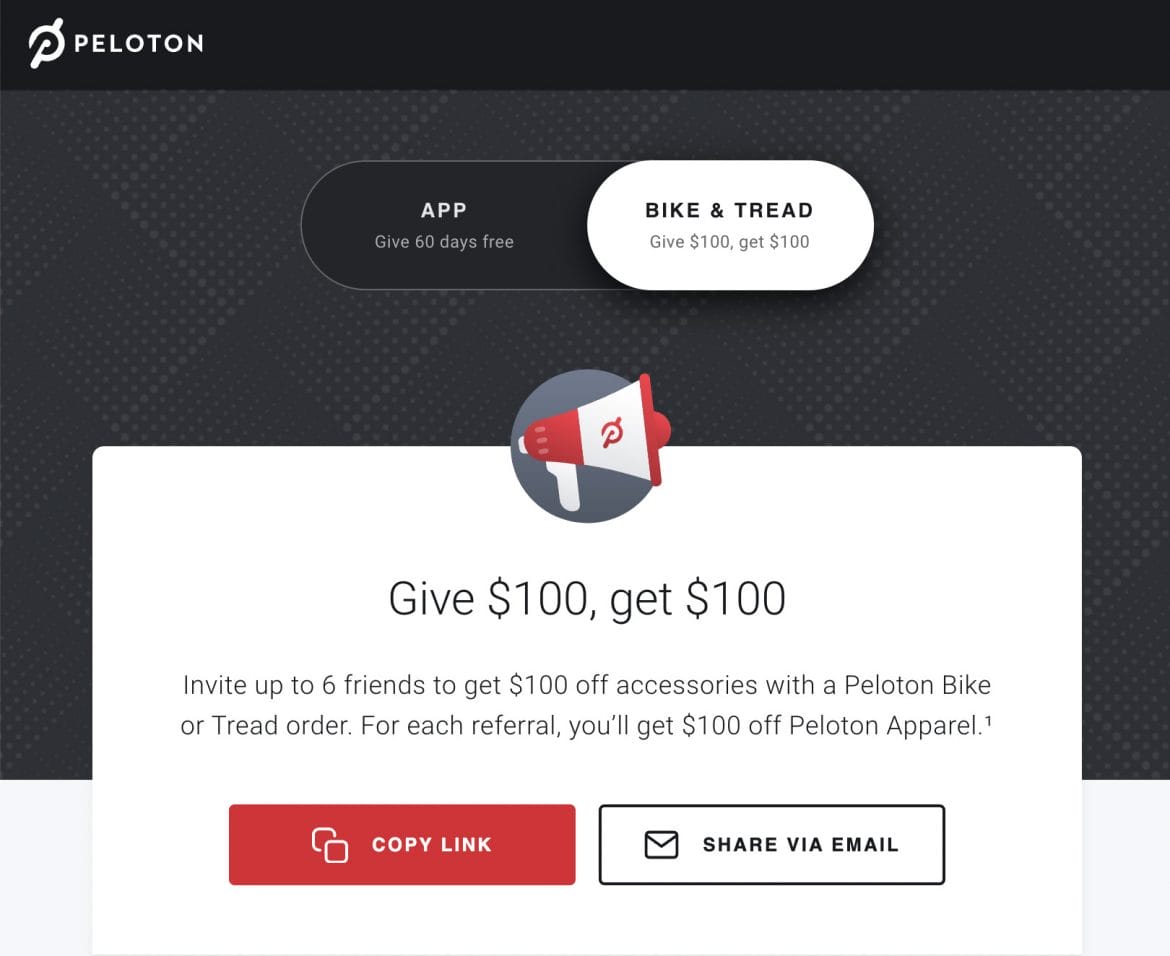 Peloton used to simply display your referral code on that page, but now defaults to showing a link. You can email that link to a friend or click it yourself – opening that link will show you a special landing page with your personalized referral code.
Peloton's referral codes give someone making a new purchase $100 off of accessories with their hardware (Bike, Bike+, Tread, or Tread+) purchase. The person who referred them gets a $100 USD credit (or equivalent for other countries) for Peloton Apparel.
Peloton will sometimes increase the referral credit & bonus – like they did at the beginning of September.
Note that at this time, the new Peloton Row is not part of the referral program.
---
Want to be sure to never miss any Peloton news? Sign up for our newsletter and get all the latest Peloton updates & Peloton rumors sent directly to your inbox.