If you purchased Peloton instructor Tunde Oyeneyin's new book – SPEAK: How to Find Your Voice, Trust Your Gut, and Get from where You are to where You Want to be (affiliate link) – hoping for a Peloton-focused "tell all," you're going to be disappointed.
But not for long. Because in her debut memoir, Tunde takes readers on a journey through some of the highest highs and lowest lows of her life in a way that leaves you fulfilled, while also wanting to know more.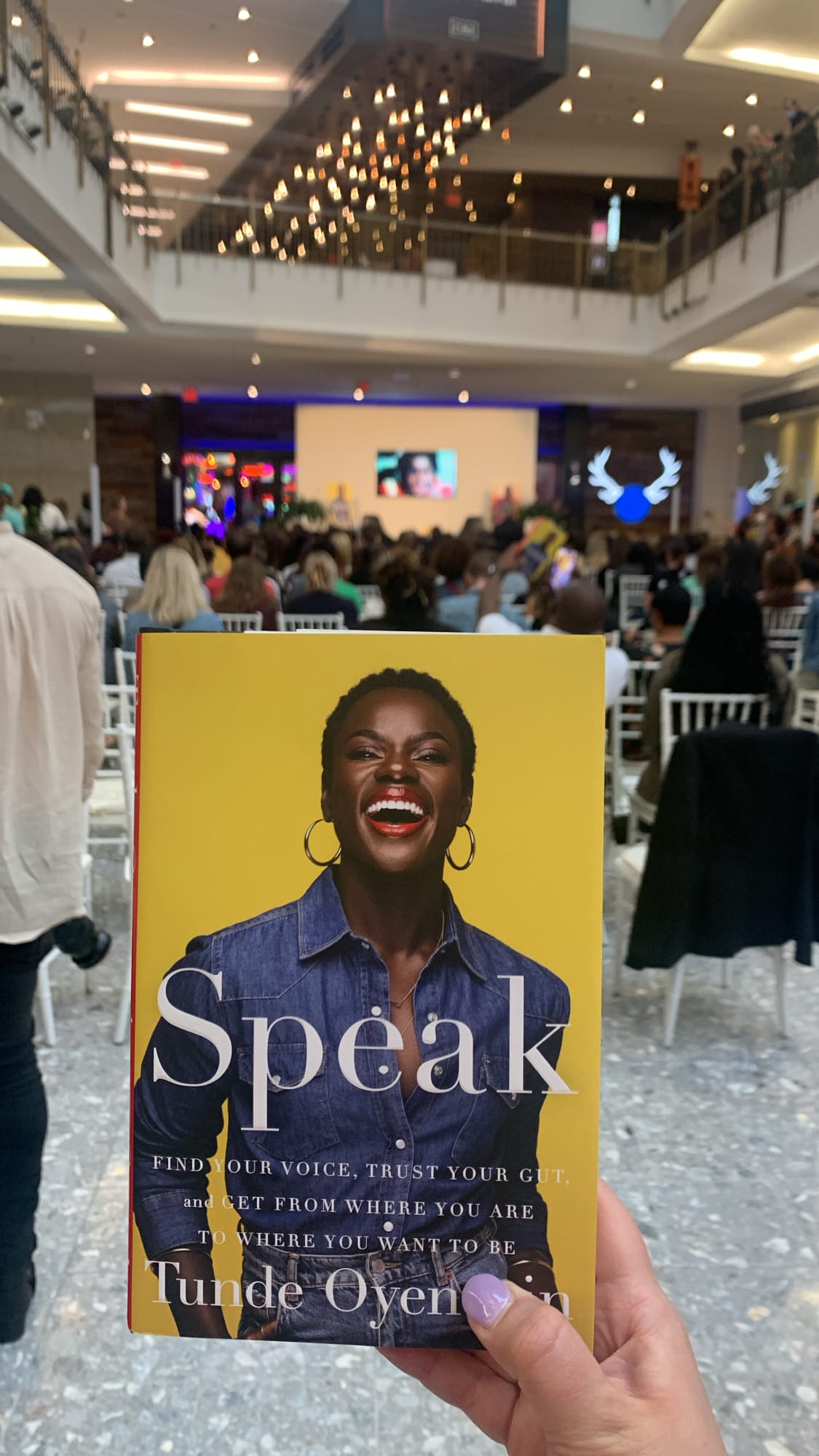 It's sometimes easy to forget that Peloton instructors are actual people – with pasts, hardships, triumphs, hopes, and dreams – beyond what we see on the other end of our Bike, Tread, or App. Following an instructor on social media allows us to feel like we "know them" – but we're still only receiving a small fraction of who they are as people.
That's why Tunde's book SPEAK is so special. It's vulnerable, authentic, powerful, thought-provoking, inspiring, heartbreaking, exciting, and joyful all in one. Tunde writes in a way that allows the reader to feel like they're getting to know her; like they're having a conversation with a friend.
Tunde tells her story – weaving in experiences from childhood all the way to the present day – through the lens of five pillars that serve as the inspiration for the book title:
Surrender
Power
Empathy
Authenticity
Knowledge
Tunde does not tell her story entirely chronologically; instead, each chapter focuses on a different step of the SPEAK acronym, with personal stories to illustrate each concept. Readers learn about Tunde's family, her weight-loss journey, her successful career as a make-up artist, past relationships, and the path that led her to becoming an indoor cycling instructor – including her audition process with Peloton.
One of the most powerful chapters focuses on the inception of the "Speak Up, Breathe In" series, which Tunde leads alongside Dr. Chelsea Jackson Roberts. Tunde provides insight into how she prepared for the very first Speak Up Ride, which took place on June 3, 2020, and what she experienced following that class. It's a true testament to the strength of the Peloton community, and it reignites a fire to – as Tunde often says at the end of her classes – go out and create great change.
A quote Tunde mentions numerous times throughout the book is: "The beauty of uncertainty is infinite possibility." As Tunde shares throughout SPEAK, her life has been filled with so much uncertainty. But those moments of uncertainty led her to exactly where she is now: on stage for one of the biggest fitness platforms in the world, changing lives and doing something she absolutely loves.
By sharing her story, Tunde provides readers with inspiration to find their own purpose, whatever that may be, and chase it – unapologetically, authentically, and with passion.
Tunde briefly jokes about a "second book" early on in her memoir. This reader certainly hopes she wasn't joking.
You can purchase Tunde's new book SPEAK here on Amazon (affiliate link).
---
Want to be sure to never miss any Peloton news? Sign up for our newsletter and get all the latest Peloton updates & Peloton rumors sent directly to your inbox.