Last week, Peloton CEO John Foley gave an interview at the Goldman Sachs Technology Conference. Heath Terry, Managing Director at Goldman Sachs led the interview, and they covered a wide range of topics. One topic we previously reported on was more foreign language Peloton classes – which new evidence surfaced pointing towards Spanish
However, over the course of the conversation the topic of potential new Peloton products came up several times. In his opening remarks, John Foley referred to "new products", and alluded to talking more about them in the interview. (As a side note, we have reported extensively on the potential Peloton Rower, and more recently, a possible Tonal competitor from Peloton).
That comment about more/new products didn't get an immediate follow-up, but later in the conversation, the topic turned back to other Peloton products, and what the next product might be Peloton is releasing. John Foley stated that he and his team think about new products a lot, and they have a lot of "crazy stuff" in their R&D labs.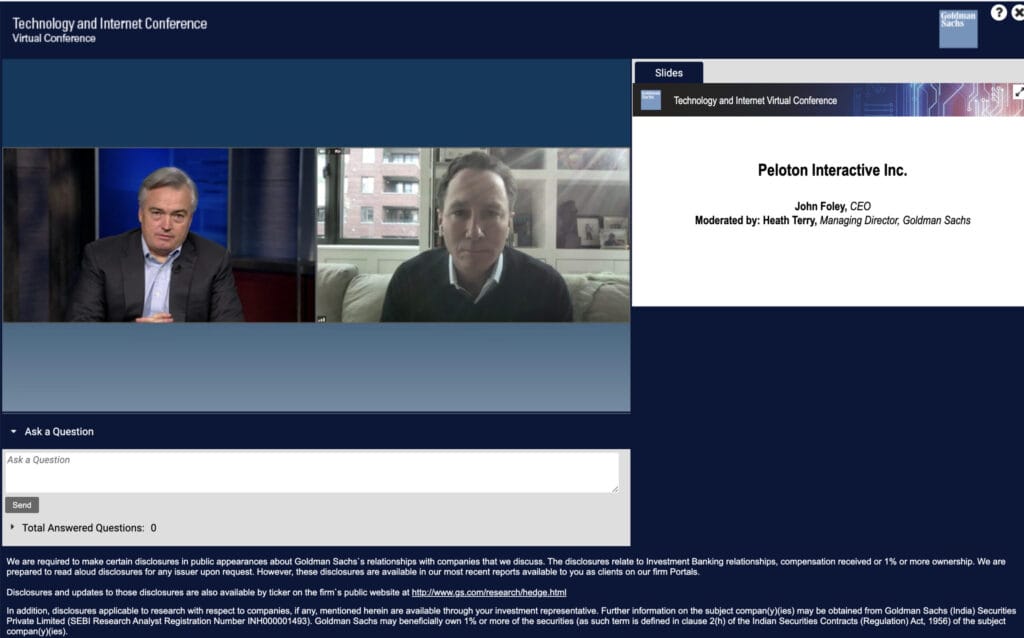 Eventually, John Foley specifically spoke about if Peloton would be launching a strength device – which would compete with other devices like Tonal & others. As he's said many times, John Foley stated that Peloton is "going to win strength". He went to to say whether they need hardware to do that or not doesn't matter – Peloton is going to make sure they are going to win.
They then discussed there being at least three different long term options on how Peloton could approach strength. One is simply with new content not requiring new hardware – for example, with their recently release Barre and Pilates classes, and other new genres along those lines. The second could be some new content paired with the Peloton Tread & Tread+. He also said a third approach could be "some hardware product that we're working on that we're really excited about" – implying that there are various versions of a Peloton Strength hardware device being actively developed in Peloton's R&D labs.
John Foley followed this line of conversation up with a comment about how Peloton has several bets/approaches they are actively working on and researching, and they would just have to see which ones would resonate most with members. At this point, however, he stated it wasn't clear what approach Peloton would have to take to win strength. However, over the past few years Peloton has hired some key managers & VP from competitors like Tonal with experience in the strength industry – you can read about those here.
All of the talk about new Peloton products was centered around the potential Peloton strength device in this conversation – John Foley was not asked and did not volunteer any information about the Peloton Rower in this interview.
The topic of a Peloton strength device had previously been covered in the September Peloton earnings call. During that call, he gave nearly identical comments about Peloton winning strength and thinking one way to do so might be with content. However, he was more negative on the idea of strength hardware in those comments, saying "With respect to other products in the marketplace, we haven't seen anything…personally that I'm that excited about. I like to workout with free weights, and bands, and body weight, and we're going to offer that in such volume that we think we're going to be able to win with our current approach" The newest statements made in the Goldman Sachs interview sounds like Peloton is warming up to the idea of strength hardware being a viable (or necessary) approach.
Assuming that Peloton does decide to eventually release a Peloton strength device – when would it be released? Don't hold your breath for it being near term. Peloton is currently struggling with logistics delays around delivering their current two products – it seems likely that no new products would be launched until those issues were resolved. The delays are so bad at this point it forced them to delay the new Tread launch in the US. Once the new Tread is widely available, wait to see what delivery estimates are there – again, don't expect any new products before those are under 4 weeks for all their products.
Note that Tonal isn't the only company Peloton would be competing with for the strength market – other products like Forme Life, Tempo, and Carbon have various approaches to connected strength devices. However, Tonal is considered by many to be the leader in that emerging field and have the most Peloton-like experience. We are currently in the process of reviewing a Tonal device which we will be publishing in the coming weeks/months (though based on experiences so far, it's a great supplement to Peloton training, with several multi-week programs designed to be paired with your cycling workouts)
---
Want to be sure to never miss any Peloton news? Sign up for our newsletter and get all the latest Peloton updates & Peloton rumors sent directly to your inbox.