Peloton has provided insight into just how much the Peloton community worked out in 2022. According to Peloton, members spent 250,958,345 hours working out; cycled a total of 1,611,636,736 miles; walked or ran a total of 75,115,478 miles; and sent a total of 594,510,102 high fives on the leaderboard.
That is more than 250 million hours spent working out; more than 1.6 billion miles cycled; more than 75 million miles traveled via running or walking; and nearly 600 million high fives.
These figures were provided in marketing email earlier this year promoting Peloton's New Year's holiday sales.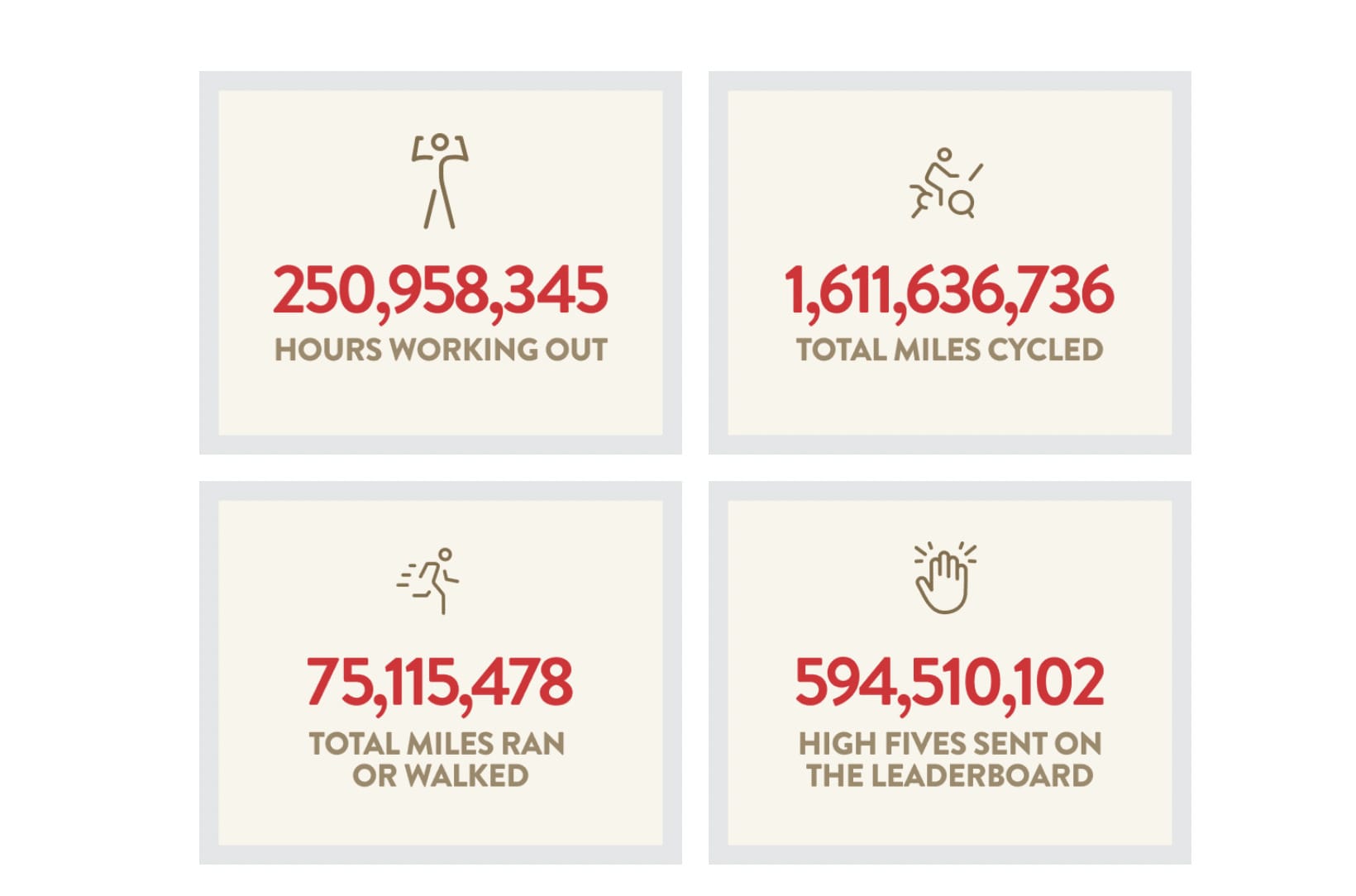 Peloton also recently released a 2023 New Year's advertisement in which they shared that "92% of households that kick off the year with Peloton are still active a year later."
Peloton provides members with their own personal year-in-review called the Cooldown. The 2022 Cooldown was released mid-December and includes highlights and summary statistics for December 1, 2021 through December 1, 2022. Members can still view their 2022 Cooldown online or via the app and web browser. Note that there isn't any way to access your video and information from previous years' Cooldowns if you do not download them, so be sure to save them if you'd like to compare them next year.
Peloton has already launched the 2023 Annual Challenge, which measures members' total active minutes across all modalities available on the Peloton platform. Members can earn badges for minute totals between 1,000 and 20,000 minutes, with a total of 13 tiers available: 1,000 through 10,000, plus 15,000, 18,000 and 20,000. If you're looking to reach a specific goal, be sure to check out our Peloton 2023 Annual Calculator.
We also recently released a handy tool to track how many of the 58 Peloton instructors you've taken a class with throughout the year.
---
Want to be sure to never miss any Peloton news? Sign up for our newsletter and get all the latest Peloton updates & Peloton rumors sent directly to your inbox.