Peloton instructor Leanne Hainsby has announced that she is battling breast cancer. She was first diagnosed in August 2022 and has been undergoing treatment over the past few months. She shared her story on Instagram and Facebook this morning. You can read the full message from Leanne at the bottom of this article.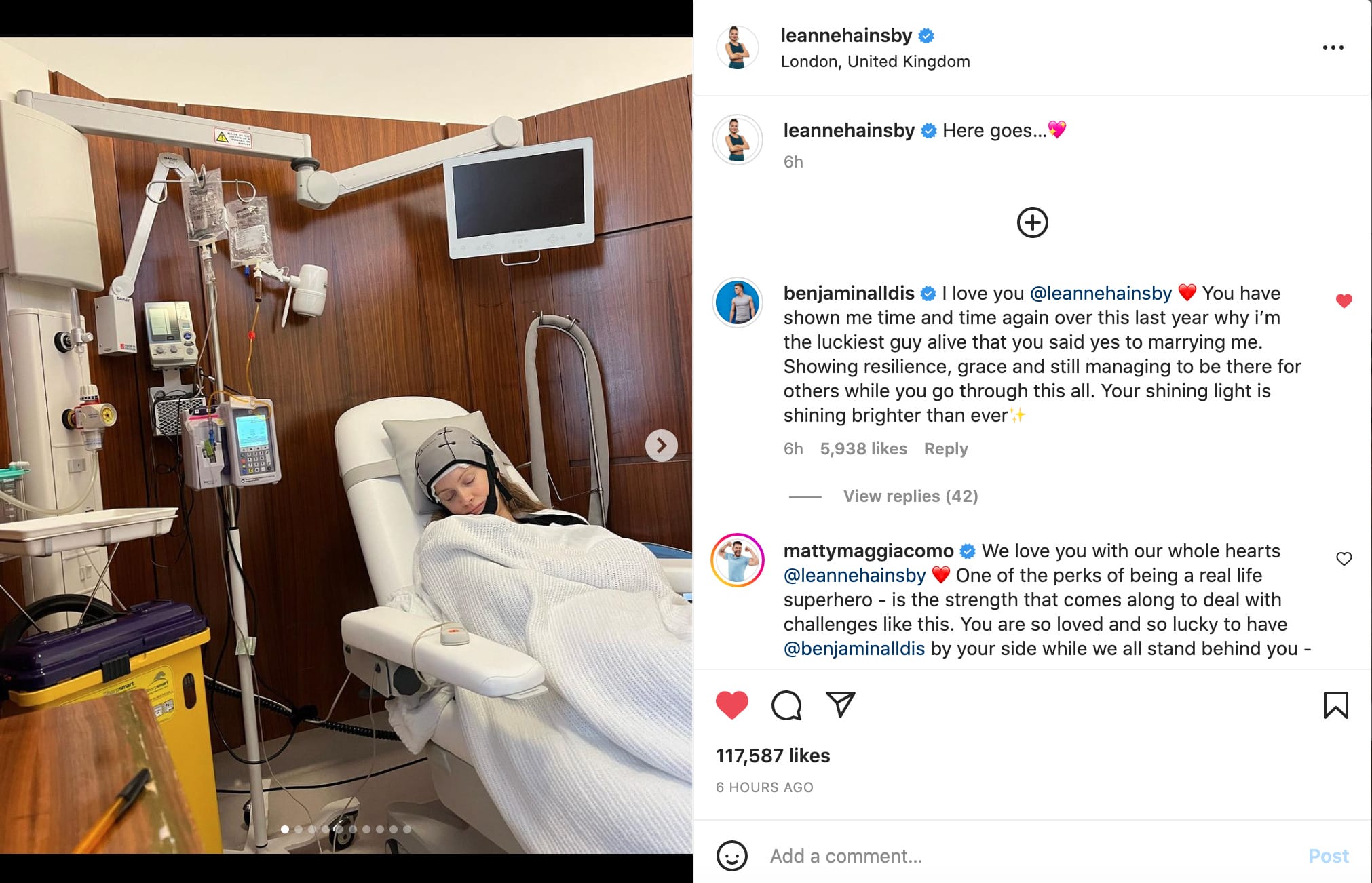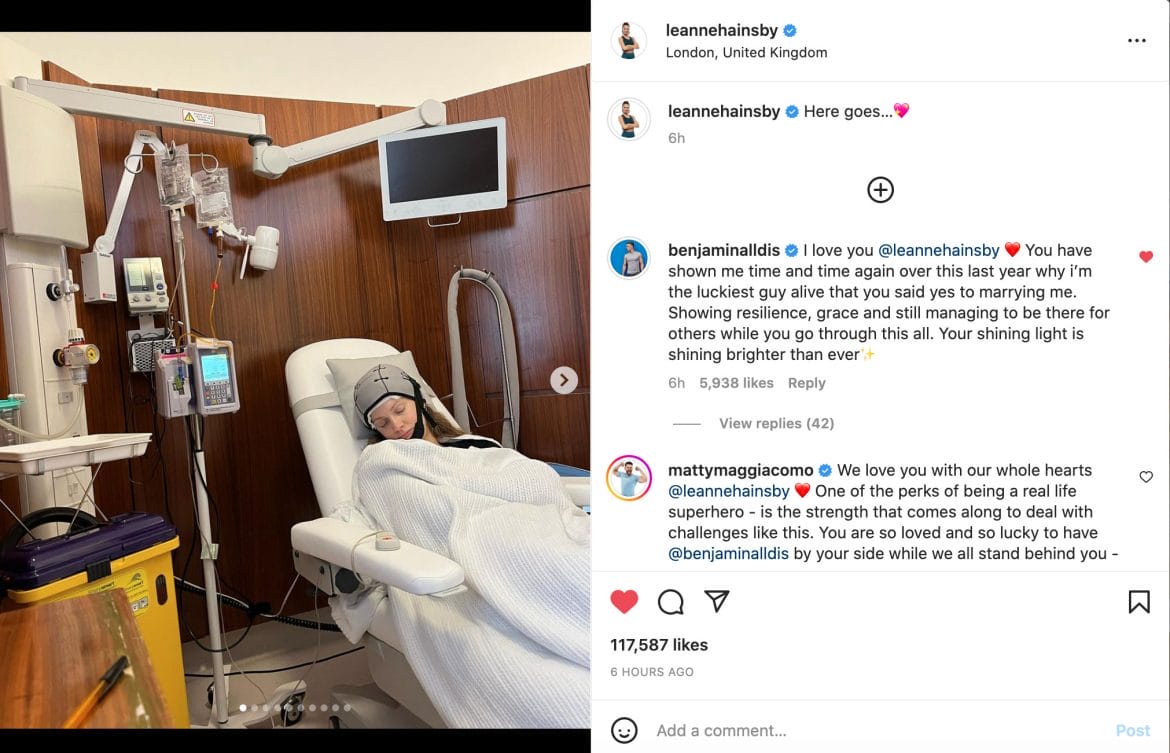 Leanne's fiance – fellow Peloton instructor Ben Alldis – also shared pictures and a message on Instagram. It will also be included in full at the bottom of the article.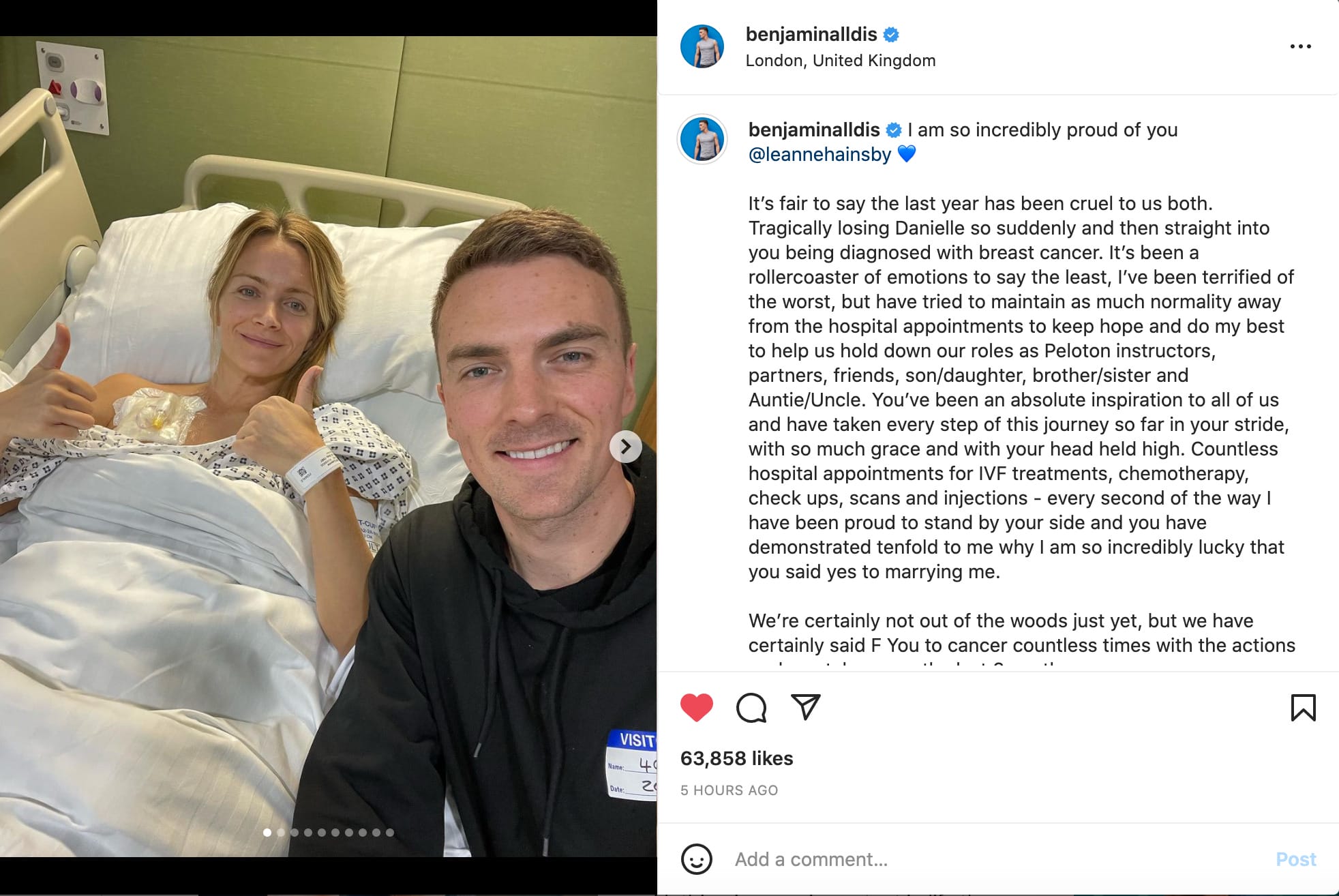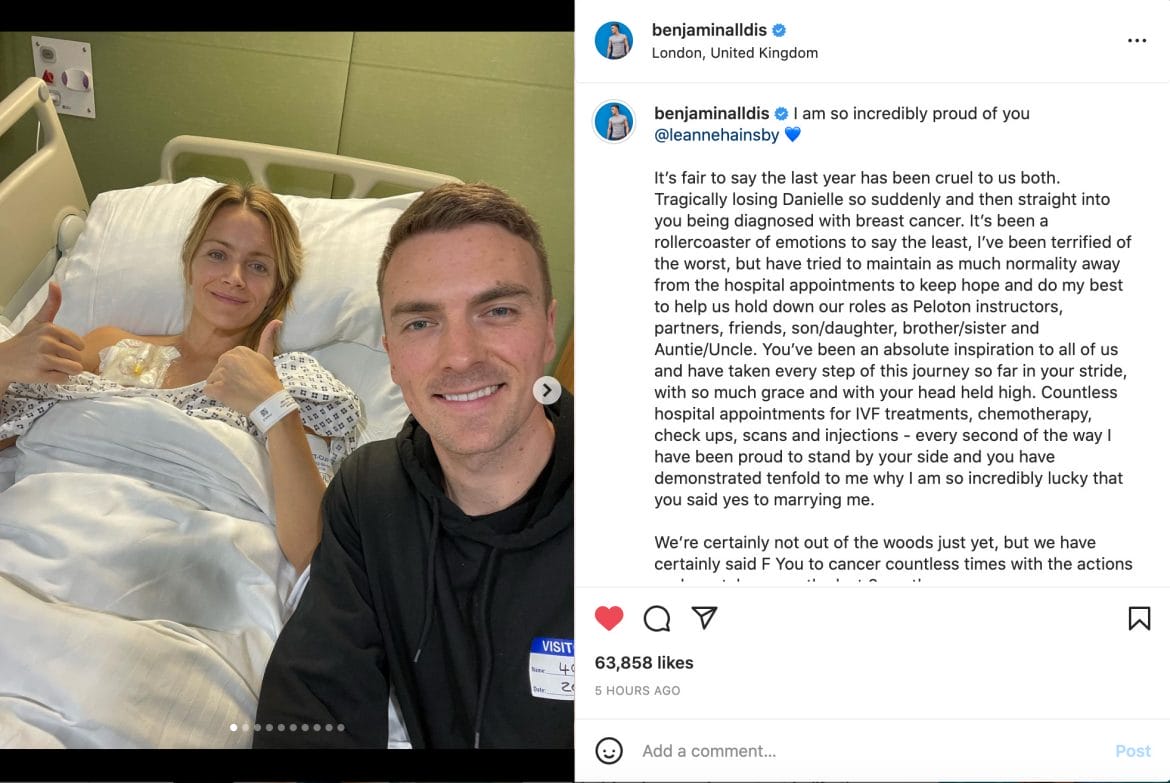 Leanne and Ben shared that they completed a round of IVF before Leanne began chemotherapy. Leanne has undergone 12 weeks of chemotherapy and has also had surgery. Next up in her treatment is having her portacath (a medical device that sits under the chest skin and administers medicine) removed and two weeks of radiotherapy.
Leanne stresses something very important she wants people to take away from her experience: be your own advocate. She is only 35 years old and was initially told "everything was ok" when she found a lump in her breast. Leanne shares that getting a second opinion saved her life.
Social media has been flooded with messages of love and support from Leanne's fellow instructors and the entire Peloton community.
We are immensely grateful to Leanne for sharing her story and are sending strength and positivity to Leanne and Ben!
Leanne's full message announcing her breast cancer diagnosis is below
Here goes…
Two days before my best friend's funeral, I found a lump in my breast. This really is a sentence I NEVER imagined writing.
After multiple scans and appointments with both consultants and cancer nurses, and being completely terrified for a few weeks, in August 2022, I was diagnosed with breast cancer.
Where possible, I have continued to show up as 'normal', but my reality most of the time, has looked very different. In terms of my treatment and navigating my way through up until this point, it has been something I've kept very private. As a Peloton instructor, a huge part of my role is all about the members, and despite my diagnosis, that has always mattered to me hugely. My classes have given me a focus, and some sparkle in an otherwise incredibly tough time, so Thank You to the members who had no idea the amount of joy they were bringing to me every day.
To be in the early stages of grief after losing Danielle, and then faced with something like this, has been unimaginably tough, and that still feels like an understatement.
The treatment for breast cancer varies hugely, no two people are the same even if they have had the same diagnosis, so here is where personally, I am at:
– I was lucky enough to be given time ahead of chemotherapy to do a round of IVF. We weren't mentally prepared, but we got it done and we're so grateful.
– I have completed 12 weeks of chemo. I would teach my Wednesday morning LIVE classes, and then meet my Mum and go to the treatment suite for my weekly dose (alongside other drugs as part of my treatment plan). Chemo is no joke. Cold caps are no joke.
– I have had my surgery. For those that have experienced cording post breast cancer surgery, ouch, right?!
– I have had some very good news in the last week, and it is so welcomed after a relentlessly cruel 2022.
– Next up, I will have my portacath surgically removed and then 2 weeks of radiotherapy, and I'm ready for it.
Treatment will continue for a long time for me, hospital visits are the norm, and I focus on one step at a time. I do feel very fortunate to be having my treatment privately. The nurses and doctors are incredible, and I wouldn't be here without them. My respect for them is next level.
I have learnt a lot. Sitting in a room with oncologists and consultants, and terminology being thrown around that you don't understand and scares you, will do that to you.
I have so much to say, but for now this is where I'm at, and this is what feels comfortable to share.
There are three main things that I want from posting this:
1. To raise awareness. I'm young for breast cancer at 35. I went to a doctor the same morning I found the lump, and I was told everything was ok. I trusted my gut and got a second opinion. That saved my life. Check, and check again.
2. When the time is right, it is important to me to be of service to those going through treatment and those supporting someone going through treatment. However big or small, it is important to me to give back.
3. I've been dealt some cards that have changed my life forever, and somehow I've still kept moving forward. If I can motivate or inspire just one person to either keep going in their journey, or to get themselves checked, then sharing something so very personal will be worth it.
I'm nearly 6 months down the line. I'm in fantastic hands, and I've got this. Nobody wants to be sat in a room and told they have cancer, and yet I've always felt one of the lucky ones. I am one of the lucky ones. Lucky to be diagnosed early, lucky to be moving fast through treatment, lucky to know I WILL BE OK. Your life outlook becomes so very different in times like this. I think anyone who has had to ask 'am I going to die?' to a medical professional would probably say the same. But then you fight. You gain a strength you never knew you had, and you keep pushing forward. Strong, as healthy as possible, and empowered.
💖
Ben Alldis' post with the news was as follows:
I am so incredibly proud of you @leannehainsby 💙

It's fair to say the last year has been cruel to us both. Tragically losing Danielle so suddenly and then straight into you being diagnosed with breast cancer. It's been a rollercoaster of emotions to say the least, I've been terrified of the worst, but have tried to maintain as much normality away from the hospital appointments to keep hope and do my best to help us hold down our roles as Peloton instructors, partners, friends, son/daughter, brother/sister and Auntie/Uncle. You've been an absolute inspiration to all of us and have taken every step of this journey so far in your stride, with so much grace and with your head held high. Countless hospital appointments for IVF treatments, chemotherapy, check ups, scans and injections – every second of the way I have been proud to stand by your side and you have demonstrated tenfold to me why I am so incredibly lucky that you said yes to marrying me.

We're certainly not out of the woods just yet, but we have certainly said F You to cancer countless times with the actions we have taken over the last 6months.

Here's to, as you would say, sparkly days ahead and living our healthiest and happiest lives using the countless lessons that this last year has taught us.

I love you Leanne💙Your shining light on this world is shining brighter than ever✨
---
Want to be sure to never miss any Peloton news? Sign up for our newsletter and get all the latest Peloton updates & Peloton rumors sent directly to your inbox.