PELOTON TREAD GENERATION 2 INFORMATION
Smaller, Lower Cost Peloton Treadmill Version 2 ("Peloton Tread") Rumors & Information
Release date, pricing, information, shipping information & cost, details and rumors about the lower cost / cheaper Peloton Treadmill Version 2.
Peloton officially announced the new lower cost version of the Peloton treadmill, now known as the "Peloton Tread", on September 8th, 2020.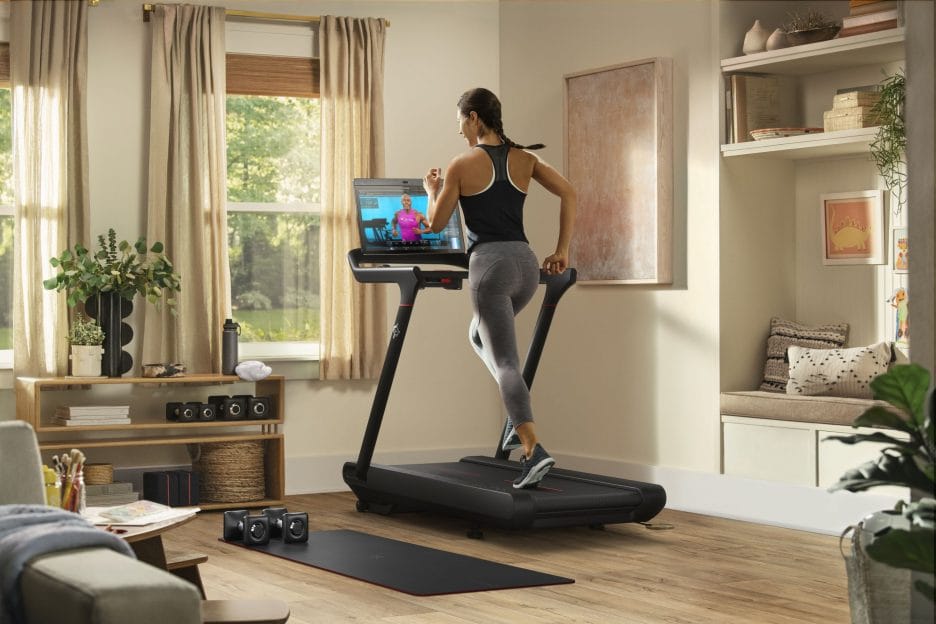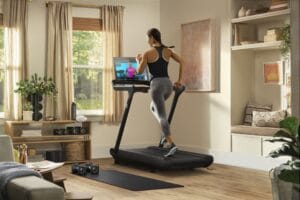 Is there a review of the new lower cost Peloton Tread? How does the cushion compare between the Tread & Tread+
We now have an initial first impression & hands on review of the Peloton Tread here. There will be a video review as well in the coming weeks. Stay tuned for more content and specific information as we get closer to the official launch date(s).
When will the new lower cost Peloton Tread be available for order & sale? What is the Tread release date?
Peloton originally provided some rough times, but in early November released more specific release dates:
December 26, 2020 – UK
February 9th, 2021 – Canada
February 9th, 2021 – Very limited US launch to select few zipcodes
May 27th, 2021 – US Nationwide launch
Later 2021 – Germany
(Note that the original US nationwide date was March 30th, however, Peloton announced a 2 month delay to help avoid delivery delays).
Peloton has stated that they will have the new Peloton Tread available in stores to try out in person prior to Thanksgiving in the US.
And yes – this new lower cost Peloton Tread will be available for sale in all markets, including internationally!
The new lower cost Tread will cost $2,495 ($3,295 CAD /£2,295 GBP). The existing premium Treadmill, which will now be called the "Tread+", will remain available for sale at the current price of $4,295.
What are the differences between the new Peloton lower cost Tread and original Tread+?
New Tread will have a smaller 23.8″ touch screen (the same one from the bike). The premium Tread+ has a 32″ screen.
The new lower cost Tread will have a belt, instead of the slatted design of the Tread+
Smaller footprint. The new Peloton Tread will measure 68" L x 33" W x 62" H. The original Tread+ measured 72.5" L x 36.5" W x 72" H
New Tread "has no front shroud, typically found in traditional belt treadmills, which creates an unencumbered training environment, and feels more like a natural road."
One note is that the new Bike+ specifically mentions Apple GymKit features. This allows for better integration with Apple Watch, enabling things like using the Apple Watch as a heart rate monitor with no 3rd party apps or accessories. However, this is notably absent from discussion of the lower cost Tread so far. It isn't clear yet if this is an omission in marketing so far, or if this feature will only be available on the Bike+ for some reason.
Also unclear at this point is if the new Tread screen will be able to rotate and swivel like the Bike+ screen can. Neither the pictures nor the marketing materials have made this clear yet.
Original Reporting before official product announcement
Latest Update – September 2020 – Bloomberg has confirmed the existence of the new lower cost, smaller Peloton Tread. It will simply be called "Tread", and the current version will be renamed "Tread+". Pricing of the new Peloton Tread is said to be under $3,000. The Peloton Tread could be announced the week of September 7 – 14. Deliveries could start in Q4 2020 or Q1 2021. Full details here.
Previous Update – September 2020 – We have what appears to be our first image of the new lower cost Peloton Tread. Click here for all the details, or watch the special episode of Pelo Buddy TV below.
The Peloton Tread, originally announced at CES in spring of 2018 and shipping in summer of 2018, is a product that is loved by most Peloton users who have it. The issue is the cost – retailing at $4,295, it is simply not affordable to most people who want it. The quality and feel of the Peloton Tread is comparable to the best in class Woodway Treadmills, however, being a high quality device doesn't help people who can't afford it.
Based on that, Peloton has been developing a cheaper alternative to their Peloton Tread – known as the Generation 2 or Version 2 Peloton Treadmill. In November of 2019, Bloomberg published an article confirming the development of the lower cost Peloton Tread to be released in 2020 (as well as information about the Peloton Rower). Throughout early 2020 Peloton executives have been making references to newer, cheaper versions of the Treadmill as well. At this point, the global pandemic has thrown plans for the launch and announce of the lower cost treadmill up in the air and timing is unknown. After CES 2020 came and went with no product announcement, it was widely expected that it would be released during Peloton Homecoming 2020. Peloton Homecoming 2020 was cancelled, and replaced with a virtual "We Go Far Together" weekend with a keynote speech on May 2nd by John Foley – which came and went with no announcement. During the Q3 earnings call, which took place on May 6th, 2020, Peloton CEO John Foley acknowledged that they had been teasing new products for a while, however, the current global situation has caused them to pause and re-think launch plans. This could be due to the combination of retail stores being closed (so new customers can't try out the new products), as well as the Peloton delivery teams not being able to enter customer's homes due to current health & safety guidelines. However, on the call, he also reiterated that they are "100% committed to having the best treadmill at a lower price point".
At the end of May, Peloton officially (quietly) confirmed with the FCC that the timing and announcements of new product announcements had been delayed. As detailed below, the new tread is likely to use a new generation tablet. However, on May 28th, Peloton filed a cover letter with the FCC requesting the FCC dismiss their patent application for the new tablet that had been granted in January. This was done solely so that the new tablet could remain confidential until it was ready to be announced – Peloton is expected to re-file the application closer to launch time. In the request for dismissal letter, the COO of Peloton COO: "Due to the [pandemic], we have adjusted some of our product timelines. As a result, we are requesting a grant dismissal for FCC ID: 2AA3N-TTR01 in order to maintain confidentiality of documents covered under the short-term confidentiality period."
During a Barron's Investing in Tech conference on July 8th, 2020 CFO Jill Woodworth directly addressed new products, and again said that Peloton planned to have a lower-cost Tread, stating "The only category that we have spoken explicitly about is our desire to have a lower-priced tread, or a tread that's priced more in line with our existing bike."
Most recently in July, a research article looking at supply chain logistics found that information from one of Peloton's two manufacturers, Rexon, points towards the new Treadmill being released in Q3 of 2020 – specifically in August or September of 2020.
If Peloton is releasing a lower cost version of the Peloton Tread, the question becomes – What are the differences between the generation 1 and generation 2 Peloton Tread? Until an official announcement is made, no one can confirm for sure. However, rumors point towards several changes being made to allow Peloton to lower the price point. At the Goldman Sachs Technology Conference in February of 2020, the CFO of Peloton, Jill Woodworth spoke about the new lower cost Peloton treadmill with investors. During this talk, she confirmed that the new Peloton Tread would not have a slatted running belt, which produces a more natural, realistic feeling. It will instead be a traditional single-piece treadmill belt. Based on other leaks in early April 2020, we also know that the Tread is likely to use the new TTR01 (PLTN-TTR01) tablet, which is a 22″ tablet also to be used on the Peloton Rower, as opposed to the 32″ tablet found on the existing Peloton Tread. This tablet was first revealed via a FCC filing that was made public in January of 2020.
Another change is that the generation 2 Peloton Treadmill is expected to be slightly smaller in size, and weigh less. This size & weight change will allow them to take the Tread, which is currently only available in US markets, and allow them to launch it for sale in their international markets. This will allow more people to have space for it in their homes, and let the delivery teams be able to lift and carry it to more places. So if you are wondering When will the Peloton tread be available for sale in Canada, the United Kingdom, or Germany – the answer is most likely once the lower cost / generation 2 Peloton Treadmill is released!
What will the generation 2 Peloton Tread cost? is probably the biggest outstanding question. At the February 2020 Goldman Sachs Technology Conference, CFO Jill Woodworth also indicated that the new treadmill would be priced similarly to the current generation Peloton bike. That would put the price of the new generation 2 lower cost Peloton treadmill to be around $2,300 USD.
Since the original Peloton Tread was released, competition has heated up. At CES 2020, the Amazfit Home Studio was shown. It combines interactive classes, like the Peloton Tread, with a very large screen, like the Mirror. As time passes, more and more competitors will come to market, most certainly to be priced lower than the Generation 1 Treadmill. Peloton will be forced to respond somehow, or lose customers who are looking for something more affordable.
Check back with this page for updates on the Version 2 Peloton Tread – we will continue to update this page as more information is revealed.