Peloton will host a virtual community event for some Corporate Wellness Members featuring instructors Ash Pryor and Ross Rayburn. The event will take place on February 23 at 1:00pm ET. Peloton sent an email to some members with additional information:
Join Peloton on Thursday, February 23 at 1:00 PM ET for Self-Love Club, a live virtual event about how practicing self-care and cultivating self-love help you show up most meaningfully for your friends, family, and most importantly – yourself.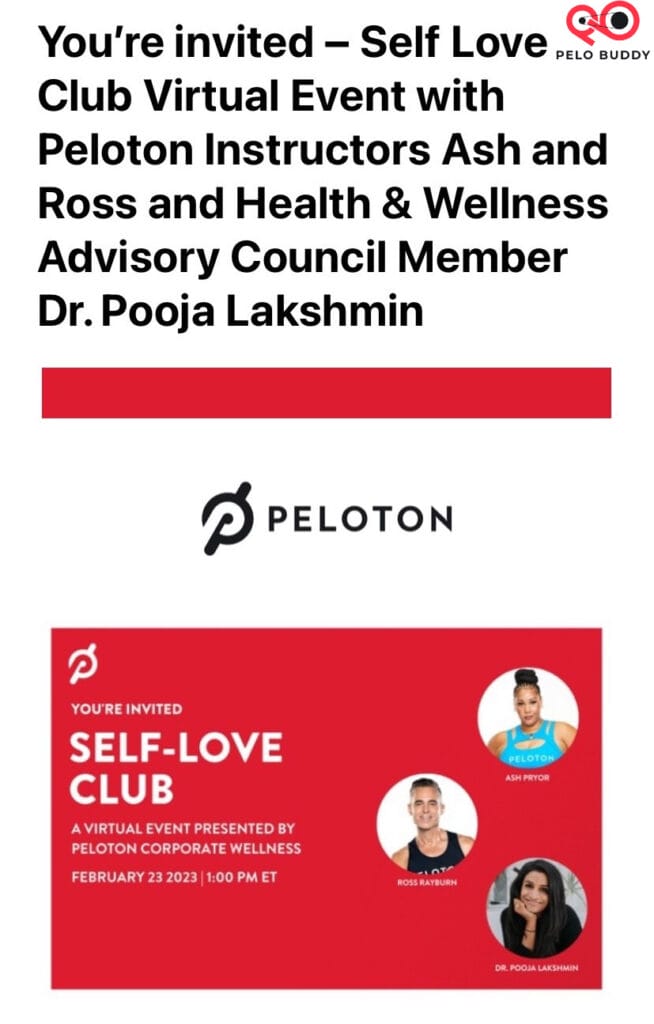 In addition to Ash and Ross, the event will feature Peloton Health and Wellness Advisory Council Member Dr. Pooja Lakshmin. Peloton's Health and Wellness Advisory Council was established in 2020 and focuses on the physical, mental, and emotional health of members.
Members are instructed to sign up for the event in advance, and this event appears to be specifically geared towards Peloton's Corporate Wellness Members – i.e. members who maintain their Peloton membership through their employer.
At this time it's not clear if this event is just for one company in the program, or all corporate wellness companies.
Peloton officially announced their corporate wellness program in 2021, with participants such as Accenture, Nasdaq, Sky, Samsung, and SAP. In July of 2022 they announced 15 new companies who joined the program.
Peloton is also hosting a virtual event in honor of Black History Month with instructor Tunde Oyeneyin on February 15.
---
Want to be sure to never miss any Peloton news? Sign up for our newsletter and get all the latest Peloton updates & Peloton rumors sent directly to your inbox.