Just over one year ago, in June of 2021, Peloton introduced their Corporate Wellness Program, which offers special prices on Peloton Bikes, Tread, and discounted or subsidized Digital or All-Access memberships for employees of companies that are Peloton Corporate Wellness partners. These offers not only increase health and wellness among employees, but they are also a big incentive for prospective employees to join a company. Among the first major companies to join Peloton's Corporate Wellness Program were Samsung, Wayfair, Accenture Interactive, and the U.K. company Sky.
On July 20, 2022 Peloton announced via Linkedin that they are welcoming 15 new Corporate Wellness Partners into their program. These new partners are: AARP, Akin Gump Strauss Hauer &Feld LLP, Ben & Jerry's, Digitas Health, Dropbox, Goodwin, Namely, Nasdaq, Pharmavite, RK&K, SAP, UCB, VICE Media, Vitamix, and Volvo Group.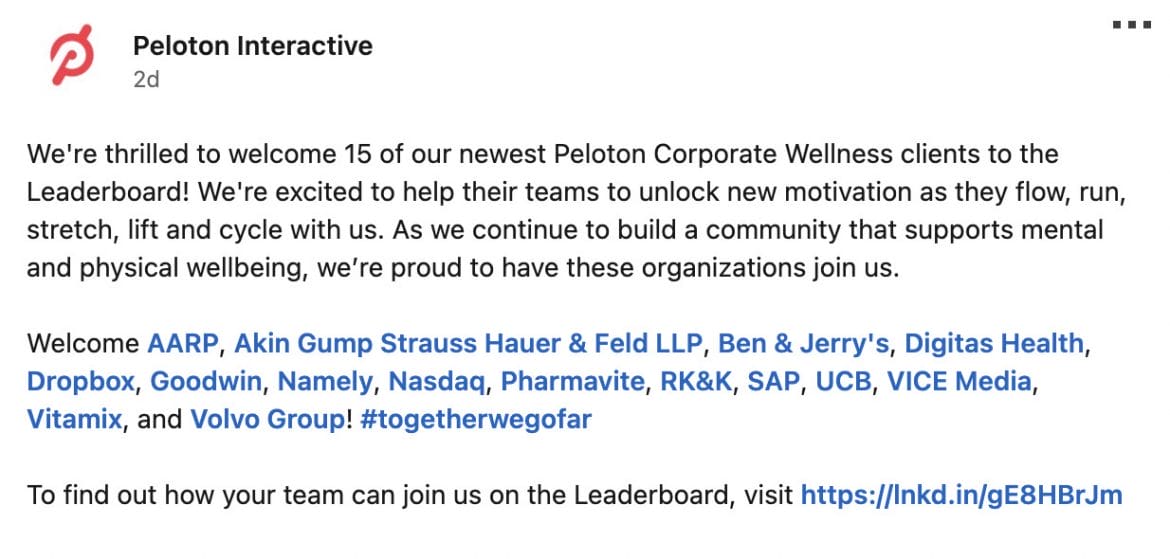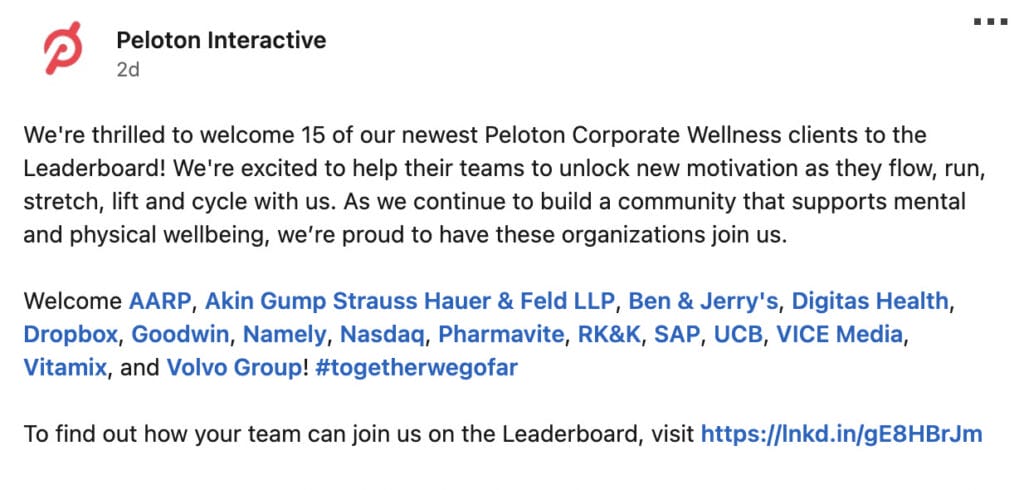 Peloton's Corporate Wellness page goes into more detail about what is offered for the companies that join the partnership, and aside from the discounted and subsidized memberships and bikes, this includes companies receiving "aggregated and anonymized data reports that reveal the positive effect Peloton has on employees' physical and mental wellness". Peloton also states that "Corporate Wellness members have also reported an 87% percent improvement on meeting personal goals, 65% of members felt their overall mental health has improved, and 64% of members feel more productive at work".


It is evident the popularity of this program if you look at the comment section in Peloton's Linkedin announcement. It is filled with people who are current Corporate Wellness Members singing the praises of the program, along with people that are not part of the program, tagging and asking their employers to sign their company up for the Wellness Program.
Let us know if your company is a member or Peloton's Corporate Wellness Program, and your thoughts on the benefits.
---
Want to be sure to never miss any Peloton news? Sign up for our newsletter and get all the latest Peloton updates & Peloton rumors sent directly to your inbox.