Fans of Peloton's scenic content are in for a special treat, as new scenic content from Scotland just dropped! Peloton shared the news via Instagram:
Let's go to SCOTLAND! 🏴󠁧󠁢󠁳󠁣󠁴󠁿
Take 3 new Guided Scenic classes with @susie_chan_ and @jon_hosking from your Tread and Bike now:
🏴󠁧󠁢󠁳󠁣󠁴󠁿 30 min Scotland Ardverikie Estate Run with Susie
🏴󠁧󠁢󠁳󠁣󠁴󠁿 20 min Scotland Kinloch Hourn Ride with Jon
🏴󠁧󠁢󠁳󠁣󠁴󠁿 30 min Scotland Glencoe Hike with Susie & Jon
Three new guided scenic classes are available with instructors Susie Chan and Jon Hosking, including a two-for-one hike:
*Note that Peloton appears to have updated the links for scenic rides and runs so that they no longer open the thumbnail on the web browser.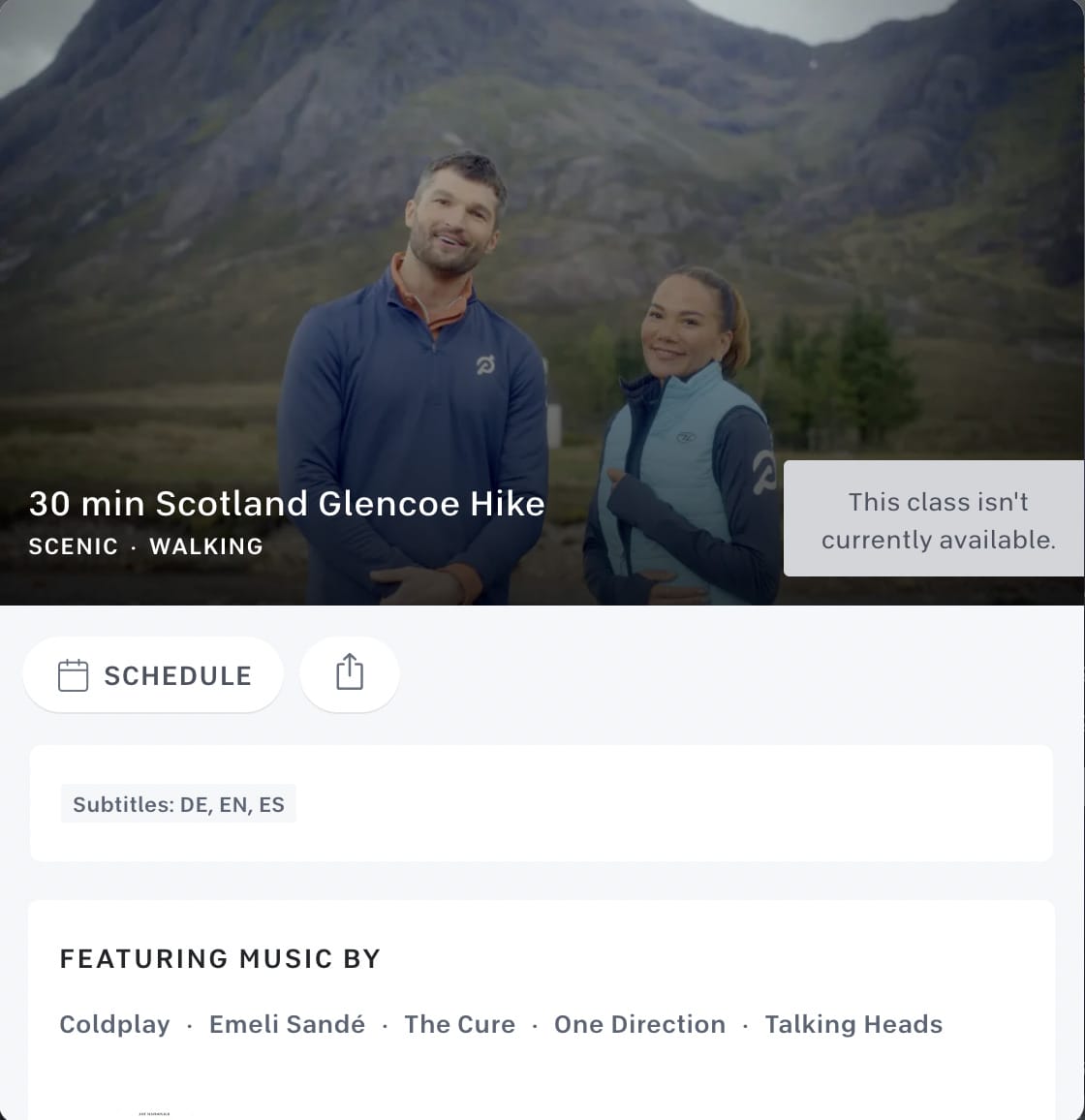 Jon is the second Tread instructor to offer a scenic bike ride; Adrian Williams, who also teaches runs, has a Savannah ride available. In addition, Yoga & Meditation instructor Mariana Fernandez recently offered both a scenic ride & run from Puerto Rico.
We first learned that Susie and Jon were working on new scenic content back in May, though we couldn't yet pinpoint the exact location. At the time Susie had posted on her Instagram story, writing: "I am off schedule for a week now, doing something very exciting. I can let you know, hot off the press exclusively, I am filming some scenic content. Stay tuned for that." Shortly thereafter, Jon was tagged in a picture with Jacqui Moore – Peloton's scenic producer.
In addition to the new guided classes, there are also four new distance runs, four timed runs, three distance rides, and three timed rides all available now as well. The classes are set in Edinburgh and West Highlands, Scotland. Be sure to check out our scenic rides and runs guide for additional details.
In case you missed it: earlier this year Peloton launched "Peloton Radio," which allows members to pick their playlists to ride or run to while in a scenic class. You can read more about the feature in our overview article.
Members should also be on the lookout for potential scenic content to drop from U.K.-based Tread and Strength instructor Jermaine Johnson in the near future, as he has previously posted about filming scenic content.
As a reminder, scenic content is only available to members who own a Bike or Tread and is not accessible to Peloton App members. Peloton made this change in 2021 as part of their scenic content relaunch.
Though you won't be able to start the classes on the App or web browser, you can still view the complete list of scenic rides and runs using our guides.
---
Want to be sure to never miss any Peloton news? Sign up for our newsletter and get all the latest Peloton updates & Peloton rumors sent directly to your inbox.