Update – On October 13th, 2020 Peloton announced an official Broadway Series featuring music from Hamilton. You can find details about the new classes here.
With the upcoming release of the Hamilton musical on Disney+, you might be listening to the soundtrack to prepare. Wouldn't it be great if you could do that while getting your workout in? Turns out, you're in luck!
Buried in the Peloton library is a 30 minute ride titled "Best of Broadway '16 Ride". Taught by Robin Arzon, this workout is actually an entire ride featuring the Hamilton Soundtrack! It originally aired on February 9th, 2016 – and if you haven't taken an older on-demand ride, you'll be able to see how the production of rides has changed over the last 4.5 years!
Ready to jump in and take it? Click here to see the ride on the Peloton website where you can bookmark it to then easily find it on your bike!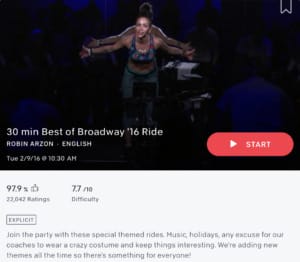 There used to be another Hamilton ride or two in the on-demand library, but they have unfortunately been removed in recent ride purges. With the resurgence of artist rides and Peloton having recently settled their ongoing music litigation, perhaps another Hamilton workout will take place in the near future.
If you're a Broadway fan, be sure to check out our page containing a list of other Broadway workouts that are available to take on-demand – including one that just took place today from Jess King! It's not just for the bike either, there's a handful of runs, and even a yoga flow!
And if you've ever wanted to ride to a Disney soundtrack, don't worry, that same page will cover those rides & workouts as well!
---
Want to be sure to never miss any Peloton news? Sign up for our newsletter and get all the latest Peloton updates & Peloton rumors sent directly to your inbox.