As we first reported yesterday, Peloton has now officially rolled out a brand new feature for the iOS app. The new "Scheduling" feature for Peloton allows you to add any on-demand class to your custom schedule, which you can view within the Peloton app alongside classes you've counted yourself in for on-demand and live. This allows you to build a calendar of your Peloton classes within the Peloton iOS app.
We've put together a quick video showing how this works:
Peloton is calling this a "limited-time feature" – which means it could be pulled like Sessions was, and hopefully eventually be added back.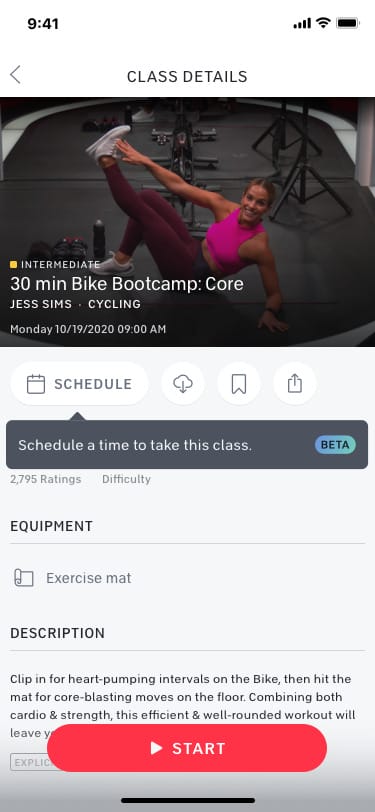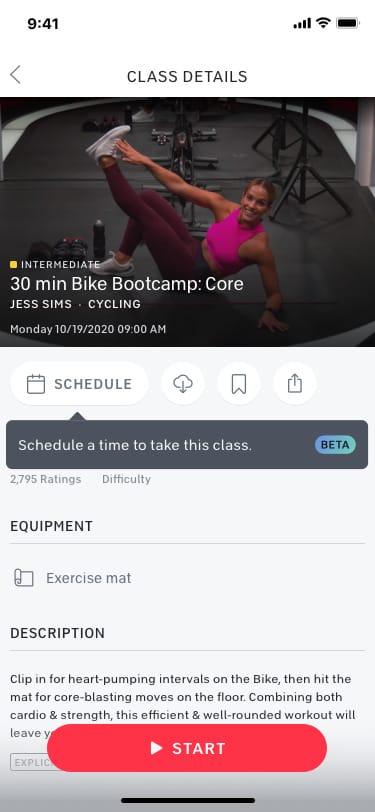 The feature appears to now be live for everyone. To check it out, you'll want to make sure you have the latest version of the iOS app, and you might need to completely close it and open it. At this time the Peloton Scheduling feature is only available for iOS – Android users will have to wait. However, you should receive a push notification on your Peloton Bike or Tread when a class you have scheduled is about to start.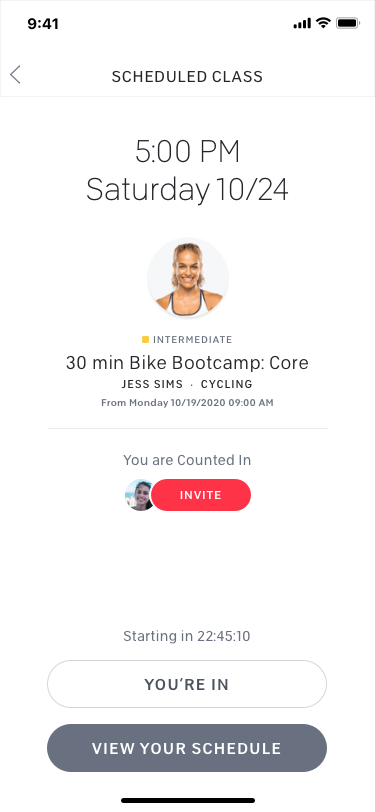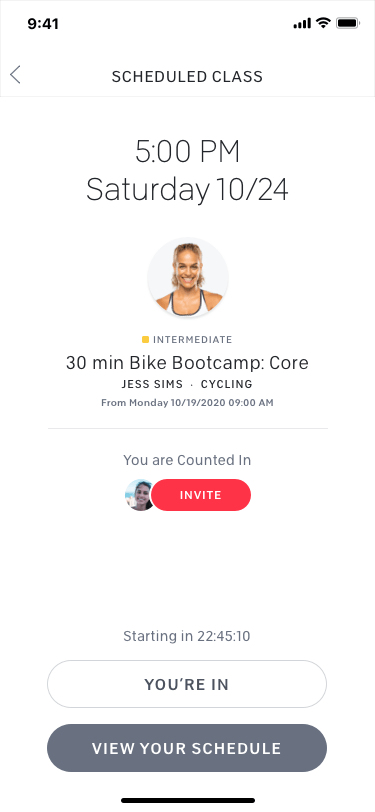 You can schedule a class for up to two weeks in the future. Once you do, you can access a new screen on your Schedule page showing "Your Schedule", that shows everything you've scheduled for yourself, including on-demand and live.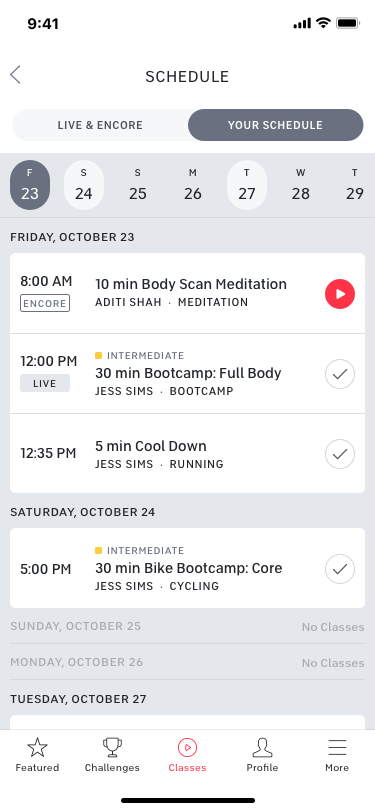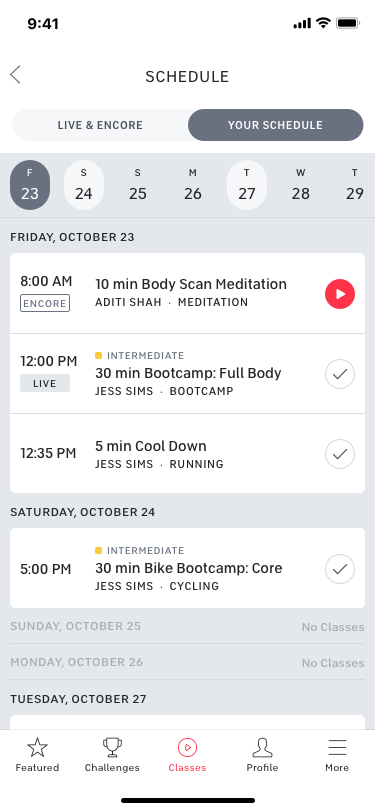 Note that at this time the schedule you create can't be exported to an external calendar. Hopefully this will be added soon as it would make this feature more useful. In the future we can also see it integrating with Peloton sessions – allowing you to turn the scheduled class you create into a private session for you and those you invite.
Speaking of invites – as part of this is the ability to invite your friends to a class you have scheduled. Clicking the invite button opens the iOS share screen, where you can email or message your friends a custom link. If they click it on their iPhone, they will see the class & time you have scheduled, and they are able to add it their own schedule as well. However, note that they must click it on their iPhone – even if you use the Peloton website, you'll get a message the feature is currently for iOS only.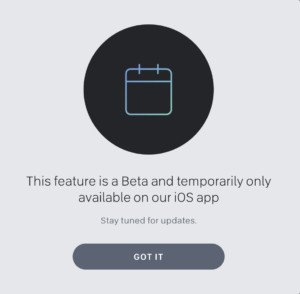 If you have any issues, you can see Peloton's FAQ page on the topic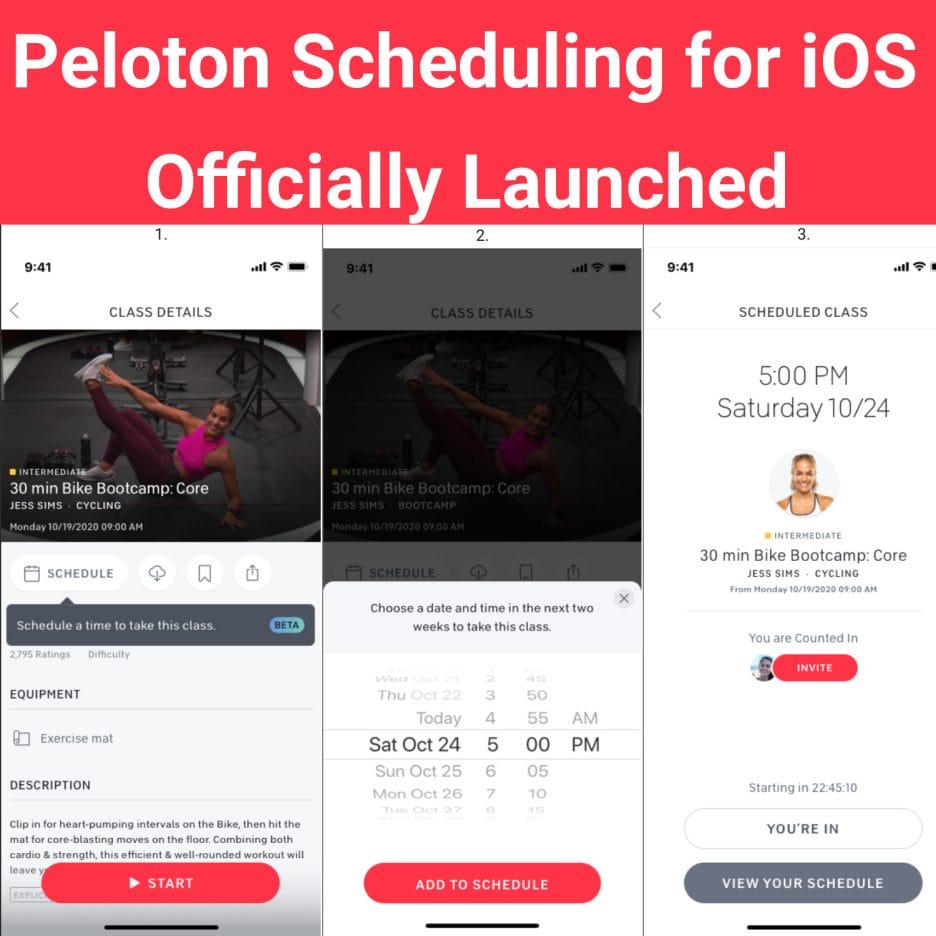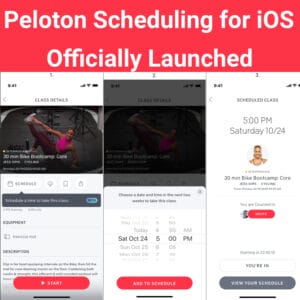 ---
Want to be sure to never miss any Peloton news? Sign up for our newsletter and get all the latest Peloton updates & Peloton rumors sent directly to your inbox.