Peloton Homecoming 2020 will be from May 1st-3rd, 2020, and today, Peloton has announced pricing information and more details about the different event packages that are available for the weekend.
The price for Peloton Homecoming 2020 will be $95. This is the same as 2019 Homecoming cost. Expect your grand total to hit $100 with taxes and processing fees.
Tickets for Peloton Homecoming 2020 will actually go on sale February 12th, 2020 @ 12pm ET. Registration will work slightly different than last year. Rather than choosing a specific class at some point after registering, this year, during registration, you will pick a preference for class type, instructor, and class time. Peloton will then automatically assign everyone into one studio class. They will try to use your preferences for assigning your one class, but you are not guaranteed to get your top choices. You'll actually find out which class you were assigned to closer to when the full schedule is released around March 9th, 2020.
The event packages are similar to 2019 as well. Each attendee will get one studio workout. Homecoming 2020 will also include an apparel warehouse sale, panels, instructor meet & greets, a community celebration/party, as well as a keynote with Peloton CEO John Foley, who will be joined by Jenn Sherman. New this year is that every person will be invited to a group community run – likely a 5K in Central park. Last year, the group run was one of your single class options you could pick – now it is open to everyone. Peloton has not released the full schedule yet, but is expected to do so the week of March 9th, 2020.
Unfortunately, if you were hoping for multiple studio workouts at Homecoming 2020, that won't be possible. Each member is limited to just one event package.
It's hard to say how quickly Peloton Homecoming 2020 will sell out. Last year, tickets for the Saturday package sold out quickly, but then tickets for the Sunday package remained available for a few weeks. If you are on the fence, you can go ahead and register on February 12th – the event is refundable as long as you request it by April 1st, 2020.
To stay up to date on all the latest Peloton Homecoming news (which was formerly known as Peloton HRI – Home Rider Invasion), you can check out our Peloton Homecoming guide here.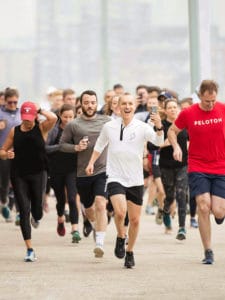 ---
Want to be sure to never miss any Peloton news? Sign up for our newsletter and get all the latest Peloton updates & Peloton rumors sent directly to your inbox.