This summer, Peloton officially launched into Australia. Both the Bike & Bike+ are available for sale, and Peloton is gearing up to open showrooms in Sydney, Melbourne, and other cities.
Peloton is not stopping there, and is already looking into other countries they can expand to in the Asia-Pacific region. Karen Lawson, who is the General Manager for Peloton Australia, recently conducted an interview with Mirage News. While she discussed how they were working their way to being in every part of Australia, Karen also took the opportunity to share they were looking at other countries in the region as well.
She was quoted as saying:
'Australia is a beachhead into the Asia-Pacific region,' says Lawson. 'When conditions are right, we will expand. We're passionate about growth and bringing great experiences to people.


We'll look at Australia's Free Trade Agreements and determine the conditions under which we could operate most successfully.'
The list of countries that Australia currently has free trade agreements with includes:
Brunei
Burma
Cambodia
Chile
China
Hong Kong
Indonesia
Japan
Korea
Laos
Malaysia
Hong Kong
New Zealand
Peru
The Philippines
Singapore
United States
Thailand
Vietnam
Of those countries, Peloton is known to have already begun filing for trademarks or patents in Cambodia, Malaysia, New Zealand, The Philippines, and Singapore.
Of course, Australia isn't the only area Peloton is looking at for further expansion. Recent news indicates that Peloton is moving forward with plans to expand into Ireland as a base to further expand into Europe and the EU. And with Peloton now having Spanish language classes available, Mexico or other Spanish speaking countries might be next logical steps as well. However, Peloton has been very active in terms of filing trademarks in Mexico.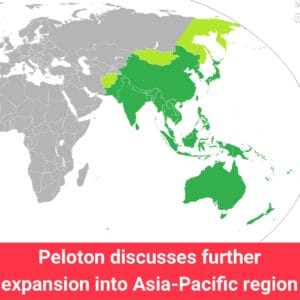 ---
Want to be sure to never miss any Peloton news? Sign up for our newsletter and get all the latest Peloton updates & Peloton rumors sent directly to your inbox.