Peloton's hiring streak continues. Earlier this week, we reported that Peloton is looking to hire a SVP of Product Marketing for Peloton Strength, which along with other indicators, leads us to believe that a connected strength device will be brought to market by Peloton, to compete with Tonal and other devices.
Peloton made another SVP hire this week, bringing Robert Franklin on as the new Senior Vice President for E-Commerce. Franklin previously worked for Amazon, as the Head of Product for the "Merch by Amazon" program, where he spent the last 4+ years.
Franklin is looking to quickly grow his new team – his profile mentions that he is "Leading product and tech for Peloton ecommerce. If you are looking to join a rocketship, we are hiring PMs, TPMs, QA, and Developers! Please message me." You can connect with him here.
With the new head of the department, and the clear plan to try to quickly grow out the team, it will be interesting to see what this means for the Peloton community. Peloton's e-commerce team already generates a great deal of revenue for the company. As Peloton is expected to bring the new low cost treadmill to market within weeks, and possibly the new premium version of the Peloton bike as well, there will be a lot of interested buyers for Franklin's team to interact with.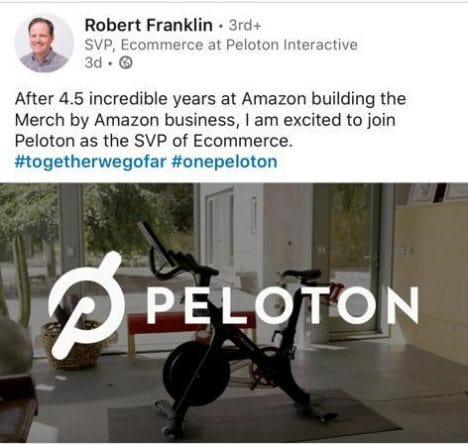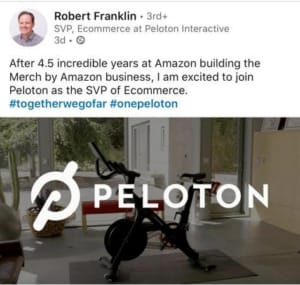 ---
Want to be sure to never miss any Peloton news? Sign up for our newsletter and get all the latest Peloton updates & Peloton rumors sent directly to your inbox.