This morning, an internet outage appears to be impacting Peloton for some users. The outage isn't uniform, so you may not be noticing any issues. The issue appears to only be impacting certain ISPs. Members who are impacted are reporting issues loading parts of the Peloton website, and the studio might be experiencing technical difficulties as well.
Update At around 9:15am, Peloton posted the following message: "Due to an ongoing technical issue, all live classes scheduled through 11am ET today, 8/30 are canceled. We will share updates later in the day as we have them. We sincerely apologize for the inconvenience."


The root cause of the global internet outage has yet to officially determined. At this point, the issue appears to either be based on an outage at Level3/Century Link [report], or with Cloudflare [report].
Christine was scheduled for a 8:00am ET live power zone ride this morning. In the 15 minutes before the ride was scheduled to start, it swapped to on-demand on the schedule, and Peloton sent out cancellation emails. Christine appeared to actually already be in the studio, based on her social media posts. No explanation was given for the cancellation, although there rarely is unless the instructors address it on social media. It's possible the internet outage was impacting the studio, forcing them to cancel the live class.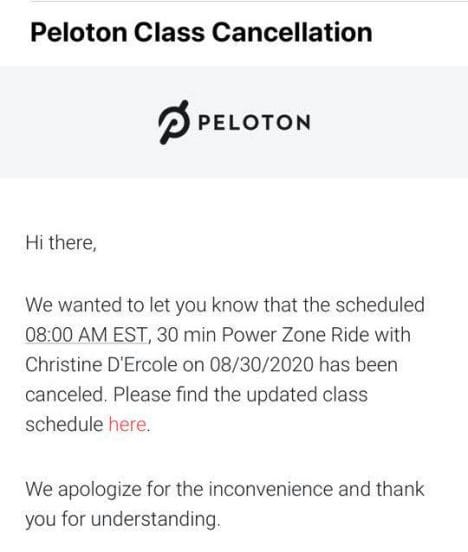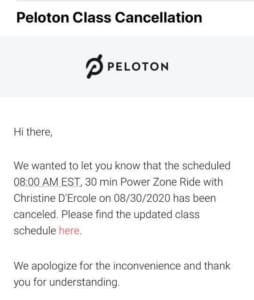 Update Christine's 8:45am ET ride, that was also scheduled to be live, was also changed to encore approximately 10 minutes before the class was scheduled to start.
Adrian Williams was also originally scheduled to start his 30 minute The Weeknd bootcamp class at 8:30am ET. This was pushed back to a 9:00am ET start, likely for the same reason. Update – 5 minutes before his rescheduled bootcamp was scheduled to start at 9:00am, it was removed from the schedule and replaced with an encore class.
Similarly, Aditi Shah was scheduled for a 75 minute yoga workout at 9:00am ET. This was replaced by a 60 minute encore class just before the class was scheduled to begin.
Hannah Corbins' two rides this morning also ended up being cancelled, as well as Becs Gentry's Carnival Celebration run.
Additionally, some members are reporting that the Peloton website is either loading slowly for them, or not at all. In some cases, the page would finish loading, but some content be missing – or take more than a minute to load some parts of the page.
It appears that this outage isn't due to an issue with Peloton's infrastructure, but rather, with an internet service provider, or one of the different backbones pieces of the internet. Issues like this usually get resolved within a few hours.
Although this issue isn't reflected there, it's worth noting that Peloton has a status website you can visit. This page will usually show any known issues.
Update: As of 9:24am ET, Peloton updated their status page to reflect issues: "Identified – We have identified streaming issues from PSNY that are causing issues with live classes. Some classes may be rescheduled or canceled. We apologize for any effect this has on your workout and will update this page with more information."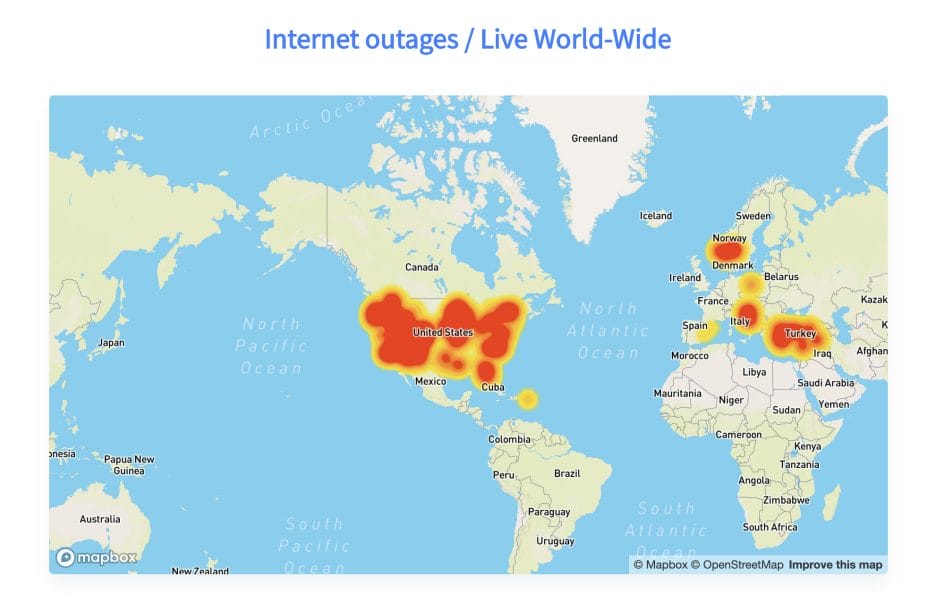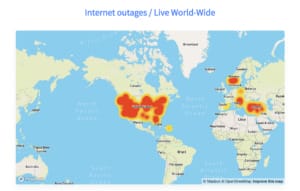 ---
Want to be sure to never miss any Peloton news? Sign up for our newsletter and get all the latest Peloton updates & Peloton rumors sent directly to your inbox.