Matt Wilpers & Denis Morton took the opportunity during this afternoon's special dual instructor 60 minute power zone ride to officially announce that Christine D'Ercole & Olivia Amato would be joining them as the newest power zone instructor. Christine & Olivia were riding in the studio audience, and about 30 minutes into the ride, Matt & Denis said they had a special announcement and turned the lights on Olivia and Christine and announced them as the newest power training coaches. If you want to check out their teaching style with power zone classes, there are already 4 classes available on demand with them.
Their first live rides are also up on the class schedule. You can take your first power zone classes with Olivia or Christine at the following times:
30 Minute Power Zone Ride w/ Christine D'Ercole – 1/20/20 @ 10:30am ET
30 Minute Power Zone Endurance Ride w/ Olivia Amato – 1/20/20 @ 11:30am ET
45 Minute Power Zone Endurance Ride w/ Christine D'Ercole – 1/22/20 @ 6:30pm ET
30 Minute Power Zone Endurance Ride w/ Olivia Amato – 1/25/20 @ 5:15pm ET
30 Minute Power Zone Ride w/ Christine D'Ercole – 1/27/20 @ 10:30am ET
30 Minute Power Zone Endurance Ride w/ Olivia Amato – 1/27/20 @ 11:30am ET
The first official rumblings of a new power zone instructor came at the end of 2019, when in Peloton CEO John Foley's email to members he mentioned that 2020 would see "more instructors teaching Power Zones"
Christine D'Ercole provided a clue to her involvement in early January when she announced that she would be stopping her long-running heart rate zone training classes, but that she would be working on a new project that involved "teaching smart, science-driven classes based on authentic cycling" – which sure sounded like power zone training to us.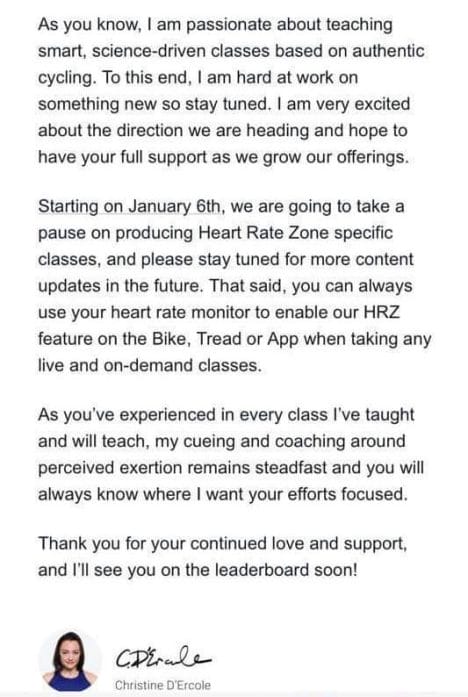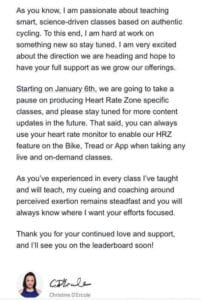 As additional confirmation, Christine posted to her Instagram stories about an hour before the dual ride sharing that she was all bundled up to head down to the studio for the Matt & Denis power zone ride. Putting all the clues together, it seemed pretty likely that Christine would be announced during the live ride as joining the power zone training team.
Olivia Amato became a favorite to be named as a power zone instructor yesterday when a class listing was temporarily released that showed a Olivia Amato power zone class on the schedule for Monday, February 3rd, which we shared to our social media (both Facebook and Instagram).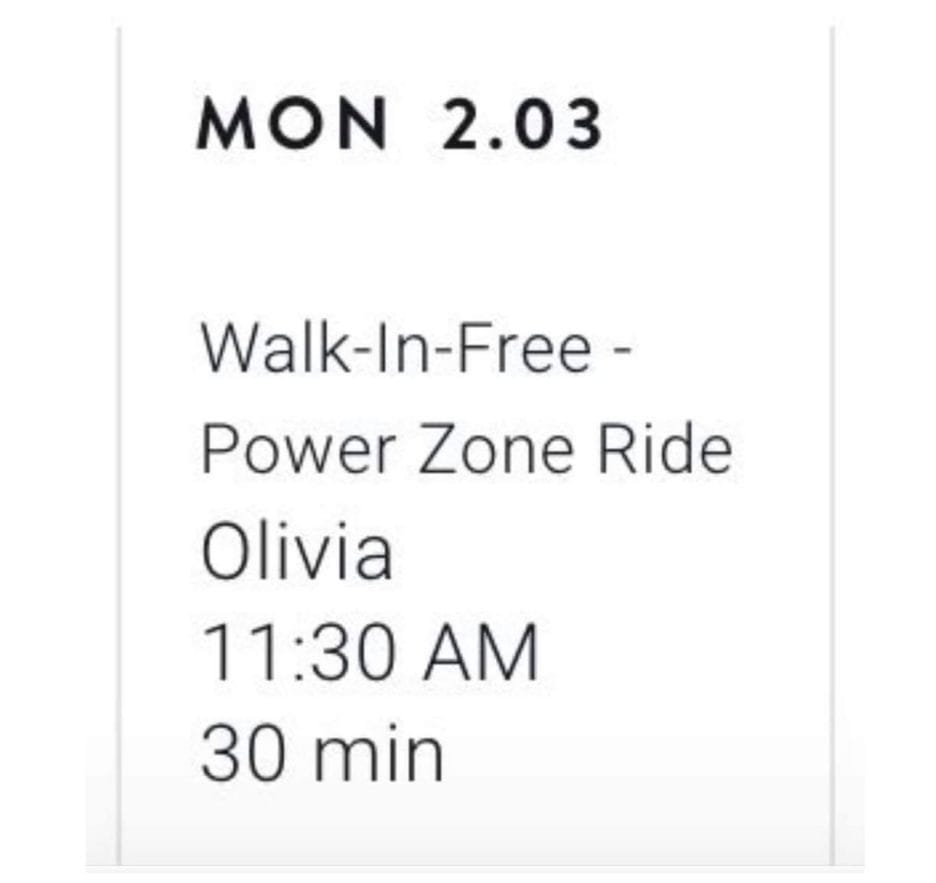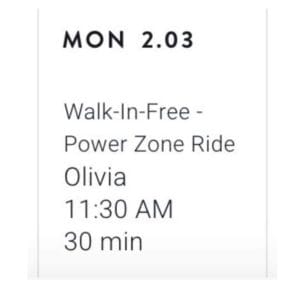 Olivia also threw additional fuel on the fire in the hours leading up to the dual power zone class. She posted a video to her Instagram stories sharing that she was on the way to the studio, as she would be riding in the front row during Matt & Denis' dual power zone class, and that "something really cool is about to go down".
Power Zone Training has been steadily growing in popularity at Peloton. Matt Wilpers joined Peloton in October 2016, and one of his initial class types he included was metrics rides, with 5 zones. It wasn't until around March 2017 that Matt was able to officially start the traditional power zone training class types as we know it today, with the 7 zones. Denis Morton would join him as the second power zone instructor in October of 2017. Matt & Denis have both stated that Matt spent several weeks & months teaching Denis the power zone science, methodology and theories. We can expect the same rigorous induction and onboarding was, or is being given, to these new instructors!
In fact, we know that for the last several months Christine has been quietly taking power zone classes on her own time. While it also serves as useful base training for her in her training for another cycling gold medal at the track, this is also a useful tool for her to get familiar with how power zone classes are taught (we're sure that she is familiar with the science and training aspects from her own personal training)!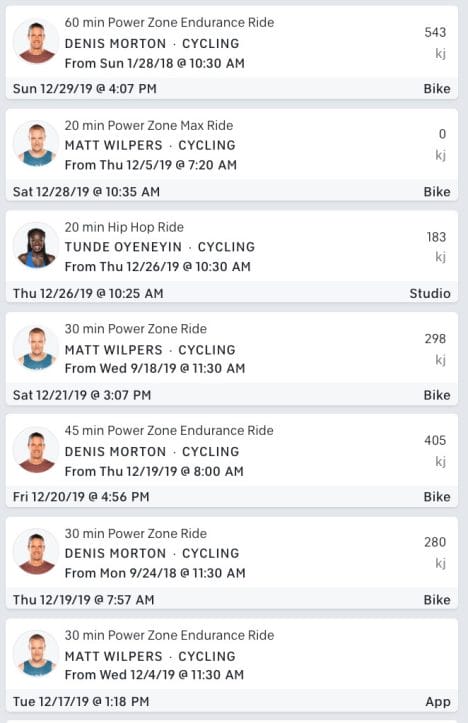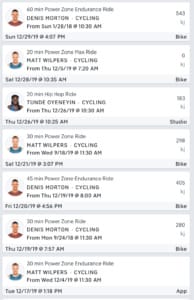 The biggest change to Peloton Power Zone Training since the addition of Denis Morton, until today, was that in May of 2018, Peloton added the zone functionality to the Peloton bike tablet. With these additions to the power zone coaching staff today, one can hope this is the start of Peloton putting a little more intention into their power zone training program -and that this might even lead to more updates & tweaks in the coming months. What might be next? The next logical step would be for Peloton to start providing actual training programs, or challenges, through the bike itself. Currently, while there are a lot of on-demand power zone classes, riders are responsible for picking and choosing the rides to create their own weekly training schedule – or joining one of the various third party groups that runs challenges. Peloton already has a short "Intro to Power Zone Training" in the collections section of their tablet. They could roll an ongoing training plan into the tablet – either using AI to pick out 4 weeks of classes at a time for you, or a simpler approach of just having multiple 6-8 week training plans that they continue to add every few months for people to advance through.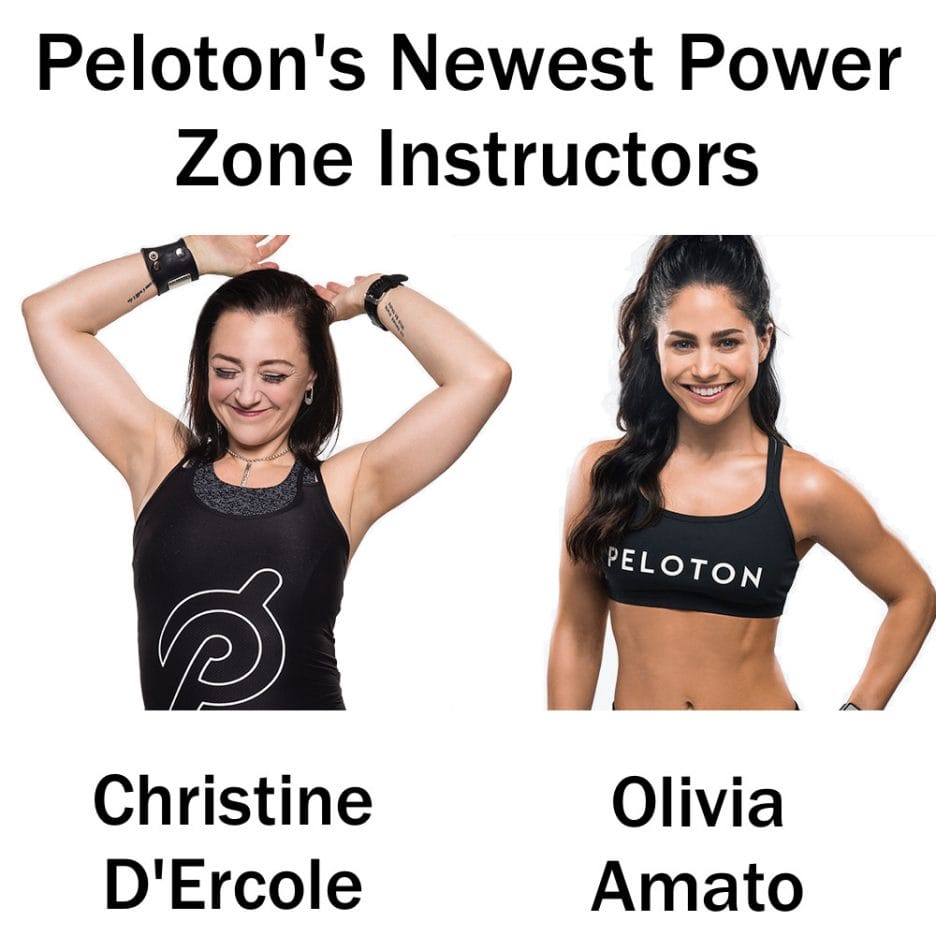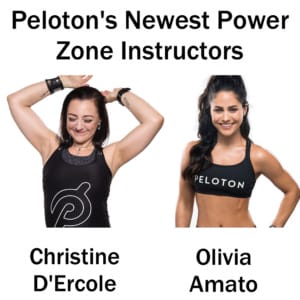 ---
Want to be sure to never miss any Peloton news? Sign up for our newsletter and get all the latest Peloton updates & Peloton rumors sent directly to your inbox.