Peloton is kicking off Women's History Month with an artist series featuring the music of Kylie Minogue. Peloton officially announced the series via Instagram:
Introducing an Artist Series featuring the dance-pop icon you just can't get out of your head: @kylieminogue.
To kick off Women's History Month, take a spin around the Leaderboard in live classes with @yoiamsamyo, @jeffreymce, @afrow_cliff, @leannehainsby, @susie_chan_, @mattymaggiacomo, @la_tiamariana, @katiewongspelledwang, & @marcel2coach beginning March 2.
The series will launch on Thursday, March 2 and will include nine classes across five modalities, including three classes in German. You can find the complete list of Kylie Minogue Peloton classes below:
Kylie Minogue Peloton Classes & Schedule & Workouts – Featured Artist Series
30 min. Kylie Minogue Walk [German] – Jeffrey McEachern – 3/2/23 @ 11:30am ET
30 min. Kylie Minogue Ride [German] – Cliff Dwenger – 3/2/23 @ 1:30pm ET
30 min. Kylie Minogue Walk + Run – Susie Chan – 3/2/23 @ 2:30pm ET
30 min. Kylie Minogue Ride – Leanne Hainsby – 3/2/23 @ 2:30pm ET
10 min. Kylie Minogue Cool Down Ride – Sam Yo – 3/2/23 @ 3:05pm ET [On-Demand Premiere]
20 min. Kylie Minogue Core Strength – Matty Maggiacomo – 3/2/23 @ 6:00pm ET
30 min. Kylie Minogue Yoga Flow – Mariana Fernández – 3/2/23 @ 6:30pm ET
20 min. Kylie Minogue Row – Katie Wang – 3/2/23 @ 7:30pm ET
15 min. Kylie Minogue Arms & Shoulders Strength [German] – Marcel Maurer – 3/3/23 @ 3:00am ET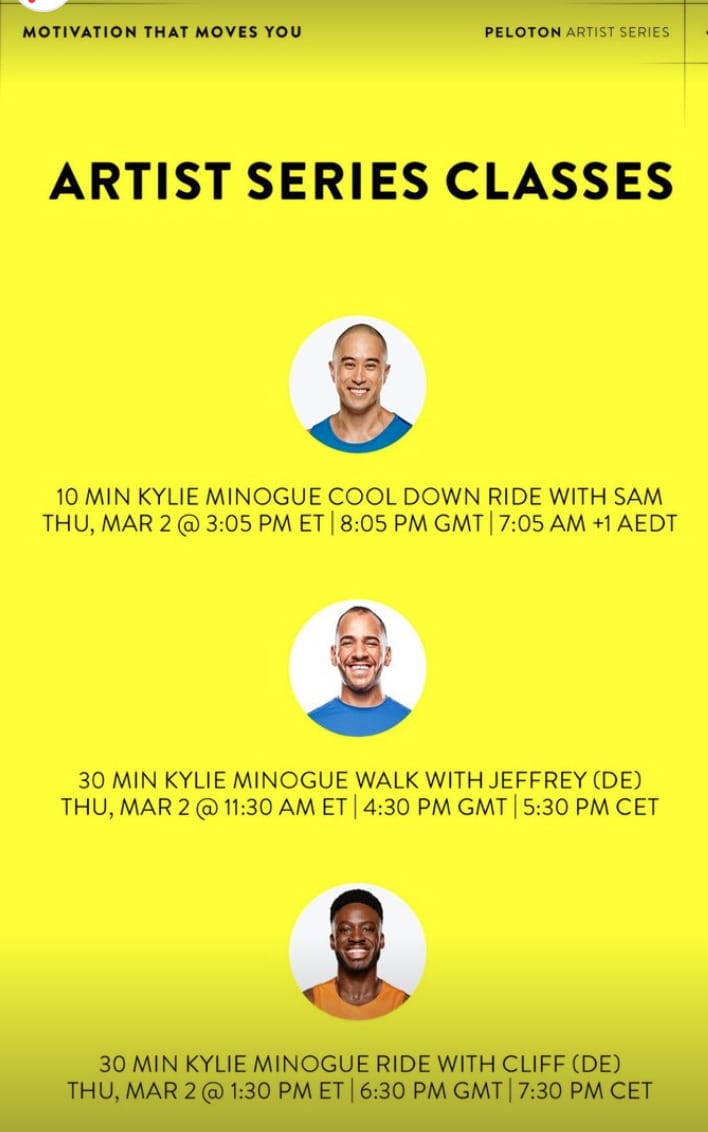 We first reported this series was on the way last week, when Peloton added new artist series classes throughout the month of March to the studio booking site. However, not all of the above classes were included, meaning that some of the classes will have members in-studio and others will not. Members can also anticipate artist series for H.E.R. and Shania Twain later this month.
In case you missed it, now that Peloton Studios New York (PSNY) and Peloton Studios London (PSL) are open to in-person attendees from Thursdays through Mondays (instead of the previous Fridays through Sundays), Peloton appears to be shifting their standard artist series day from Wednesday to Thursday.
Members will receive an artist series badge for completing any of the Kylie Minogue classes. If you're looking for additional badge opportunities, you can find the complete list via our guide.
A 2023 Women's History Month badge could also potentially be up for grabs in this artist series. As of publishing time Peloton has not made any official announcements regarding their upcoming Women's History Month content, they have historically released special classes to mark the occasion.
If you're interested in previous Peloton artist series, you can browse the complete list on our site.
Will you be opting into the Kylie Minogue artist series?
---
Want to be sure to never miss any Peloton news? Sign up for our newsletter and get all the latest Peloton updates & Peloton rumors sent directly to your inbox.