Update – This event is likely related to a Jess Sims Saturday 60 apparel drop which is happening at 4:00pm ET on Saturday, March 11.
Peloton will host a private event with instructor Jess Sims at Peloton Studios New York (PSNY) on Saturday, March 11, 2023. Peloton sent an email invitation to some members inviting them to attend:
You are cordially invited to attend a private event at Peloton Studios New York on Saturday, March 11th with Jess Sims.
This event will take place from 3:00 PM to 5:00 PM and will be hosted on our Plaza Level. The dress code will be casual – so be sure to show up in your best Peloton Apparel!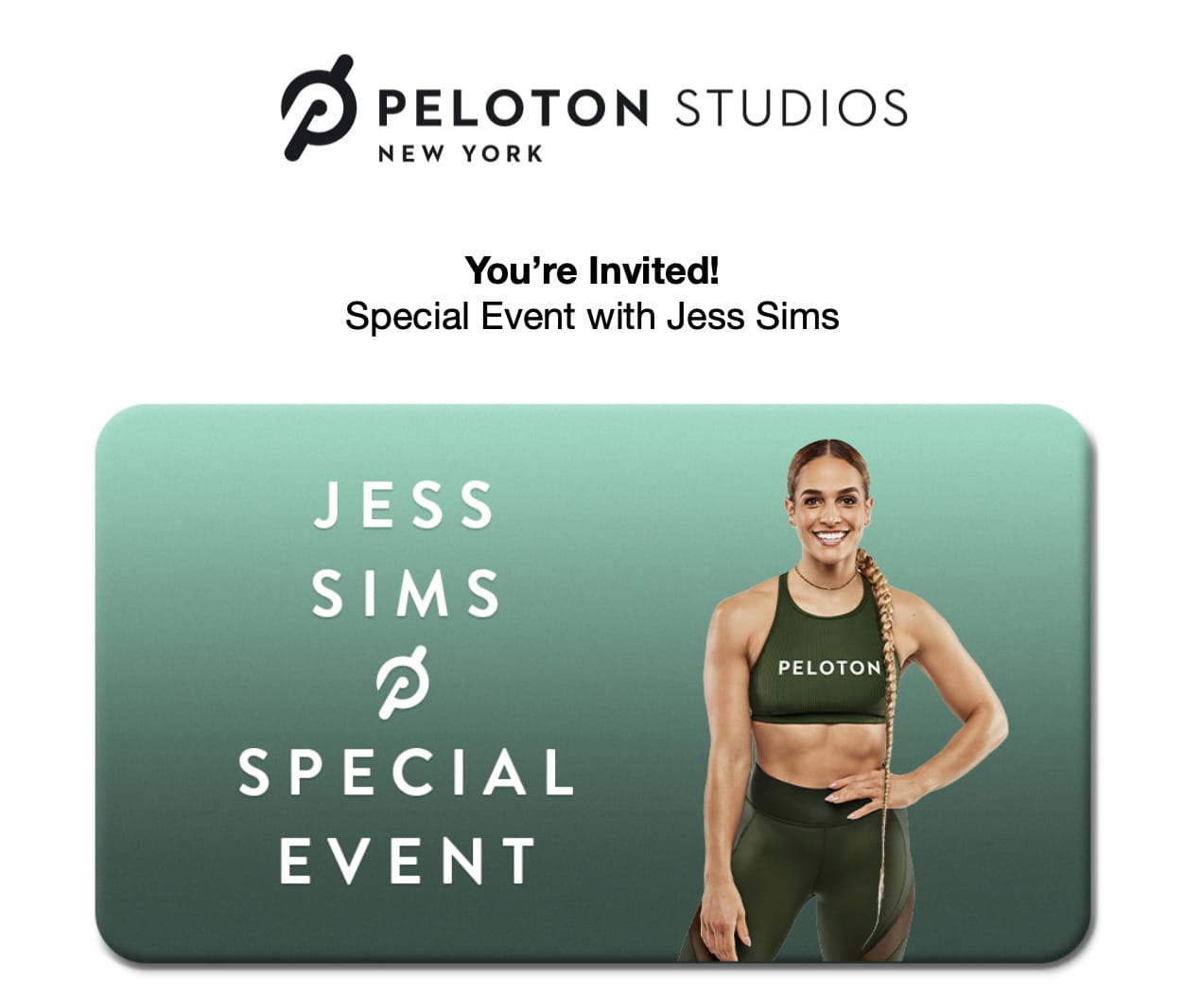 Members were sent a link to RSVP and were asked not to forward the invitation to others. Those interested must RSVP by March 6, and the event capacity may be reached before the deadline.
The RSVP confirmation states: "Come hang with Jess and recover as a team after Saturday 60. Whether you take class in studio or at home, let's take a moment to celebrate our wins together!"
The event will follow Jess' signature Saturday 60 Tread Bootcamp series. Jess has a live class scheduled on March 11 at 12:00 p.m. ET – Saturday 60: Hip Hop.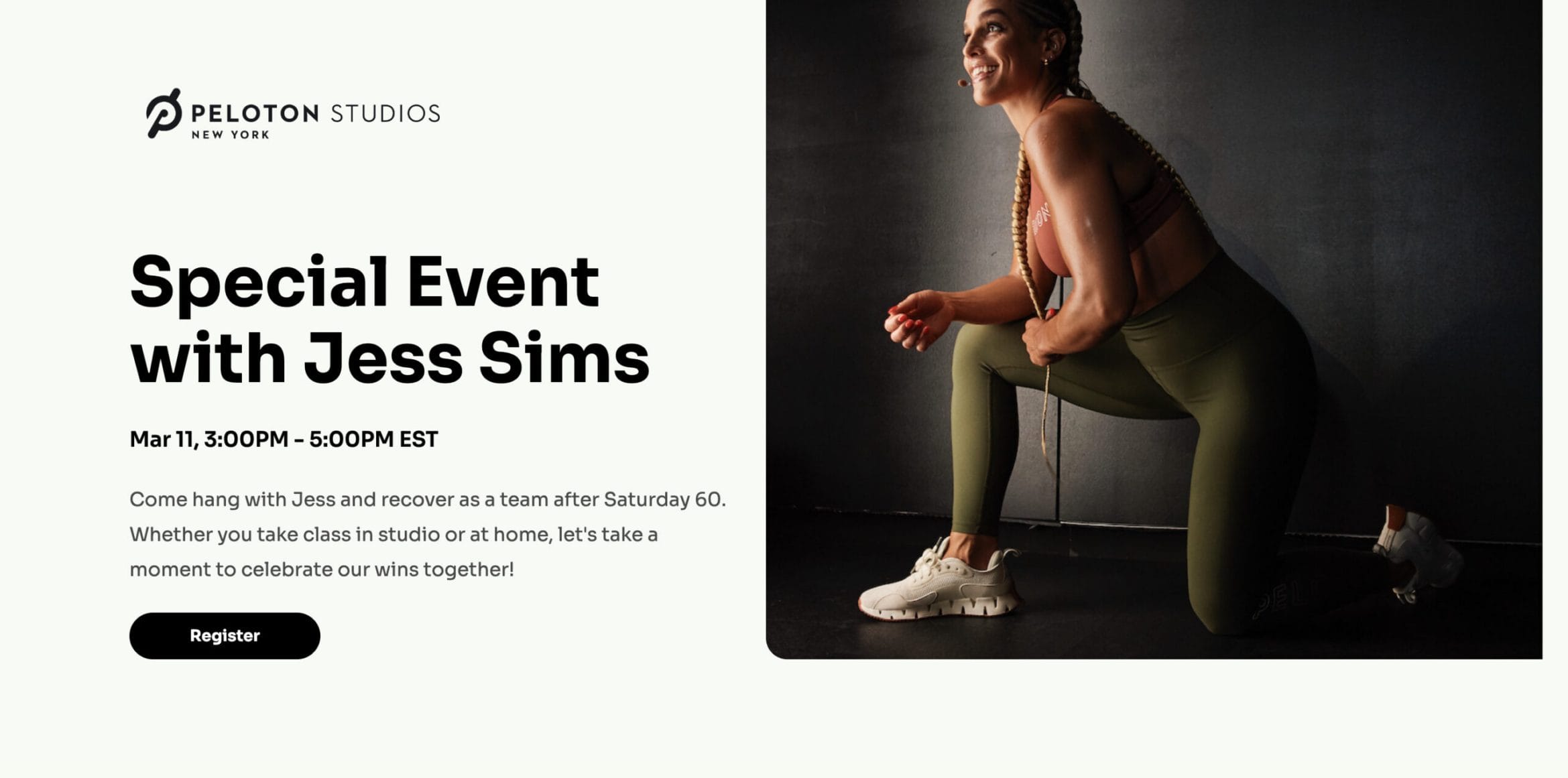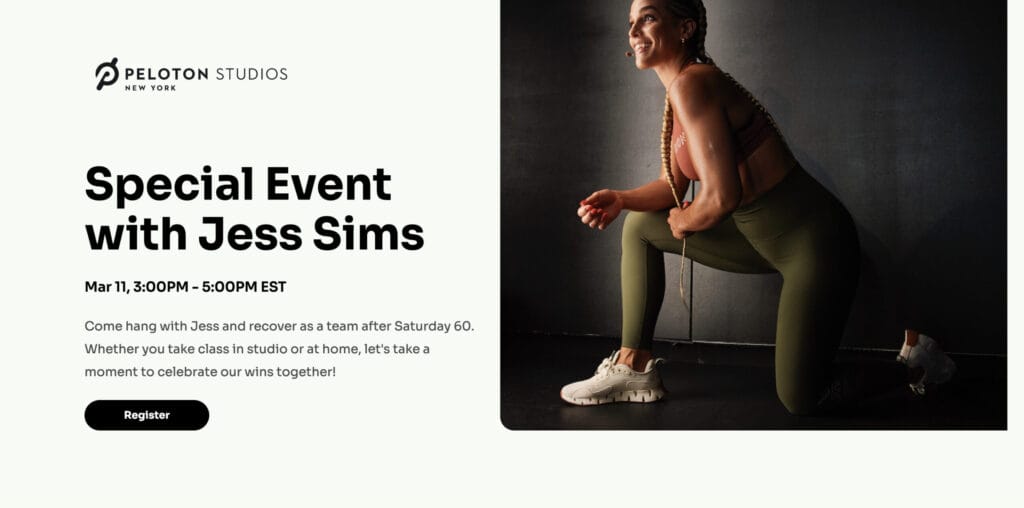 Peloton is continuously increasing the frequency of their in-person events. In 2023 alone there have been two Lunar New Year events in both London and New York City, an event with instructor Callie Gullickson for the launch of her Peloton Apparel collection, an event celebrating the new retail store at Peloton Studios London, and an event celebrating Robin Arzón's second children's book. There was even a meet & greet with Jon Hosking in Australia.
If you received an invitation to the March 11th event with Jess and are interested in attending, be sure to RSVP before the March 6 deadline.
---
Want to be sure to never miss any Peloton news? Sign up for our newsletter and get all the latest Peloton updates & Peloton rumors sent directly to your inbox.