The "Invite Friends" feature first announced at this year's Peloton Homecoming seems to be rolling out to members! The new feature allows members to schedule classes in advance with friends and family, and more easily work out together to celebrate milestones or just spend time together. Peloton first introduced the feature as "an easier way to invite, accept, and celebrate major workouts with your friends directly from your Peloton device."
Peloton has published a new support page that contains additional information. For now, Bike and Tread devices, as well as the App, are the only way to both send and receive invites. Members can receive invites via the web browser, but cannot send invites this way.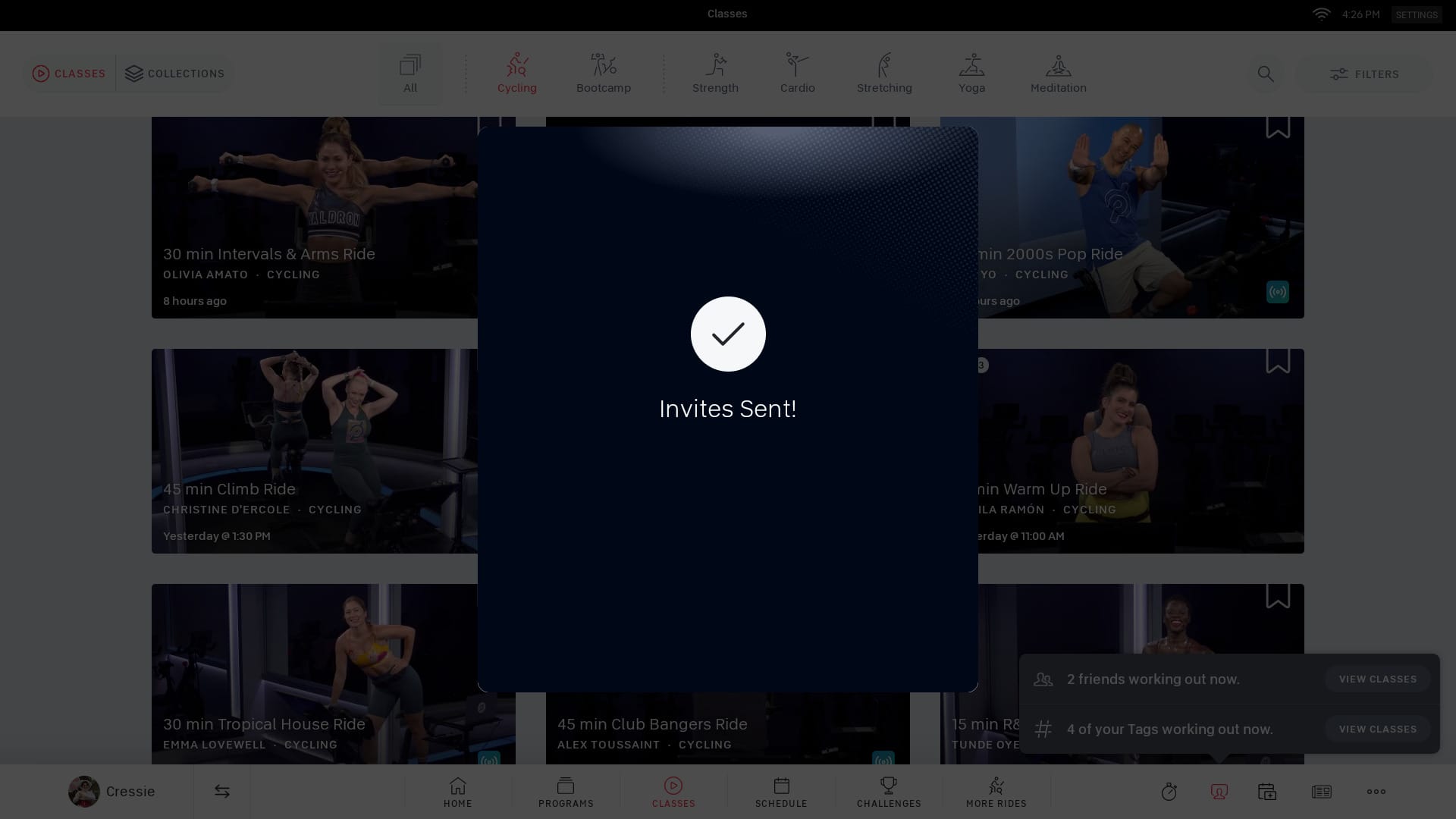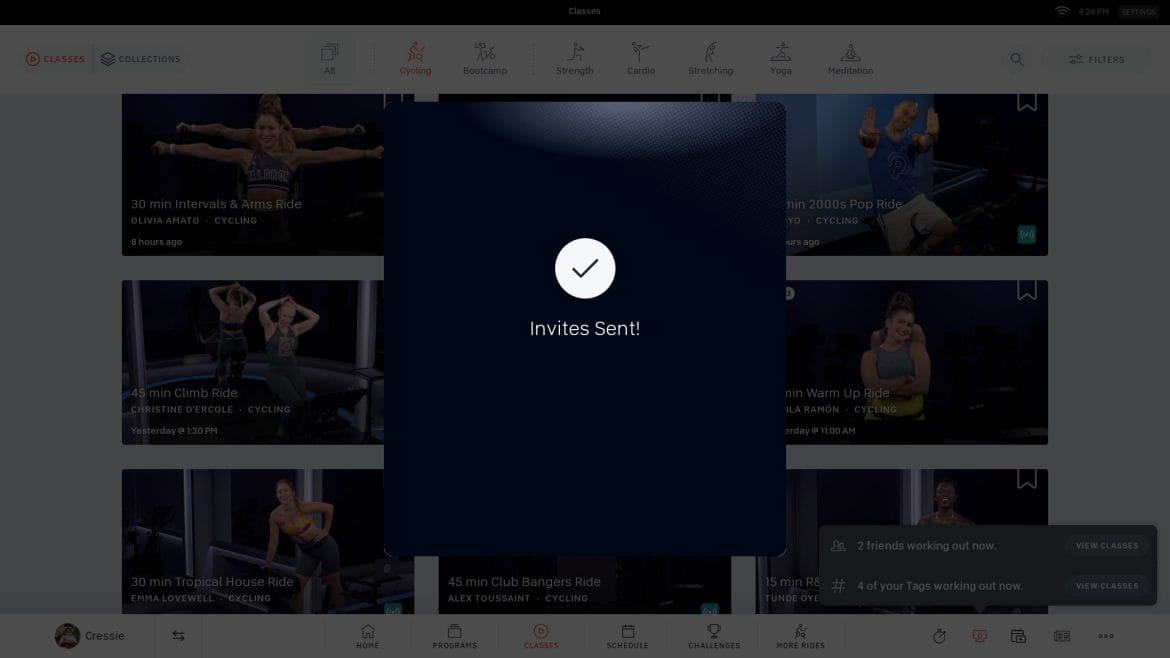 How to use Peloton's Invite Friends feature on Bike, Tread, iPhone App, and Android App
When selecting a class from the on demand library on their Bike or Tread devices, members will see a new "send class invites" button next to the other buttons (bookmarking, stacking, and scheduling). The description of this button reads: "Working out is better together. Celebrate your milestones by sending out a class invite to members you follow."
(Note that if you are looking for images of how it works on the iPhone or Android app, scroll towards the end of the article).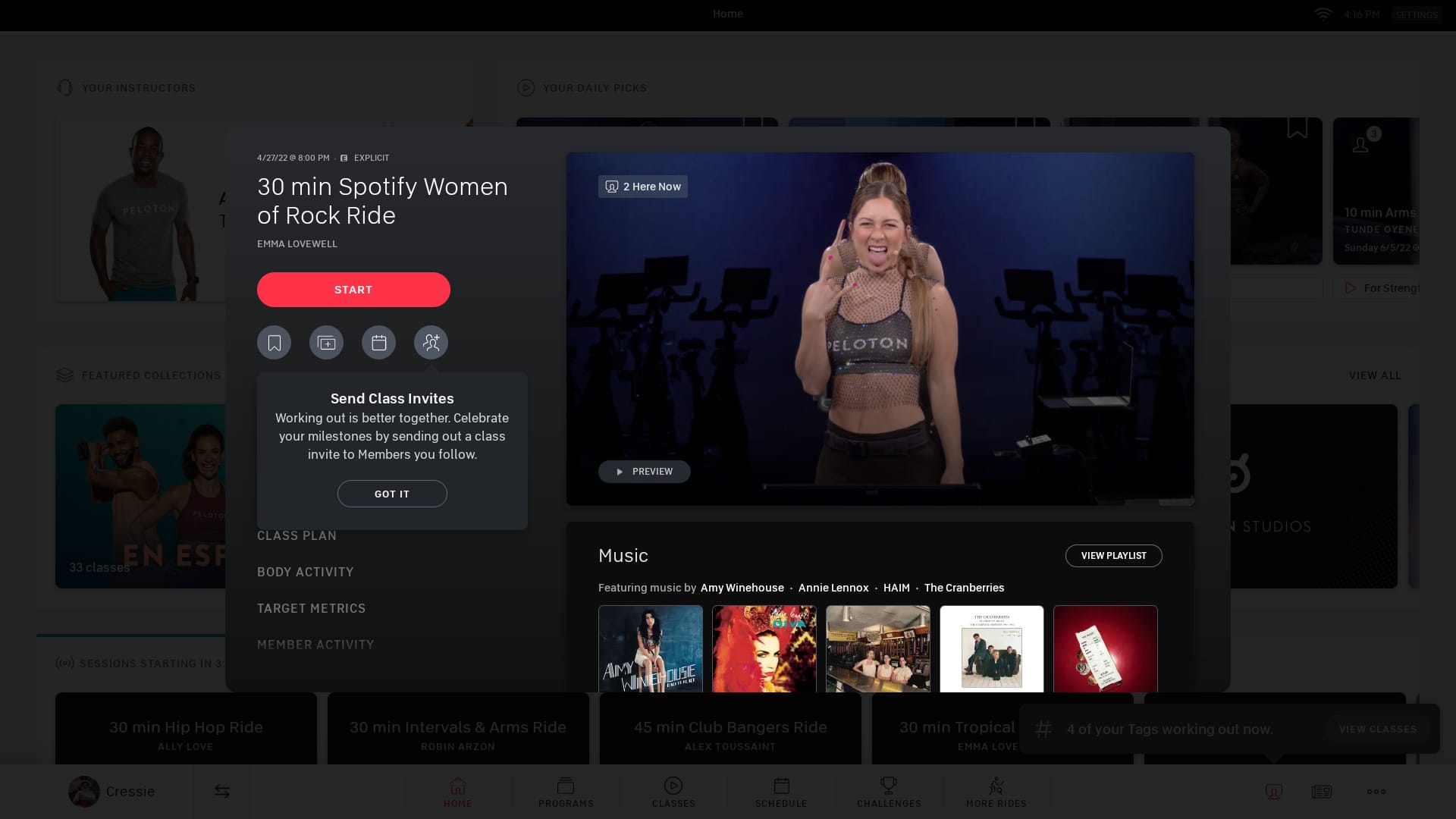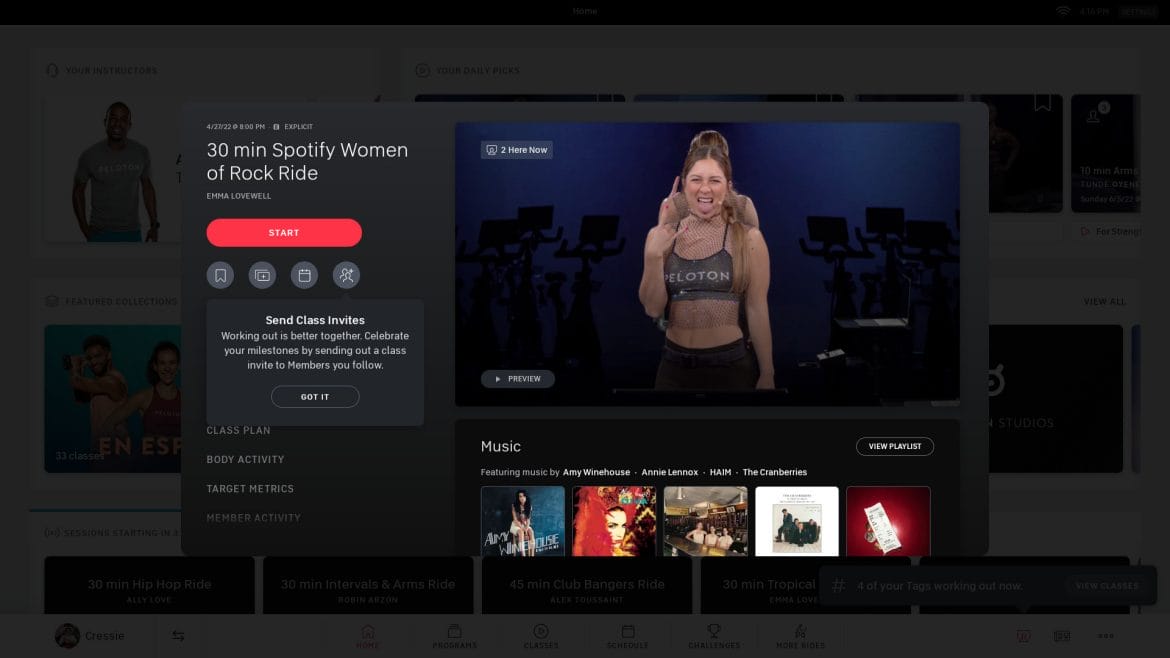 Upon clicking this button you will see a complete list of the members you follow. You can select the circle on the right-hand side of each member's name in order to invite them to the class.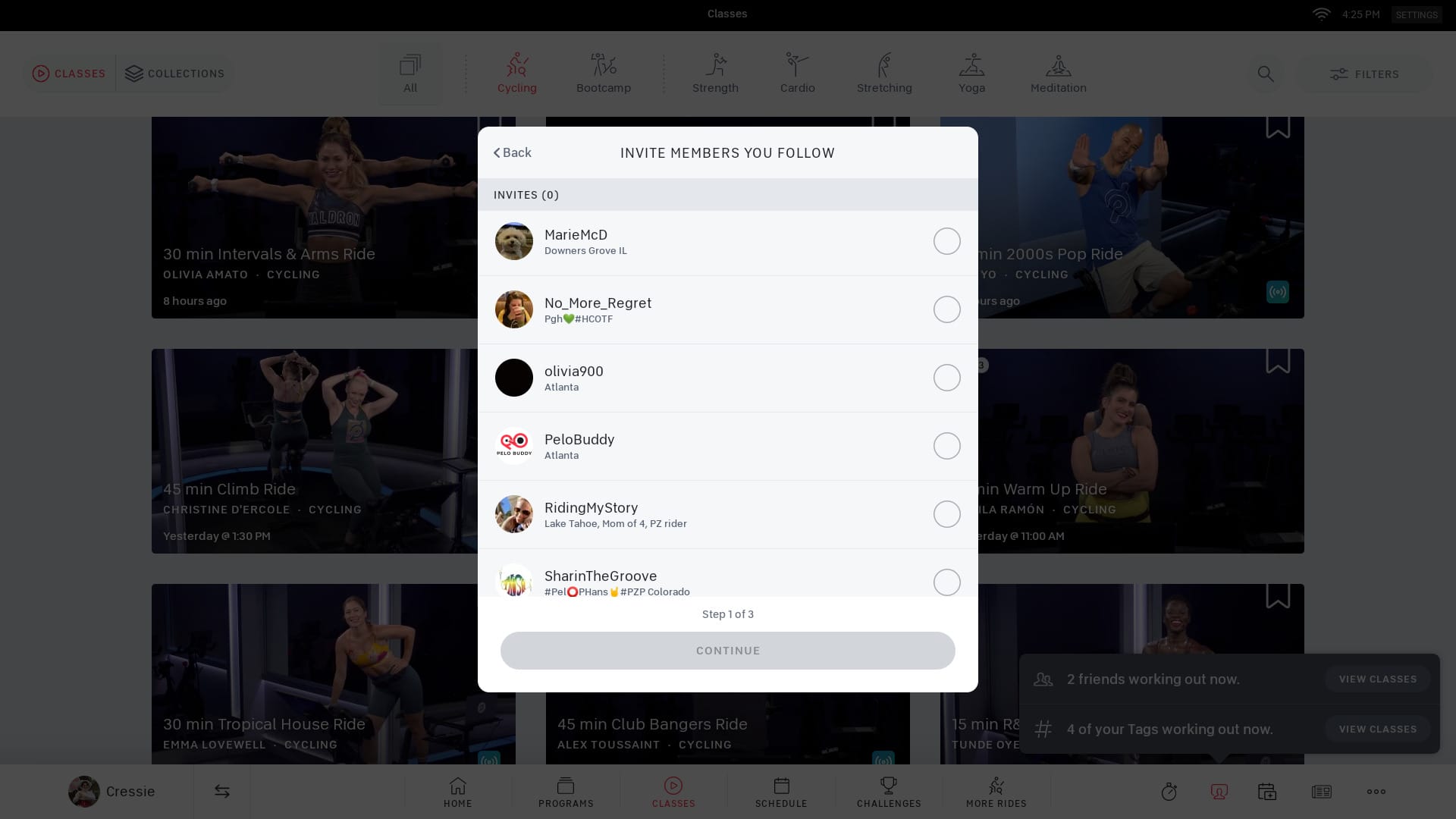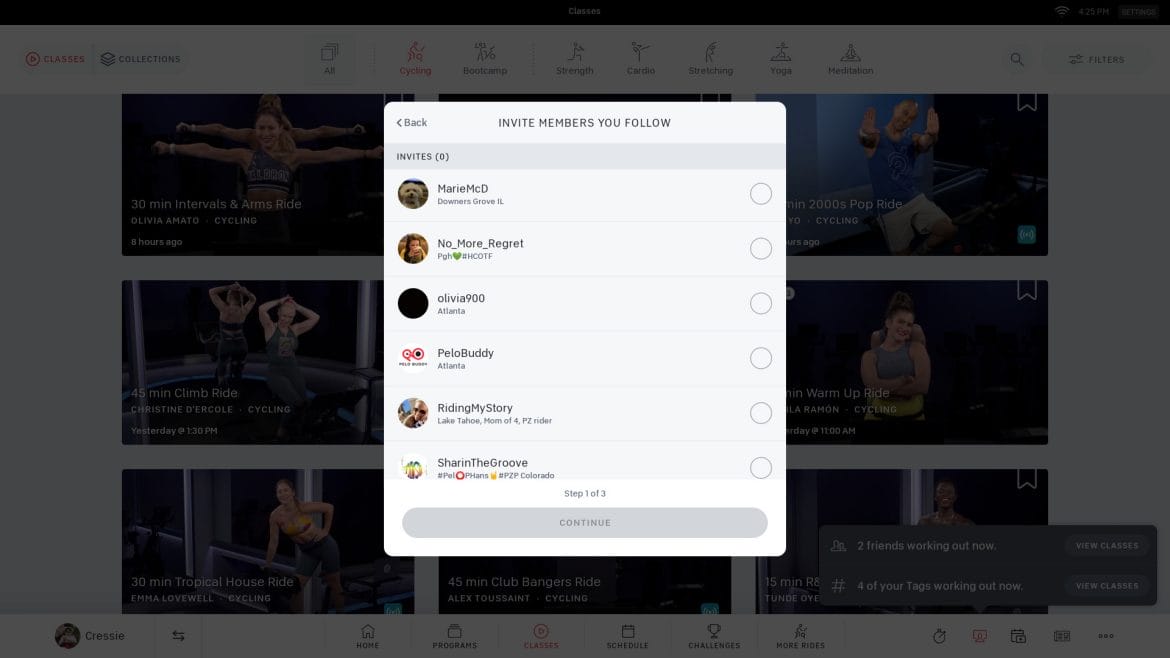 If you follow a lot of members this may be cumbersome, as there is not currently the ability to search or filter – you can only scroll up and down. As you add friends, they will populate at the top of the list.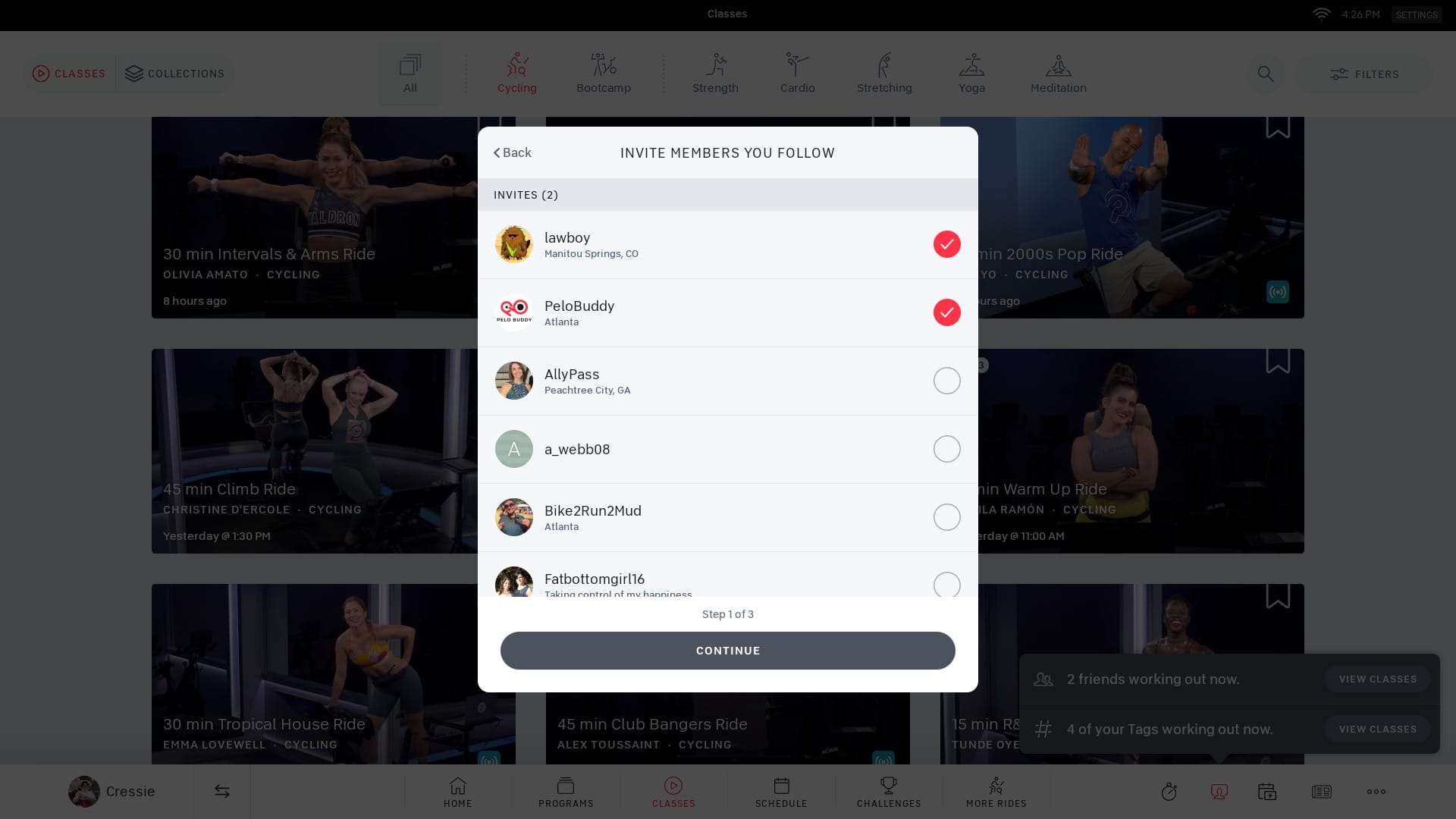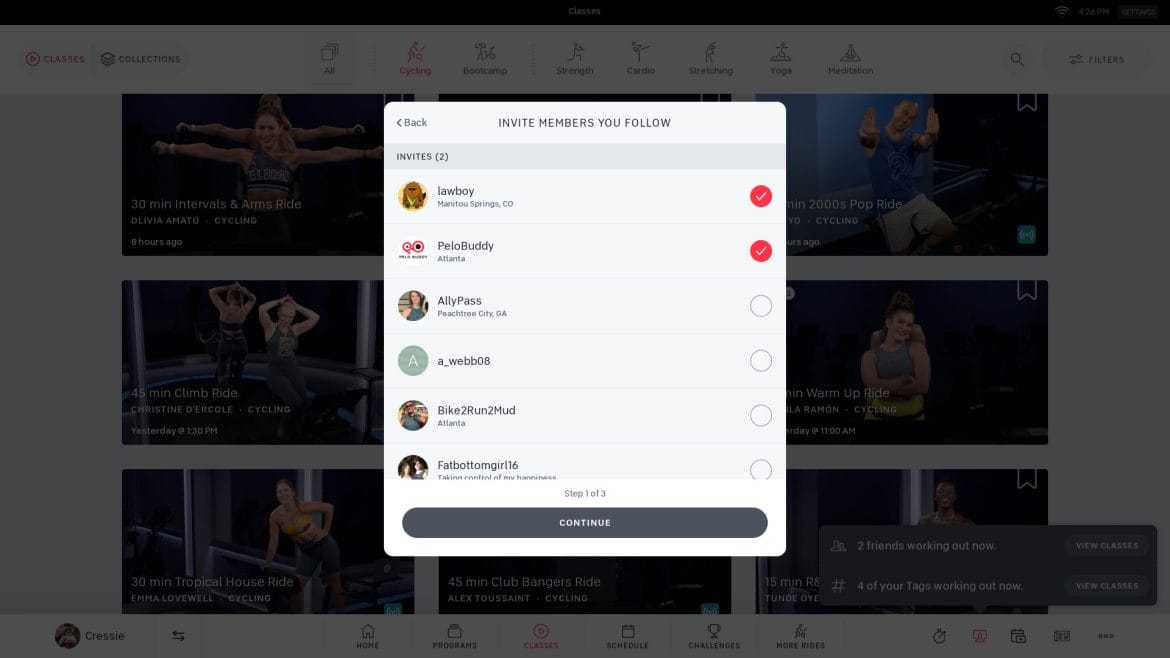 From there, you will be brought to a page that allows you to schedule the class for a specific date and time. You can pick any time up to two weeks in the future. You can pick any 5 minute interval of time to start the class.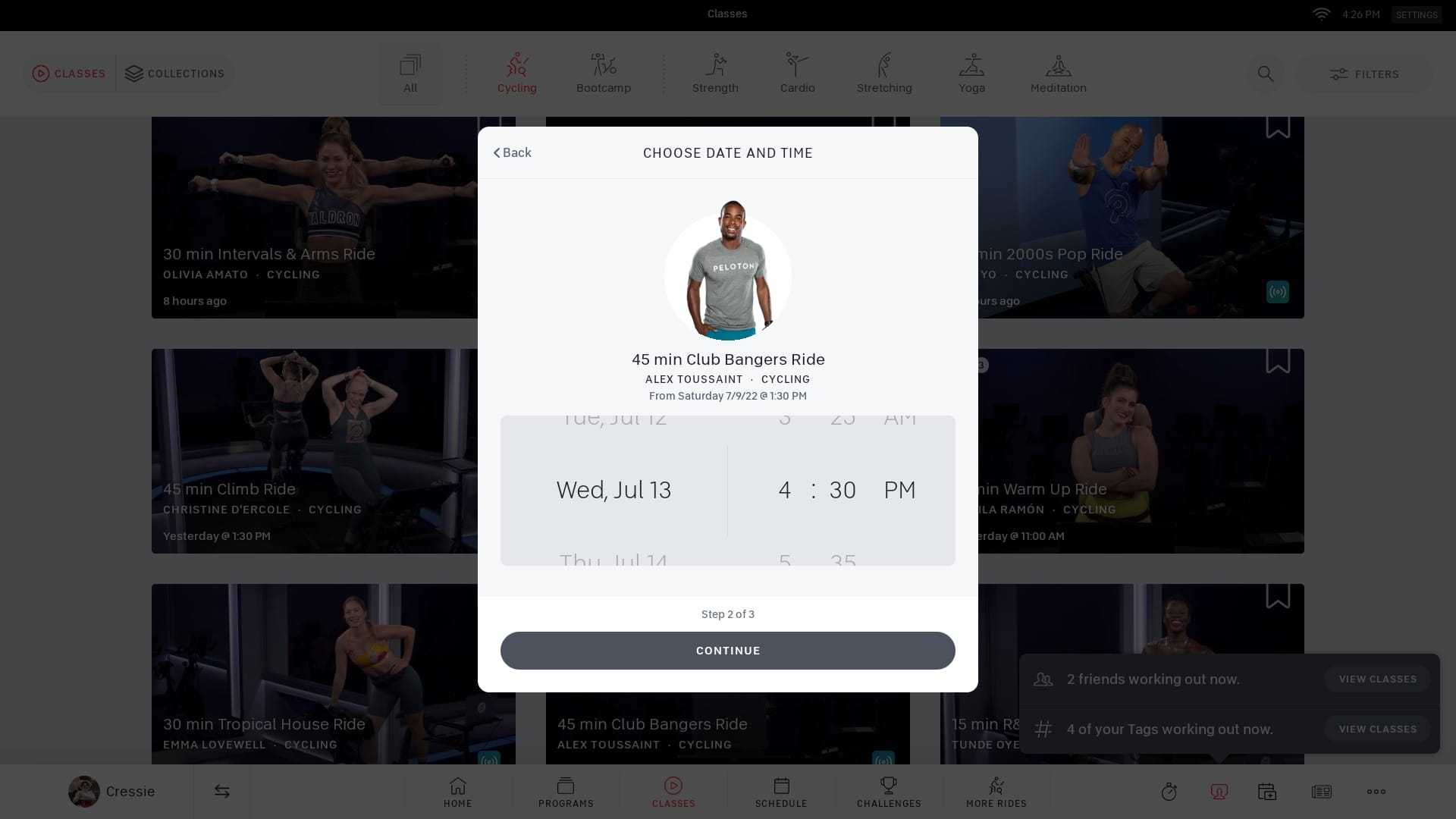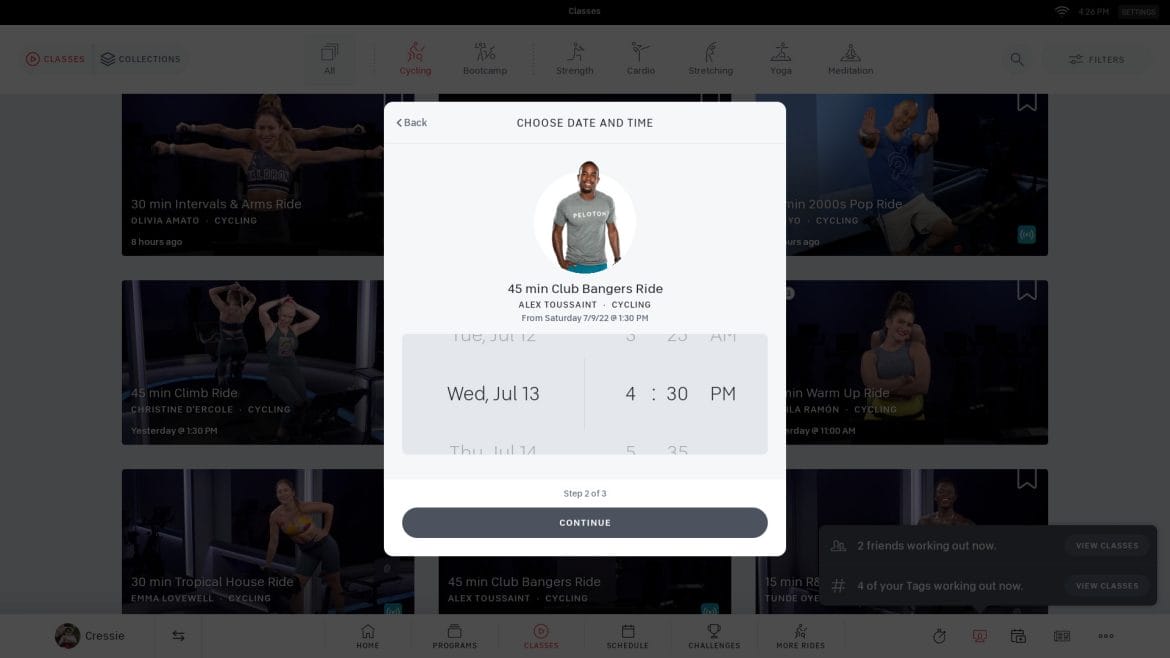 Lastly, you'll then have the option to select an "occasion" for the ride. There are eight options to choose from:
Just because
Milestone ride
Century ride
Birthday ride
Celebration ride
Team ride
Peloversary ride
Ride for a cause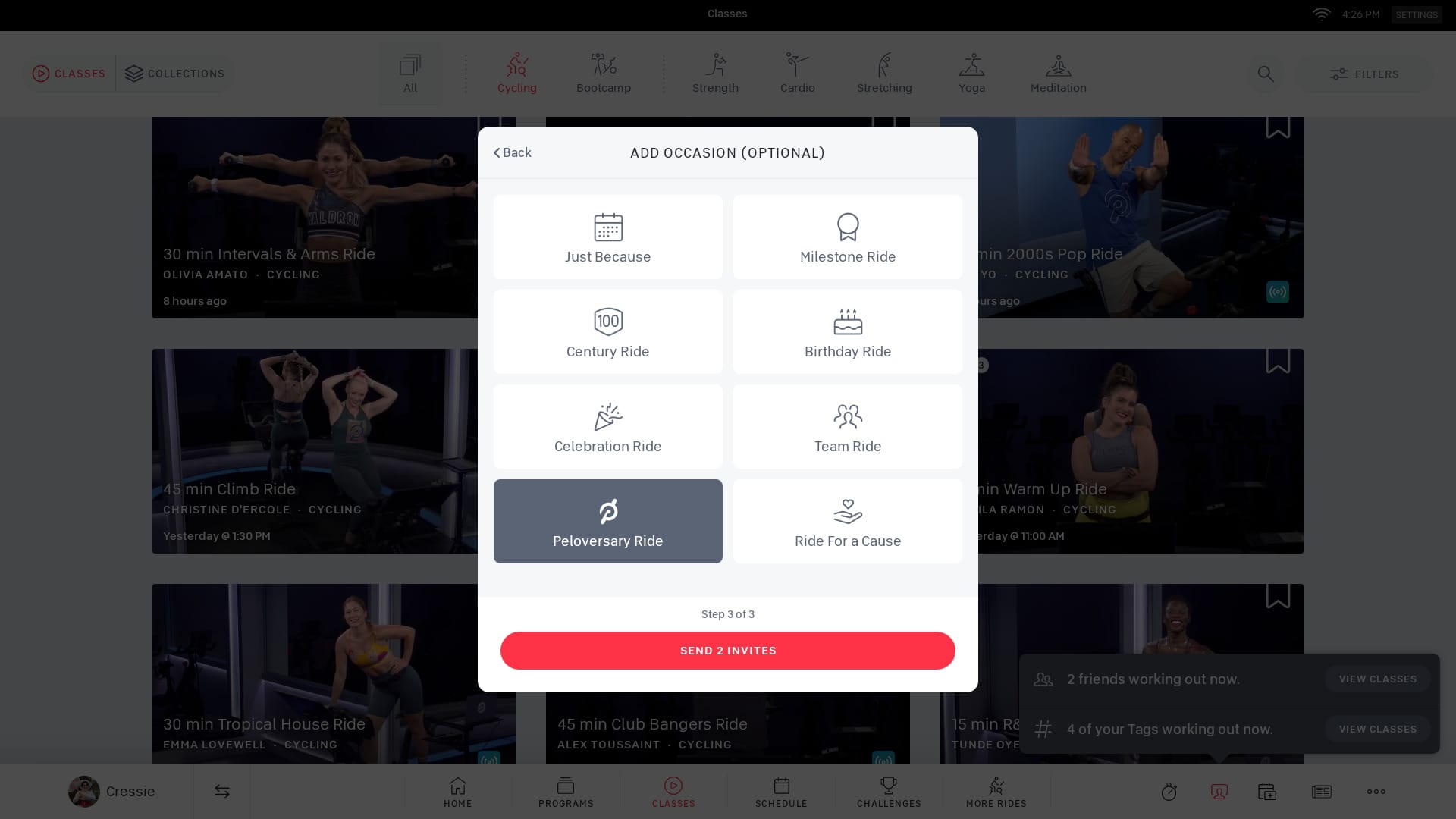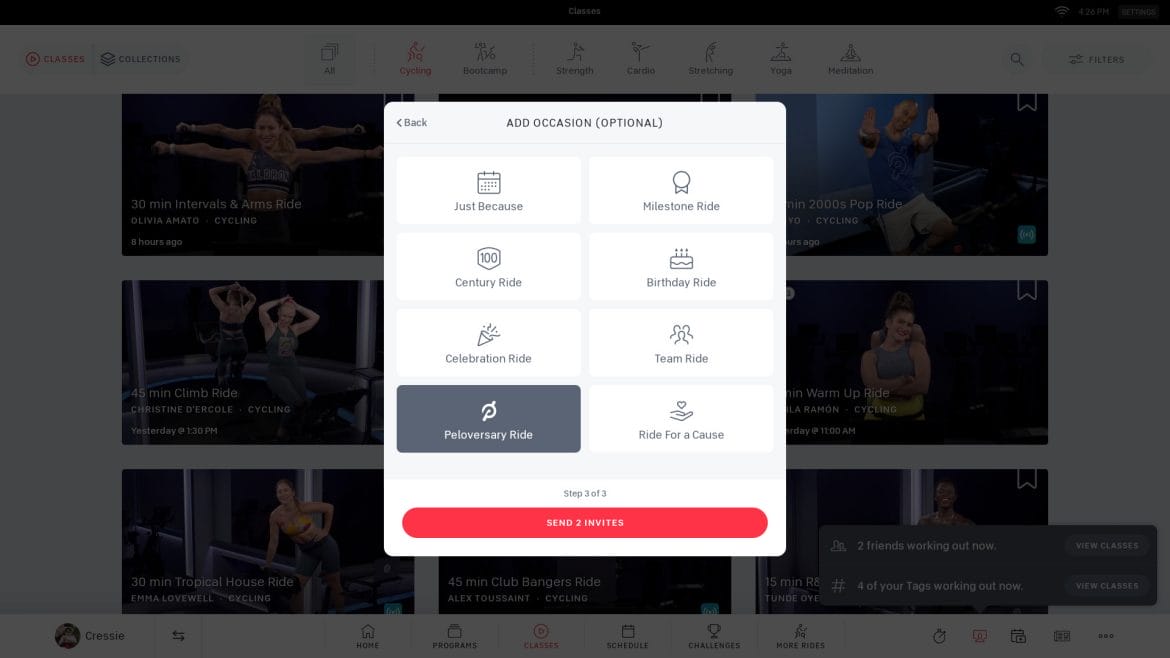 The way that members will learn that they've been invited to a class is via their device, or push notifications on their mobile device, if enabled.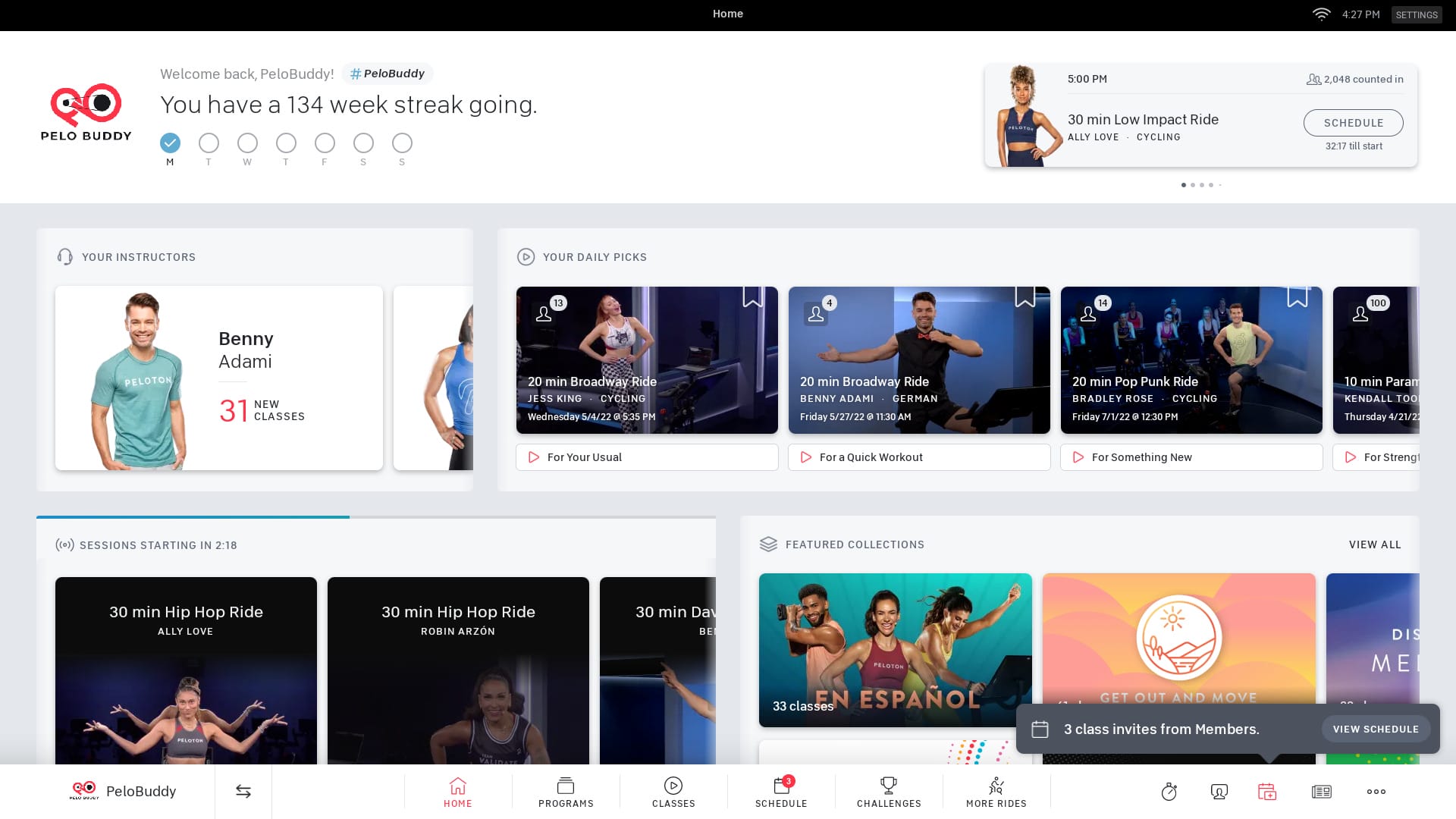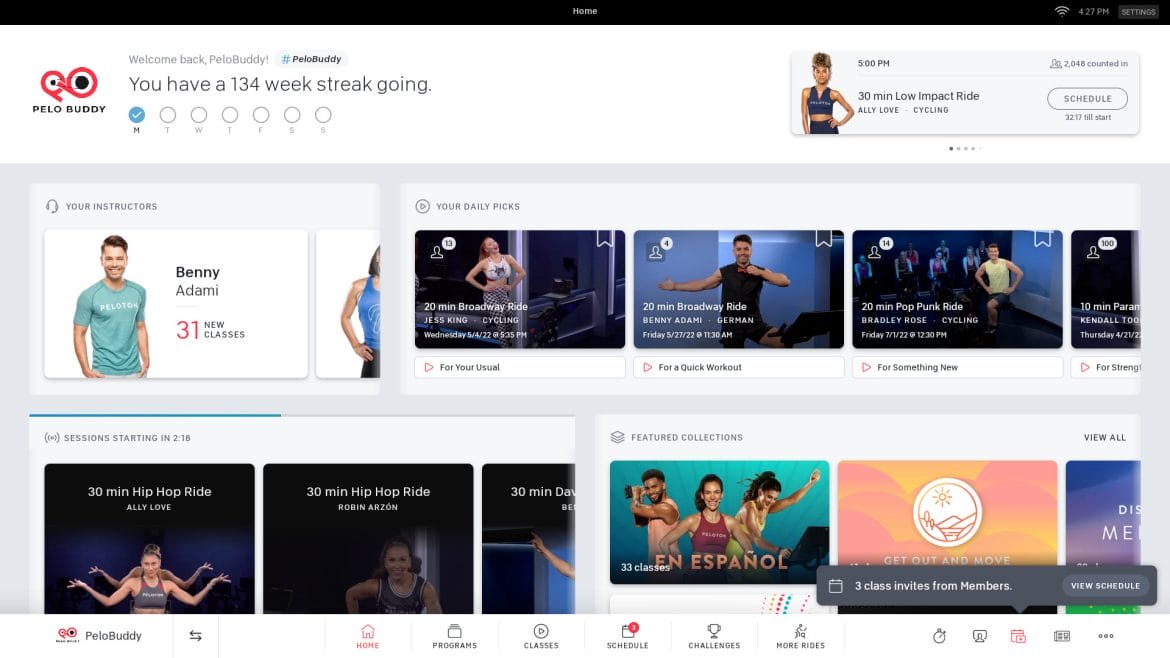 Selecting the "view schedule" button will bring you to your personal schedule, where you can see all invites in one place.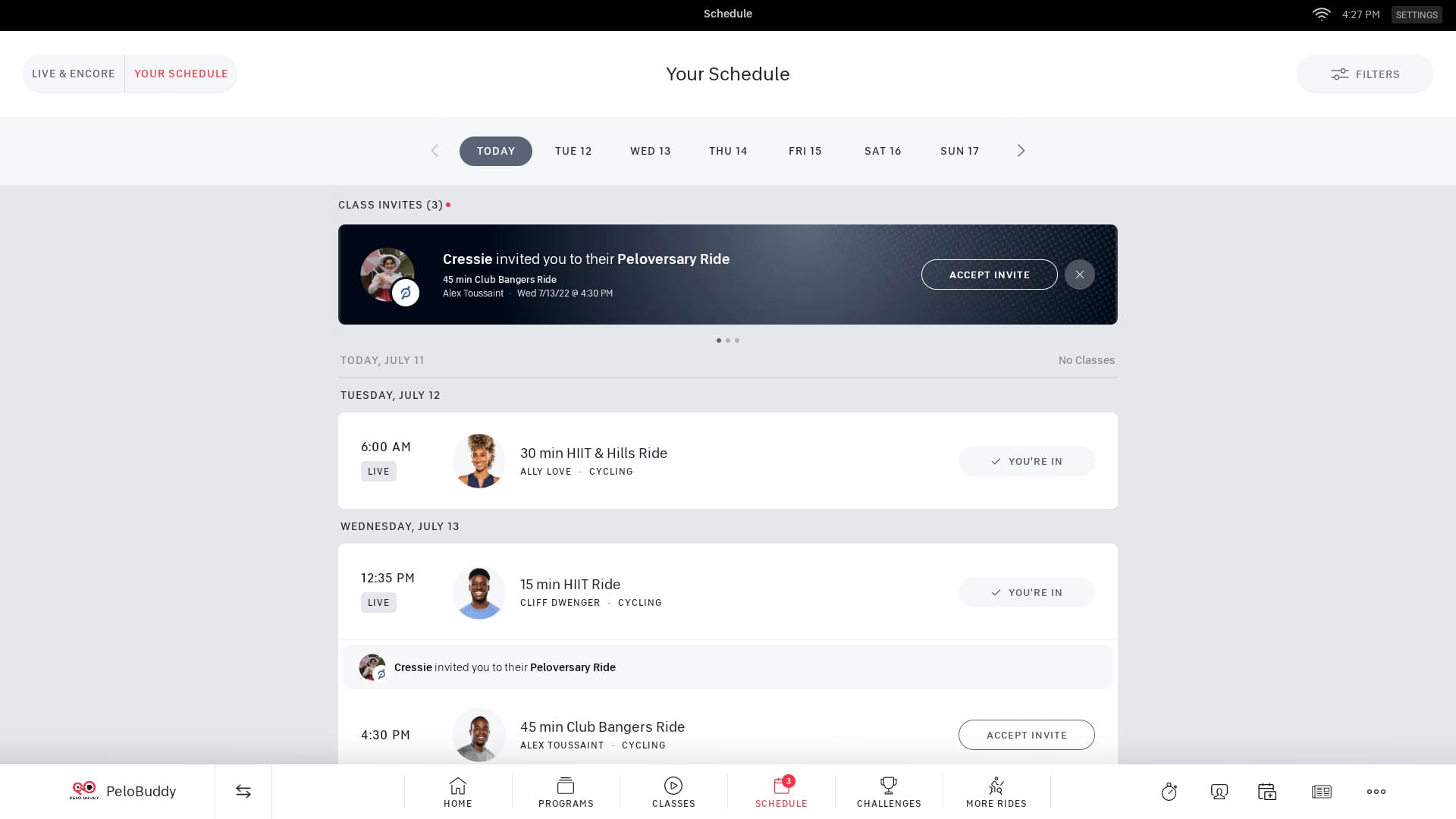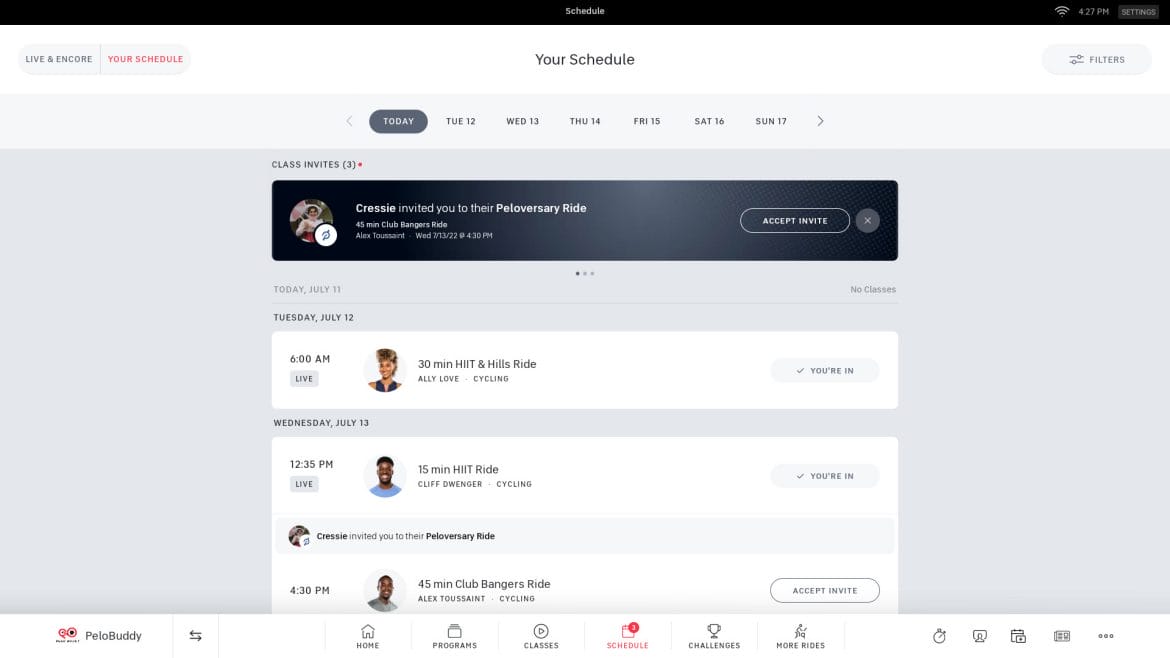 In addition to the banner at the top, you will see the invites at the appropriate time on the schedule.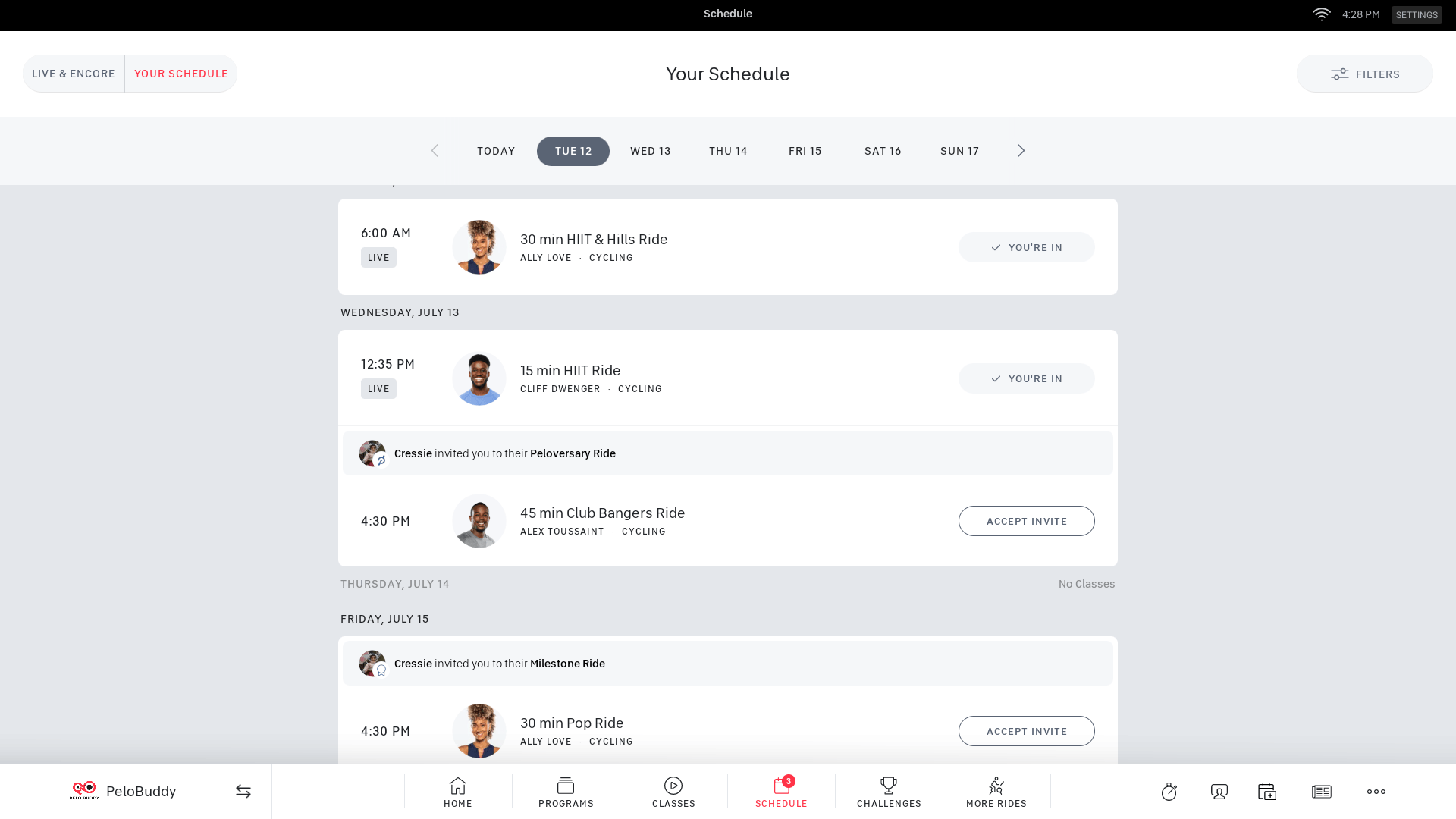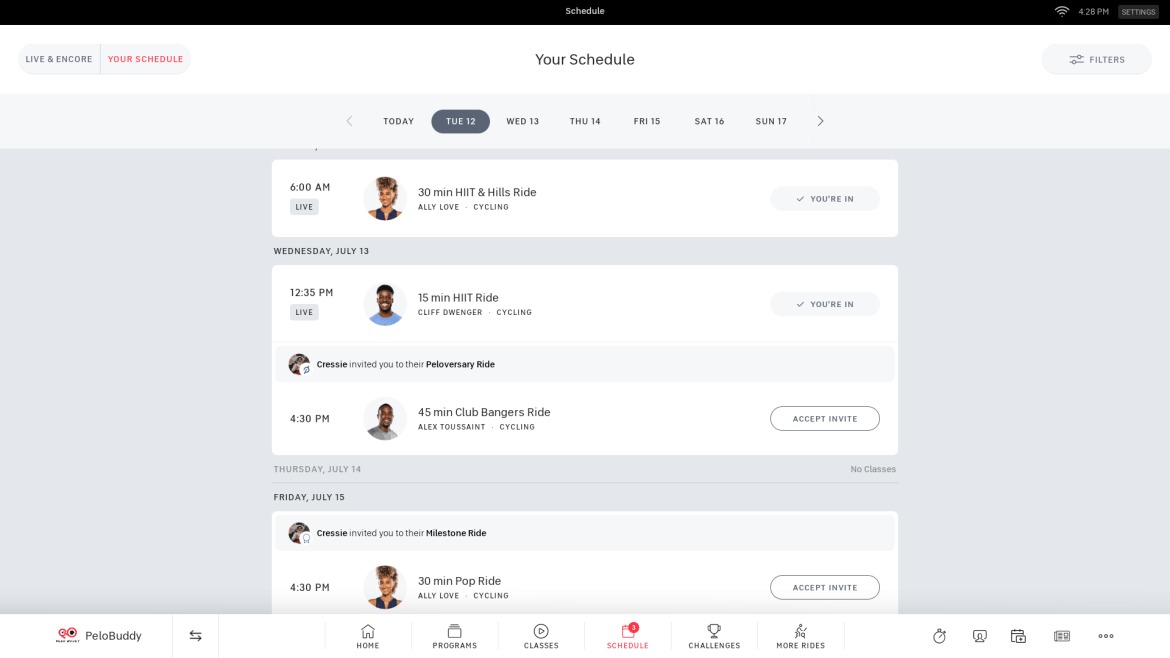 You can see an example of the mobile device pop-up notification below:


Upon clicking that alert you will be taken to a page that allows you to accept or decline the invitation.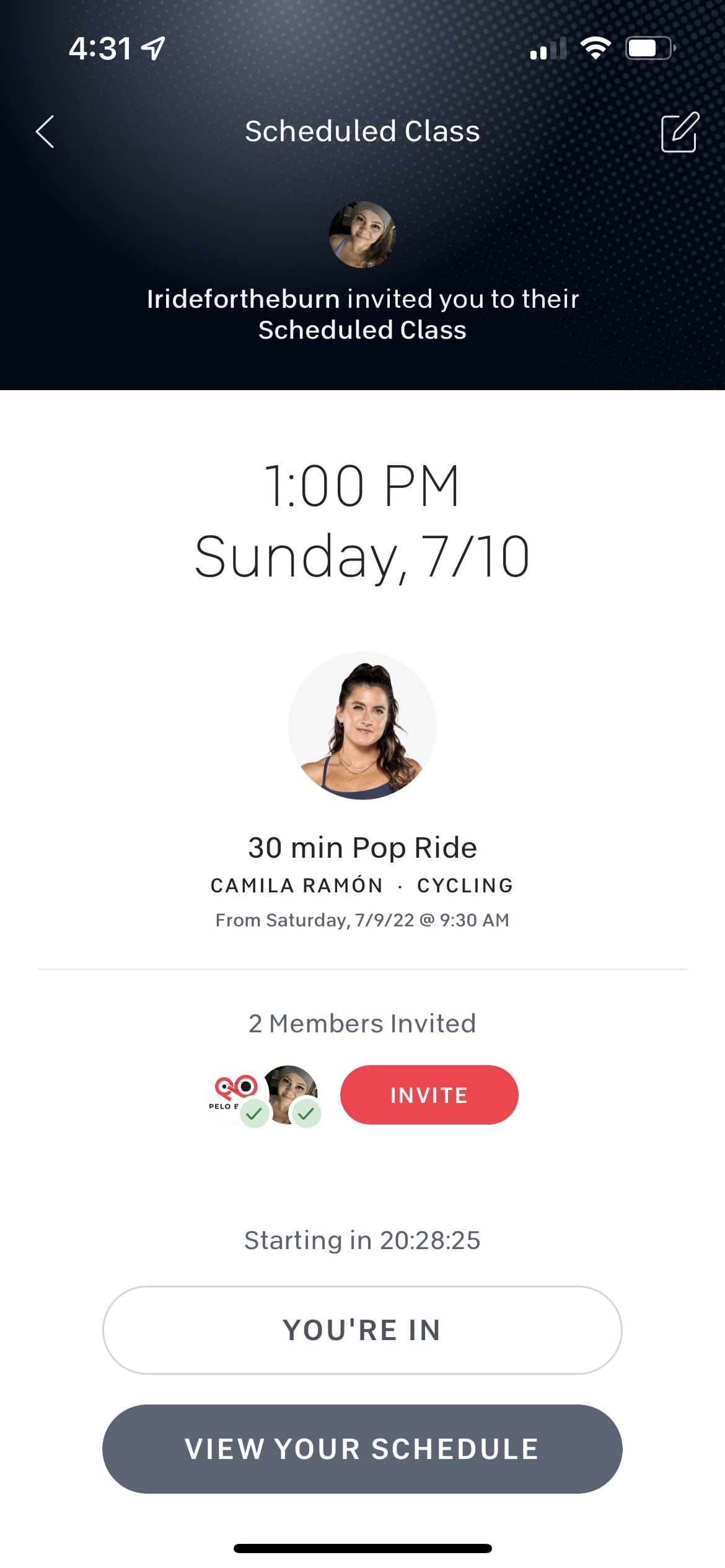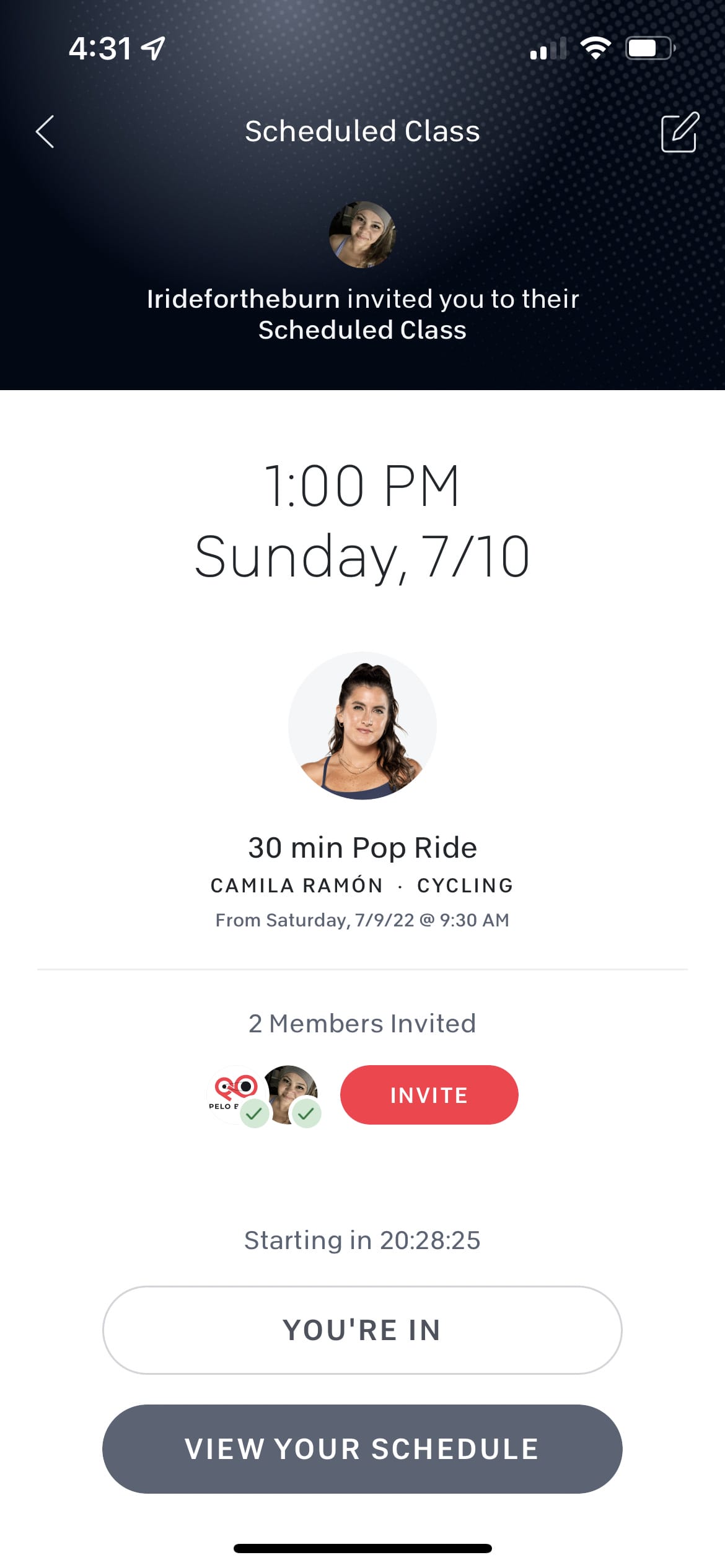 If you accept the class, you will be able to see it listed on your upcoming schedule. This page will also display the occasion that the ride has been scheduled for, such as a birthday or milestone ride.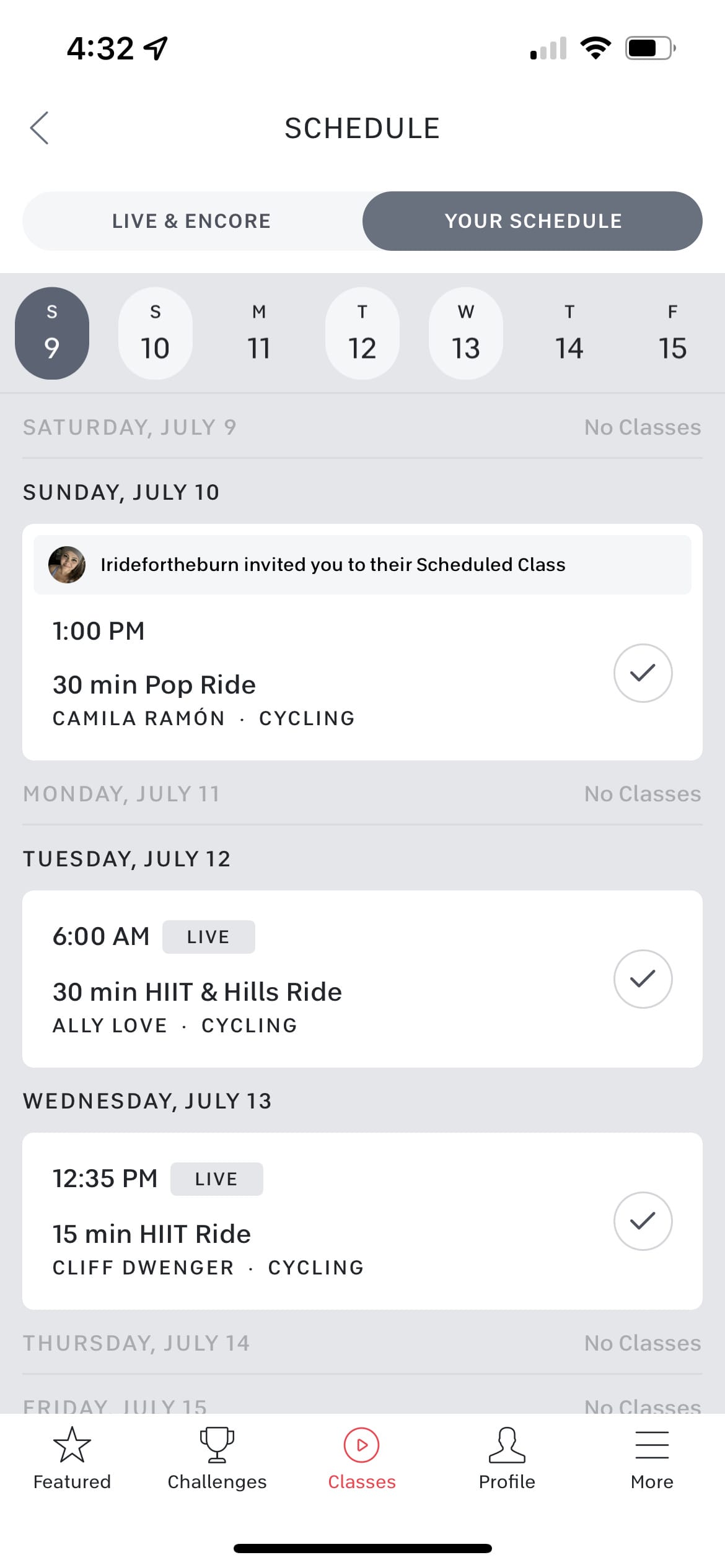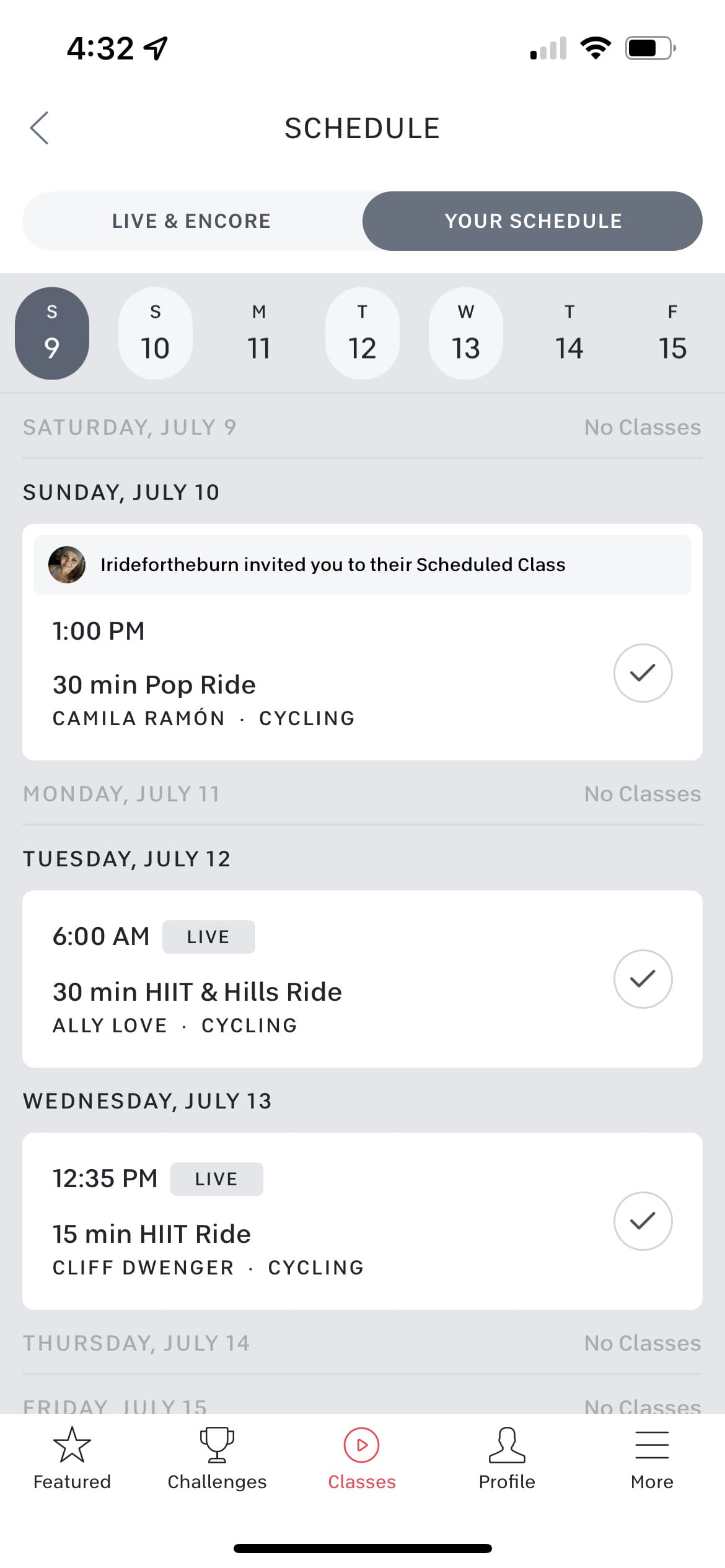 If you have multiple invites pending, you can swipe left or right at the top of your schedule page to view and accept them in one centralized place. You can also remove your invite acceptance at any time by clicking the "edit" button. Note that even if you haven't formally accepted the invite, you can still join the class from your schedule page if you've been invited.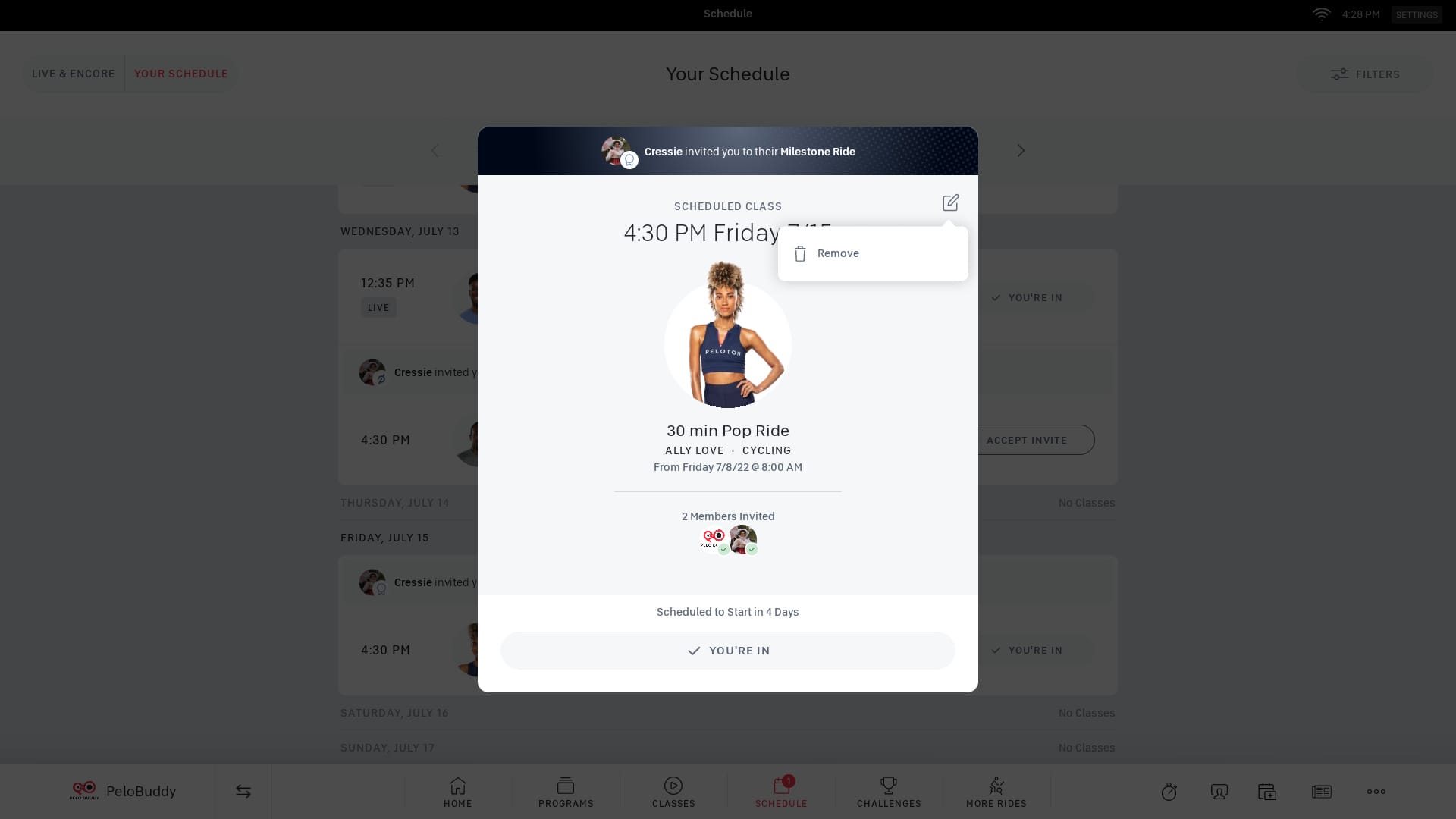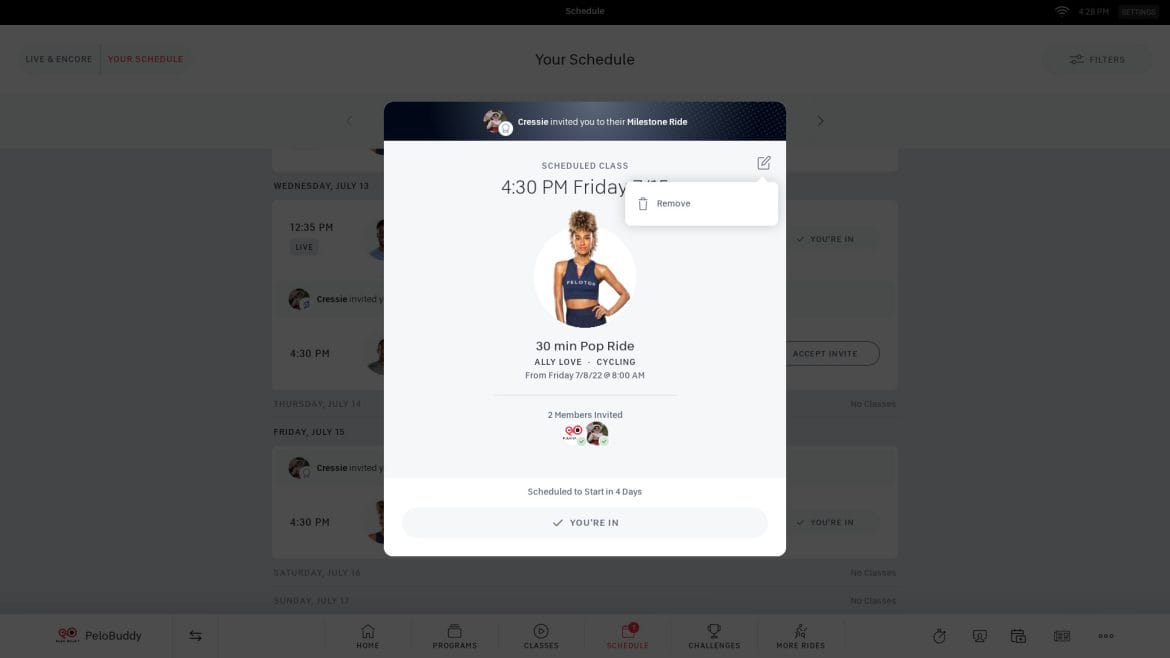 If you've sent an invite to a friend, you will be able to determine whether that friend has accepted the invite by looking for a green checkmark next to their avatar on the scheduled class page.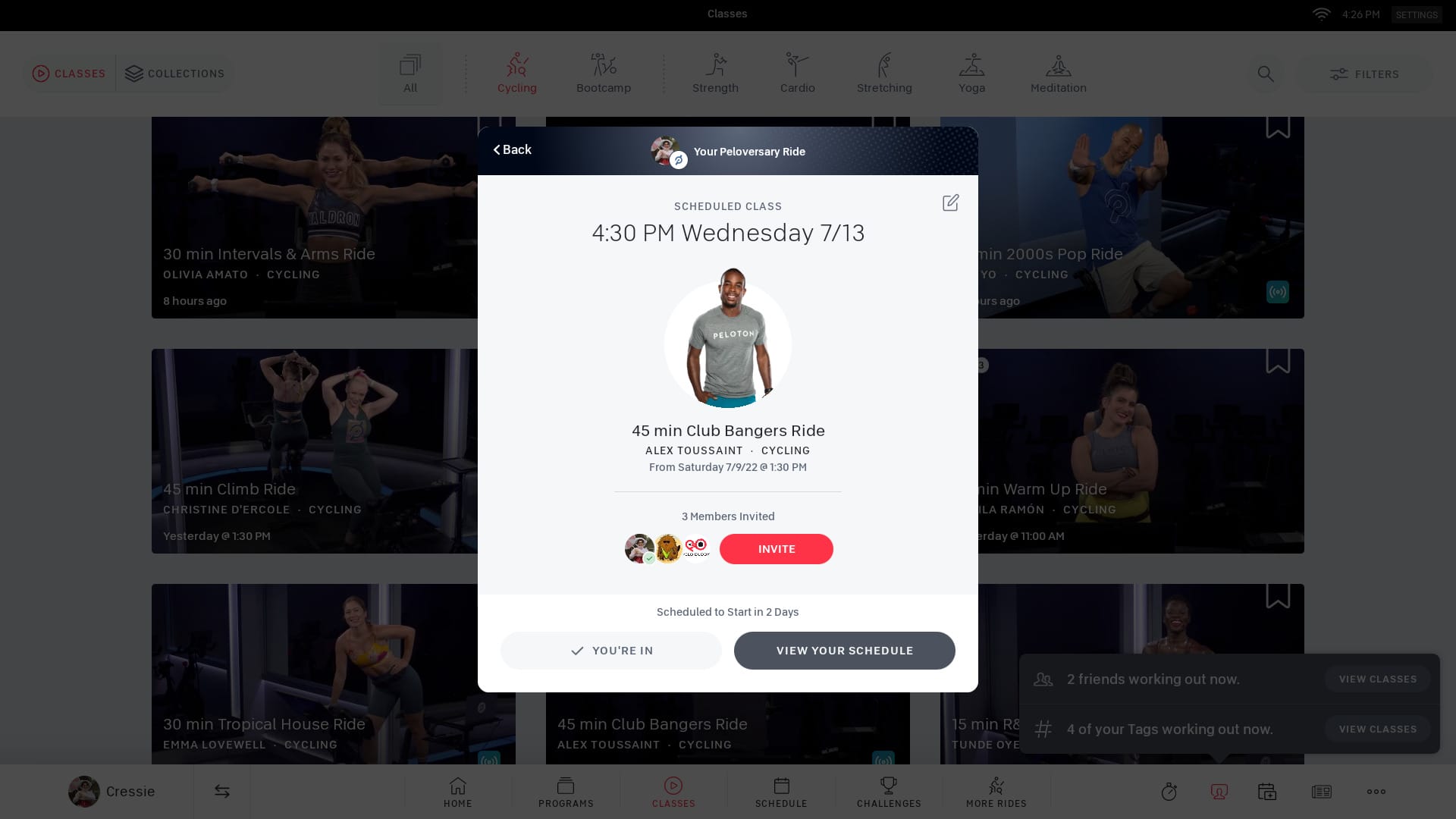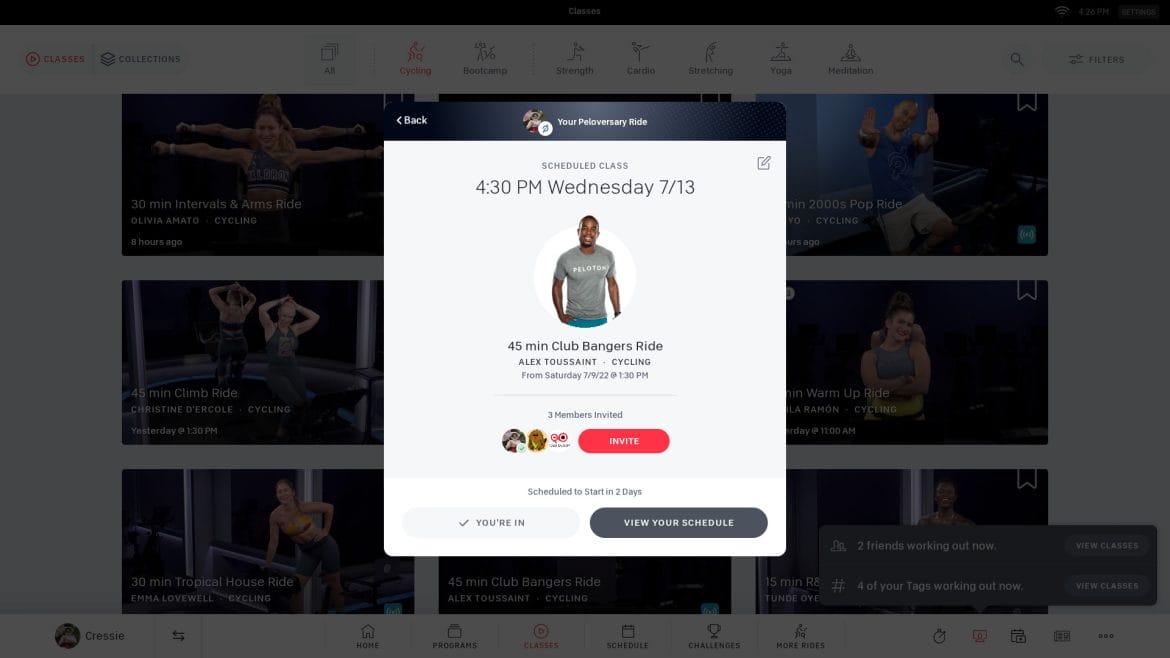 The host and invitee must each begin the workout independently and the workout will start at its scheduled time – in other words, you can't wait for your friend if they're running late for the class. So it is essentially a session – a class that has a fresh leaderboard but is not airing live, similar to an encore ride. If you're running late, you can join the workout in progress.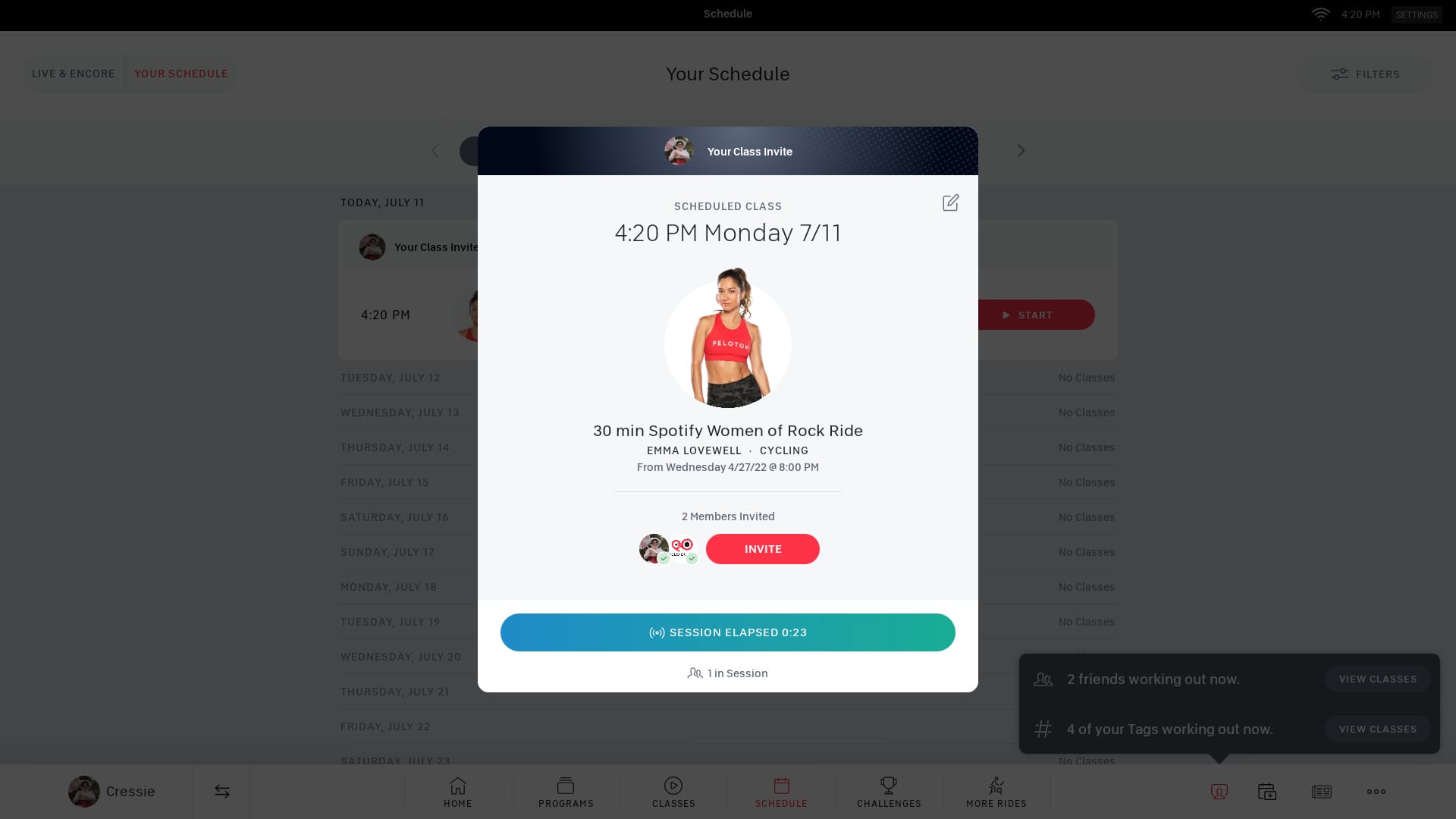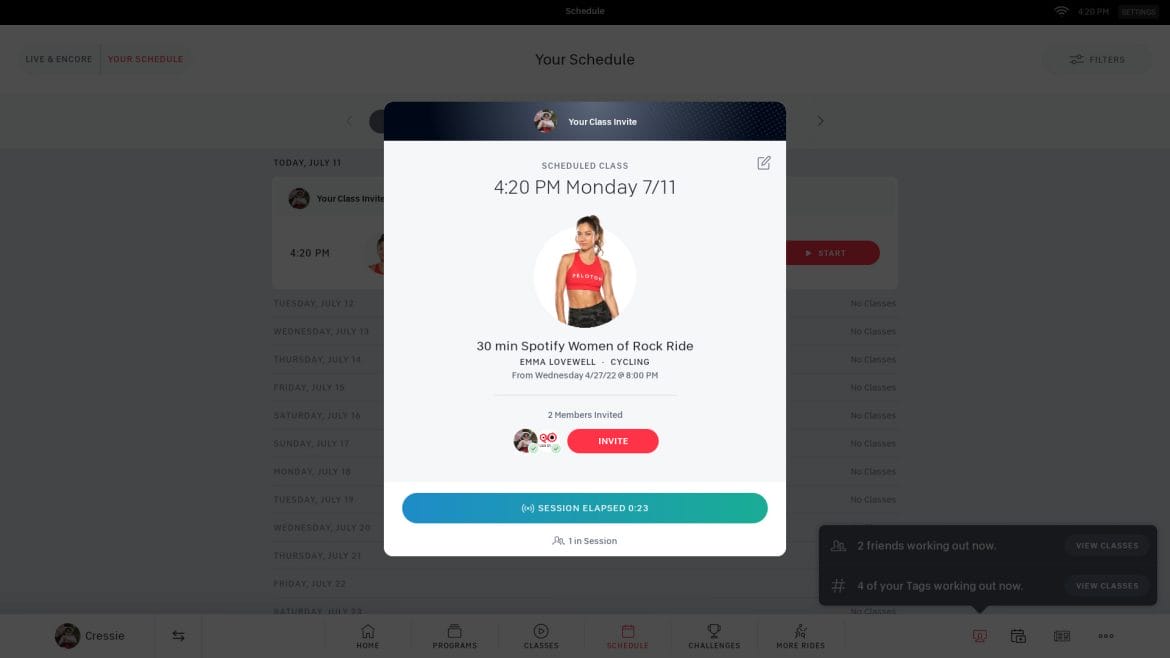 It is not yet clear whether the invite friends feature feeds into a completely private session, or if others can join in even if they're not within the invited group.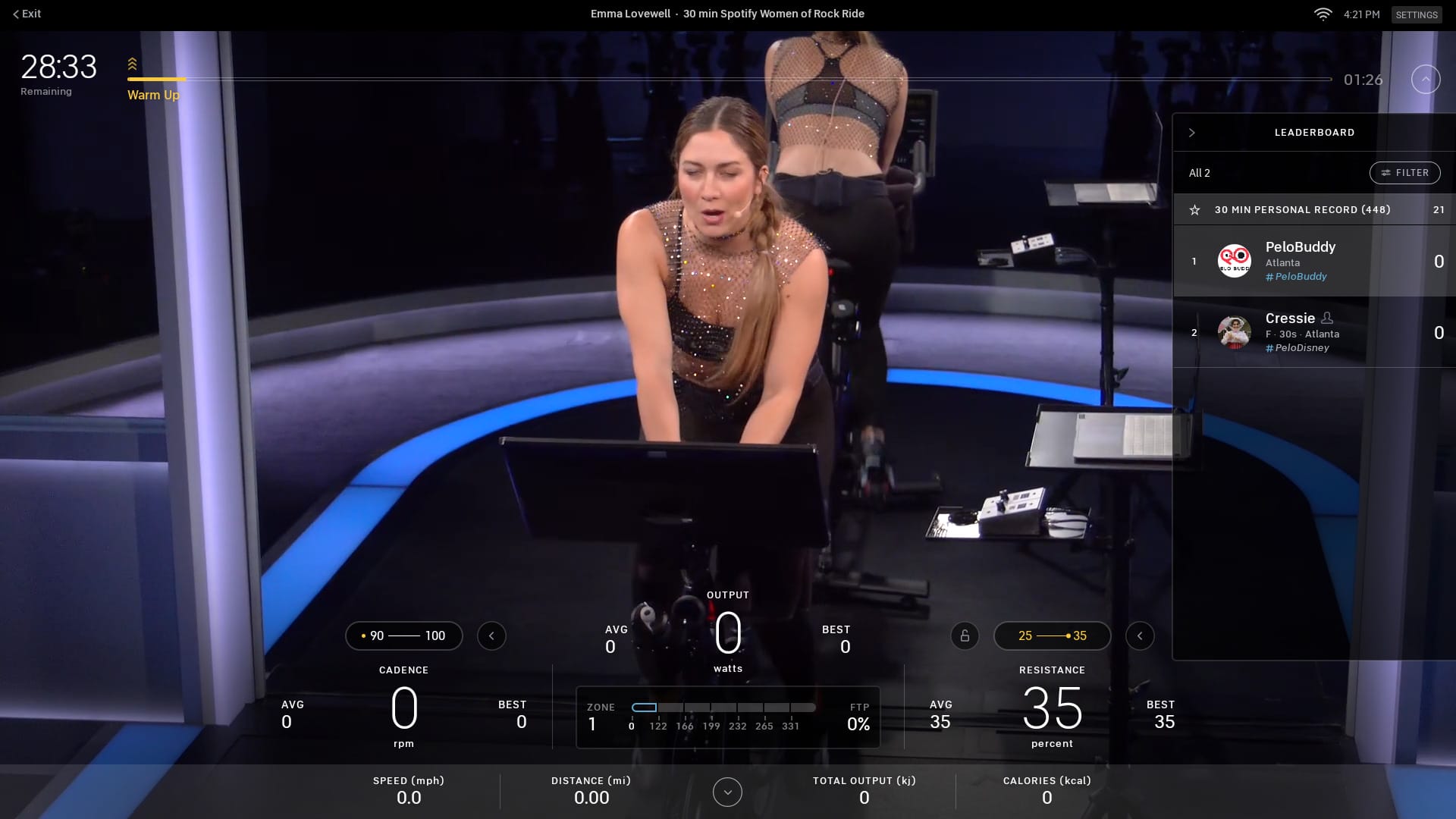 You can invite friends to scheduled classes up to two weeks in advance. For now the feature seems to only be available for on demand classes, but the support page does specifically mention live classes, so this functionality will likely be added at some point soon.
Note that the support page does not mention the Peloton App – only Bike and Tread devices, and the web browser. This is interesting because the feature rolled out to some members – including on the iOS App – for a very short amount of time last month, but Peloton quickly pulled it only hours later. As of July 13, 2022, this feature appears to have rolled out to app members as well.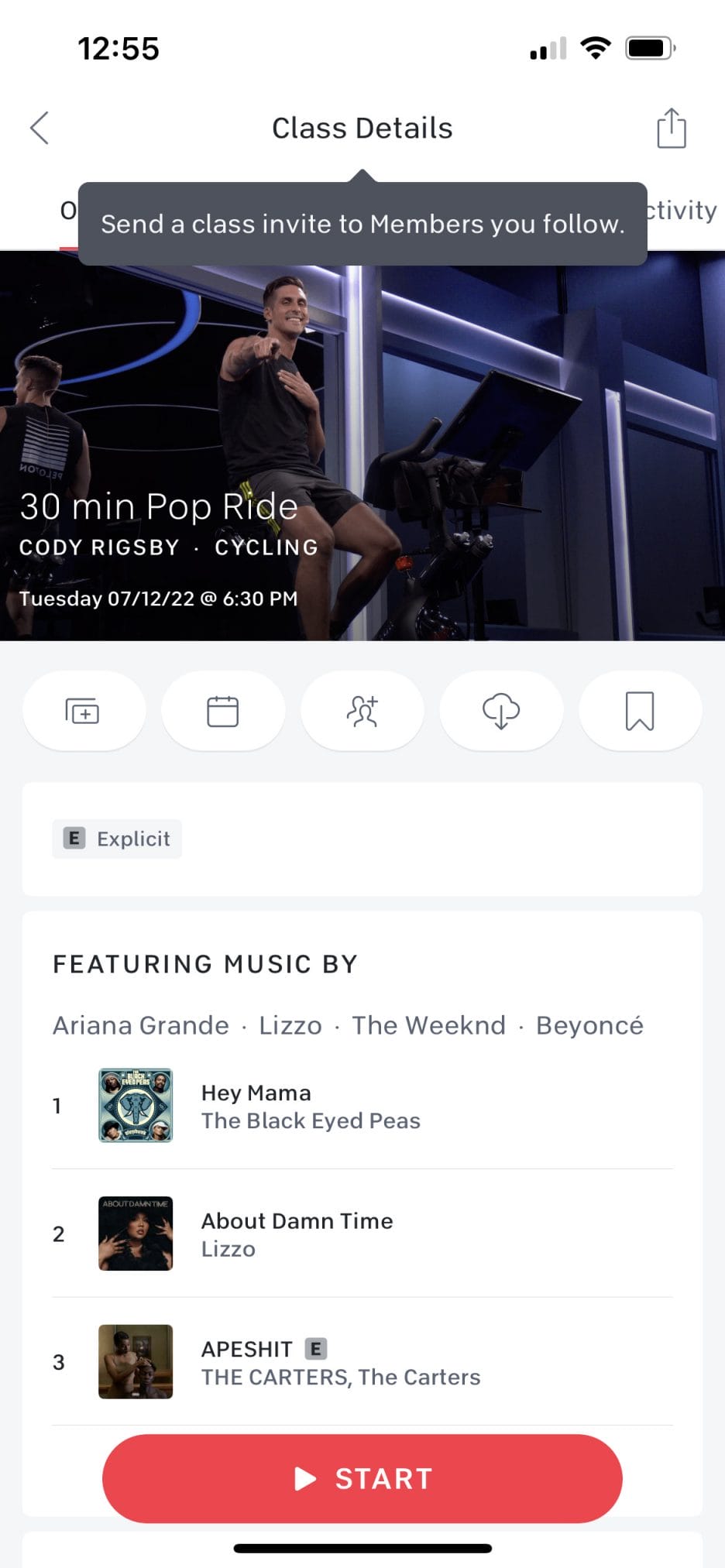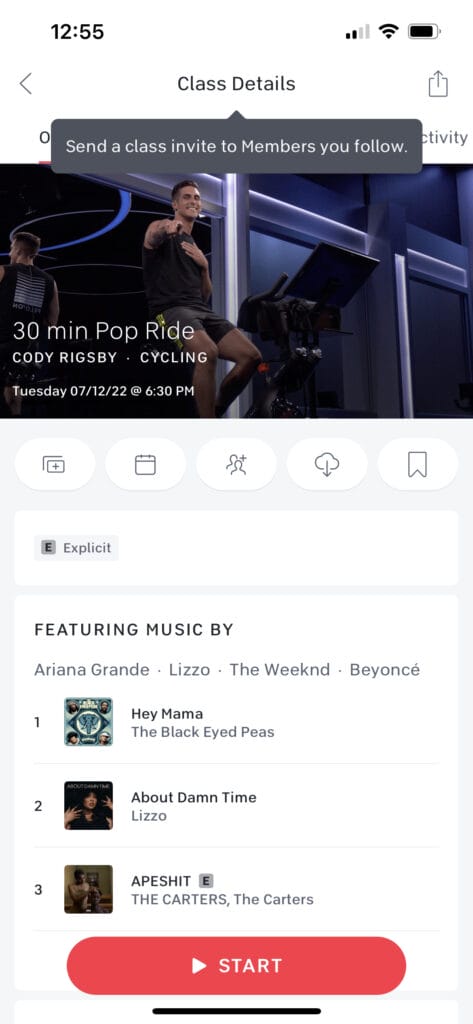 Once you click into the app, you then select which friends you want to invite. Like the Bike & Tread, there is currently no way to search or filter – you have to scroll through the list of your followers.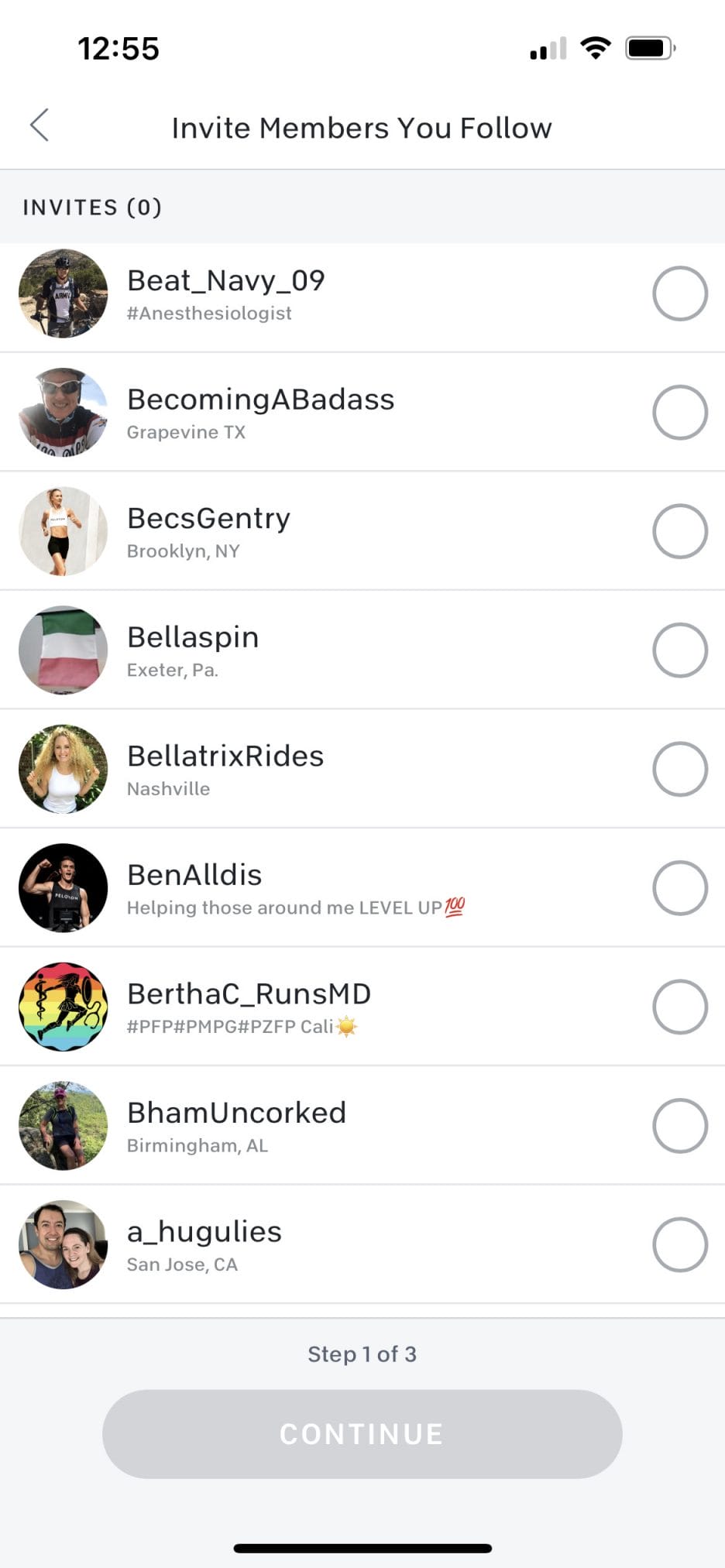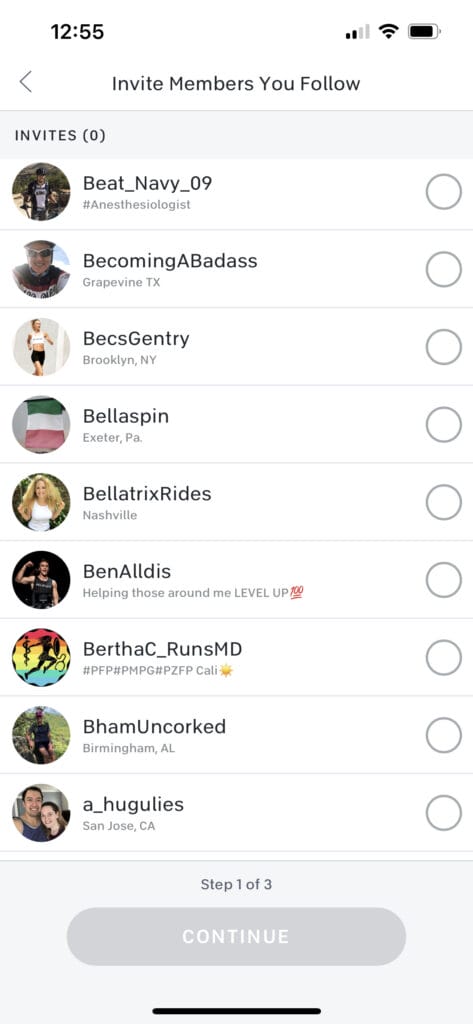 Once you have picked who to invite, you then pick a time for the class.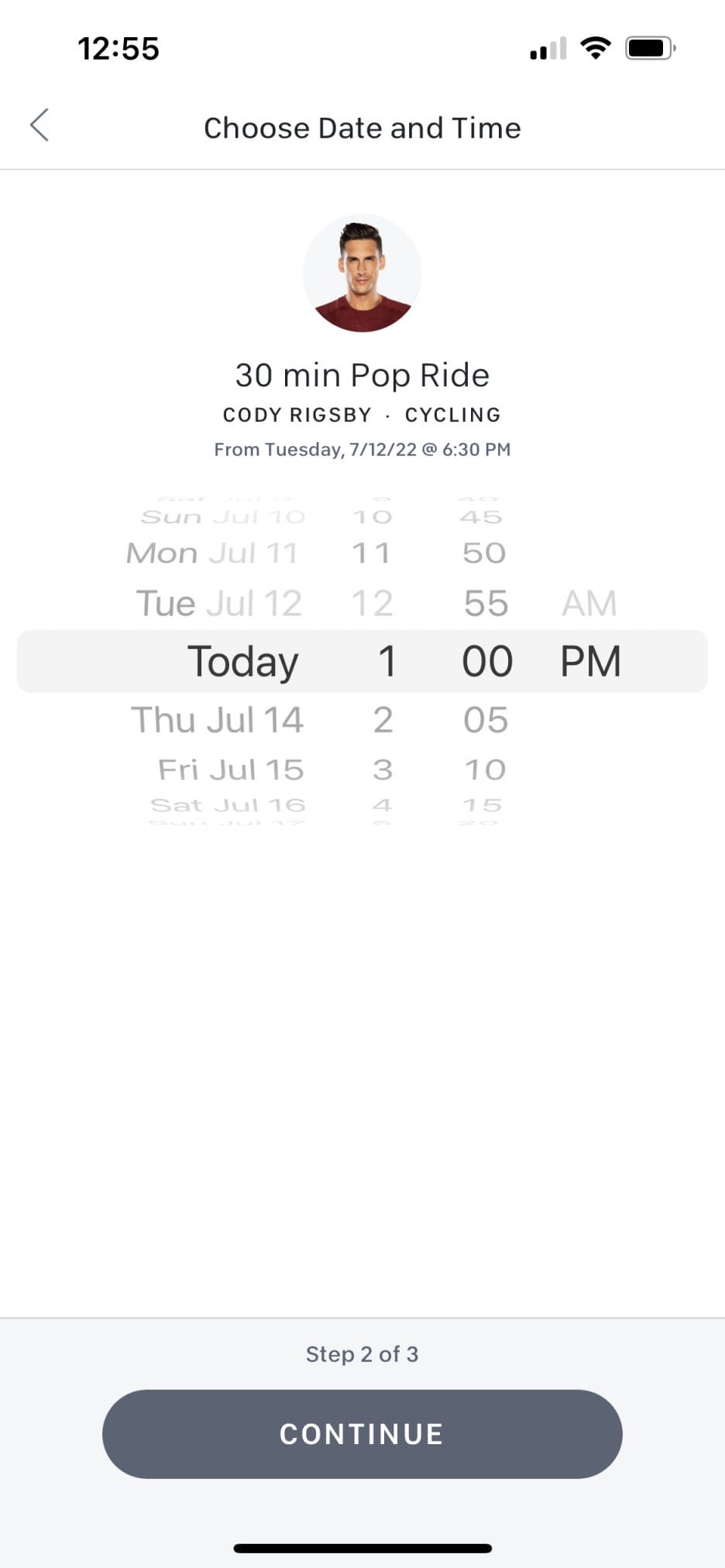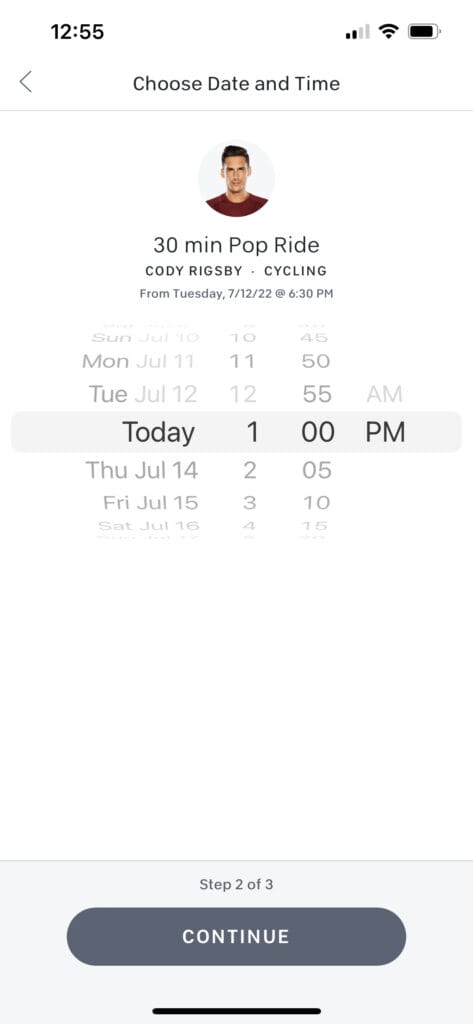 Finally, you can pick an optional occasion for the class.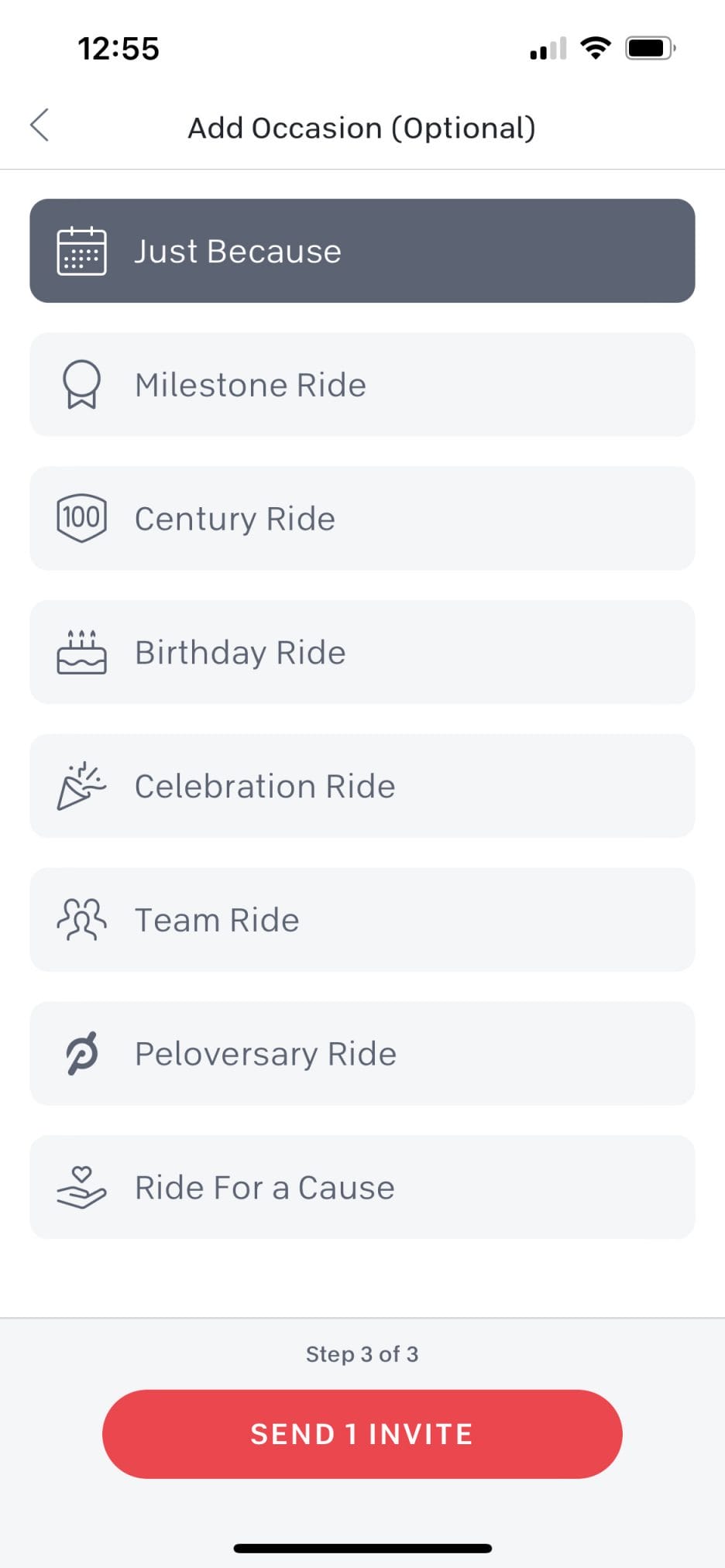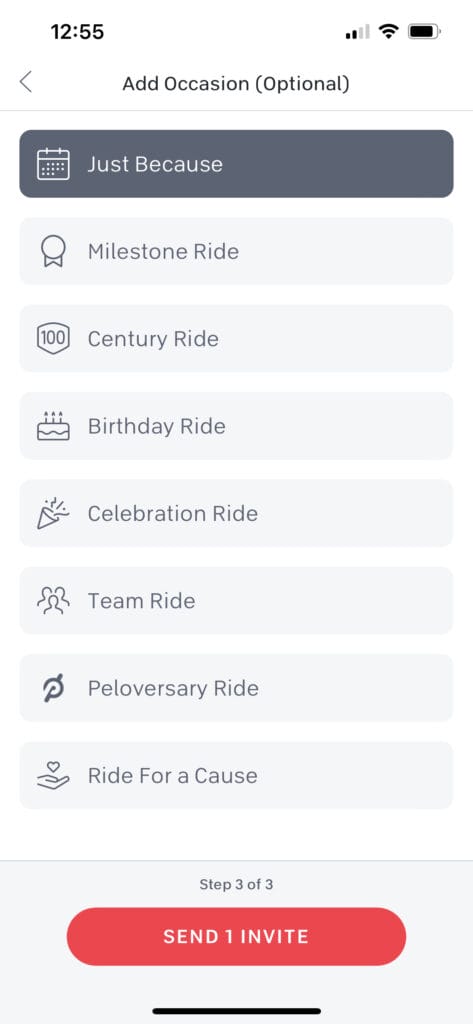 This update was one of the pieces of news shared during the Peloton Homecoming 2022 Keynote address. The Invite Friends feature is a progression of the "scheduling" feature, which launched in early 2021 and allows members to add live and on demand classes to their own personal schedule, viewable alongside the official Peloton schedule. As previously mentioned, it also brings in sessions and essentially integrates these features into a better group workout experience.
Interestingly, the Invite Friends feature has rolled out only weeks after the video chat feature was removed. Video chat allowed members to call their Peloton friends during a live or on demand Peloton class.
Thanks to #IRideForTheBurn, #Cressie, and others for sharing some of these images.
If you haven't yet received the update granting you Invite Friends capabilities, you likely will soon. Will you be utilizing this new feature?
---
Want to be sure to never miss any Peloton news? Sign up for our newsletter and get all the latest Peloton updates & Peloton rumors sent directly to your inbox.