It's been less than week since the big news of Beyonce Peloton classes, and Peloton is already back with more. Today, Peloton is announcing that members will be able to workout and take classes to the music of Metallica. The Metallica featured artist series will be taking place in the latter half of this week:
Metallica Peloton Featured Artist Series Classes & Workouts
30 minute Metallica Peloton Full Body Strength with Andy Speer – 11/17/20 @ 12:00pm ET
30 minute Metallica Peloton Power Yoga with Denis Morton – 11/18/20 @ 6:00pm ET
45 minute Metallica Peloton Ride with Kendall Toole – 11/18/20 @ 7:30pm ET
45 minute Metallica Peloton Tread Bootcamp with Olivia Amato – 11/19/20 @ 5:30pm ET
30 minute Metallica Peloton Ride with Erik Jager – 11/23/20 @ 1:30pm ET
Kendall shared her excitement via Instagram today:
Ever since Peloton began having metal-themed rides, people have been requested for this Metallica artist series to happen, so we imagine there will be quite a few happy members about this news today!
You can stay up to date with who Peloton has previously featured on the artist series, and who is coming up next, with this handy page.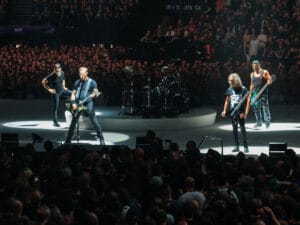 ---
Want to be sure to never miss any Peloton news? Sign up for our newsletter and get all the latest Peloton updates & Peloton rumors sent directly to your inbox.