On social media this week, many of the UK instructors have been sharing behind the scenes images of photo shoots that have been taking place. (You can see examples from Erik Jager and Sam Yo – many others were in their stories). This has led to people wondering what all the new images might be for.
Now, thanks to Joslyn Thompson Rule, it looks like we might know at least part of the answer.
During her 30 minute 90s run class today, she closed out her class by teasing she had an "exciting" announcement.
Joslyn then went on to imply that she would be teaching Tread Bootcamp classes next weekend (April 9 – 10).
Speaking from the Treadmill, she stated that:
"Something that's happening this time next week, in fact. So, we may be here, we may also be on the floor. It's OK!"
You can see video of the moment here on YouTube, or embedded below:
She didn't specifically mention Bike Bootcamps, but if Peloton is bringing Tread Bootcamps to London, it's a safe bet Bike Bootcamps will be headed that way as well. This could be one of the 3 new projects Sam Yo is working on that he teased earlier this week.
In fact, last year when the new London studios opened, Sam Yo had heavily hinted that Bike Bootcamps would be coming to London.
After her class ended, Joslyn Thompson Rule took to her stories on Instagram. There, she said that she actually wasn't allowed to share yet what her class Sunday is – but that the official announcement would be made this Thursday.
She included this image as a tease for her schedule this week as well.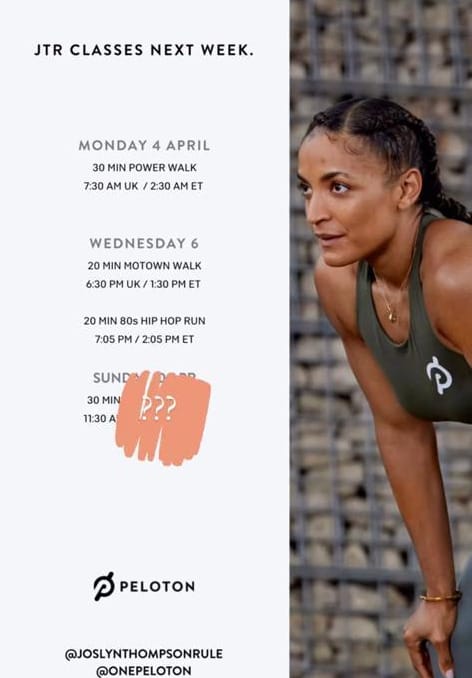 Which coach do you hope to see teaching Tread Bootcamps or Bike Bootcamps from the UK Studios when they launch next week?
---
Want to be sure to never miss any Peloton news? Sign up for our newsletter and get all the latest Peloton updates & Peloton rumors sent directly to your inbox.