Update – Looking for an update on Cody's status? Read what happened leading up to Week 2 here.
Just want to know how to vote for Cody Rigsby on Dancing With The Stars? Text CODY to 21523
For those not familiar with Dancing With The Stars (which Peloton instructor Cody Rigsby is competing on) – viewers are able to vote each week. Viewer votes are combined with judges scores to determine who stays, and who is sent home.
Each viewer is allowed to vote up to 20 times – 10 times via text message, and 10 times through the Dancing With The Stars website. For the rest of the season, the voting window is only open from when the show starts (around 8:00pm ET on Mondays), until just after the last dancer competes. This means for those on the west coast of the US – where the show airs on tape delay – you have to submit your votes before the show has aired!
If you want to make your life a little easier – there's actually a way to pre-schedule your text votes for Cody Rigsby! The steps are slightly different depending on whether you have an iPhone or Android, but we'll walk you through how to automatically schedule your votes on both. Keep in mind that standard text fees may apply, and only votes from numbers from the US & Puerto Rico will be counted.
You can see a video walkthrough for how to set this up for both Android & iPhone embedded below, or here on YouTube. Or, continue reading for step by step directions.
Whether you have an iPhone or Android, just keep in mind you'll still need to have your phone turned and with cell service when the show airs for your votes to go through. But, once you've followed the below steps – if your phone is on, your votes will be sent automatically!
PreSchedule text messages to vote for Cody Rigsby on Dancing With The Stars using an iPhone
For an iPhone, we'll make use of Apple's relatively new "Shortcuts" app. Using this, we'll be able to create an automated process that every Monday will send 10 text messages with our votes!
Open the Shortcuts app.
Select the automation tab.
Select "Create Personal Automation"
Select "Time of Day"
Change the time to be shortly after 8:00pm ET. We chose 8:20pm ET (For those wanting to vote in other time zones, make sure you set it for your local time such that the vote still goes in while it's airing live on the east coast).
Change from "Daily" to "Weekly"
By default, all the days of the week will be selected. Deselect the other days so Monday is the only day left chosen.
Select next.
If you don't see "Send Message" as a default option on the next screen, use the search box at the bottom of the screen to search for "Send Message"
Add the word "CODY" as your message (no quotes).
Add the number "21523" as the recipient (no quotes).
Before continuing, click the "Repeat" option.
Change it to repeat 10 times, so you max out your votes for Cody.
Hit Next.
You'll now see an overview screen. Your last option is to decide whether you want the phone to prompt you before it sends the texts or not. This is up to you.
Hit done and your 10 votes are scheduled!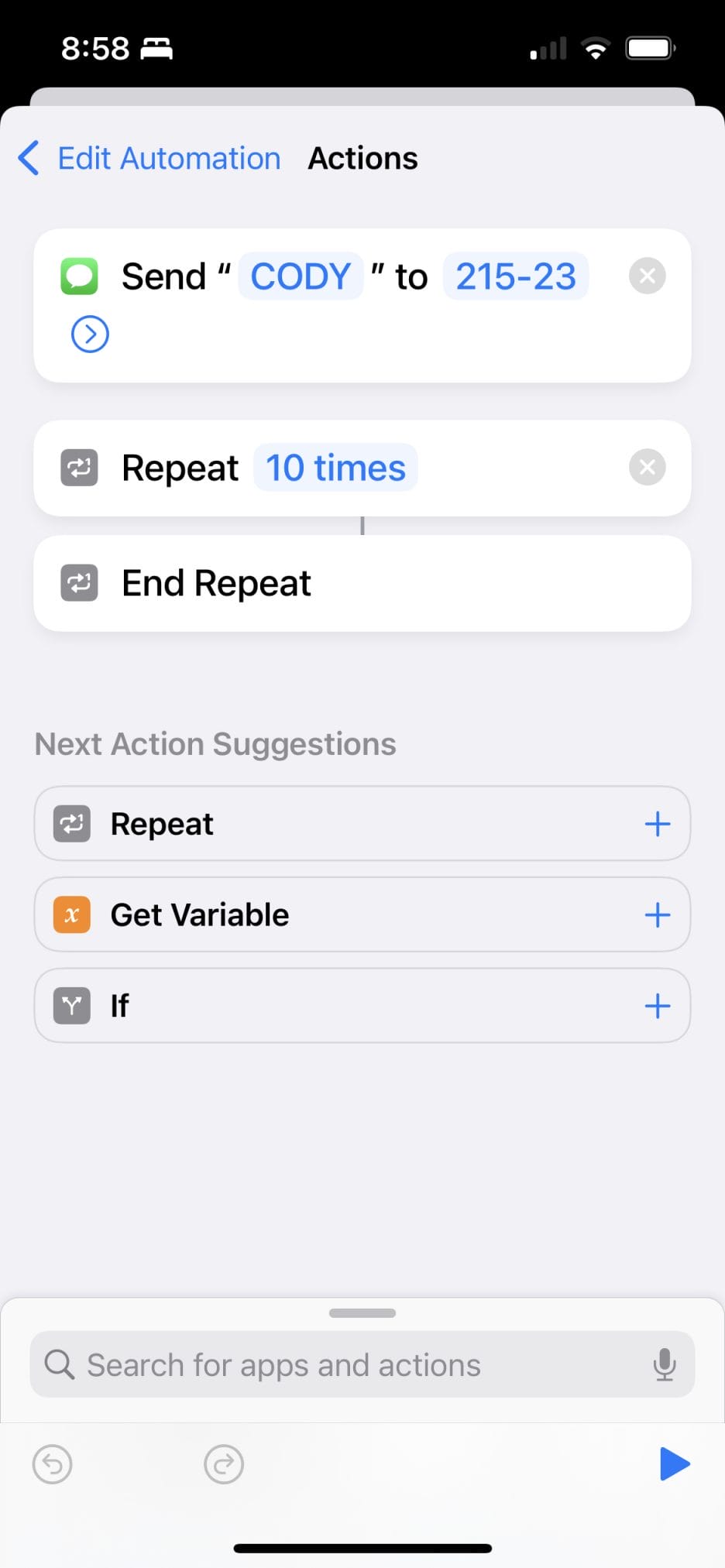 This automation will continue every week until you disable it – so don't forget once the season ends to go in and delete the automation!
PreSchedule text messages to vote for Cody Rigsby on Dancing With The Stars using an Android Phone
With an Android phone, everything will be done within the default text app. It's a slightly more involved process, as you can't define a way to repeat it 10 times, but you can pre-schedule all of your votes!
Open the default Android text message app.
Select "Start Chat"
Create a new message to the number "21523" (no quotes)
For the contents of your message, add the word "CODY" (no quotes).
Now press and hold the "SMS" button.
After a second, you'll get a popup asking you to schedule the send.
Select "Pick Date and Time"
Select the next Monday, and pick a time shortly after 8:00pm ET. We did 8:20pm ET. Again, keep in mind voting takes place in US Eastern time, so adjust the time in your local time zone accordingly.
Hit Save.
Now hit the "SMS" button again – your first vote is scheduled!
Repeat this process 9 more times to schedule your full 10 votes for the week.
You can go ahead and schedule future weeks as well.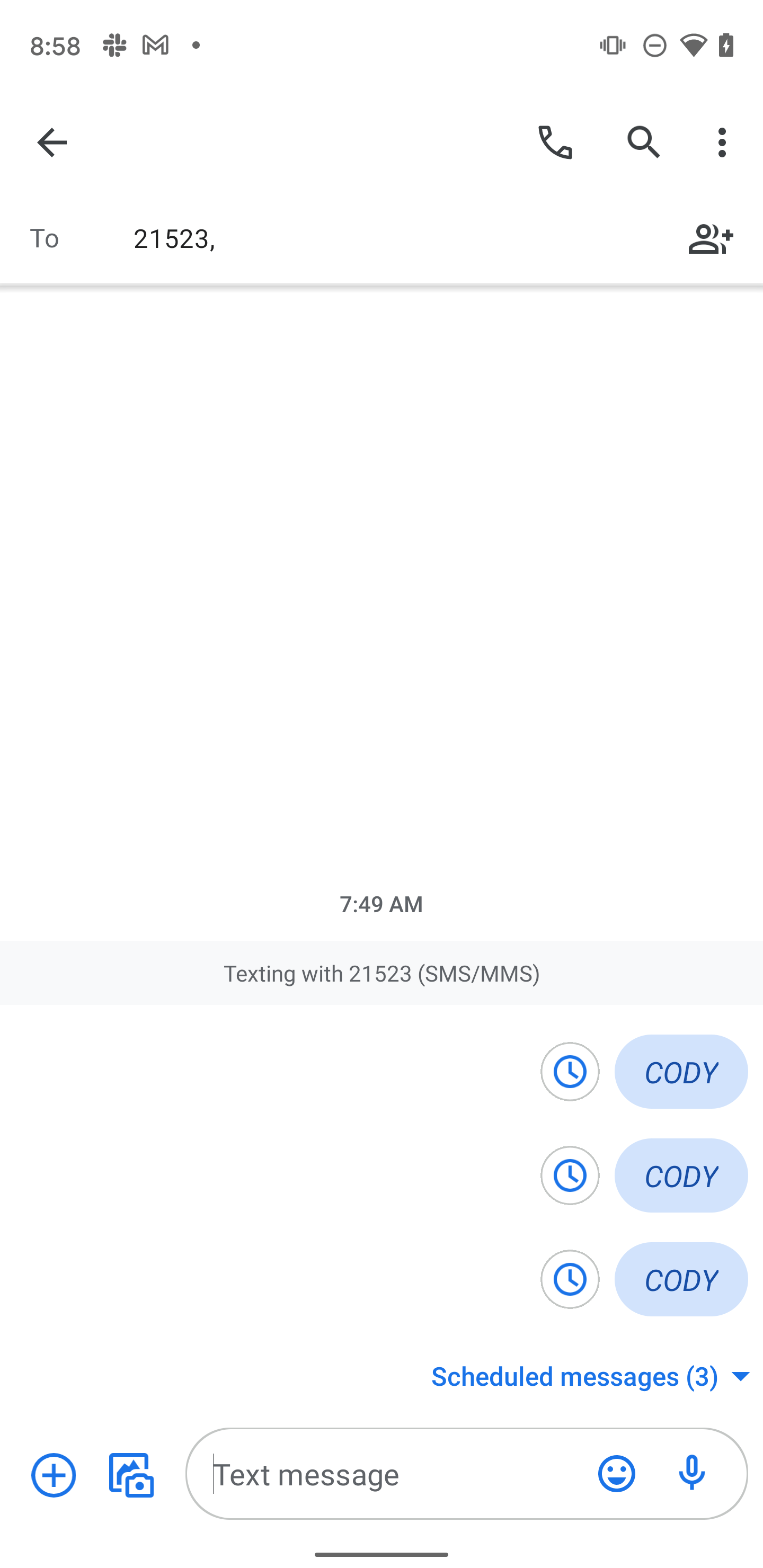 Bonus Votes for Cody – Dancing With The Stars website
So your text votes for Cody are scheduled, but that's only half the votes. Don't forget to head over to the voting website for Dancing With The Stars here and get your 10 votes in via the website as well.
Hopefully you can found this tip on how to automatically vote for Cody Rigsby on Dancing With The Stars helpful. If so – make sure to share it with your friends and Peloton teammates!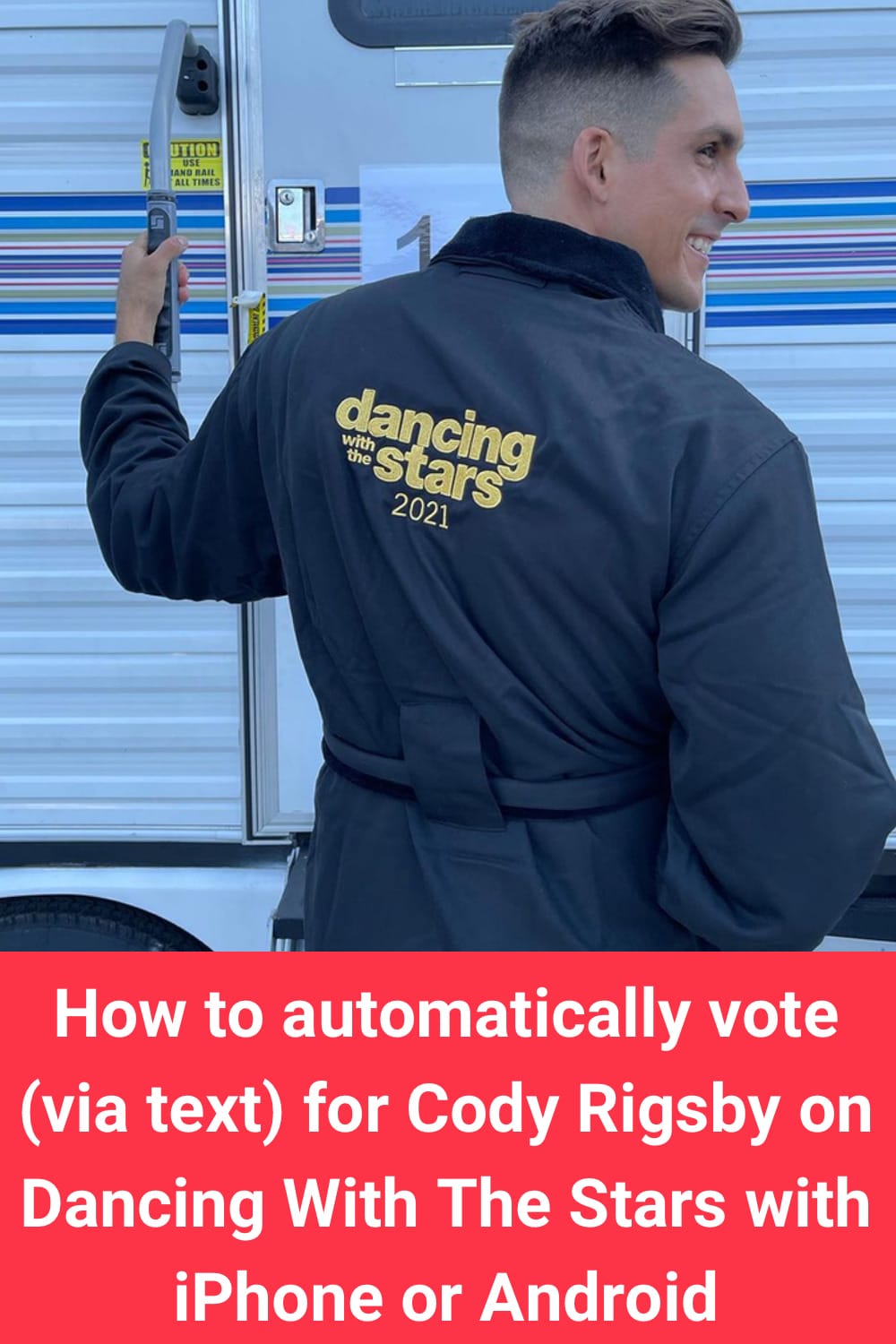 ---
Want to be sure to never miss any Peloton news? Sign up for our newsletter and get all the latest Peloton updates & Peloton rumors sent directly to your inbox.