If you ordered a Peloton Row – which has begun shipping after a numerous months-long presale phase – you may notice a different name on the delivery truck. Peloton is reportedly working with a new delivery company, RXO.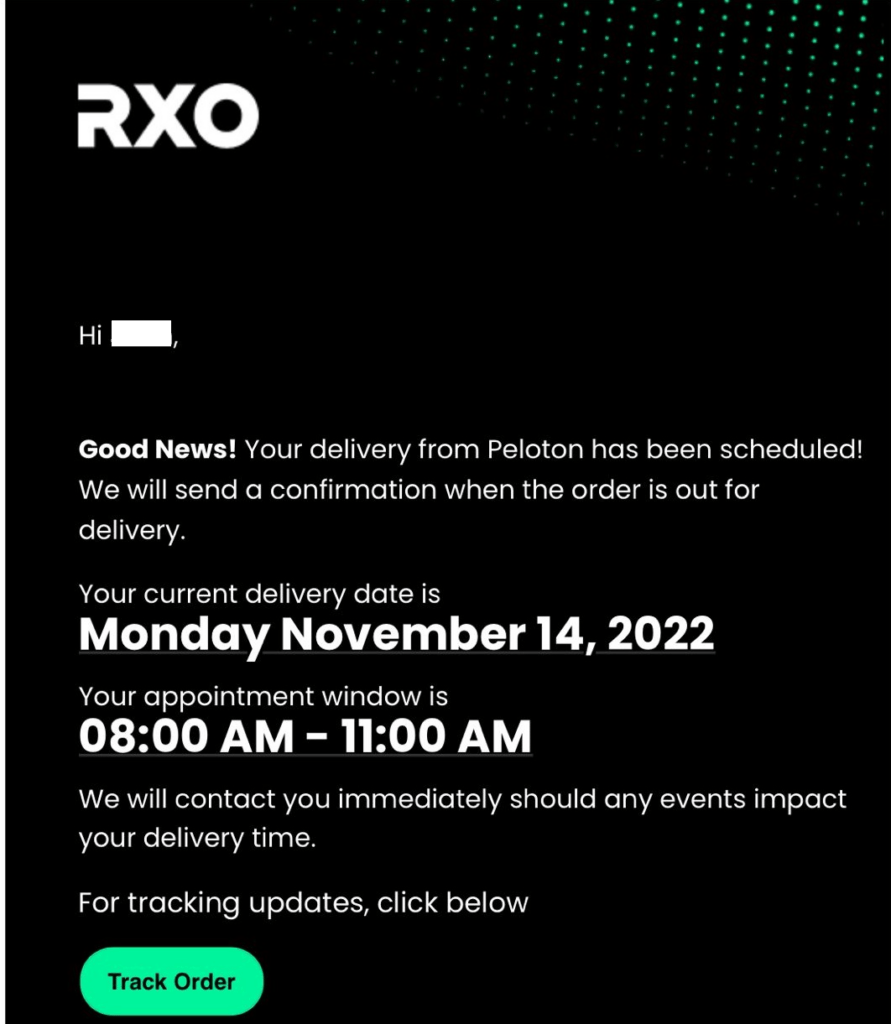 It turns out RXO is a spin-off of XPO, the third-party logistics company that Peloton has worked with for a number of years. The company was created in the past few months. According to a XPO press release from July 12, 2022:
XPO Logistics, Inc. (NYSE: XPO), a leading provider of freight transportation services, today announced that a new company identity has been created in connection with the planned spin-off of its tech-enabled brokerage platform. The spin-off is named RXO to reflect the company's commitment to provide reliability multiplied by outperformance. RXO will go to market with the tagline "Massive capacity. Cutting-edge technology."
Transport Dive, a news site dedicated to transportation and trucking, reported on the announcement at the time and provided insight into XPO's decision and strategy with their new spin-off company:
The spinoff seeks to showcase automation through XPO Connect, a technology platform that tracks deliveries up to the minute, the company said in March. The move aligns with XPO CEO Brad Jacobs' push for technology in the business.

This is part of XPO's efforts to further concentrate its services into separate companies. Last August, XPO completed its contract logistics spinoff with GXO Logistics. XPO sees spinning off its businesses as a way to boost value for itself and the spun-off companies.
Interestingly, some members are still receiving their deliveries from XPO rather than RXO. It is currently unclear which areas work with a particular delivery company. In addition to XPO and RXO, Peloton also utilizes J.B. Hunt in some parts of the country, another one of their longtime delivery partners. There are other delivery partners used as well.
As a reminder, Peloton announced earlier this year that they are shifting entirely to third party delivery and repairs in the United States – with companies such as XPO, RXO, and J.B. Hunt – in an effort to cut their fixed costs.
---
Want to be sure to never miss any Peloton news? Sign up for our newsletter and get all the latest Peloton updates & Peloton rumors sent directly to your inbox.