Peloton has made a small, but significant to many, change to their referral program this week.
The maximum number of referrals one Peloton member can make in a year is now 6 – down from the previous limit of 12.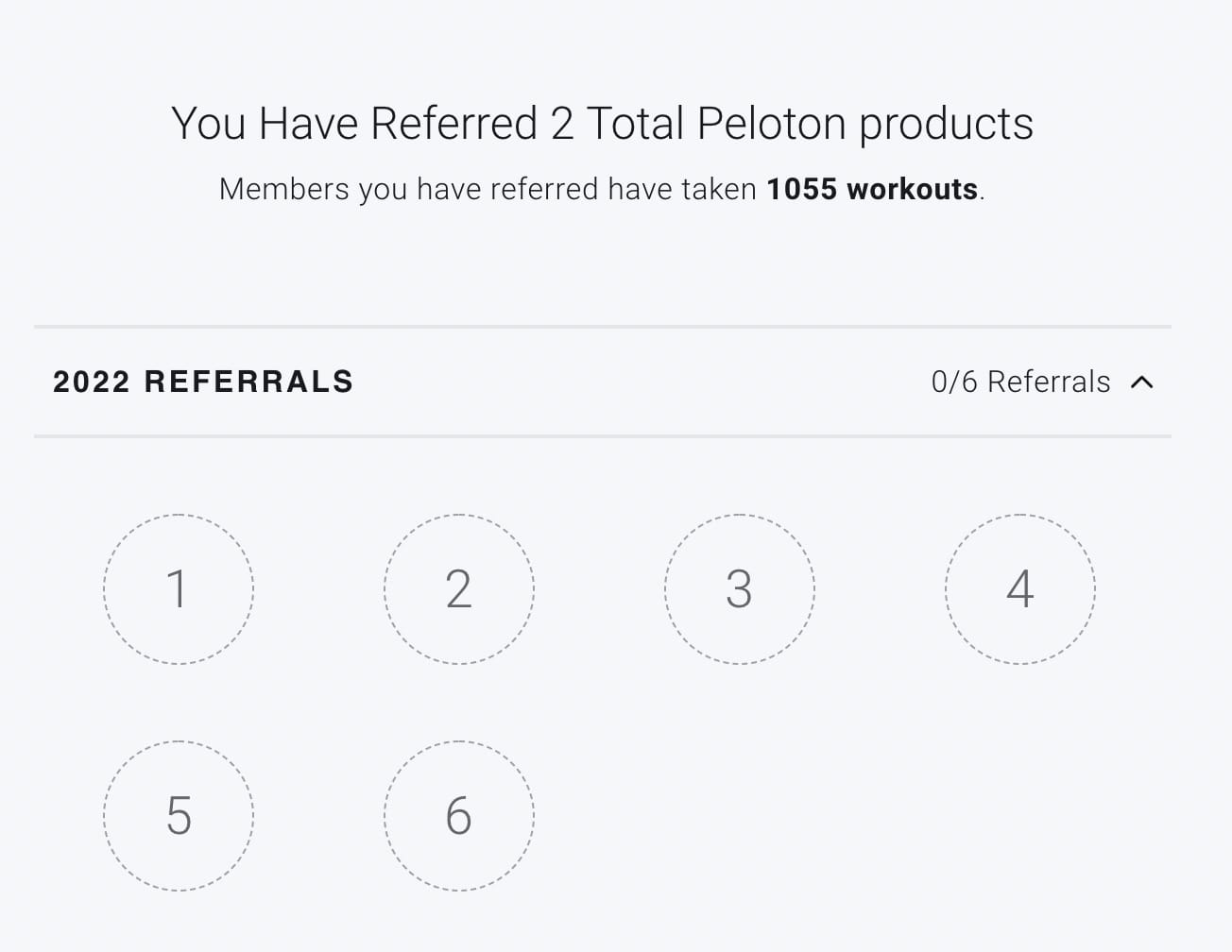 You can see how many referrals you have made so far here on Peloton's website.
The benefits of referring remain the same – you get a $100 referral credit for referring a friend, and your friend gets $100 off accessories when purchasing the Bike, Bike+, Tread or Tread+ (note the dollar amount might vary slightly depending on your country).
We had previously shared that Peloton updated a blog post in November indicating this would be changing in January of 2022 – however, the start of the year came and went with no change. It's not clear why Peloton waited this long into 2022 to make the change. That same blog post has now been updated to note today is the day the limit changes, saying "Peloton All-Access Membership owners (if you pay monthly for your hardware subscription, that's you!) can refer up to 12 people per year for hardware purchases in 2021 and up to 6 people per year starting February 17, 2022."
This is the second recent change to the Peloton referral program. It used to be that every profile on an account would have their own referral code. However, that was changed in October so only the primary account holder is able to make referrals. Peloton Digital Members are also not able to officially refer friends with a referral code.
The support page for the referral program have been updated to reflect the new limit for all countries as well as of this morning. "For any friend you refer who purchases a Peloton Bike, Bike+, or Tread ("Hardware") using your referral code, you will receive up to $100 off your next Apparel purchase and your friend will receive up to $100 towards accessories purchased with their Hardware. Get rewarded for up to 6 referrals per calendar year. The Referral Program is subject to these terms and conditions. "
You can see the full details & official rules of the referral program here.
As always, if you are looking to buy a new Peloton, and need a referral code for $100 off accessories, just email us.
Will you be impacted by this new limit?
---
Want to be sure to never miss any Peloton news? Sign up for our newsletter and get all the latest Peloton updates & Peloton rumors sent directly to your inbox.