Peloton has shared their plans for migration of Peloton App users from their legacy plans towards the end of the year: all users will default into App One, and then users can choose to upgrade to the more expensive App+ plan.
In case you missed it, Peloton recently announced their new App tiers: Peloton App Free, Peloton App One, and Peloton App+. All current Peloton app users who signed up for their membership before May 23, 2023 have been denoted as "Peloton App Legacy" – meaning that they are receiving App+ access even though they are not paying the App+ price of $24 per month. This will be valid through December 5, 2023 – and Members who purchased an annual subscription between December 2022 and February 2023 will have until the date their yearlong subscription expires to switch their membership to one of the new tiers.
What hadn't been clear until now is what exactly would happen to your subscription once your legacy pricing expired. Peloton has now provided direction this via a new support page as well as via social media.
On the page, they have now specified than once the legacy period ends, they will be migrated to the mid-tier App One plan (which costs $12.99 USD month). At that point, members can choose to upgrade to the more expensive App+ plan for $24 / month. This will give them back all the features and classes that they were used to having with the Peloton Legacy plan.
Members might not have a choice to upgrade or downgrade until their legacy period ends. By migrating people to App One, this will ensure nobody is automatically switched to a more expensive plan – people will have to manually choose to do this, in theory ensuring they are aware the pricing is going up:
The page says:
Members who bought a Peloton App Membership before May 23rd, 2023, through www.onepeloton.com/app, will receive Peloton App+ access at the Peloton App One price ($12.99/mo) until the date set out below. During this time, those Members will be unable to upgrade or downgrade their Peloton App Membership. After this legacy period, the membership will convert to a Peloton App One Membership, after which the Member can upgrade back to an Peloton App+ Membership ($24/mo).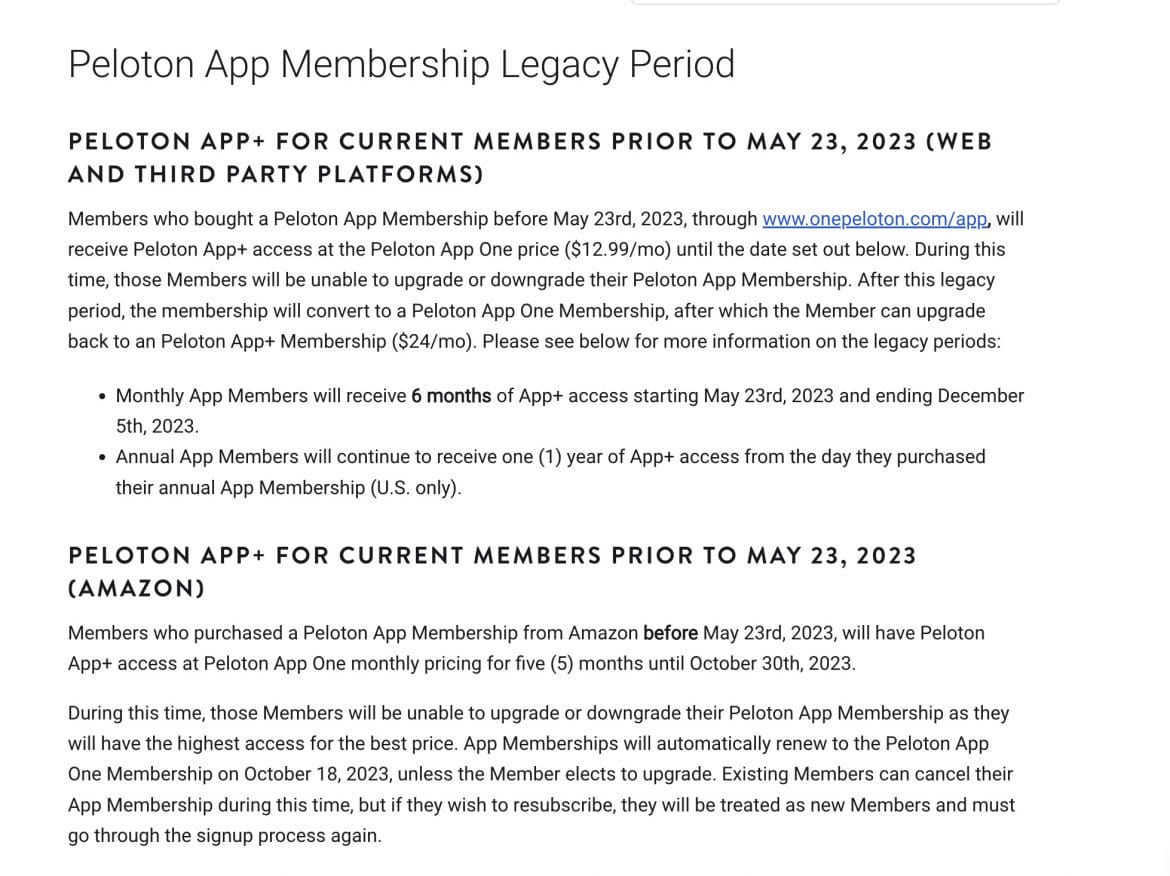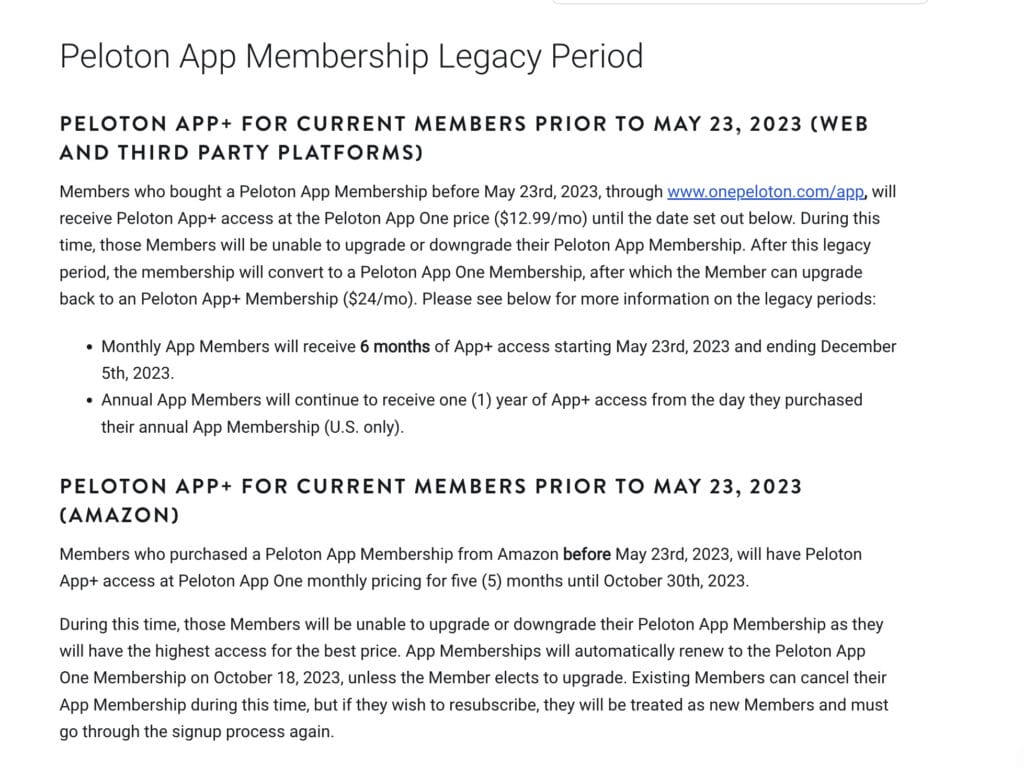 Peloton also has recently shared similar wording via the Official Peloton Member Page on Facebook what will happen once the grace period for legacy app users is up:
As an existing App Member, you will have a 6 month legacy period during which you will have access to all content and features of the App+ Membership for $12.99 USD. On or before December 5th, you will need to choose a Membership option.
If you do nothing prior to December 5th, your Membership will be automatically downgraded to an App One Membership, and you will be charged $12.99 USD a month for App One Membership, until canceled. We will remind you about these options prior to downgrading your Membership.
This can be managed by visiting onepeloton.com/mymembership. These changes only apply to App-only Members and not those with an All-Access Membership. To see the differences between the App Memberships and the All-Access Membership, we suggest visiting: https://www.onepeloton.com/membership.
Let us know if you have any additional questions on this!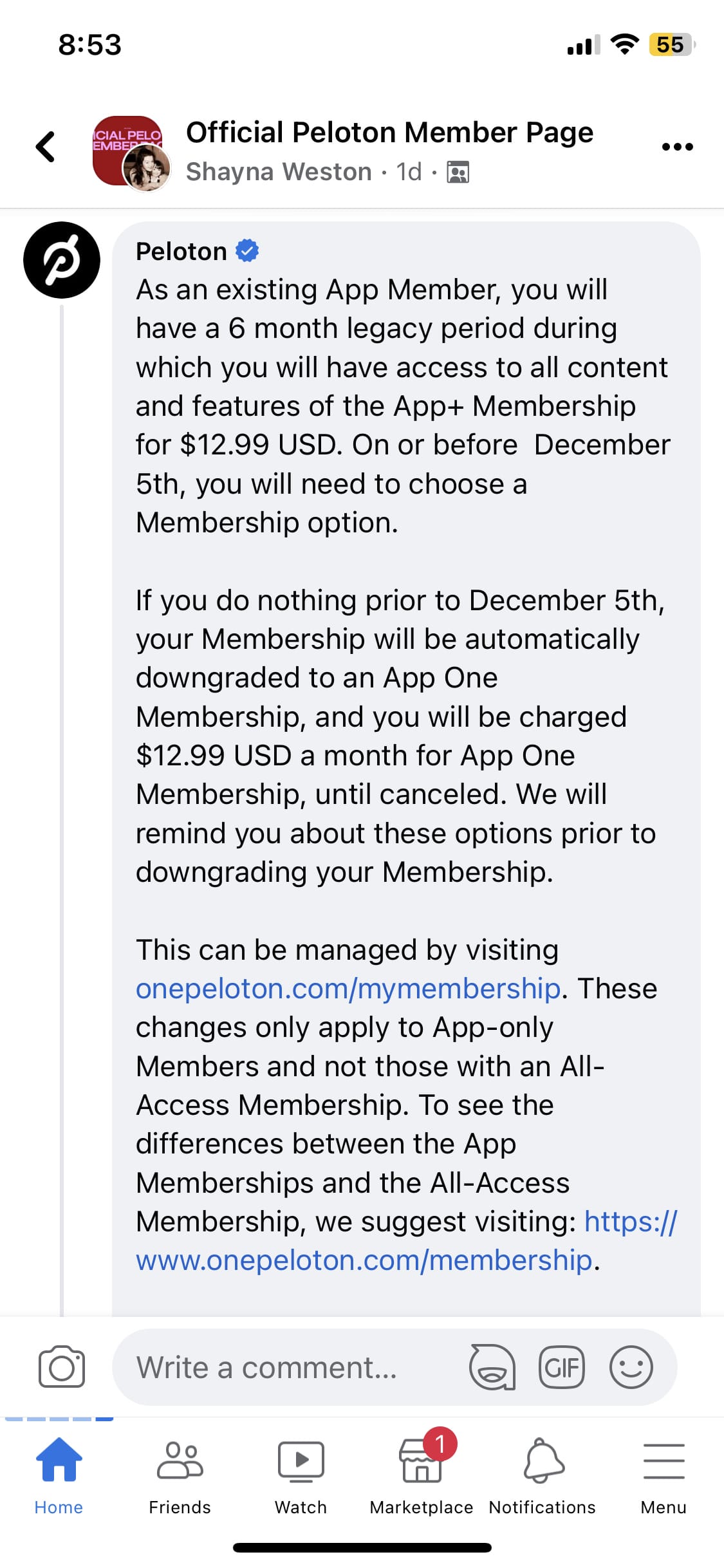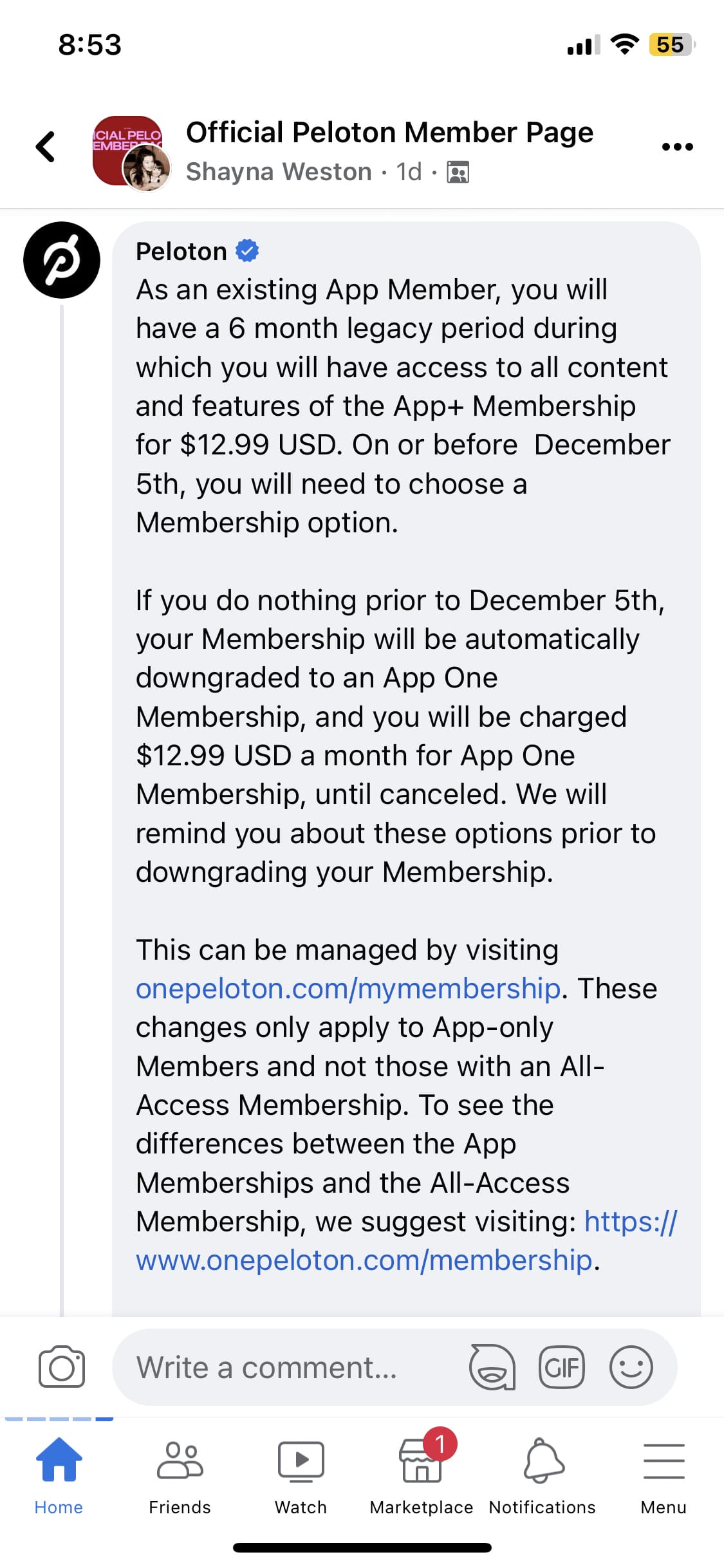 In other words, if you are an app user and do not make any selection – your app membership will continue as App One. You will have to explicitly opt in to App+ and agree to paying the $24 per month price to maintain your current content access.
App One costs $12.99 per month, or $129 for the year (equivalent to two months free). This is the same price of the app membership before the new tiers were announced. App One users receive access to the majority of Peloton classes, but for modalities that do not require a hardware device such as a Bike, Tread, or Row. App One users will be limited to three hardware-base classes per month. You can read more about the intricacies of the new tiers via our overview article.
As a reminder, the new App tiers are not relevant to All-Access members, who pay the $44 per month that is required to access Peloton content from their hardware device.
Peloton states that they will remind members about these changes before making any automatic adjustments around the December 5th deadline. In the meantime, members can also visit onepeloton.com/mymembership to view their membership details.
If you are a Peloton App member, what are you planning to do once your legacy period is up? Will you upgrade to App+, revert to App One, or potentially cancel your membership altogether? Let us know in the comments!
---
Want to be sure to never miss any Peloton news? Sign up for our newsletter and get all the latest Peloton updates & Peloton rumors sent directly to your inbox.