Peloton has launched a summer savings sale (which also falls over Father's Day) in which customers can receive a $200 USD / $250 CAD discount on the original Bike, Bike+, Tread, and Row. The sale began on June 2 and will run until June 19, 2023. At time of publishing it only appears to be live in US & Canada – it's not clear if a similar sale will be added in the UK, Germany, or Australia.
Peloton has updated the website home page (affiliate link) with new images and videos advertising the offer: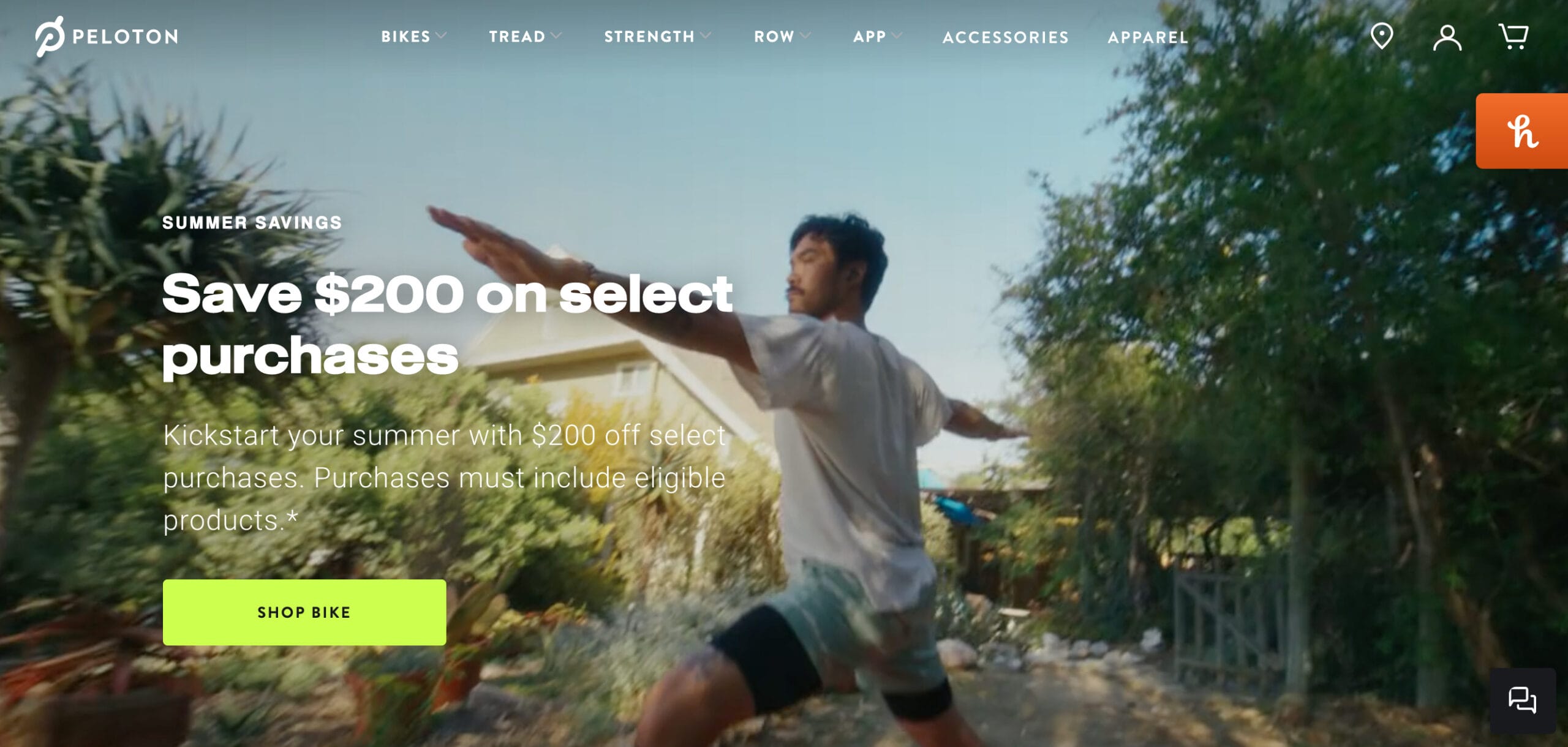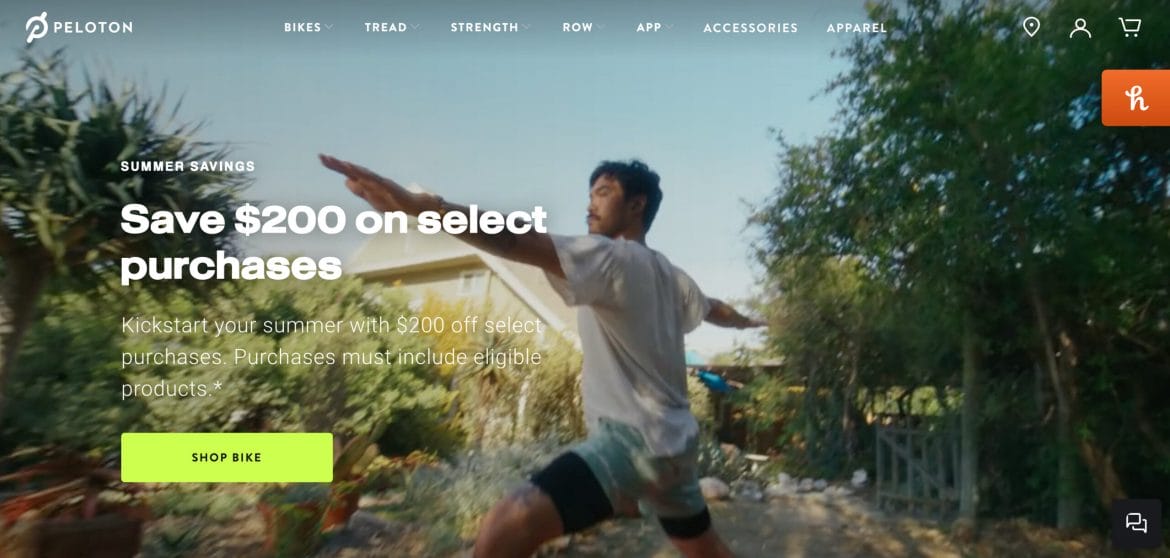 Interestingly, customers can even receive a discount on the base package that does not include accessories. Typically when Peloton holds sales on hardware devices, customers must purchase at least the minimum accessories package in order to receive a discount – but in this case, the $200 off (or $250 CAD) is available even if you only purchase the actual device.
The $200 discount is available on all Bike, Bike+ (including refurbished Bikes+), Tread, and Row purchases – but note that the offer does not apply to the Peloton Guide. You can view the breakdown of what each device and corresponding packages cost during the summer sale below:
Original Bike

Bike Basics: $1,245
Bike Starter: $1,445
Bike Ultimate: $1,625

Bike+

Refurbished Bike+: $1,795
Bike+ Basics: $2,295
Bike+ Starter: $2,495
Bike+ Ultimate: $2,675

Tread

Tread Basics: $3,295
Tread Starter: $3,425
Tread Select: $3,540
Tread Ultimate: $3,620

Row

Row Basics: $2,995
Row Starter: $3,070
Row Select: $3,320
Row Ultimate: $3,270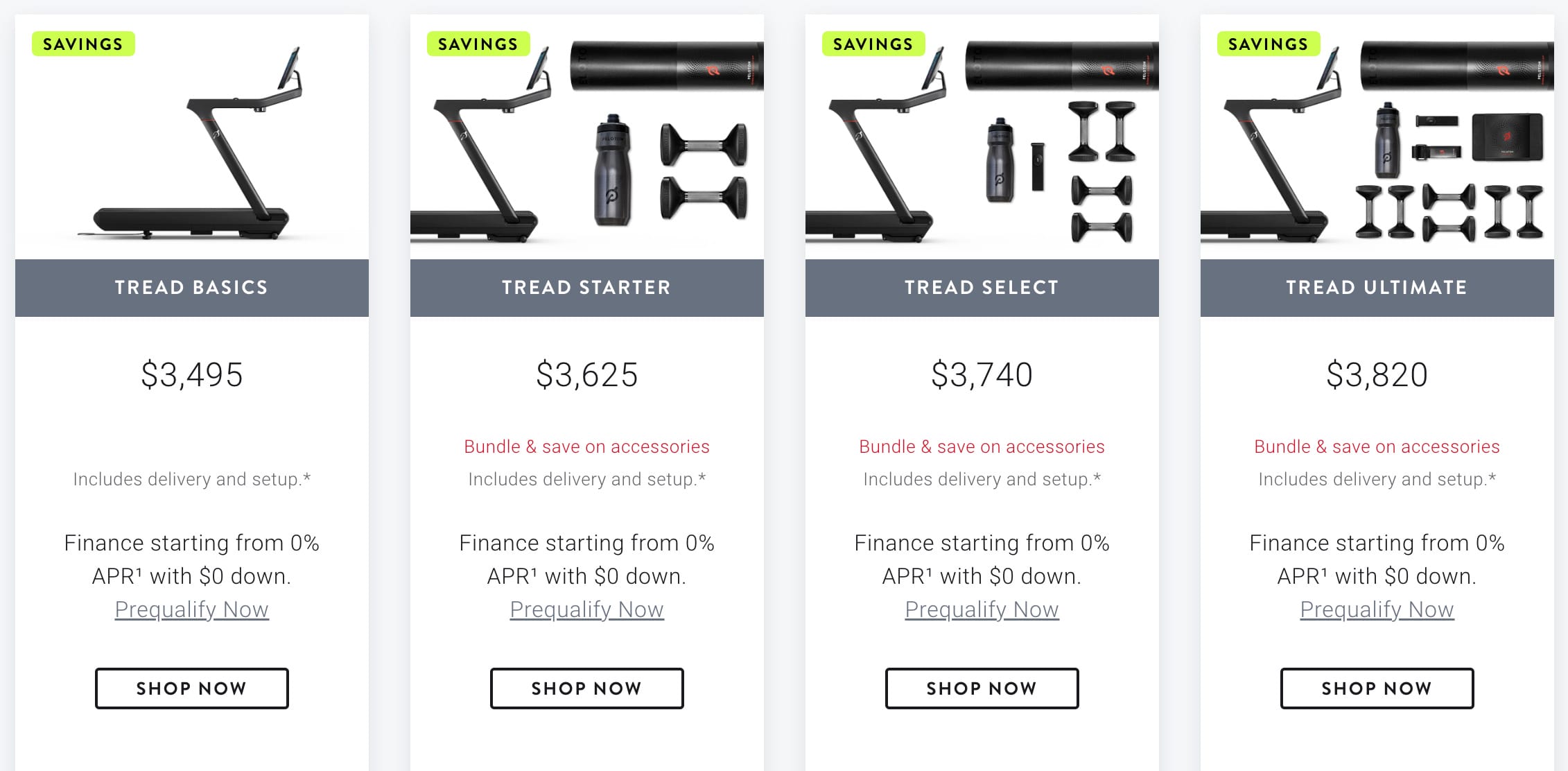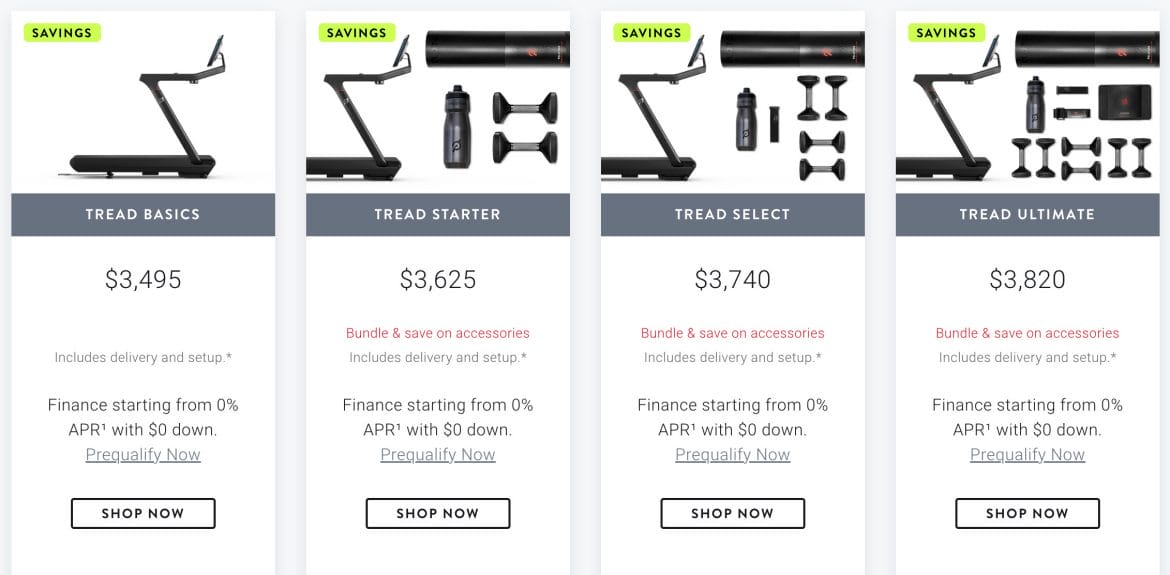 Note that the $200 discount is applied in the cart – it is not reflected on the product order page. Only a "savings" tag is visible on each package.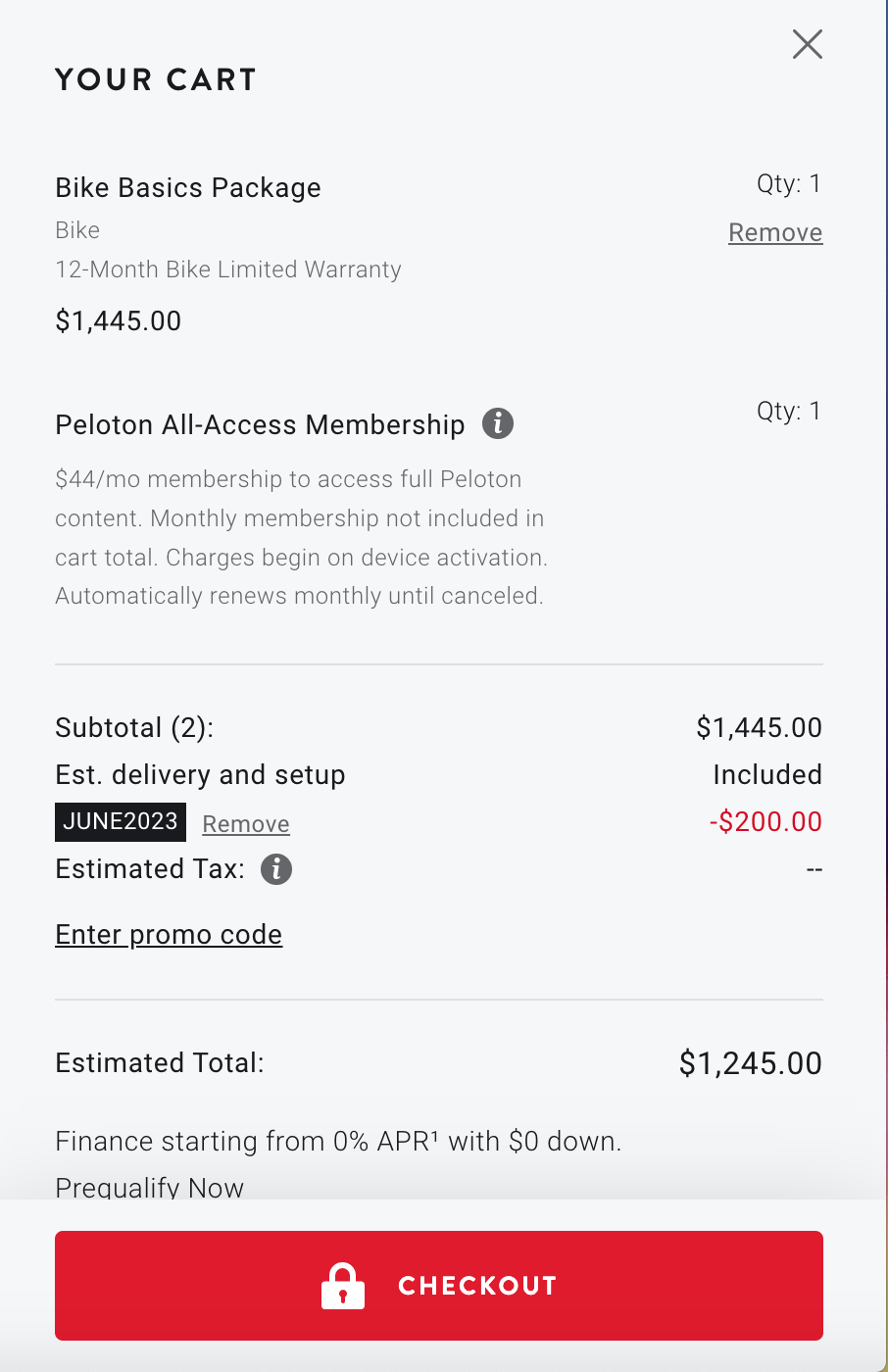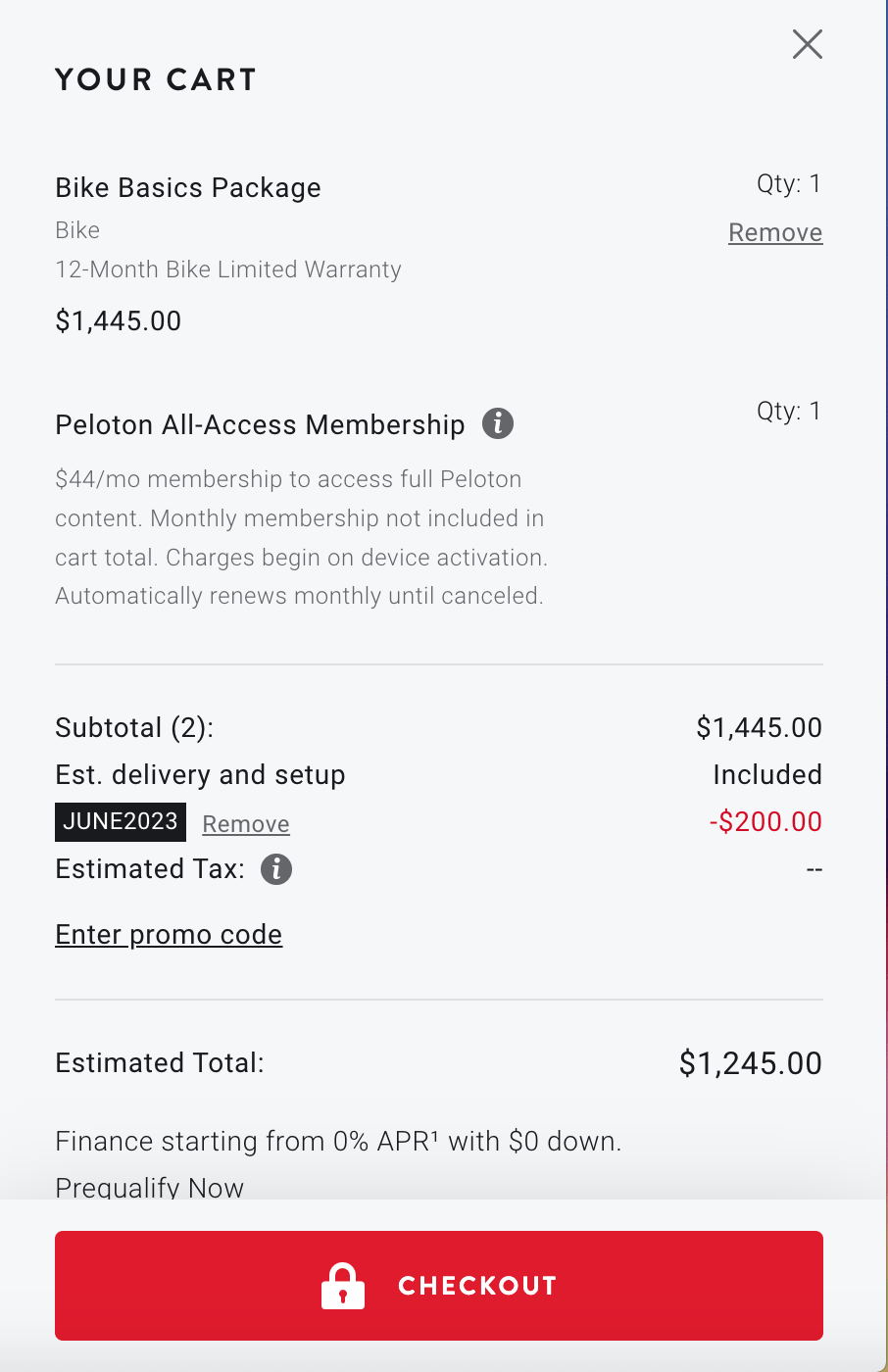 Peloton has launched a dedicated support page with more information about the offer. Specifically, customers who purchased a hardware device within the past 30 days can contact Peloton to receive a price match. In addition, financing can be used to make the purchase.
As with all hardware sales, the All-Access monthly membership that is required in order to access Peloton content is separate. Referral codes can be used – however, only the referral code provider will be rewarded and the device purchaser will not receive any additional discounts.
In addition to purchasing a Peloton hardware device online, you can also visit your local showroom. This is the last month retail showroom employees will be eligible for commission from their sales, so we highly recommend visiting a showroom if you have one available to you.
If you visit a showroom in the next few days, you are eligible for a $1 accessory bundle as well if you do a demo in store first.
For more information about Peloton's latest summer savings sale you can visit the Peloton website
---
Want to be sure to never miss any Peloton news? Sign up for our newsletter and get all the latest Peloton updates & Peloton rumors sent directly to your inbox.