In a surprise move, Peloton increased their Black Friday offers overnight. As part of that change, Peloton added some sales to the brand new Peloton Row – which had not been included in the initial Black Friday offerings.
Many members who had already purchased a Bike, Bike+, Guide, or Tread received emails this morning telling them that they would be automatically getting a refund and price match to the updated offers. One version of the email, to a member who purchased the Guide, said:
We're contacting you about your recent Peloton purchase. We're in the Holiday spirit , and as you may have seen, our Black Friday offer just got better! We've updated our offer and we want to make sure you don't miss out.


A refund of $100 has been applied to your purchase and will appear on your original form of payment in the next 7-10 business days.
Peloton has been promoting their Black Friday price-match guarantee – so even if you didn't get an email yet, you should be able to reach out to customer support for a price match.
In many cases, the Black Friday sales have been doubled – you can find a table with the current sales here (we've updated it with the most recent pricing). In the US, the offer went from $300 off a Bike/Bike+/Tread accessory package to $600 off. The Guide went from $200 off to $300 off accessory packages. Other countries had similar increases.
It's worth noting that with these updates – the price of a Peloton device + accessory package is now cheaper than just buying the device by itself. For the Bike, Bike+, and Tread, this effectively means Peloton is offering a $300 discount on these devices – and throwing in $300 worth of free accessories.
For example – the original Peloton Bike is $1,445 by itself, however, you can get the Bike Premiere package for $1,145. The Bike+ is $2,495 by itself, but the Bike+ Premiere package is $2,195. The Tread is $3,495 by itself, while the Tread Premier package is $3,195.
The Peloton Guide is normally $295, but this sale is seeing the Guide Strength Starter Package offered for $245 – a $50 savings, with free accessories as well.
The other big update is that the Peloton Rower is now available for discount when purchased with an accessory pack. Peloton's Black Friday sale on the new Peloton Row is $300 off accessory packages.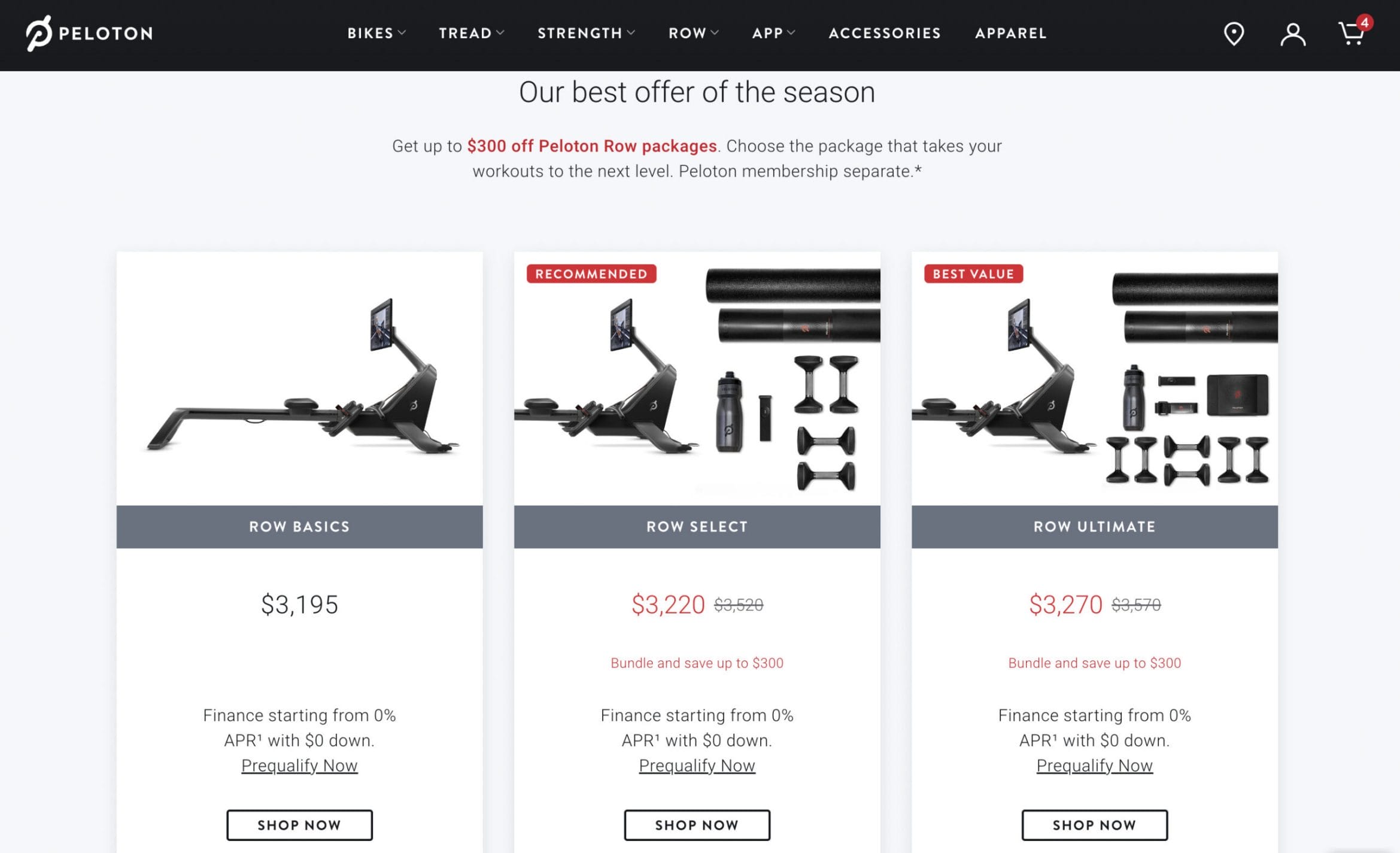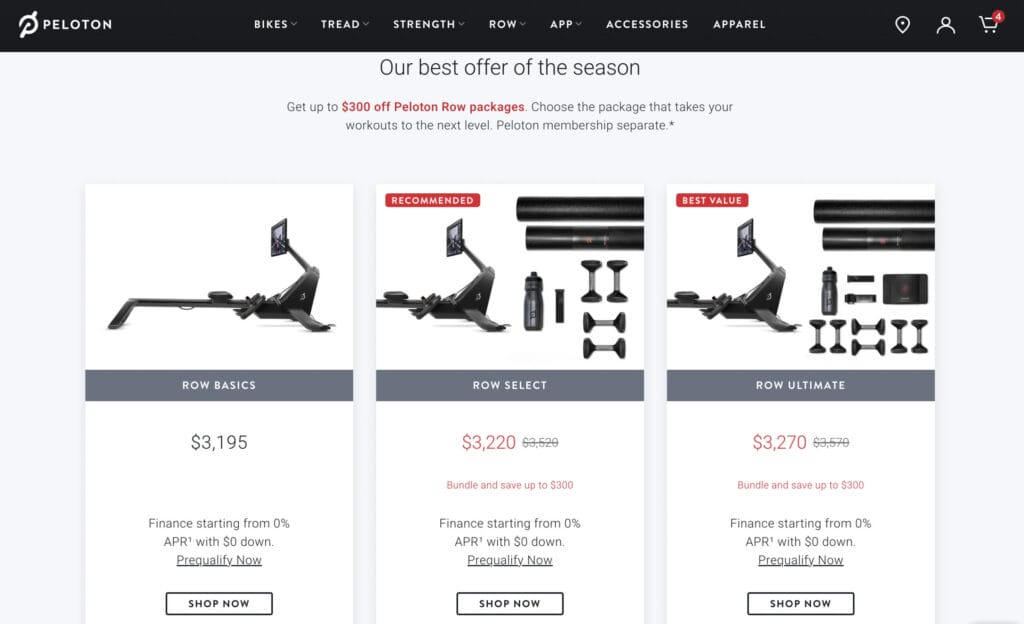 The original Black Friday price match guarantee didn't explicitly mention the Rower as being included, and we haven't seen a lot of supports yet from people on whether they have success price matching these new offers (let us know in the comments or via social media if you try). However, the Peloton Row comes with the 30 day Home Trial guarantee. So if Peloton won't honor a price match, there is nothing stopping members from returning it for free under the home trial, and then re-ordering under the Black Friday offer. It would save Peloton money to just honor the price match vs having to send a delivery team to pick up the old rower, and another delivery team to deliver the new rower, so we'll see what approach they take there.
As always, you have the choice to order online, or via a local showroom via phone or in person. If you order at a showroom, you pay the same price but you'll help out your local salesperson earn some commission.
The updates to Black Friday sales wasn't the only change Peloton made overnight. They also made the Rower eligible for financing, and lowered the interest rates on financing packages from 14.99% to 4.99%
---
Want to be sure to never miss any Peloton news? Sign up for our newsletter and get all the latest Peloton updates & Peloton rumors sent directly to your inbox.