Peloton's next featured artist series is here, and will feature the music of pop artist *NSYC. The Peloton *NSYNC classes will be on Friday, November 18, 2022.
The announcement was made on social media this morning, and said:
This ain't no lie, the @nsync Artist Series is coming to a screen near you. Dust off your old dance routines and join @robinnyc, @alexpeloton, @marcel2coach, @hauptstadttrainer, @la_tiamariana, @jon_hosking, and @codyrigsby on Fri., Nov. 18, for their iconic *NSYNC Artist Series Classes.
This is the first ever Peloton artist series that will feature a rowing classes. Although live rowing classes aren't expected to start until 2023, an encore/premiere class is being added to this series with Alex Karwoski.
Besides the row, you can find strength, runs, rides, and a yoga class in the Peloton *NSYC artist series.
*NSYNC Peloton Classes & Schedule & Workouts – Featured Artist Series
20 min *NSYNC Row – Alex Karwoski – 11/18/22 @ 10:00am ET [Encore Premiere]
30 min *NSYNC Run [German] – Marcel Maurer – 11/18/22 @ 11:00am ET
30 min *NSYNC Ride [German] – Erik Jager – 11/18/22 @ 11:30am ET
30 min *NSYNC Run – Jon Hosking – 11/18/22 @ 12:00pm ET [Encore Premiere]
30 min *NSYNC Yoga Flow – Mariana Fernandez – 11/18/22 @ 2:30pm ET [Encore Premiere]
30 min *NSYNC Ride – Cody Rigsby – 11/18/22 @ 5:30pm ET
20 min *NSYNC Upper Body Strength – Robin Arzon – 11/19/22 @ 8:15am ET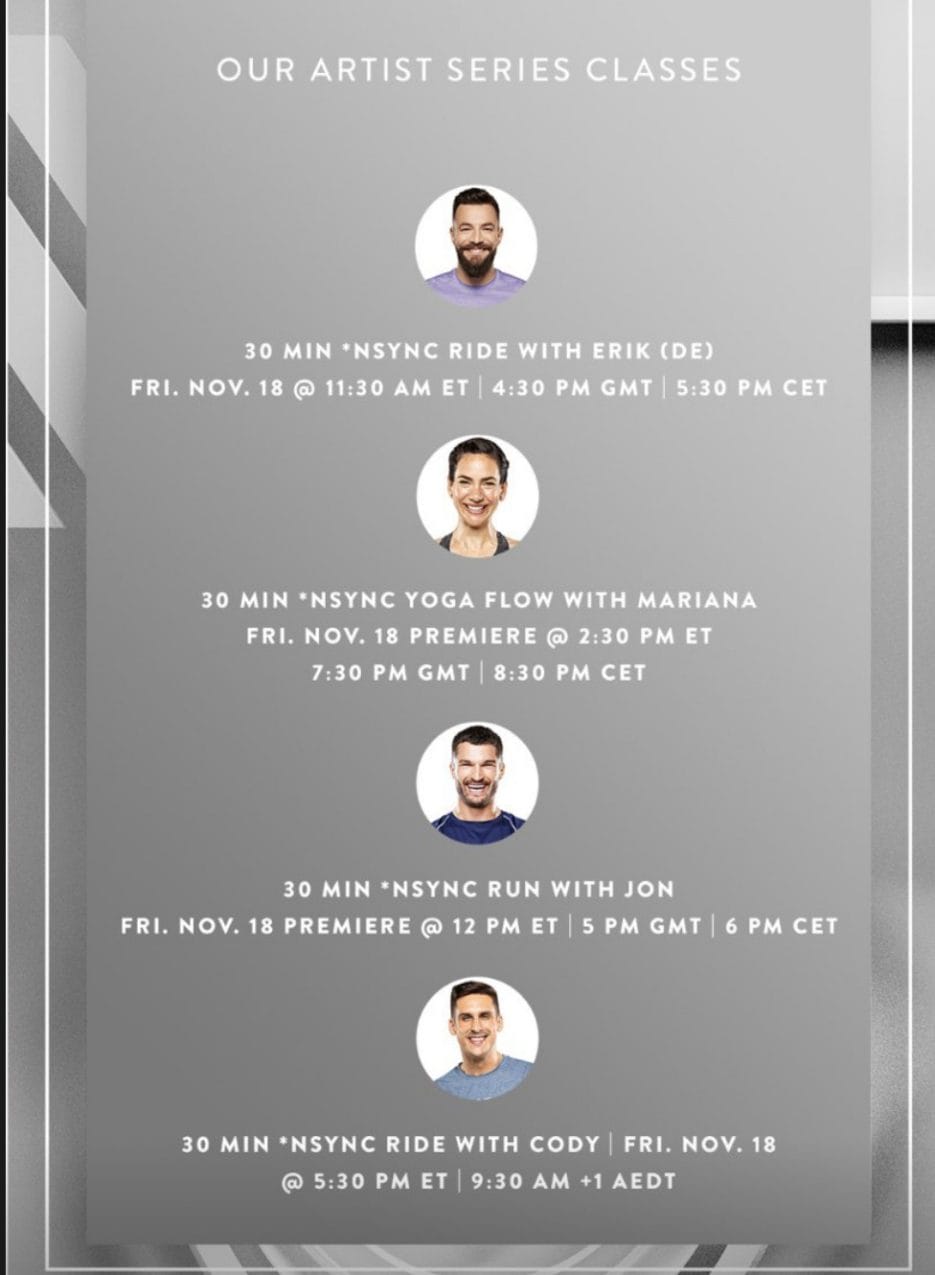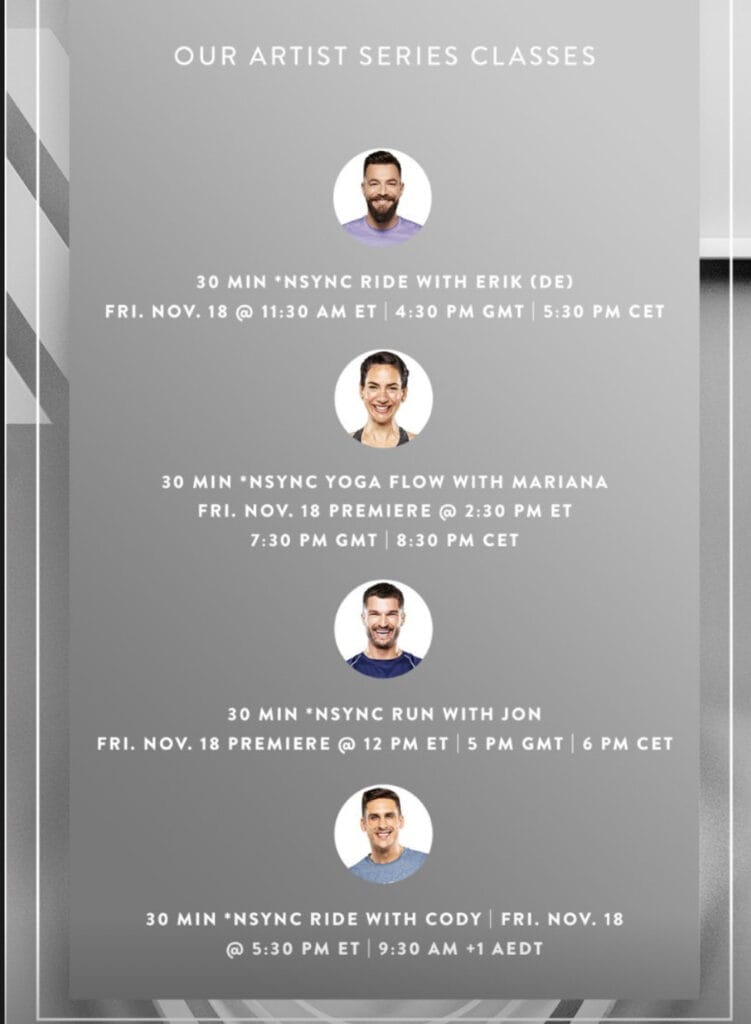 Cody Rigsby previously had a hidden/unofficial *NYSNC ride that was recorded in 2016 – but was removed in class library purge in recent years.
Members can expect to earn an artist series badge for completing any of the *NSYNC classes. If you're trying to acquire additional badges, you can reference the complete list of available badges in our guide.
You can also see other previous artist series classes on our list here.
Will you be opting into the Peloton *NSYNC classes & artist series?
---
Want to be sure to never miss any Peloton news? Sign up for our newsletter and get all the latest Peloton updates & Peloton rumors sent directly to your inbox.