Peloton will likely be forced to temporarily pause all live classes created from the New York City Peloton studios for an undetermined amount of time. The governor of New York, Andrew Cuomo, has issued an order that all non-essential workers in the state of New York must stay at home. Unfortunately for all the home riders out there, the services Peloton provides are not considered essential in the eyes of the government. This new order goes into effect Sunday night.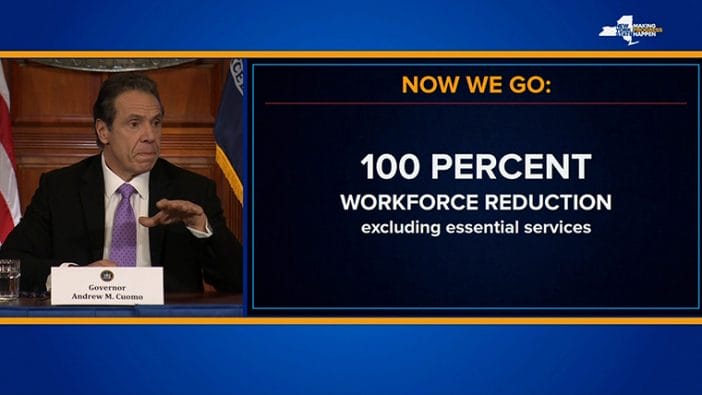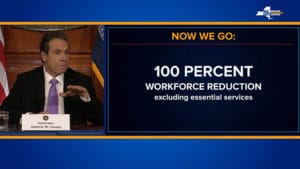 Due to this, Peloton will most likely be forced to pause production from their New York facility. For the time being, classes will still be able to be produced from London, but at a reduced rate due to recent social distancing practices put in place. That means that for the next few weeks, the only instructors who will have live classes are Ben Alldis, Hannah Frankson, Leanne Hainsby, Sam Yo, Irene Scholz, and Erik Jager. This will be a great time to try a class from one of the London UK instructors if you haven't before! Keep in mind that the production of classes from London could also be suspended at any point due to similar orders from the leaders in the United Kingdom or London.
Before this new order, Peloton has stated that they would be supplementing the live ride schedule with more encore classes. Expect them to fill even more encore classes in, assuming that the backend Peloton system is set up to allow the production team to do this remotely.
The timing of this order is particularly bad timing for Peloton. They made the transition from their old studio to their brand new Hudson Yards Peloton Studios New York location this week, and broadcast their first class from the new studio on Thursday. Due to previous orders, these classes have already been held with no live audience riding along in the studio, and with only 2 instructors a day.
The current order from New York doesn't specify an end date, so stay tuned to see what date Peloton will resume broadcasting live classes from New York City again.
---
Want to be sure to never miss any Peloton news? Sign up for our newsletter and get all the latest Peloton updates & Peloton rumors sent directly to your inbox.