This afternoon, Peloton made a mass cancellation of live classes scheduled for the next few weeks. Over the weekend, they had announced that the studio would be closed to the public, but live rides would still be broadcast on a modified scheduled.
Today, they took that schedule modification even further. Originally, classes were scheduled throughout the day in a mostly normal schedule, but with no audience. Effective immediately, the schedule shows that there will be no more than 2 instructors in the studio at any one day, and there will be a larger time gap in between those 2 instructor's classes. This is to provide for better social distancing for both the Peloton instructors and production teams.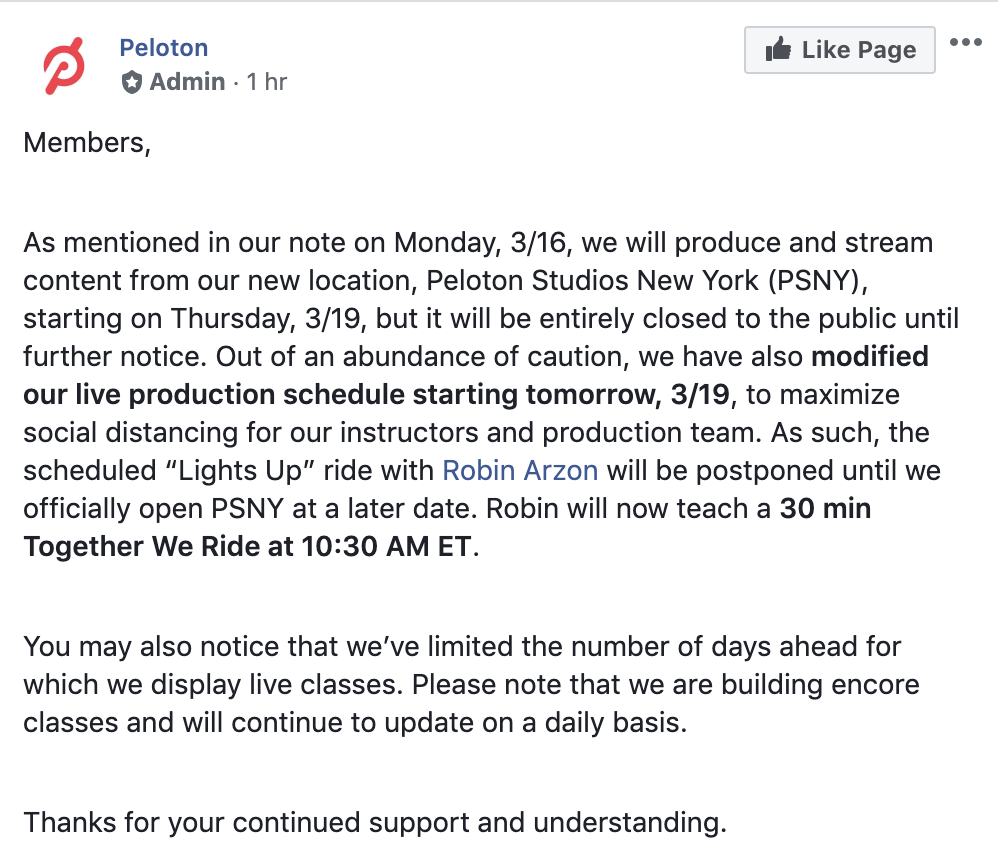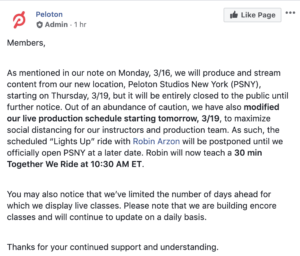 Additionally, the Lights Up ride meant to officially open the new Hudson Yards PSNY Peloton Studios New York facility that was scheduled for this Thursday, March 19th @ 8:00am has been postponed indefinitely. Instead, Robin will teach a "Together We Ride" class @ 10:30am on Thursday. The Lights Up ride will be scheduled for another day in the future. Although the opening ride has been postponed, the instructors will still be broadcasting from the new studios starting on Thursday.
One other minor tweak is that the live ride schedule will now only show classes 4 or 5 days into the future. Normally, you can see rides up to two weeks ahead of time. This is expected to be a temporary change until the studio gets back to normal operation.
---
Want to be sure to never miss any Peloton news? Sign up for our newsletter and get all the latest Peloton updates & Peloton rumors sent directly to your inbox.