As a part of their expanding partnership, Peloton and Spotify have unveiled a "Find Your Instructor" tool that allows users to take a quiz that will match them with the instructor that most closely aligns with their music taste and workout habits. Peloton sent an email to some members explaining the new feature:
Finding the right Peloton Instructor can be a journey. A journey that we've made a little easier thanks to our friends at Spotify. Together, we made an experience that matches you with your perfect Peloton instructor based on your musical tastes and a few other key personality traits. Give it a go.
Peloton and Spotify announced this new feature earlier this week. In addition to the quiz, Peloton now has a featured spot on Spotify's Workout Hub, as well as instructor-curated playlists specifically for Spotify listeners.
Members must have a Spotify account in order to take the quiz, but you can sign up easily and for free if you don't already have one. The quiz asks the following questions:
What workouts do you generally do?
What makes you show up?
What type of energy level do you want your workout music to have?
What are your workout looks?
Upon receiving your answers, the quiz matches you with an instructor, highlighting some of their recent classes and linking to their Spotify playlist. You'll also see the next three closest instructor matches and have the opportunity to retake the quiz if you wish.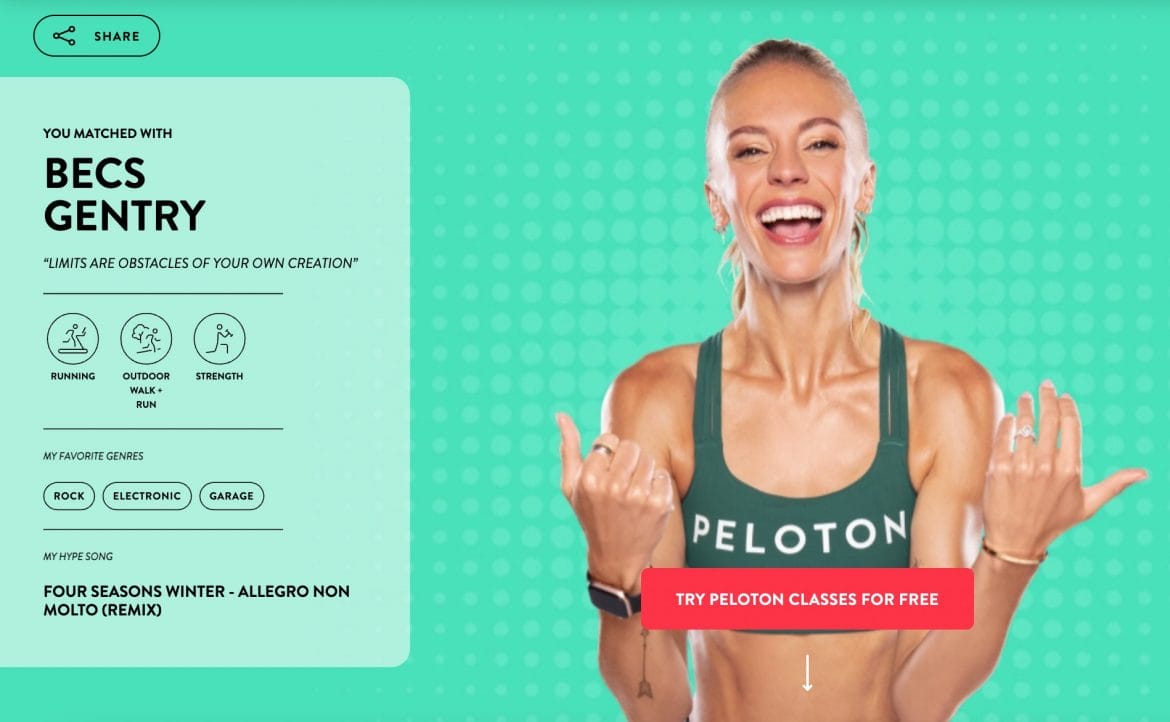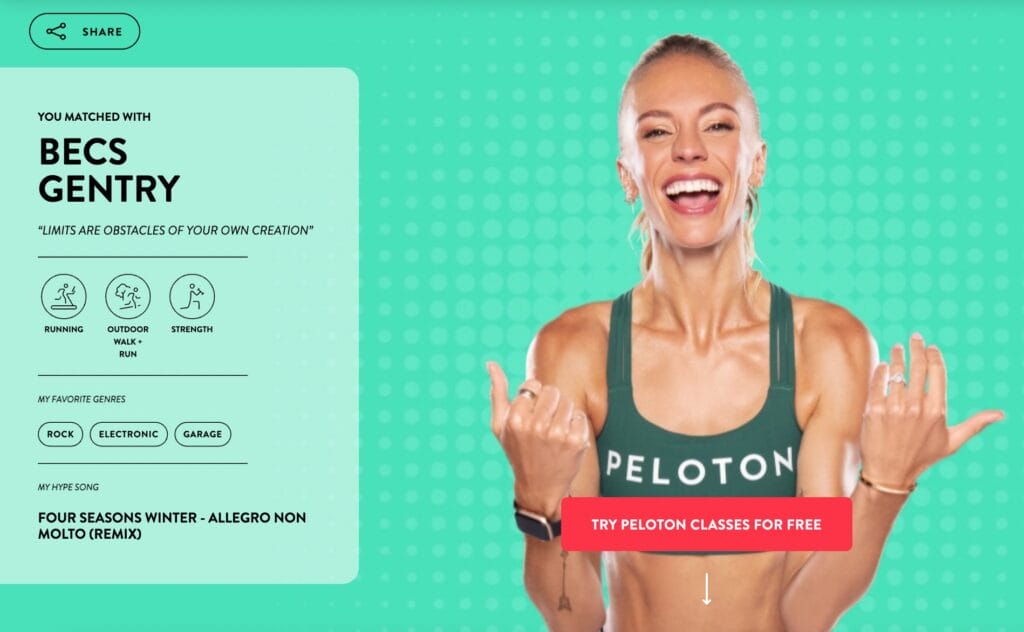 From what we can tell, if you don't have a Spotify account you regularly use, your quiz result will be solely based on the four questions you answer. If you're an avid Spotify user, the quiz will incorporate your music tastes and listening habits when determining your instructor match.
Peloton indicated on Instagram that their Spotify playlists will be continuously refreshed moving forward, all a part of the evolving partnership that began in 2020 and continues to grow. Remember to utilize the "Track Love" feature to save songs you hear in your workouts to your own Spotify or Apple Music playlist!
Don't forget, Peloton has a "Find Your Ride" tool to help you get started and pick classes & instructors as well.
If you took the quiz, were you matched with one of your favorite instructors?
---
Want to be sure to never miss any Peloton news? Sign up for our newsletter and get all the latest Peloton updates & Peloton rumors sent directly to your inbox.