Peloton CEO John Foley sat down with Emily Chang for an interview on "Bloomberg Technology." The interview covered a range of topics, from international expansion, to manufacturing capacity, and more. We'll highlight a few of the other topics at the bottom.
However, one part of the interview we think most people will be interested in came after John was asked about the release pace of new products, since now both the Bike & Tread have two different versions. After addressing those topics, he turned to talking about strength. He stated:
We're working on other products & other categories. We've said we're committed to winning strength. We don't just want to be cardio. We're largely on track to win cardio globally, we want to make sure we win strength globally.
This talk about strength in general isn't a new statement. For the past several months during interviews the statement of "We plan to win strength" has become a common phrase. Most recently John talked about this in an interview with Goldman Sachs. In that interview, he mentioned there might be 3 ways to win strength: one with new floor content, one with new class types used with a Tread, or one with new strength hardware.
In this newest interview with Bloomberg, John Foley mentioned that he travels to a R&D lab every couple of weeks. He states how energizing it is for the team to see both new hardware, but also software, new content, and "all the different modalities you would expect us to come out with"
Emily then follows that with the question most Peloton users would then ask afterwards – "But does that mean a strength training machine or a rowing machine could be next"
John pauses for a second before replying:
Uhhhh…… Those are good guesses. I can't confirm or deny. We're having fun. Fitness is a fun category. You can imagine some of the things we're working on.
If you're not familiar with the previous rumors & statements on these devices, you can catch up on the newest Peloton Rower rumors here, or the latest rumors about a Peloton Strength Device here.
You can watch the entire video below, however, it's set to start right at the part where he discusses the R&D lab, rower, and strength machine:
Several other topics were covered during the interview. John Foley stated that they hope to be in every country as quick as they can, but their vertically integrated model takes time, and with the growth they've seen in their current markets, they don't want to overwhelm their team by expanding too quickly.
Peloton's manufacturing capability & order delays are brought up as well. He shares that delivery times on the bike are now down to 2-4 weeks in the US, and that their manufacturing partners have increased manufacturing capabilities more than 700% over the last year.
He also shares that their team believes they can grow as much as 100x more of their current size and member base.
This interview was first pointed about by John Mills of Run, Lift & Live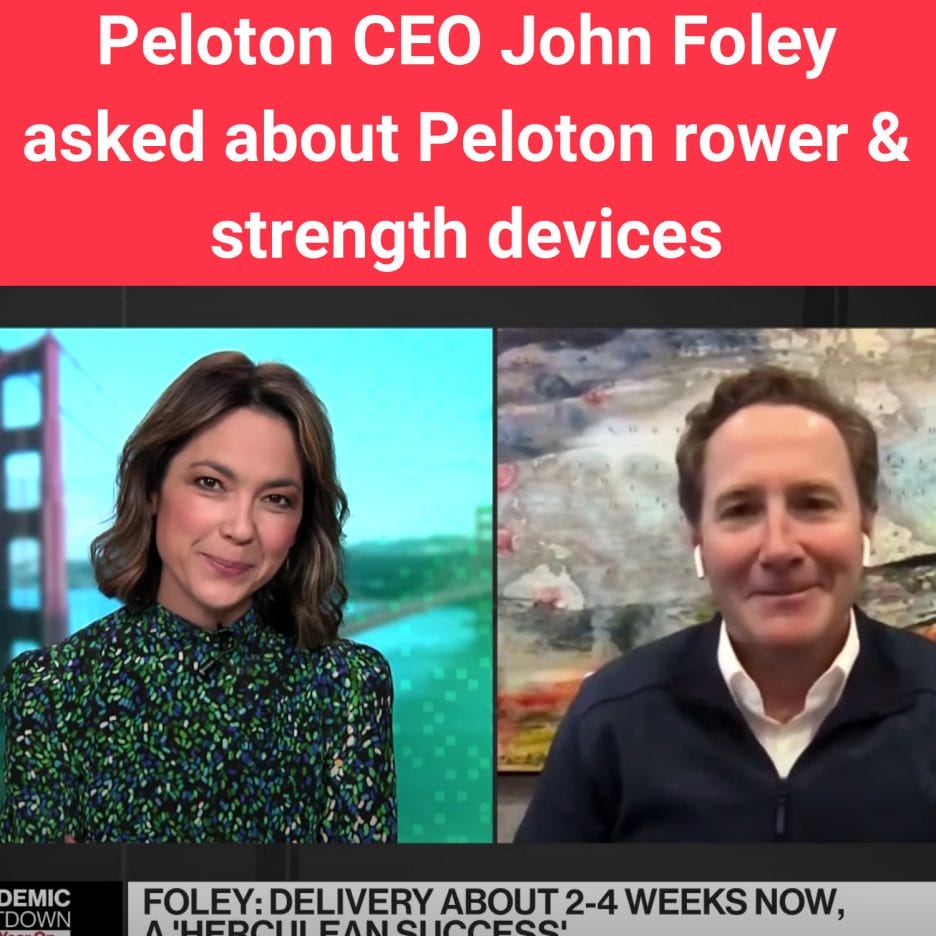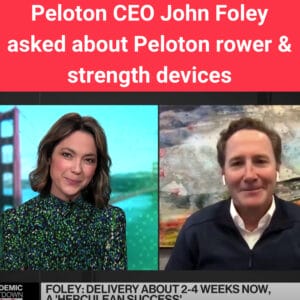 ---
Want to be sure to never miss any Peloton news? Sign up for our newsletter and get all the latest Peloton updates & Peloton rumors sent directly to your inbox.