This morning, Peloton announced that production of all classes would be paused until Thursday April 30th, 2020 at both the London and New York Studios. This means that you will see no new live classes on the schedule for the next several weeks. Although not mentioned in the email, there is the very real possibility that this production pause could be extended as well as the end of the month nears.
Last week, Peloton originally announced that production would be paused for 5 days, until April 7th. At the time, they said a production team member had tested positive for COVID-19. As a result, they were going to do a deep clean of the studio, and then resume filming live classes with a skeleton crew. The overwhelming response on social media was people wondering why they weren't going further, and following the state of New York's shutdown order.
Whether it was the community feedback, or just a business decision, today's announcement shuts down the studios for the next several weeks. The next debate will arise as we get closer to April 30th. Depending on the spread of the pandemic and what conditions are like in New York and London at the end of the month, Peloton will have decide if they want to extend the production pause further.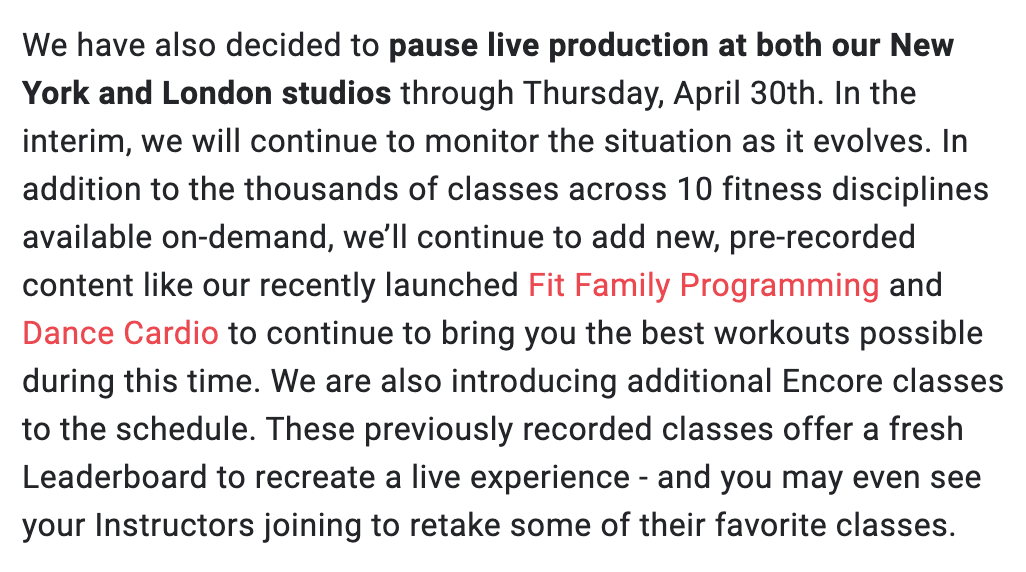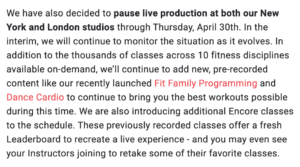 ---
Want to be sure to never miss any Peloton news? Sign up for our newsletter and get all the latest Peloton updates & Peloton rumors sent directly to your inbox.