Peloton has announced their next artist series will feature the music of hip hop icon Kendrick Lamar. Peloton shared the news via Instagram:
Join @afrow_cliff, @tune2tunde, @fitxkendall, @jesssims, and @jermainejohnsonuk on Wed., Nov. 2, for their knockout @kendricklamar Artist Series Classes.
The series will launch on Wednesday, November 2 and will include six classes across four modalities, including a run, two rides, shadowboxing, and a bike bootcamp. You can view the complete class list below:
Kendrick Lamar Peloton Classes & Schedule & Workouts – Featured Artist Series
20 min. Kendrick Lamar Shadowboxing – Kendall Toole – 11/2/22 @ 12:30pm ET
10 min. Kendrick Lamar Boxing Stretch – Kendall Toole – 11/2/22 @ 12:55pm ET [On Demand]
45 min. Kendrick Lamar Ride – Cliff Dwenger – 11/2/22 @ 1:00pm ET [German]
30 min. Kendrick Lamar Bike Bootcamp – Jess Sims – 11/2/22 @ 5:30pm ET
30 min. Kendrick Lamar Ride – Tunde Oyeneyin – 11/2/22 @ 7:00pm ET
30 min. Kendrick Lamar Run – Jermaine Johnson – 11/3/22 @ 3:00pm ET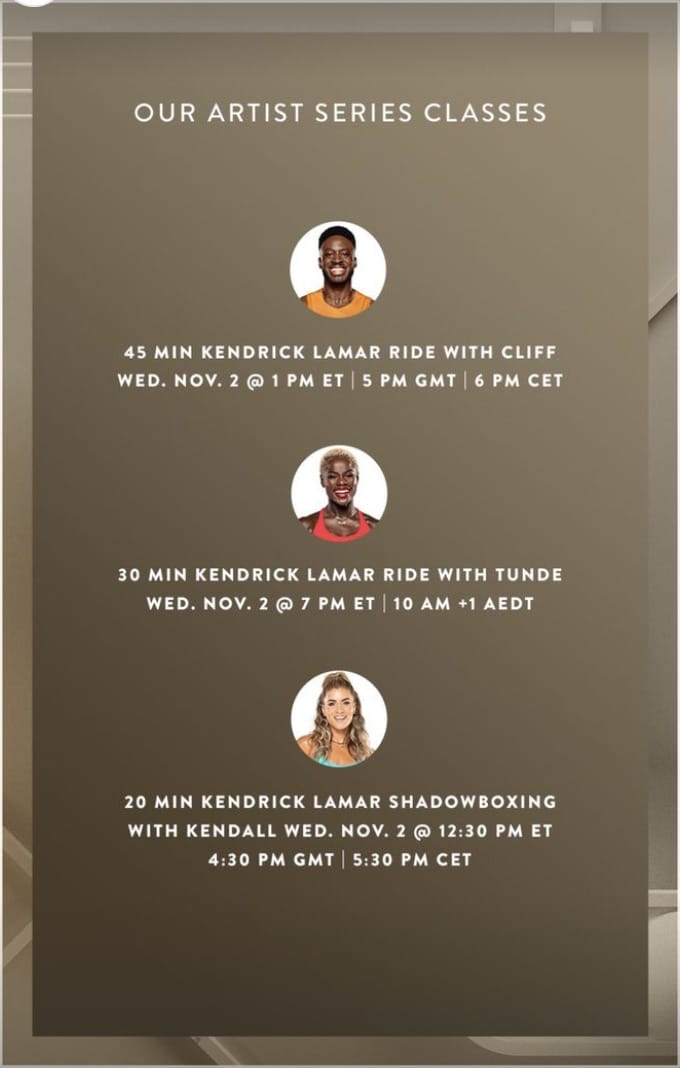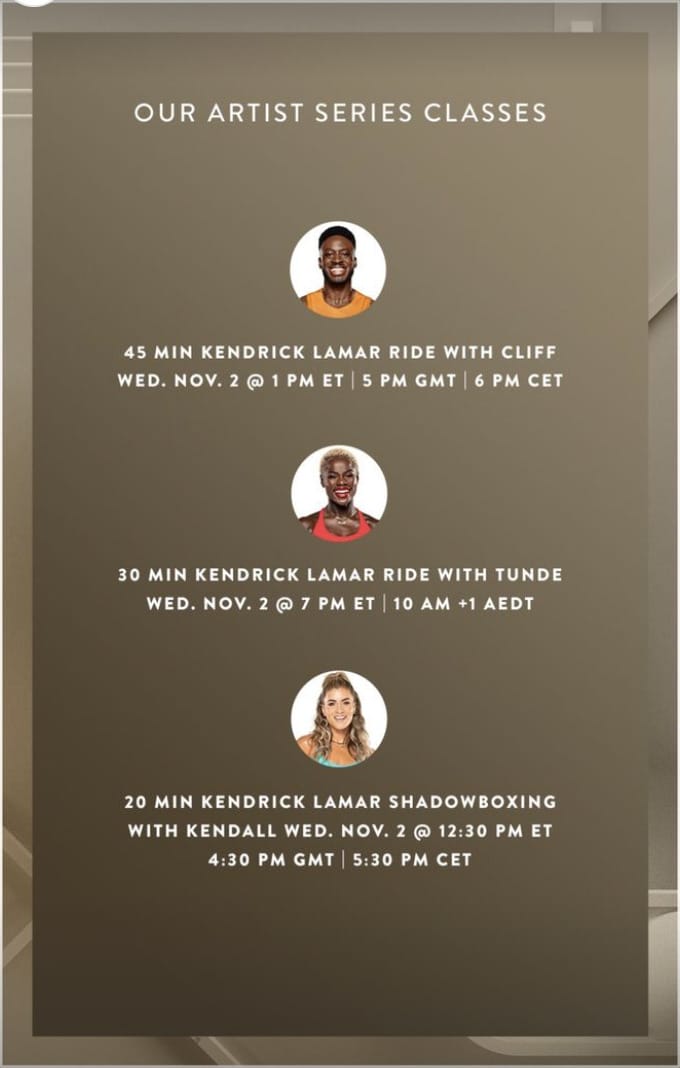 Note that the bike bootcamp with Jess Sims will be a live class, the first live bike bootcamp taught in English since early August. Though Cliff Dwenger has had some live bike bootcamps in German throughout the past few weeks, Peloton has shifted to almost entirely pre-recorded bike bootcamps that drop on demand on Sundays as part of the Triple Threat Collection. You can read more about that development in our overview article.
Members can expect to earn an artist series badge for completing any of the Kendrick Lamar classes. If you're looking to collect additional badges, you can browse the complete list of available badges in our guide.
If you're trying to explore past Peloton featured artist series, be sure to check out our comprehensive artist series list.
Will you be opting into the Kendrick Lamar artist series?
---
Want to be sure to never miss any Peloton news? Sign up for our newsletter and get all the latest Peloton updates & Peloton rumors sent directly to your inbox.