Update – Peloton addressed the delays on their earnings call, and detailed how they hope to fix it. Details in this new article here.
Peloton continues to have a problem which many others in the connected fitness space are likely to be jealous of – more demand than supply. Since March and the beginning of the COVID-19 pandemic, Peloton has seen an unprecedented and unexpected surge in orders – at one point Peloton CEO John Foley stated in an interview that their order numbers in early spring were more in line what they would normally see for a holiday season. The difference was a holiday season surge is expected and the company scales up both production & staff to deal with those months in advance, which wasn't possible here.
This week, Peloton has added a new banner to their website notifying customers that "Bike delivery times are 4 to 9 weeks. Bike+ delivery times may exceed 10 weeks"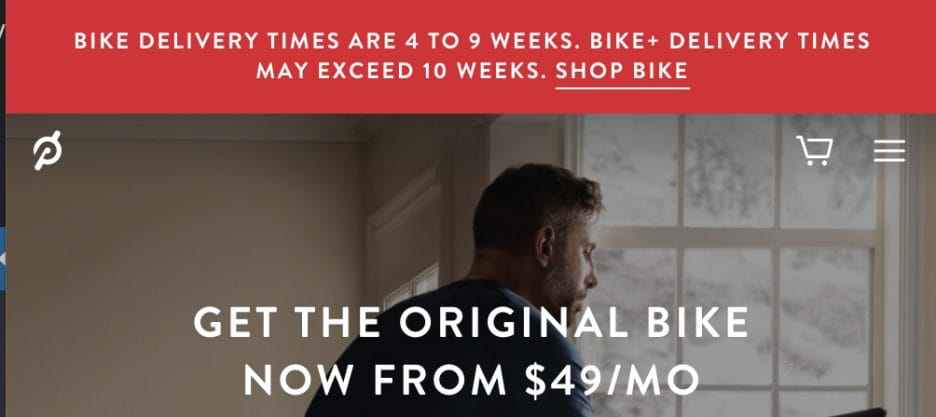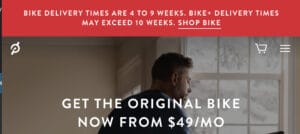 In September, Peloton introduced the new Bike+, generating a new wave of demand as people went out to upgrade their existing Bike to the Bike+, or new people began to order thanks to the resulting price drop on the original Peloton Bike.
Complicating issues is that some of Peloton's inventory seems to be caught up in shipping – specifically due to "congestion at the Port of Los Angeles". Some members this week have received the following email:
"We are experiencing unexpected delays in receiving inventory (including your Bike+) due to congestion at the Port of Los Angeles. As a result, we unfortunately need to reschedule your upcoming delivery.


Rest assured we are doing everything possible to get you your Bike+ as soon as we can, including adding new delivery capacity in the weeks ahead. Please click the button to reschedule your appointment"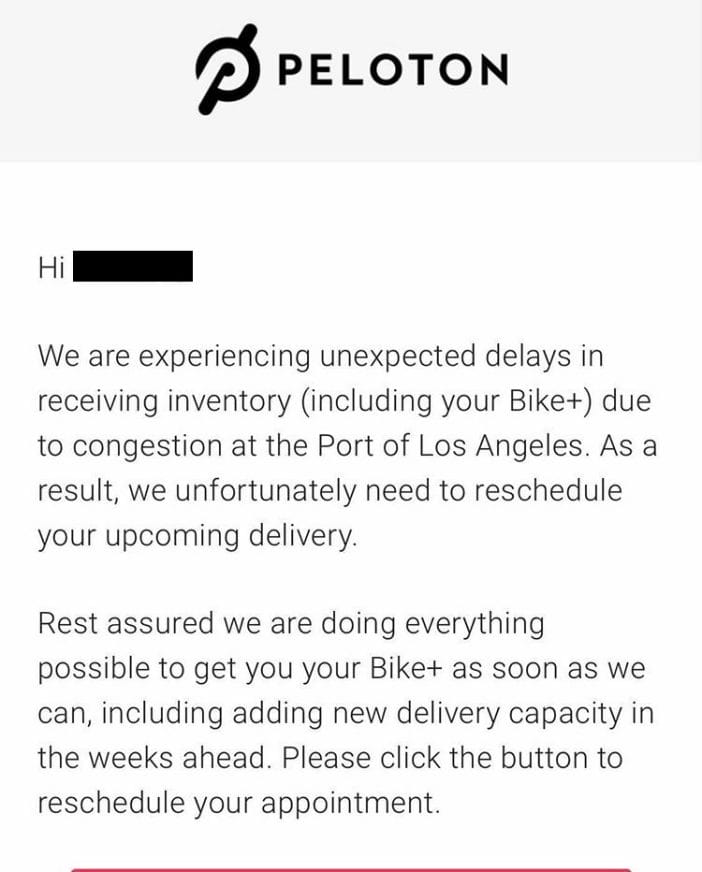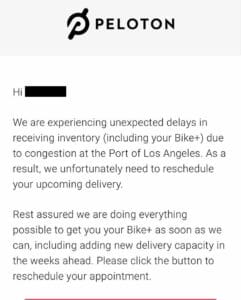 Some members who ordered the Bike+ within the first hour of going on sale, on September 9th, have still yet to get their new Bike+. In fact, one of those members received the email above yesterday, and due to that issue, their earliest available date is now on December 1st. That means that for a first hour, first day order of the Bike+, their wait time will end up being 83 days (assuming another delivery change does not happen).
Several variations of this email are going out. Others state "Due to ongoing delays at the Port of Los Angeles, we unfortunately need to reschedule your upcoming Bike+ delivery", and state that their delivery date has automatically been rescheduled, giving them a new date. In the examples we've seen, those dates are usually at the end of November or early December – roughly 4-5 weeks from now, on top of however long the original wait was.
Peloton is working in the background to improve lead times and cut down on capacity issues. A long running project is a brand new production facility being built by one of their two production partners, Tonic (who Peloton purchased last year). The new facility, expected to open in December 2020, would add the ability to produce 1.5 million units a year (and capacity can be shifted between Bike and Tread as needed). Peloton also plans to grow their in-house delivery fleet of vans and employees, tripling the size by 2023. Peloton's other manufacturing partner, Rexon (also called Lishan), has literally been working around the clock since this summer to try to increase the number of devices produced.
Peloton is currently in a tight delivery situation and requires suppliers to increase shipments; it is understood that in response to strong customer demand Since the end of June, Lishan's factory area has been changed to 24-hour production , and in July it also maintained full-day production.
This delay in shipments, and deliveries, are contributing to Peloton's stock ratings as well. Yesterday, Goldman Sachs downgraded Peloton to Neutral from Buy. They note the stock has increased 458% over the last year, compared to 14% for the S&P 500. They state they believe in the long term opportunity, but think much of the near term opportunity is already priced into the current value. In the notice, they specifically call out the port delays as causing some risk to December guidance, which could cause some volatility in stock price.
On top of all this, Peloton has also seen more localized & regional delays in deliveries as well. At the end of September and early October, both the Houston warehouse and Atlanta warehouse (and possibly other areas as well) had delivery delays due to "staffing issues" – with a slate of deliveries having to be reschedule. The following is an exchange with customer service during that time for a member waiting on delivery in the Houston area:
I am seeing that you are in our Houston warehouse delivery area and unfortunately our warehouse is closed today due to staffing issues. Our delivery team leadership is working at getting everyone rescheduled as fast as they can and you will receive an email with a new delivery date and time.
Later reports stated that both of these were due to delivery team members needing to quarantine for COVID-19 or precautions for possible exposure.
It's worth pointing out that not everyone is seeing massive delays or having issues with their orders – but that doesn't make the delay any easier for those who are stuck waiting for delivery or having their delivery date changed over and over again. It remains to be seen what the wait times end up being for people who order during Peloton's expected Black Friday sales this year.
We should get our first look at the number of units of the new Bike+ Peloton has been selling at the upcoming Q1 2021 earnings call in a few weeks.
---
Want to be sure to never miss any Peloton news? Sign up for our newsletter and get all the latest Peloton updates & Peloton rumors sent directly to your inbox.