Over the last 24 hours, Peloton has been quietly beta testing an expansion of the leaderboard tags feature. Currently, when you are in a ride the main use of leaderboard tags is to browse and filter the list of other members who are in the workout with you. However, Peloton appears to be experimenting with expanding and using the leaderboard tags in two new places.
The first location Peloton is experimenting with the expansion of leaderboard tags is in your news & high five feed. When high fives come in, or you get alerted as people hit milestones, or a friend joins the workout, there is now a second line underneath the person's leaderboard name showing what their featured leaderboard tag is.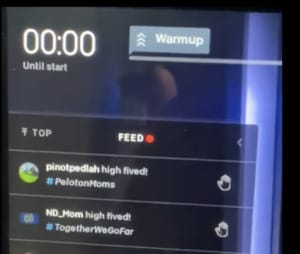 The other feature Peloton is experimenting with a deeper leaderboard tag integration is on the home screen of your bike, and the prompt and list of friends who are riding. With the new features enabled, when you receive a prompt that your friend is riding, that prompt is now split, and will show you 1) People you are following and 2) People who are riding with the same tags as you have on your profile.
Note that this showed up today as part of a small rollout. If you did not see this, there is no way to enable it or opt into it. There is no guarantee this is a feature that will be officially released – however, if it is to be released, it would likely be soon unless some major bugs were discovered during the tests over the last day or two.
---
Want to be sure to never miss any Peloton news? Sign up for our newsletter and get all the latest Peloton updates & Peloton rumors sent directly to your inbox.