News appeared today of a new patent application by Peloton, which was first reported by Run, Lift, & Live / John Mills on Facebook thanks to a tip by Paul Bradley. The patent was applied for in May of 2020, and published in August. This patent is a continuation of the same patent that Peloton has been enhancing since 2013. The last update to the patent was applied for in October of 2019, and published in May of 2020.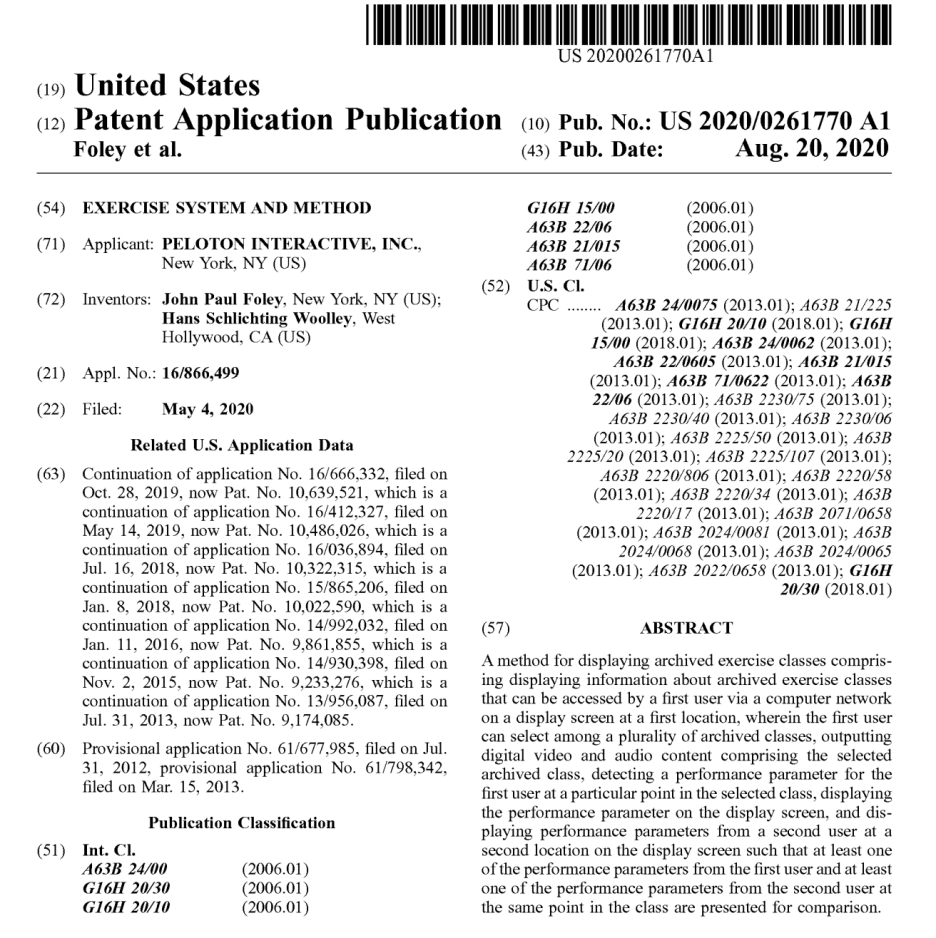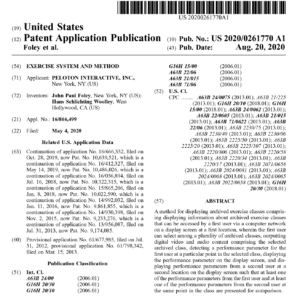 There are two unique aspects from the patent that came to light today. In the patent is a section titled "Gamification." In it, Peloton details several features that have yet to be included in any Peloton equipment – mainly mini-competitions, calibration of bikes, as well as monetization. However, this language has existed in the patent since at least the 2015 version, so does not appear to have had any new work enhanced on it in the patent. With a new premium version of the Peloton bike, as well as the lower cost Peloton Tread, expected within the next month or two, it's possible Peloton could take that opportunity to introduce some of these new features from the patent they've clearly been working on for a while. We'll look more at what exactly is claimed in the patent related to these gamification features, and what it could mean for Peloton later in this article.
If the gamification language has existed before, what is new in the most recent application? In examining the claims section of the patent, one major change jumps out. Previously, Peloton had referred to all of their classes as "instructor-led exercise classes". In the new application, Peloton has updated the language to instead simply be "exercise classes".
This could have a number of implications for Peloton. Combined with the gamification features above, and some other features discussed in patent, this could mean that Peloton is planning on taking on Zwift. Competitions with awards & jerseys, as well as riders being able to compete on rides that aren't live or encore already bring a "race" aspect to the Peloton platform. If Peloton then incorporates a feature that allows for classes without instructors, this could allow it to try to become a Zwift competitor. Peloton already has scenic rides without instructors, but these don't feel realistic like a Zwift race does. It's possible Peloton has quietly been developing some virtual race courses to enable this final piece of the Zwift-competitor puzzle.
Another alternative is Peloton might add features to allow them to compete more with the training platforms of TrainerRoad or Sufferfest. Both of those platforms have workouts that are not instructor led – and more closely fit the model of the existing Peloton library. It's not clear how much user overlap, or interest, there is between users of TrainerRoad or Sufferfest and Peloton, or what sort of possible market there would be for those features. Time, and future patent applications, will have to see what, if anything, this language change ends up meaning.
The patent also teases several other new features that do not yet exist on the Peloton platform. We'll point out a few specific lines & features from the patent, and what it could mean. As mentioned above, these have been detailed in the Peloton patent since at least 2015, so we don't know for sure if or when they might ever see the light of day by regular Peloton members. First up, we'll look at mini-competitions. The patent states:
The instructor or users can create mini-competitions for participation by all users or just a selected subset of users such as a group of friends. Competitions such as sprints, hill climbs, maximum power output, etc. can be preset or created in real-time through the user interface. Winners can be rewarded with prizes such as badges, trophies, or biking specific honors such as a green or yellow jersey.
This feature, which doesn't specify whether it would be just for live rides, or any on-demand ride, would let you and any number of friends have your own race with custom awards for riders within your group.
Another feature teased touches on the topic of calibration & normalization of stats – i.e. power:
A wide range of direct competitions can be created between and among users, with different performance characteristics of different bikes calibrated and normalized to account for differences in bikes based on different rides. In various exemplary embodiments, the system provides locations or technologies to validate stationary bikes to assure that the bikes in a particular competition are properly calibrated and normalized to establish a level playing field
A long running complaint is that users are able to manually tweak their bike's calibration to allow for inflated numbers, or it can happen accidentally. Peloton's patent imagines a scenario where this could be normalized and adjusted behind the scenes to make a more level playing field.
Finally, the patent touches on monetization:
In various exemplary embodiments the instructors, including both professional and amateur instructors, may share in the revenues generated by or attributed to their classes based on the number of participants or any other metric
It's been rumored that for at least some instructors, pay or bonuses might take into account the number of times instructors classes have been taken. "Amateur" instructors likely implies to Peloton licensing their platform out to third party studios, which has happened with at least one studio in the past already – and sharing data with those studios to allow their own instructors to get paid based on a portion of revenue. Another interpretation of this is Peloton could allow anyone who wanted to to lead their own classes, and have them accessible through the Peloton platform (likely in a different section). They could then be paid based on the number of times their classes were taken.
One other interesting feature talks about users being able to sync up their rides, allowing groups of friends to compare metrics & race on any ride – a feature which currently is only possible on live or encore rides. Rumors about this feature surfaced in April, but did not end up launching during Homecoming as expected.
Do you have any thoughts on what the patent means? Let us know in the comments.
---
Want to be sure to never miss any Peloton news? Sign up for our newsletter and get all the latest Peloton updates & Peloton rumors sent directly to your inbox.