Robin Arzon is back! Unfortunately, not back teaching live classes from the studio yet – although she has been teasing that will happen soon. Instead, she's back on your laptop, phone, or TV through a new partnership with MasterClass [note – this link and others in the article are affiliate links].
MasterClass is a platform that makes video lessons available from experts in various fields or celebrities. Classes are available from Samuel L Jackson, Natalie Portman, James Cameron, Neil DeGrasse Tyson, Levar Burton, Gordon Ramsay, and many more.
Robin Arzon has now recorded a session with MasterClass on "Mental Strength" – and it is officially available today. In it, she'll give her thoughts and tips on how to build up your own mental strength. The official class description is as follows:
From litigator to ultramarathoner to bestselling author to head instructor and VP at Peloton, Robin Arzón keeps proving it's never too late to level up in your life. Now, she's ready to teach you how building your mental strength can help you see what's possible for yourself—and see it through. Learn how to identify your dreams and apply the principles of endurance, power, and strength to help you reach your goals.
There are 11 modules for the class. They are:
Meet Your Instructor: Robin Arzón
Hustle and Grit
Overcoming Mental Blocks
Know Your Worth
Food as Fuel
The Joy Metric
Reinvent Yourself
Find Your Purpose
Find a Superhero
Why Not You?
Pay It Forward
MasterClass released a press release for the new class, which shared a little more background on the class:
Infused with her tough love, Arzón will talk members through setting a foundation for long-term goals and dreams by identifying their purpose, discovering their greatness and seeking out superheroes—while also unleashing their own superhero within—creating healthy daily habits and turning "why me" into "try me." Arzón will teach members how to empower themselves to reach their true potential by sharing how physical health and the mind-body connection work in tandem and are crucial for harnessing their power. She'll also walk through visualization techniques such as journaling and creating mantras and vision boards to help members evolve, tell their own stories and achieve their goals. Members will walk away from Arzón's class feeling inspired to take the next step, no matter how big or small, to unlock their confidence and pursue their dreams.


"I know change is possible because I witness it every day. You're never too young or too old to reinvent your story, and I'm excited to share my knowledge on how to do exactly that," Arzón said. "In my class, I will give you the tools to find your purpose, know your worth, dream bigger, feel stronger and level up!"
The MasterClass site has a trailer, as well as sample segment of the class.
Unfortunately, this is not a free video from Robin. MasterClass advertises itself as $15/month, but it's billed annually, so it's really $180. They do offer a 30 day money back guarantee.
You can check out all the details and sign up if you want with MasterClass here.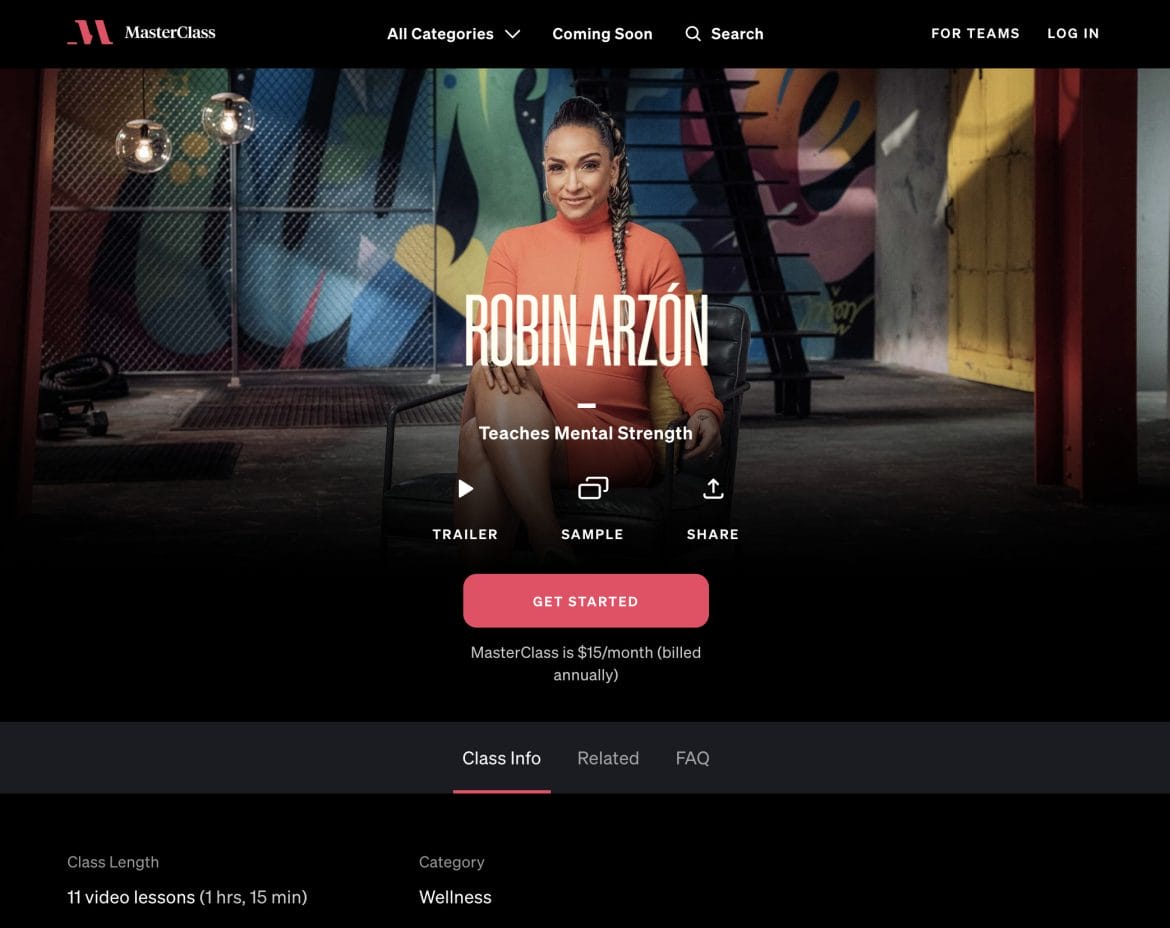 ---
Want to be sure to never miss any Peloton news? Sign up for our newsletter and get all the latest Peloton updates & Peloton rumors sent directly to your inbox.