It's been a little more than a week since we found out that Hannah Frankson & Sam Yo were being added as Peloton instructors, and another instructor is being added to the team. Irène Scholz is joining the London studio as part of Peloton Germany's official launch and will be teaching native German language classes.
Irène Scholz
After going to school in Germany, Irène went to South Africa for what was supposed to be 6 months to work on her English skills. However, she was offered a job with Adidas, and ended up staying in the country. Her work as a personal trainer would lead her to open Bold Gym in Cape Town. More recently, Irène had moved back to Berlin and been teaching classes and working as a senior manager of the adidas RUNBASE gym. Irène's official Peloton bio states:
Equal parts athleticism, discipline and adventure, Irène radiates a light powered by every experience that's led her to Peloton. Growing up in Germany, Irène took dance as a way to explore her passion for movement, and through years of living, working and exploring in South Africa, she learned how to connect with people on a transformative level. Because of Irène's diverse pursuits in fitness, business and wellness, she is a compassionate yet technical instructor, who will empower you to work hard, love hard and put yourself first. Irène is based in our London studio, and teaches in German.
You can find Irene on Instagram @_irenescholz_, and view her full Peloton profile here.
Irène's premier ride is already available on Demand
Stay tuned to the cycling schedule for when Irène's regular time slots will be – but it's safe to assume that they'll be tailored around Central European Standard Time to be ideal times for the new German Peloton community.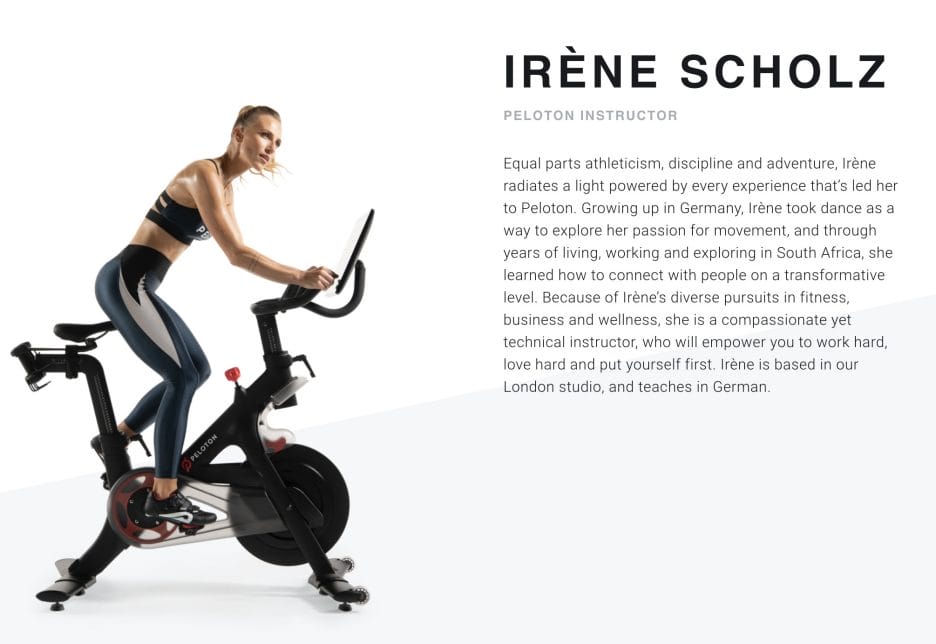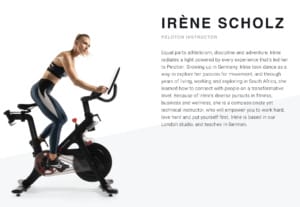 ---
Want to be sure to never miss any Peloton news? Sign up for our newsletter and get all the latest Peloton updates & Peloton rumors sent directly to your inbox.