Peloton's annual Turkey Burn Thanksgiving Day workouts are back. For 2019, the Turkey Burn workouts will be part of a broader collection of workouts that are being called "The Gratitude Collection". There will be 13 workouts as part of this series, with a mix of on-demand and live classes. Don't worry – you'll be able to do some live Turkey Burn rides on Thanksgiving Day!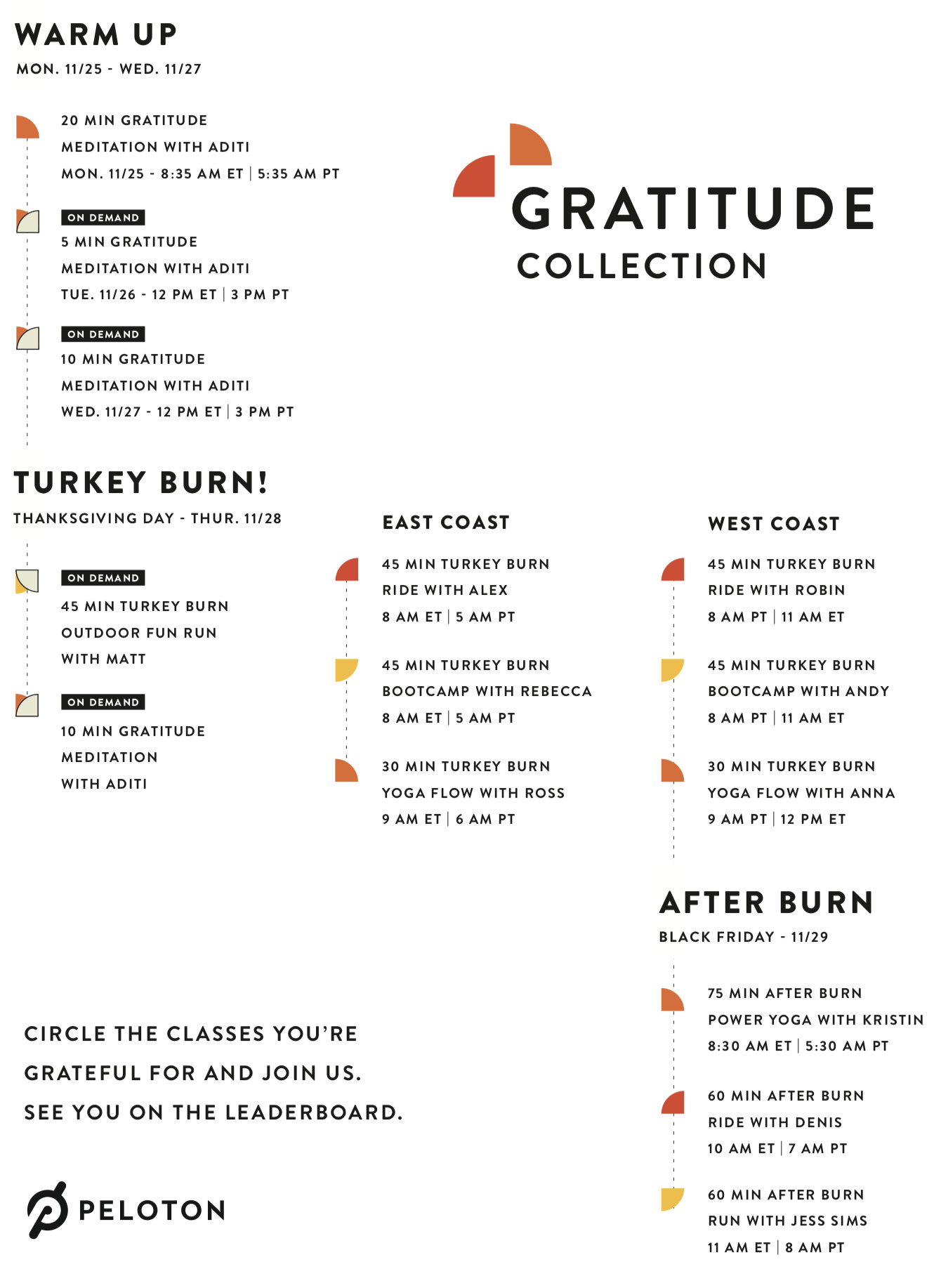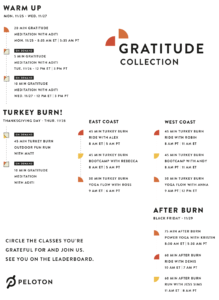 The series will kick off with the "Warm Up" section – a 3 part series of gratitude meditation classes with Aditi Shah. She will have a live class Monday morning, followed by two on demand classes that will release on Tuesday and Wednesday.
For Thanksgiving Day, Peloton is having several live Turkey Burn workouts – and tailoring them to try to appeal to both East Coast & West Coast Riders. For the East Coast Riders, the first Turkey Burn workouts will kick off at 8am ET / 5am PT. You'll have a choice of a live 45 minute Turkey Burn Ride with Alex Toussaint, or a live 45 minute Turkey Burn Bootcamp with Rebecca Kennedy. Following either of those, you can cool down with a live 30 minute Turkey Burn Yoga Flow class with Ross Rayburn at 9am ET / 6 am PT.
For those on the West Coast, your day will kick off at 8am PT / 11am ET! You can choose between a live 45 minute Turkey Burn Ride with Robin Arzon, or a live 45 minute Turkey Burn Bootcamp with Andy Speer. To cool down, you'll have the live 30 minute Turkey Burn Yoga Flow with Anna Greenberg at 9AM PT / 12pm ET.
If you can't make any of those workouts live, you can always catch them on-demand later in the day, or there will be 2 other Turkey Burn workouts launching directly to on-demand. Matt Wilpers will have a 45 minute Turkey Burn Outdoor Fun Run that will launch sometime on Thanksgiving Day, and Aditi will have another 10 minute Gratitude meditation that launches Thursday directly to on-demand as well.
For the first time ever, the fun will continue into Black Friday with a new "After Burn" set of workouts (and if you are still looking into joining the Peloton family, be sure to check out the 2019 Black Friday & Cyber Monday Peloton specials that just went live yesterday). These are special extended classes to help you burn off all those calories from a Thanksgiving Day feast! Kicking off the day will be a live 75 minute After Burn Power Yoga with Kristin McGee at 8:30am ET / 5:30am PT. Next, Denis Morton will lead a live 60 minute After Burn Ride at 10am ET / 7am PT. Finally, Jess Sims will close out the Gratitude Series with a live 60 minute After Burn Run at 11am ET / 8am PT.
With 3 live rides, 3 live yoga workouts, 3 live runs/bootcamps, and a handful of outdoor runs & meditations launching to on-demand, with times geared towards both west coast & east coast riders, there is something for everyone this year!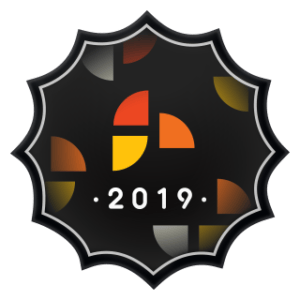 Taking any of the 13 classes in the collection should get you the 2019 Turkey Burn badge – how many years in a row have you gotten this one!?
Peloton has created a handy printable schedule for reference, which you can download here, or see the list below!
Warm Up
20 Minute Gratitude Meditation – Aditi Shah – 11/25 @ 8:35AM ET / 5:35AM PT
5 Minute Gratitude Meditation – Aditi Shah – 11/26 @ 12PM ET / 9AM PT
10 Minute Gratitude Meditation – Aditi Shah – 11/27 @ 12PM ET / 9AM PT
Thanksgiving Day Turkey Burn Peloton Workouts – Thursday, November 28th, 2019
45 Minute Turkey Burn Ride – Alex Toussaint @ 8AM ET / 5AM PT
45 Minute Turkey Burn Bootcamp – Rebecca Kennedy @ 8AM ET / 5AM PT
30 Minute Turkey Yoga Flow – Ross Rayburn @ 9AM ET / 6AM PT
45 Minute Turkey Burn Ride – Robin Arzon @ 11AM ET / 8AM PT
45 Minute Turkey Burn Bootcamp – Andy Speer @ 11AM ET / 8AM PT
30 Minute Turkey Yoga Flow – Anna Greenberg @ 12PM ET / 9AM PT
45 Minute Turkey Burn Outdoor Fun Run – Matt Wilpers @ On Demand
10 Minute Gratitude Meditation – Aditi Shah @ On Demand
Black Friday After Burn Peloton Workouts – Friday, November 29th, 2019
75 minute After Burn Power Yoga – Kristin McGee @ 8:30AM ET / 5:30AM PT
60 minute After Burn Ride – Denis Morton @ 10AM ET / 7AM PT
60 minute After Burn Run – Jess Sims @ 11AM ET / 8AM PT
Images from: https://blog.onepeloton.com/peloton-turkey-burn-2019/