Update – lululemon has now filed their own lawsuit against Peloton.
On September 9th, 2021 Peloton launched their own private label apparel collection, known simply as "Peloton Apparel".
Prior to this, Peloton had sold cobranded apparel from many other manufacturers, including lululemon. At the time, many wondered what Peloton's new apparel line meant for that relationship. A new court filing today from Peloton reveals more information about this.
Peloton states in court documents that they decided to terminate their relationship with lululemon as Peloton started up their own apparel line:
At the time, the termination of the Peloton-lululemon co-branding relationship was amicable; lululemon did not object in any way to Peloton's termination decision or Peloton's offering of its own active wear apparel.
However, nearly two months later, Peloton reported they received a cease & desist letter from lululemon's lawyers. The letter claims that 5 of Peloton's products infringe on lululemon design patents, and one additional product infringed on "lululemon's trade dress rights." The letter requested that Peloton stop selling those products, and share information about sales of those products; otherwise lululemon would be forced to file an infringement lawsuit. In essence, lululemon claimed that Peloton was creating and selling lululemon dupes.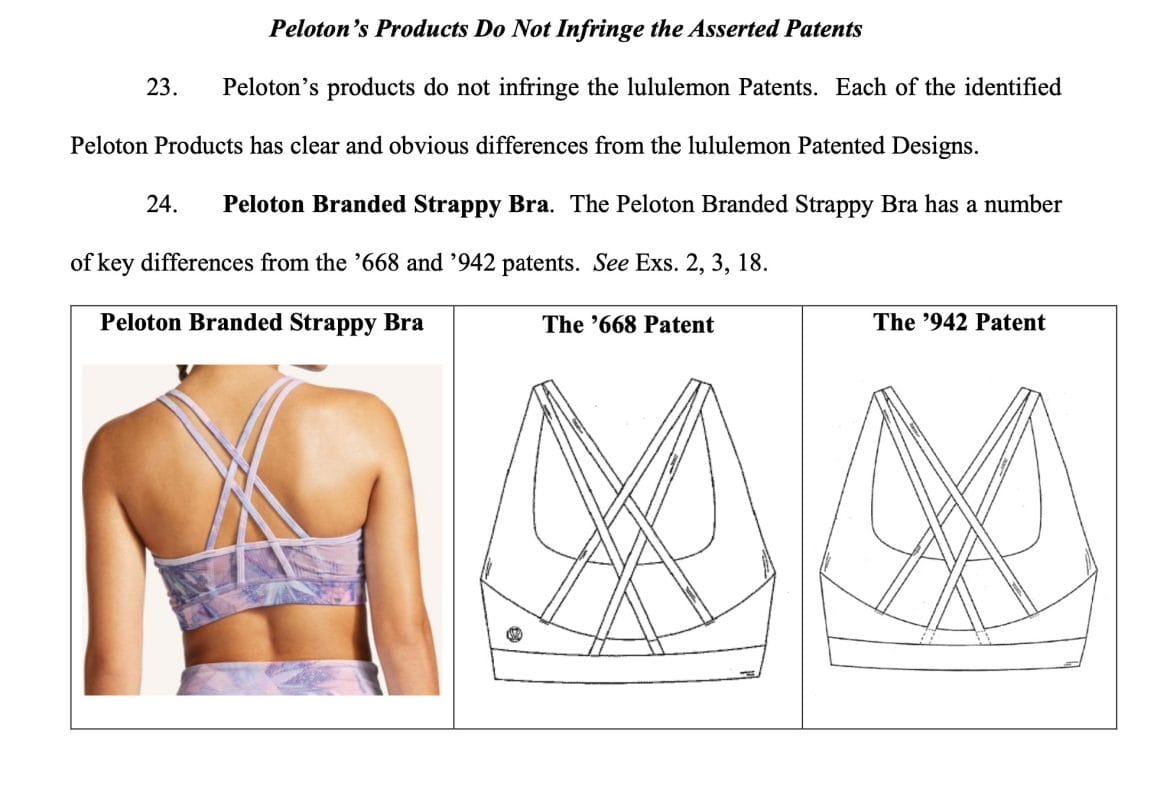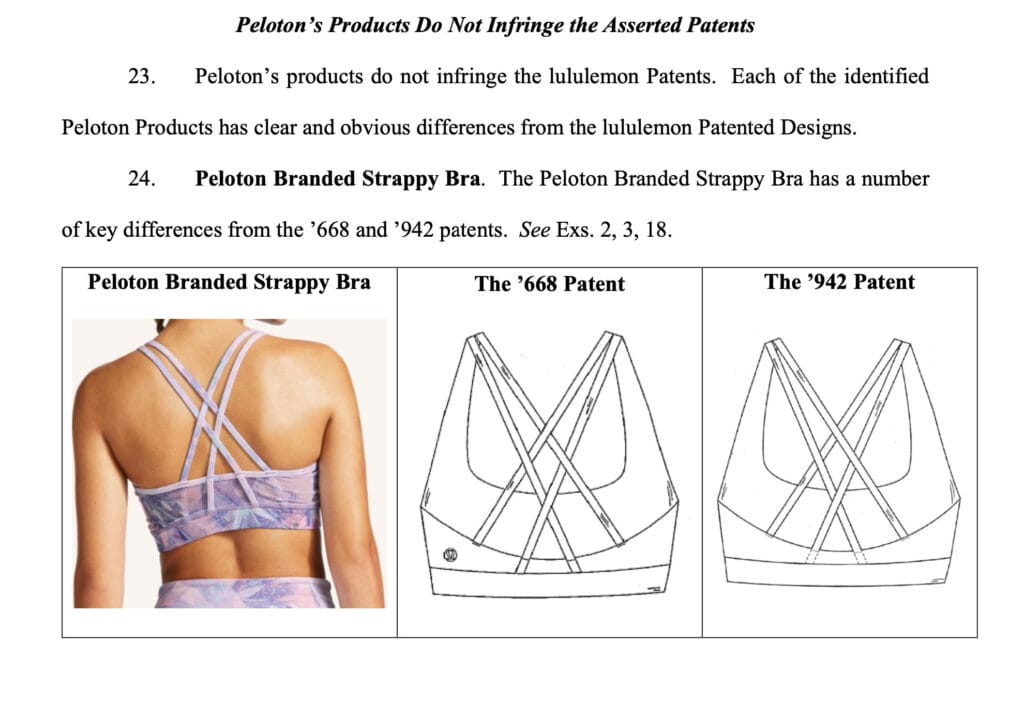 The 5 products that lululemon claimed infringed on their patents are:
Peloton Branded Strappy Bra
Peloton Cadent Laser Dot Leggings
Peloton's Cadent Laser Dot Bra
Peloton Branded High Neck Bra
Peloton Cadent Peak Bra
In response to that letter, Peloton decided to file a preemptive lawsuit in federal court against lululemon. Peloton is seeking a declaration that that Peloton's apparel products "do not infringe lululemon's design patents and trade dress. This declaratory judgment action will allow Peloton to eliminate any uncertainty caused by lululemon's unmerited threats, and to confirm Peloton's rights in response to those threats."
Peloton is also seeking a declaration that the lululemon patents are invalid, and Peloton does not infringe on them.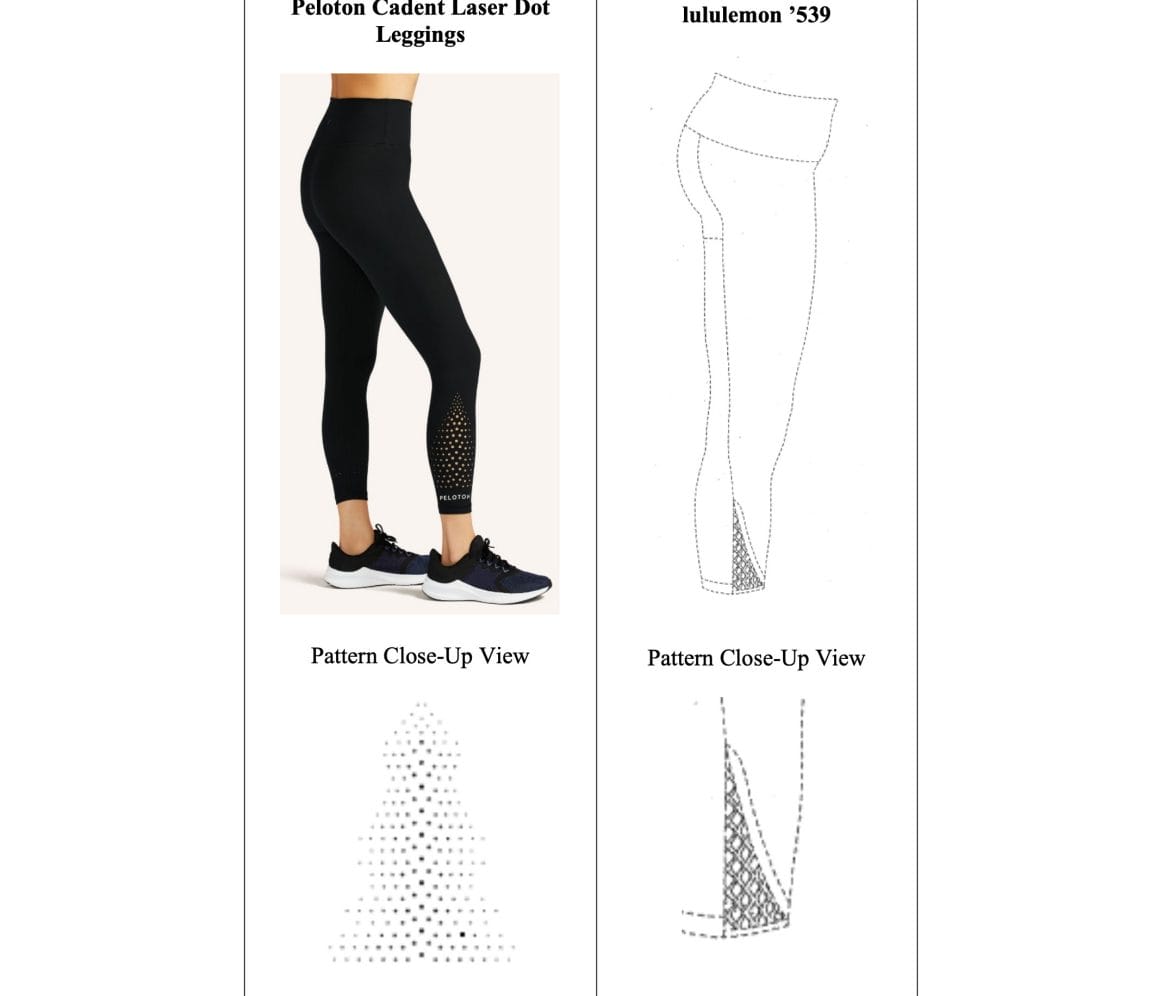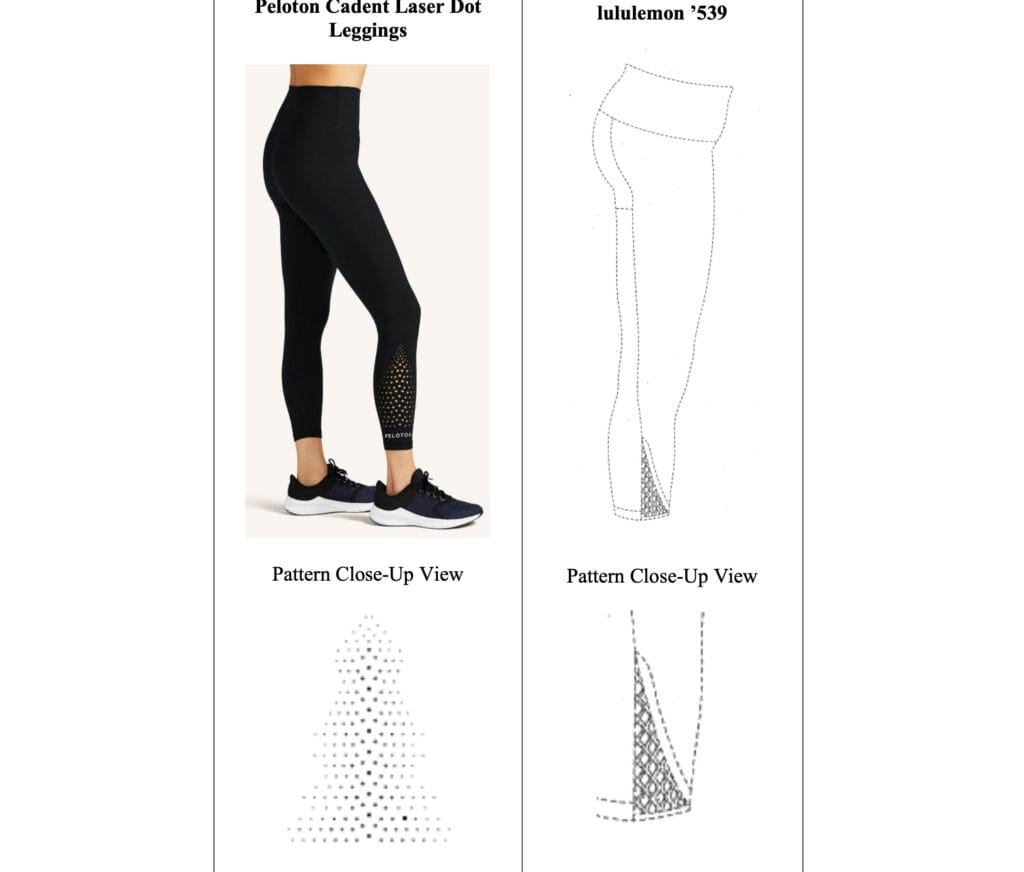 In the court documents, Peloton lays out why they feel the patents are invalid:
Even a quick comparison of the lululemon Patented Designs with the allegedly infringing Peloton products reveals numerous clear and obvious differences that allow the products to be easily distinguished. And on top of the numerous clear and obvious differences in design, Peloton and lululemon's brands and logos are also distinctive and well-recognized, making confusion between products a virtual impossibility due to the prominent display of the parties' respective trademarks on their products and both brands' sophisticated consumers. What is more, lululemon's claimed design patents are invalid because, at a minimum, they are anticipated and/or obvious and, thus, cannot be infringed upon.
The case was filed in the Southern District in New York, with case number Case 1:21-cv-10071 – Peloton Interactive Inc, vs lululemon Athletica, Canada.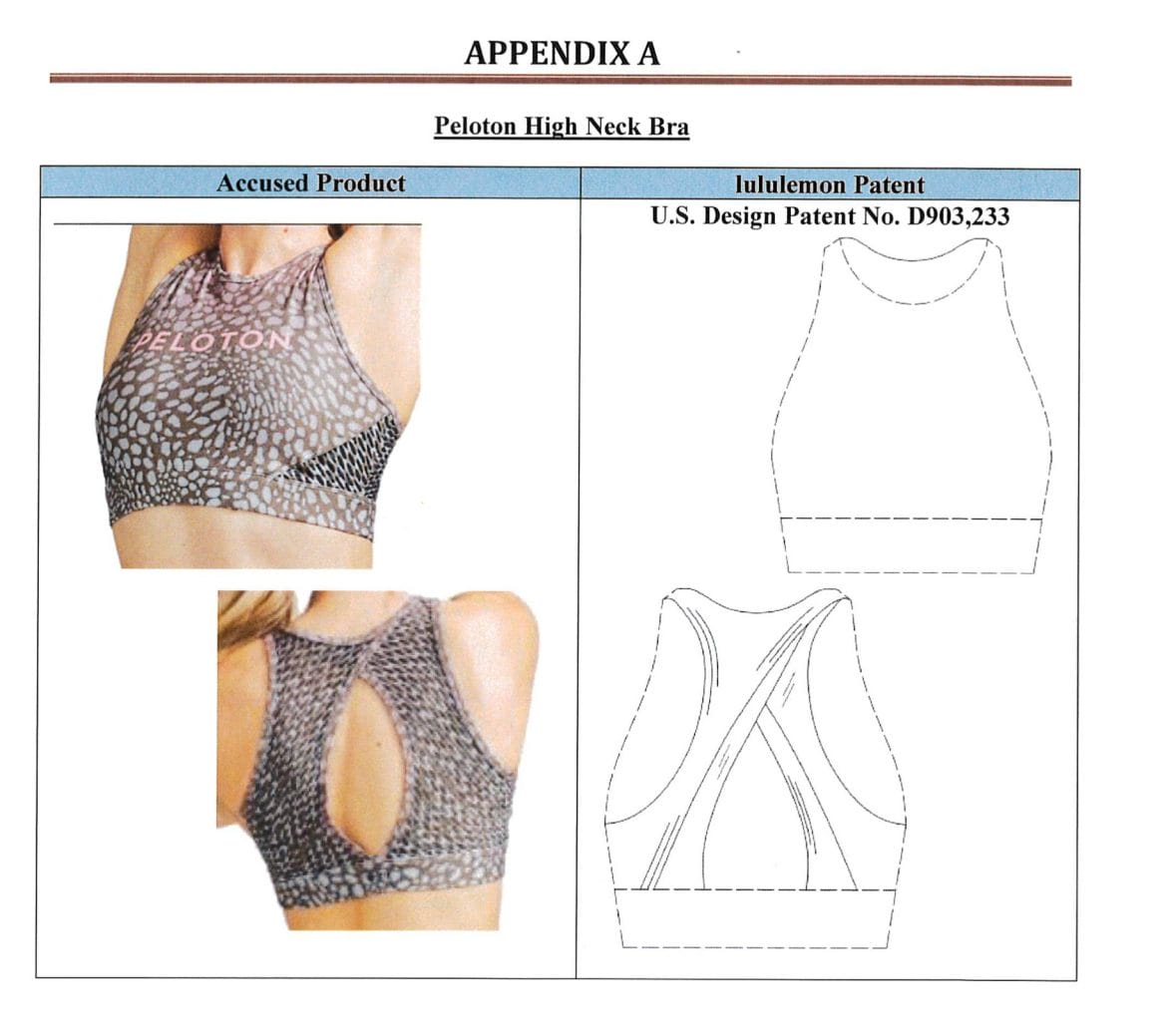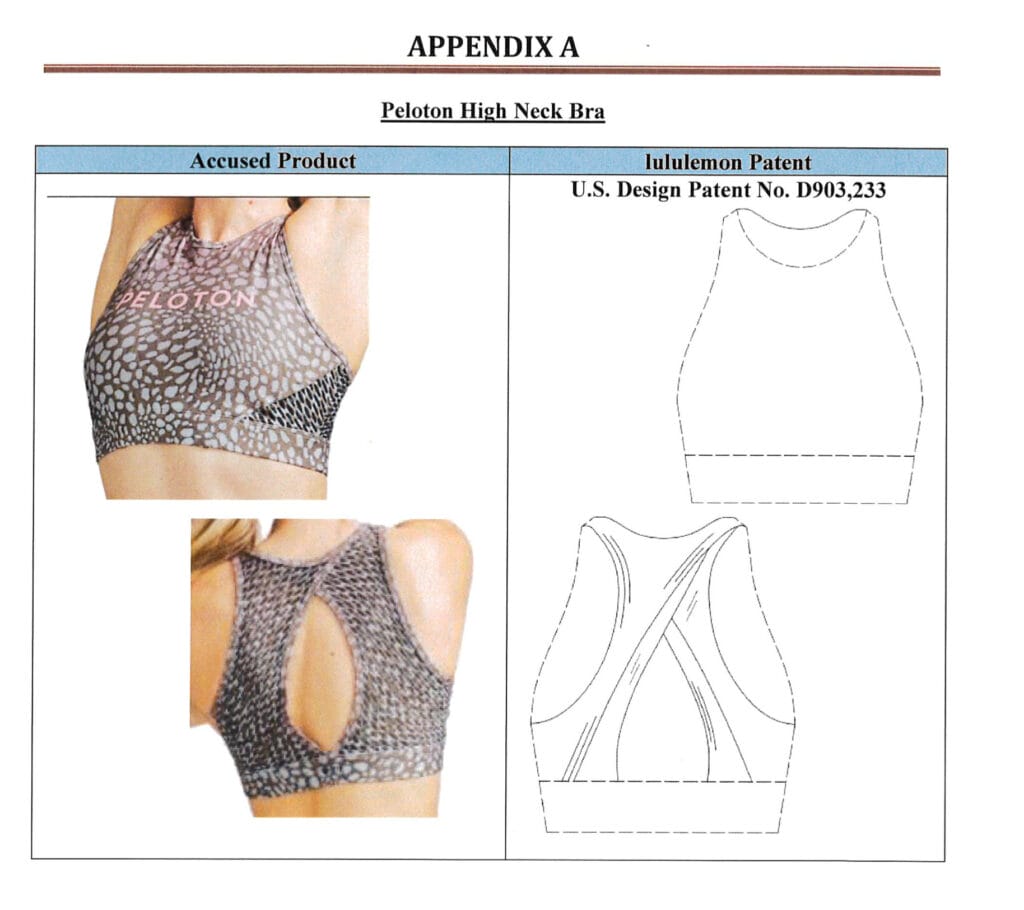 ---
Want to be sure to never miss any Peloton news? Sign up for our newsletter and get all the latest Peloton updates & Peloton rumors sent directly to your inbox.