A few days ago, we reported that Peloton was launching a preemptive lawsuit against lululemon. This case was prompted by a cease & desist letter luluelmon sent to Peloton.
In response to Peloton's lawsuit, lululemon has now filed their own lawsuit – creating the legal arguments they had alluded to in their cease & desist letter. They also are attempting to have the case heard in California, rather than New York.
lululemon lays out some background for how they saw the relationship:

Seeking to benefit from the popularity of lululemon's products and designs, in 2016 Peloton pursued a wholesale co-branding relationship with lululemon. Under the relationship, lululemon supplied Peloton with some of lululemon's most innovative and popular athletic apparel. With lululemon's permission, Peloton applied its own trademarks to the apparel, alongside lululemon's distinctive and famous logo, and re-sold the co-branded apparel through Peloton's retail outlets, including Peloton showrooms and the Peloton website.


Earlier this year, Peloton requested to end the co-branding agreement, and lululemon stopped supplying Peloton with authentic lululemon merchandise. Shortly thereafter, Peloton announced it was launching its own product line. Unlike innovators such as lululemon, Peloton did not spend the time, effort, and expense to create an original product line. Instead, Peloton imitated several of lululemon's innovative designs and sold knock-offs of lululemon's products, claiming them as its own
luluelmon states that after they sent the cease & desist letter, Peloton replied and asked for an extension to reply to lululemon. They agreed, but on the day the response was due, Peloton filed the lawsuit instead of replying directly to lululemon.
Peloton immediately wrote back and asked for more time, until November 24, 2021. to substantively respond to lululemon's demands. As a good corporate citizen and out of consideration for the request from a former partner, lululemon acquiesced and agreed to extend the deadline for Peloton to respond.


However, it is now clear that Peloton's request for an extension was not made in good faith. On November 24, instead of simply substantively responding to lululemon's letter, Peloton filed a preemptory Declaratory Judgment action in the Southern District of New York, attempting to improperly wrestle away lululemon's choice of forum.


In requesting the extension, Peloton gave lululemon the false impression that it needed and would use the additional time to properly respond to lululemon's substantive allegations. Instead, Peloton used the delay to secretly prepare its own complaint and preempt the lawsuit that lululemon had so clearly threatened in its letter.

While Peloton's preemptive lawsuit alleged that lululemon's design patents should be marked as invalid, lululemon lays out the case that Peloton is simply infringing on at least 6 of lululemon's design patents. The 5 same Peloton products are highlighted as being problematic:
Peloton Branded Strappy Bra
Peloton Cadent Laser Dot Leggings
Peloton's Cadent Laser Dot Bra
Peloton Branded High Neck Bra
Peloton Cadent Peak Bra
lululemon also goes on to allege that the Peloton One Lux Tight pair of yoga pants infringes on lululemon's proprietary design of the Align brand of yoga pants.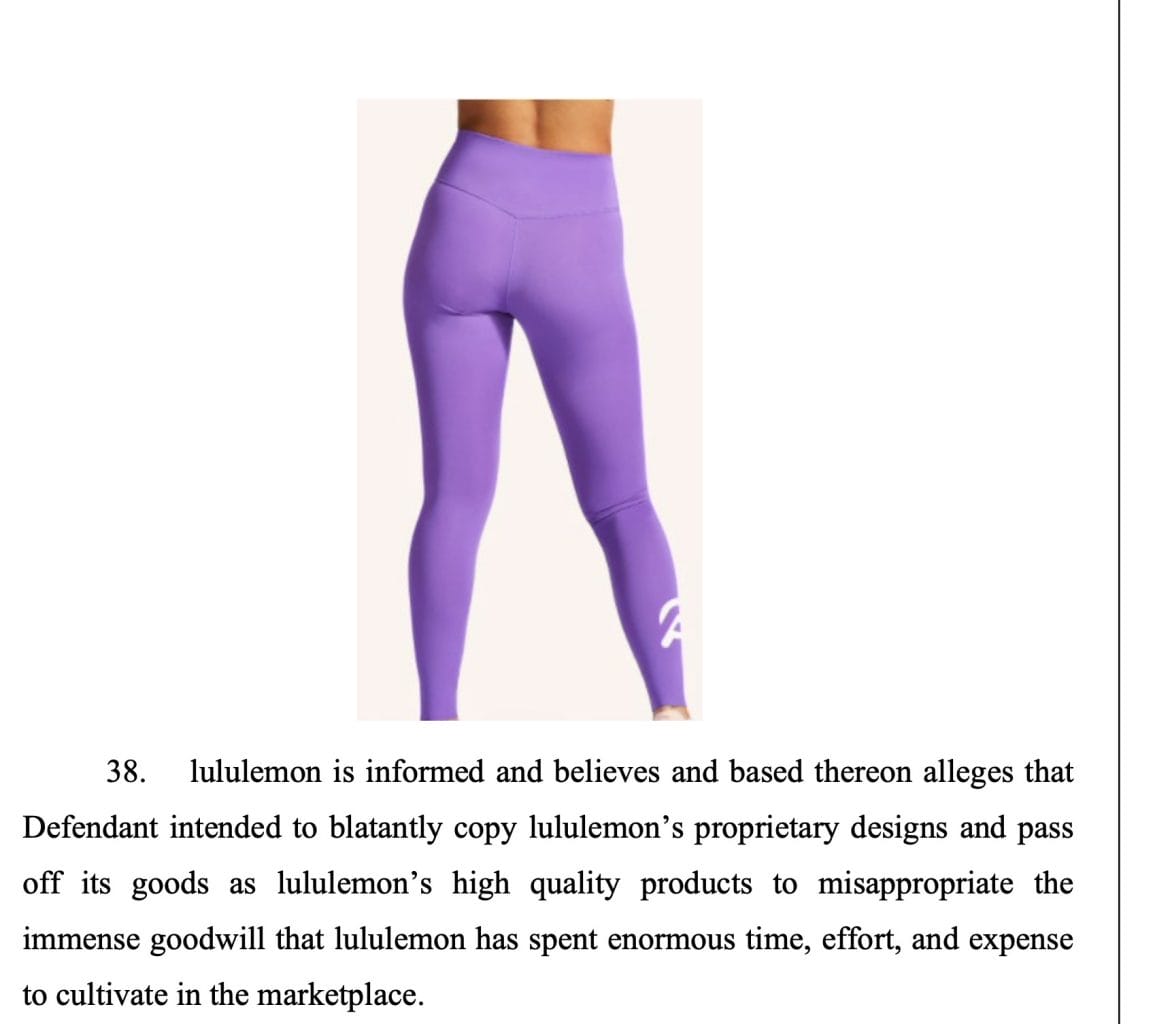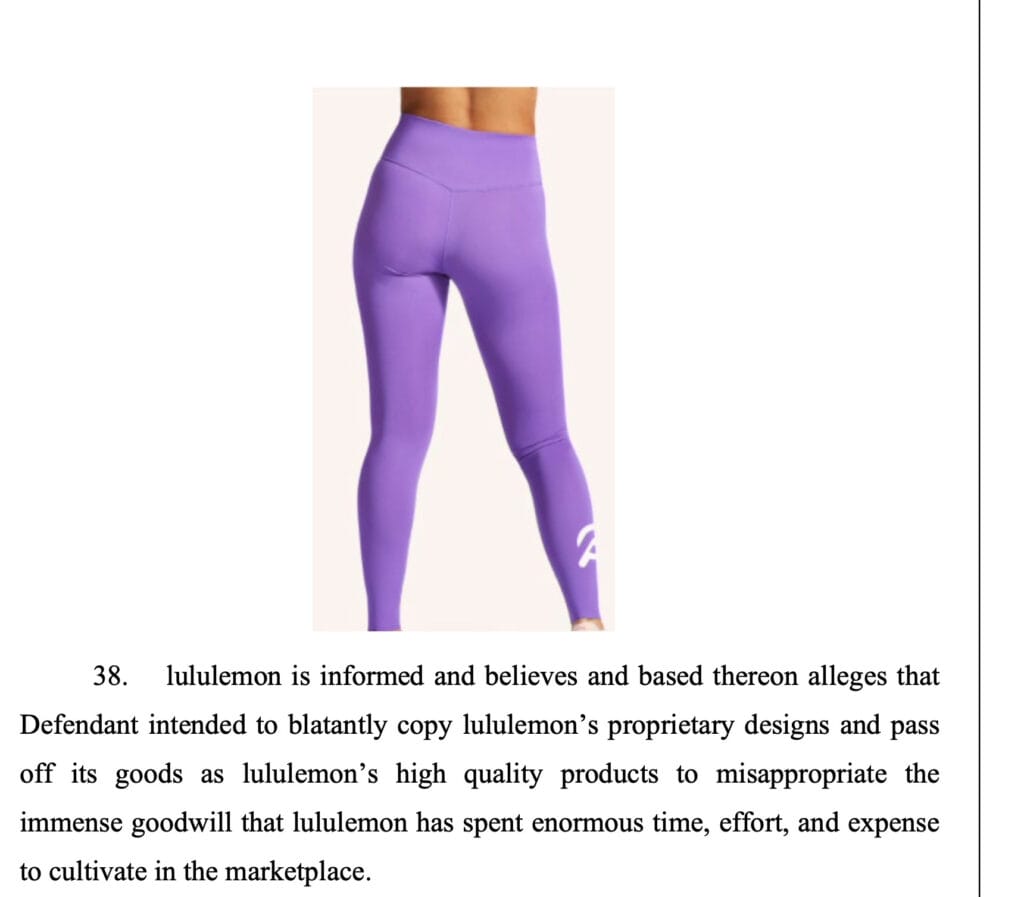 The specific claim they make is:
Defendant uses a design that is confusingly similar to lululemon's Align Trade Dress in connection with identical athleisure pants sold to identical customers and through overlapping channels of trade and marketing channels, such as the Peloton website. Defendant's use of the Align Trade Dress in commerce is likely to cause confusion, cause mistake, and to deceive as to an affiliation, connection, or association of Defendant and/or its products with lululemon, when there is none.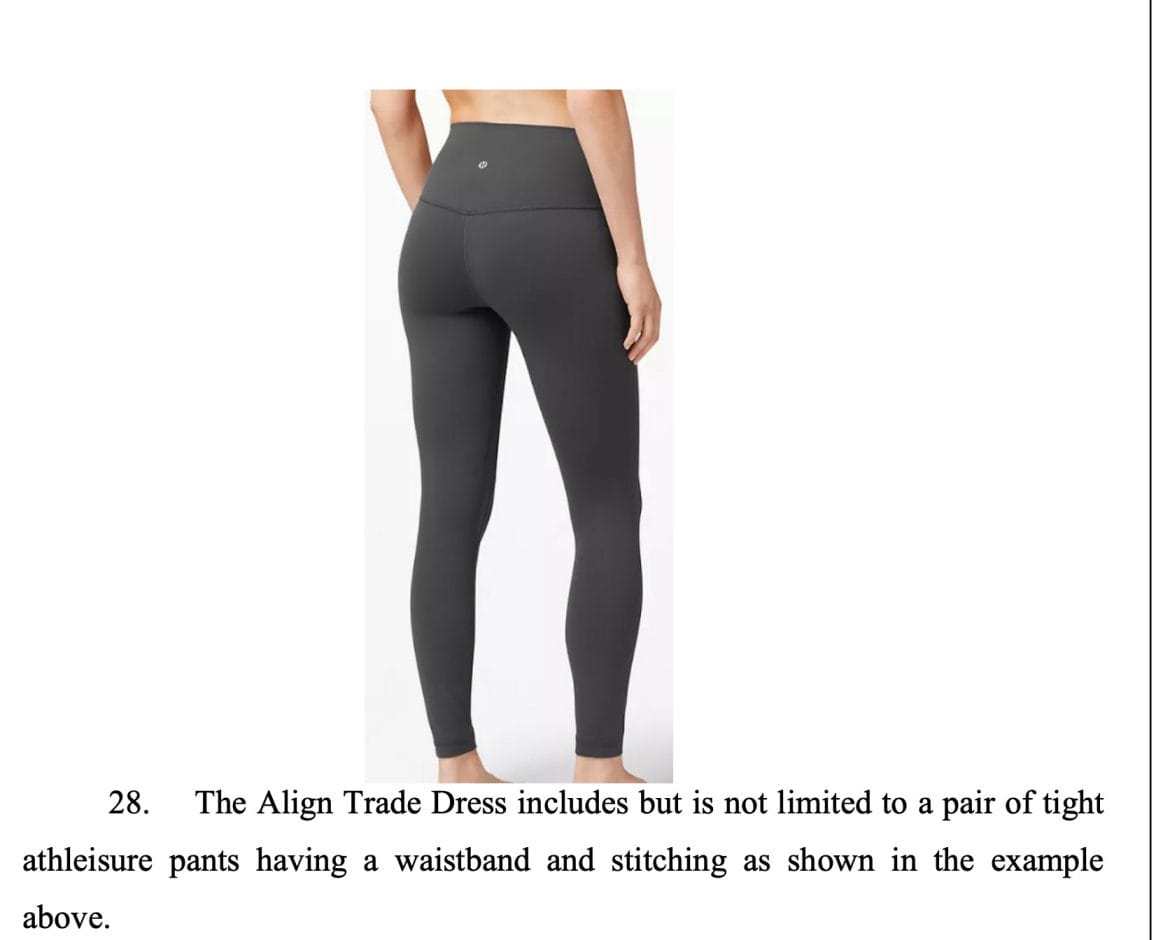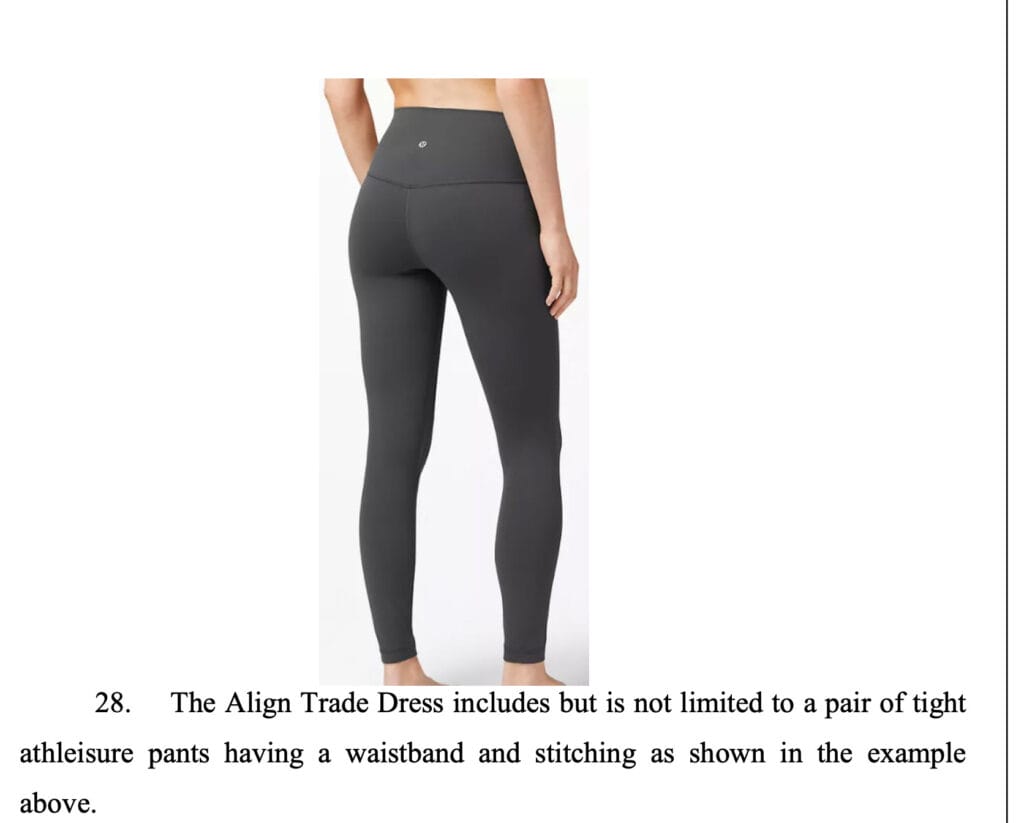 In particular, the issue revolves around the waistline and stitching:
The Align Trade Dress includes but is not limited to a pair of tight athleisure pants having a waistband and stitching as shown in the example above.
Possibly predicting an argument Peloton might make, lululemon explains that there are many different types of athleisure pants out there – so their design patents & trade dresses do not stifle competition.
There are hundreds of third-party athleisure pants available in the marketplace, including from companies like Alo®, Gaiam®, Athleta®, and Zella®. These commercial alternatives show that there are many different design decisions that go into designing athleisure pants and that the Align Trade Dress is the result of decisions regarding ornamentation. Examples of commercially available alternatives are extensive and can be found even on lululemon and Peloton's respective websites. Further, lululemon's exclusive right to use the Align Trade Dress will not put competitors at a significant non- reputation related disadvantage because there are numerous alternative designs
lululemon is requesting the courts declare Peloton is infringing on the 6 patents, an injunction Peloton stop selling those products, damages in the form of lost profit, and more.
The case is lululemon vs Peloton Interactive, with case number 2:21-cv-09252. It was filed in the Central District of California.
---
Want to be sure to never miss any Peloton news? Sign up for our newsletter and get all the latest Peloton updates & Peloton rumors sent directly to your inbox.