Update 3 – Peloton has taken the beta tag off the feature and says it should be available to all iPhone users in a new blog post on June 13th.
Update 2 – It appears this feature is now available for most iOS/iPhone users as of June 1, 2022. Still no further word on Android timing.
Update – Peloton talked about this new feature during the keynote at Peloton Homecoming. Beyond what we reported below, they confirm that minutes and activities from Just Work Out will count towards all challenges, and they say more indoor workout types that can be tracked in "Just Work Out" will be on the way. They say Just Work Out will be available by this summer. They also promoted the ability to use it with third party apps like Spotify. Peloton also teased another "Send Class Invites" / "Class Invites" feature coming soon at Homecoming.
Update 2 – Peloton says all Peloton iOS users should have this feature "in the coming weeks". They say to "stay tuned for more information" regarding Android.
Peloton is adding a new beta feature to the Peloton app that those who cross-train off the Peloton Bike or Tread are sure to be happy about.
This new feature, called "Just Work Out", brings the equivalent of "Just Run" and "Just Ride" from the Peloton Tread & Peloton Bike to outdoor activities.
"Just Work Out" on the Peloton app will allow you to track, and get credit for, any walk, run, or ride you do outside. Previously, to get credit you would have to start and play any random Peloton class on the app. If you were doing a longer activity, you'd have to start and play multiple classes.
Of course, this mode won't have a playlist or Peloton instructor talking to you while you are working out, so you'll be responsible for playing your own music and making your own playlist while the session is active.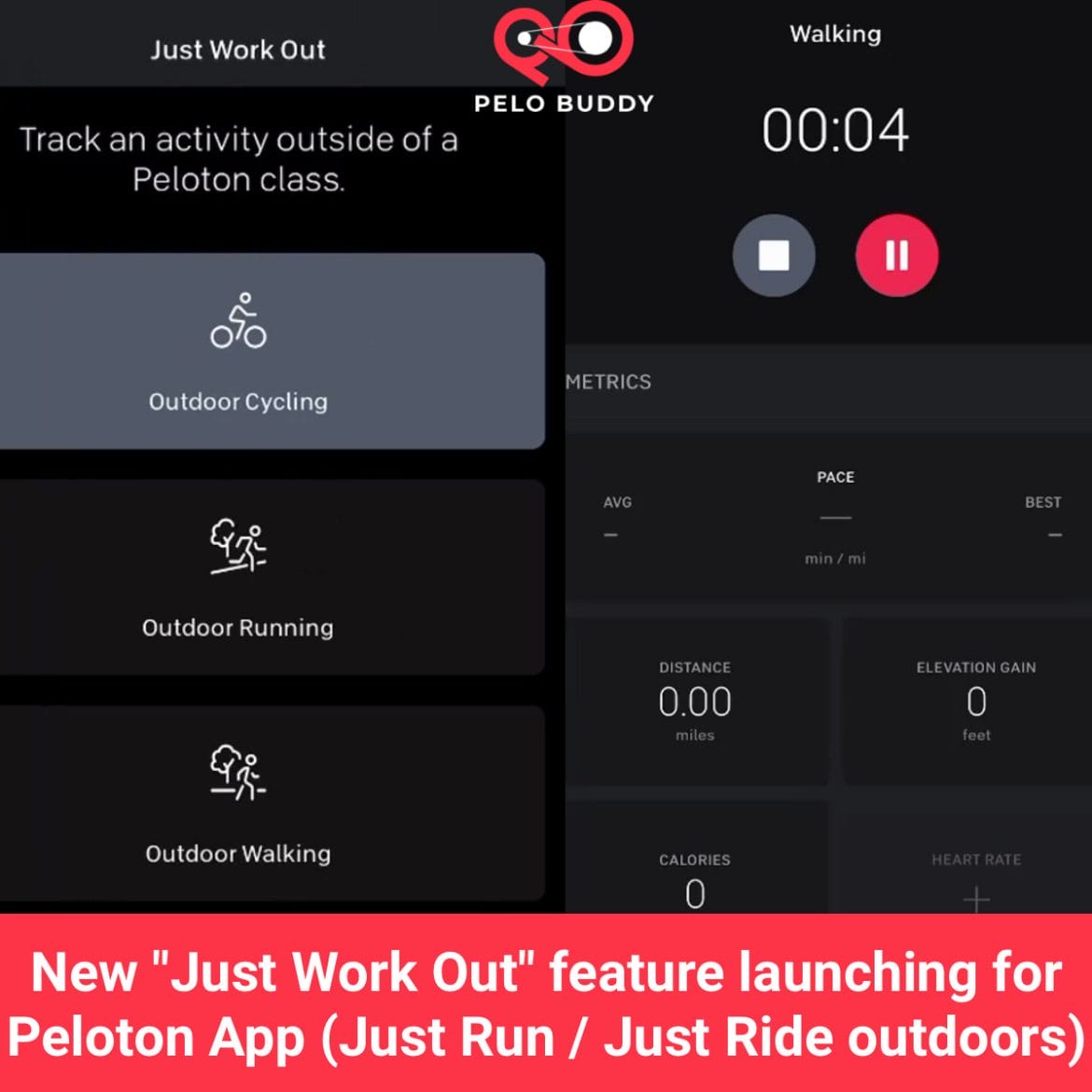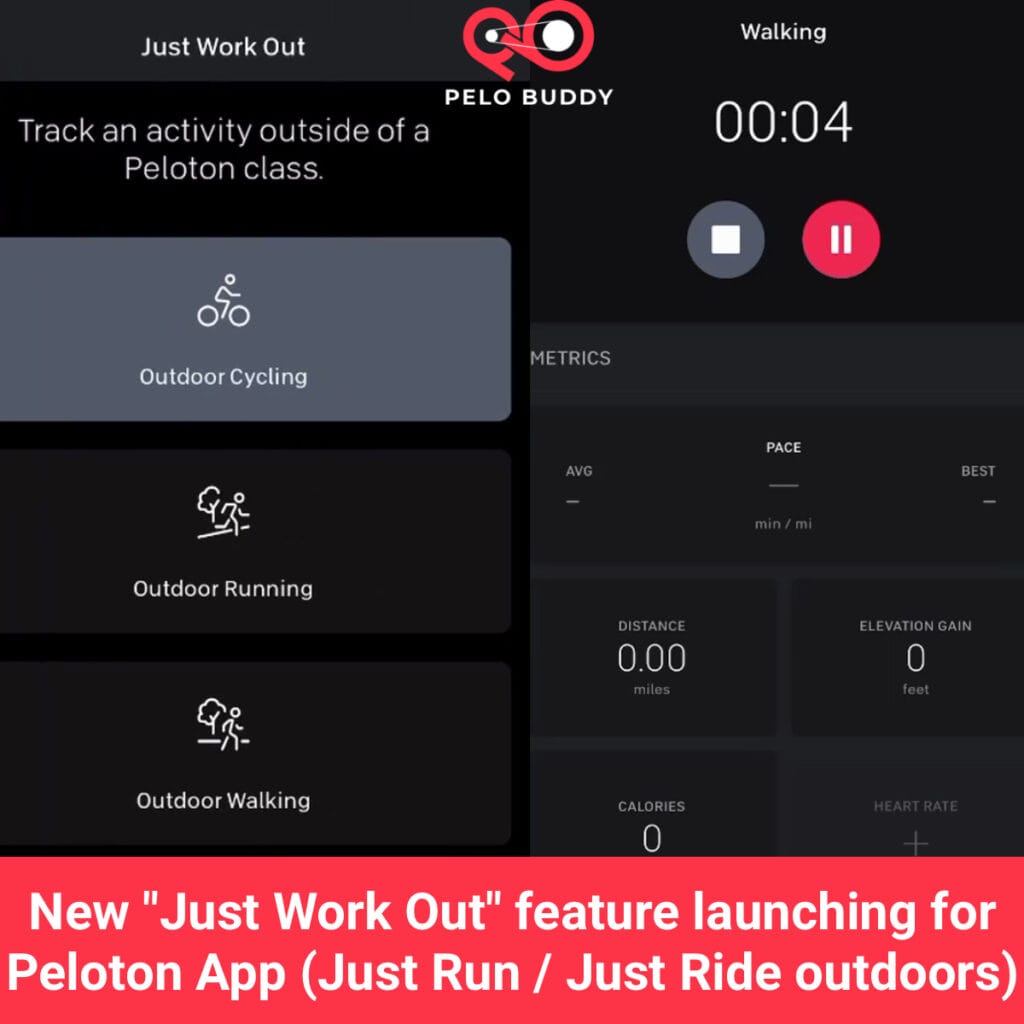 Update – one FAQ we've seen is whether you can in fact start a playlist with Spotify, and listen to it while your "Just Run" or "Just Ride" workout is in progress on your phone. We've been able to confirm that Spotify, Apple Music, Podcasts, and other apps all can play in the background while the Peloton app is recording your workout. It seems you can even change between music apps mid workout, and there is no issues with the workout stopping or pausing on you.
The new "Just Run" and "Just Ride" for the Peloton app for outdoor activities is not yet available to all users – only a few select users seem to have it. No timeline is known for when it will roll out more widely.
This appears to be launching first for the iOS app – we can't confirm yet whether or not Android users will be getting the feature at the same time.
The feature can be accessed on the main "Classes" page on the Peloton app if you are given access to it. There is a new banner for "Just Work Out", with the beta tag, shown at the top of the page, above your tags, but below your stacks.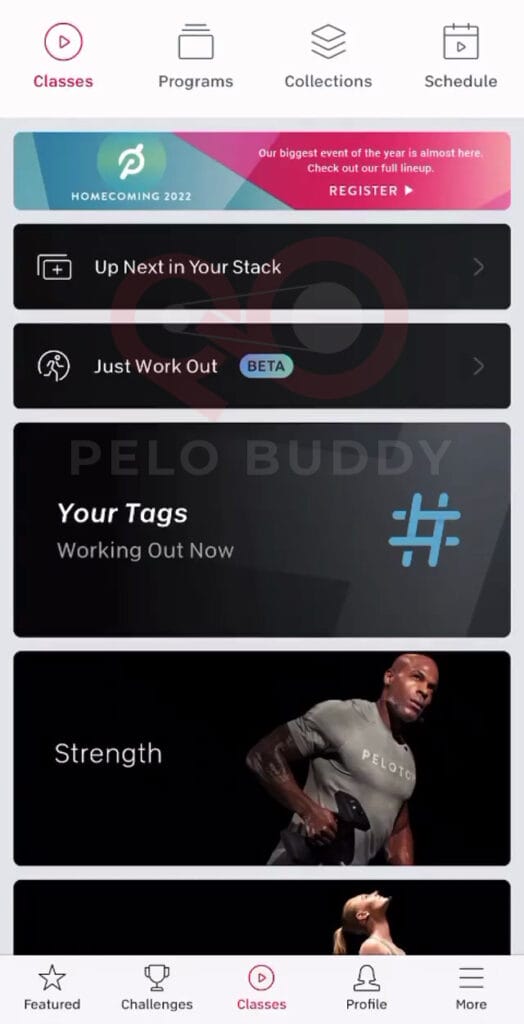 From there, you pick the activity type you wish will be doing. For now, your options are "Outdoor Running", "Outdoor Walking", and "Outdoor Cycling". We imagine once the Peloton Rower launches there could be an "Outdoor Rowing" option as well.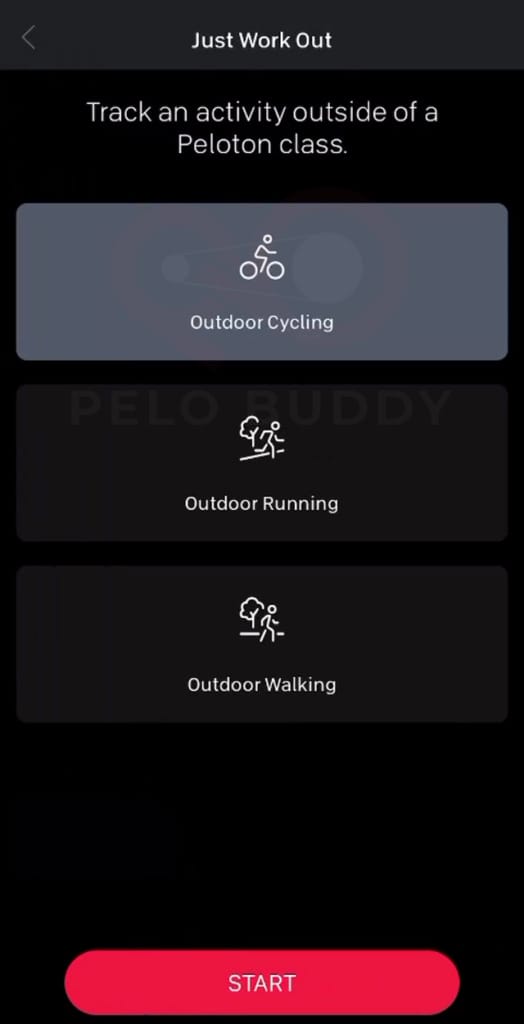 Once your class begins, you are presented a new screen. The main focus is on the time elapsed, and you have a stop (and pause!) buttons.
Then, there are several metrics about the activity you are able to view in real time. You are able to see pace or speed information, total distance, total elevation gain, total calories burned, and if you have a heart rate monitor connected, your heart rate.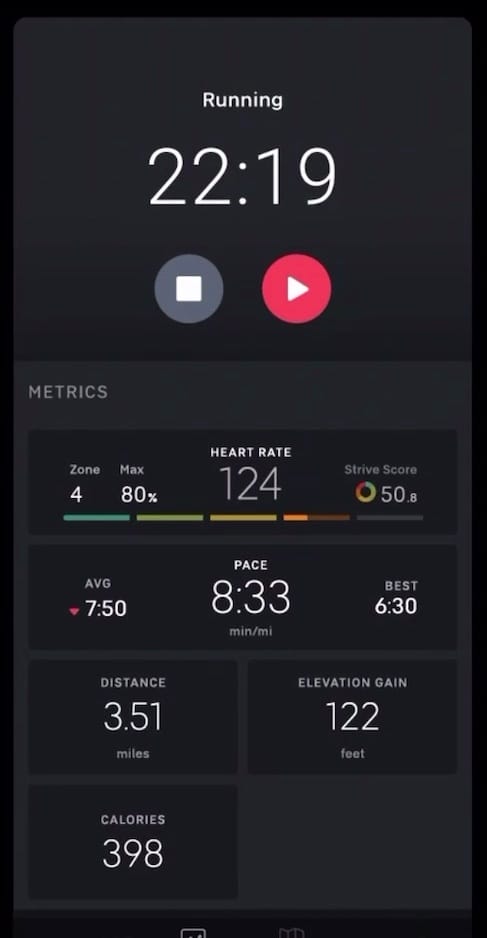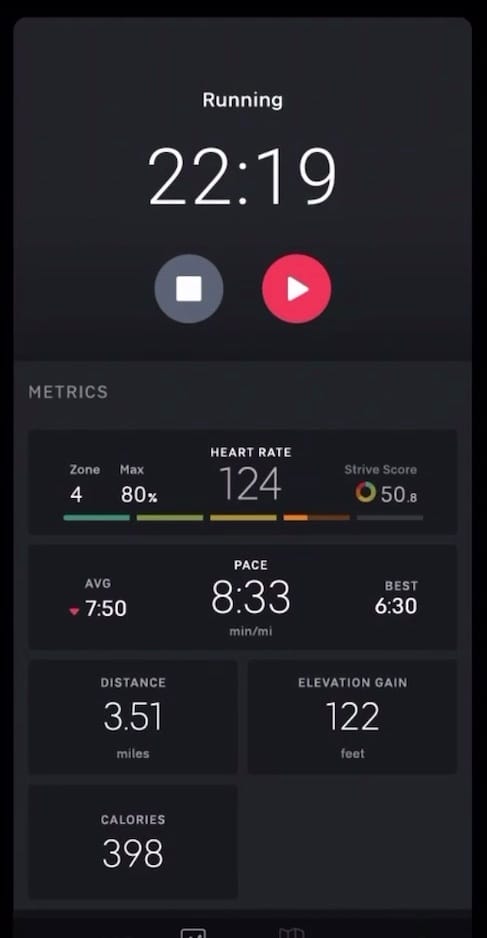 For outdoor cycling classes, it appears you will be able to connect a cadence sensor as well and have the app track your cadence.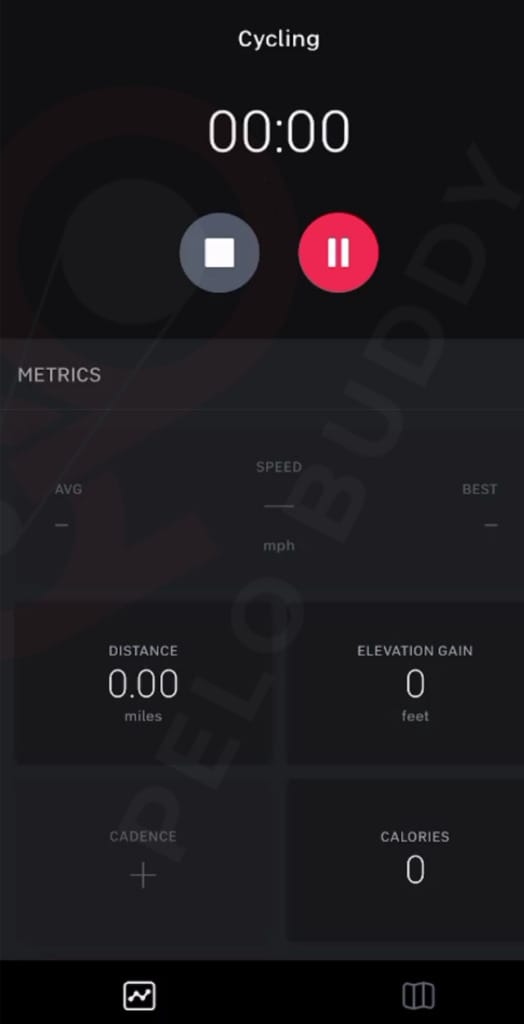 Tapping on the tab at the bottom of the screen will toggle the metrics away and take you to a GPS view, where you will be able to see the track recorded. This looks & works similarly to the existing Outdoor Running classes you can take currently (except here, you don't have to pick a class and won't have the coach talking).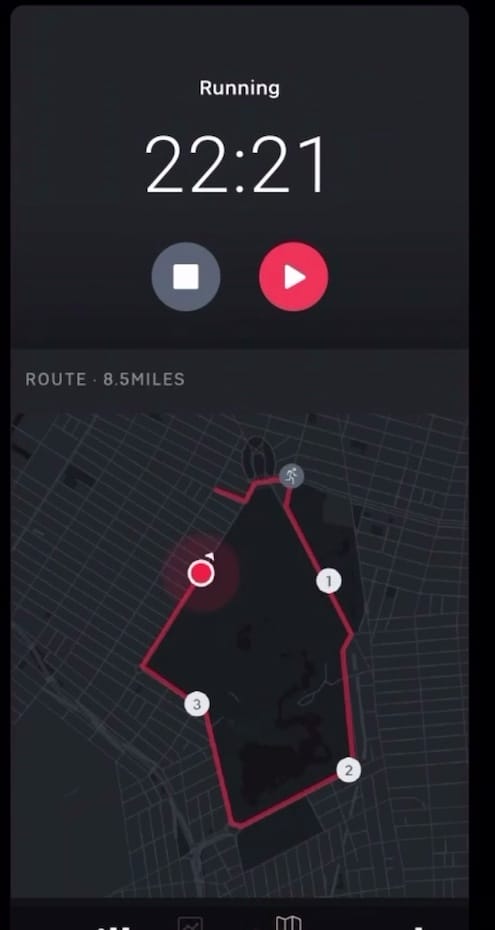 When a class is finished, they show up on your profile similar to how "Just Ride" classes on the Bike, or "Just Run" on the Tread do. It appears that they will count as regular cycling (or walking/running) classes in terms of getting credit towards milestones. It is not yet clear if these miles would count towards any of the monthly challenges.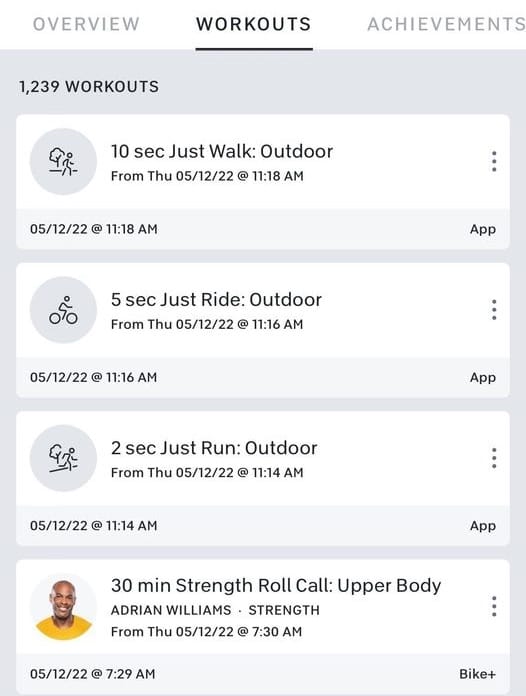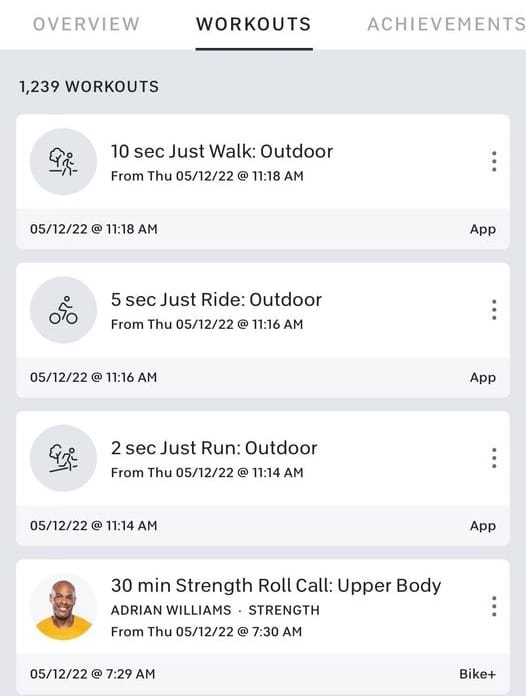 Thanks to #KTfromtheblockk for sharing these with us!
The release of this feature makes more sense given the release of Peloton's new body activity feature last month. If Peloton wants members to be able to rely on that feature, and in turn, the classes Peloton might recommend to target muscles that haven't been worked recently, it is more important for Peloton members to be able to get all of their workouts logged into the Peloton ecosystem – even if they aren't necessarily taking place on the Peloton Bike & Tread.
Will you take advantage of these new "Just Work Out" outdoor activity tracking features?
---
Want to be sure to never miss any Peloton news? Sign up for our newsletter and get all the latest Peloton updates & Peloton rumors sent directly to your inbox.