Peloton is continuing their Women's History Month celebration with an artist series featuring the music of H.E.R! Peloton officially announced the series via Instagram:
Move to the poetic sounds of H.E.R. and celebrate her creativity in every kind of way in this Artist Series. Join instructors @assal_arian, @jermainejohnsonuk, @afrow_cliff, @milalazar, @hannahfrankson, @annagreenberg, and @tune2tunde in mood-boosting classes starting March 16.
The series will launch on Thursday, March 16 and will include seven classes across five modalities, including three classes in German. You can find the complete class list below:
H.E.R Peloton Classes & Schedule & Workouts – Featured Artist Series
15 min. H.E.R. Core Strength – Assal Arian – 3/16/23 @ 2:30am ET / 6:30am GMT / 7:30am CET / 5:30pm +1 AEDT [German]
20 min. H.E.R. Full Body Strength – Jermaine Johnson – 3/16/23 @ 6:30am ET / 10:30am GMT / 11:30am CET [Premiere]
30 min. H.E.R. Bike Bootcamp – Cliff Dwenger – 3/16/23 @ 1:30pm ET / 5:30pm GMT / 6:30pm CET [Premiere, German]
30 min. H.E.R. Ride – Mila Lazar – 3/16/23 @ 2:30pm ET / 6:30pm GMT / 7:30pm CET [German]
30 min. H.E.R. Run – Hannah Frankson – 3/16/23 @ 3:30pm ET / 7:30pm GMT / 8:30pm CET
30 min. H.E.R. Yoga Slow Flow – Anna Greenberg – 3/16/23 @ 6:30pm ET / 9:30am +1 AEDT
30 min. H.E.R. Ride – Tunde Oyeneyin – 3/16/23 @ 7:00pm ET / 10am +1 AEDT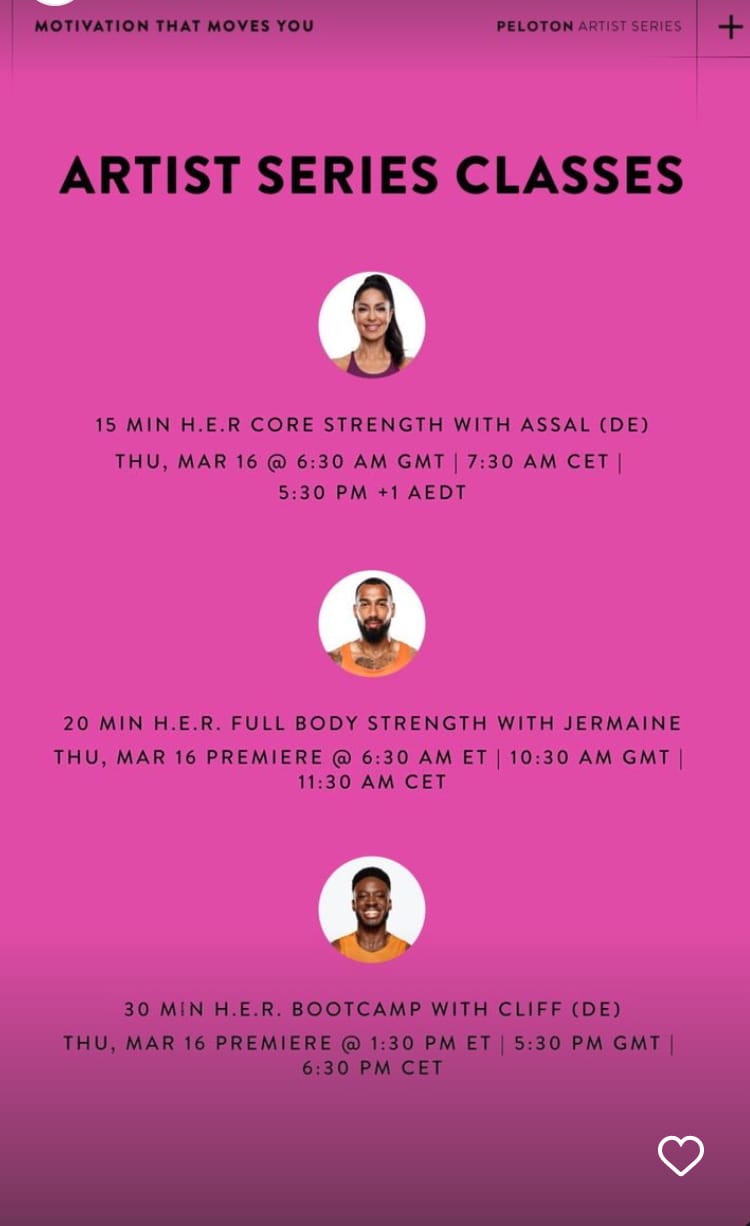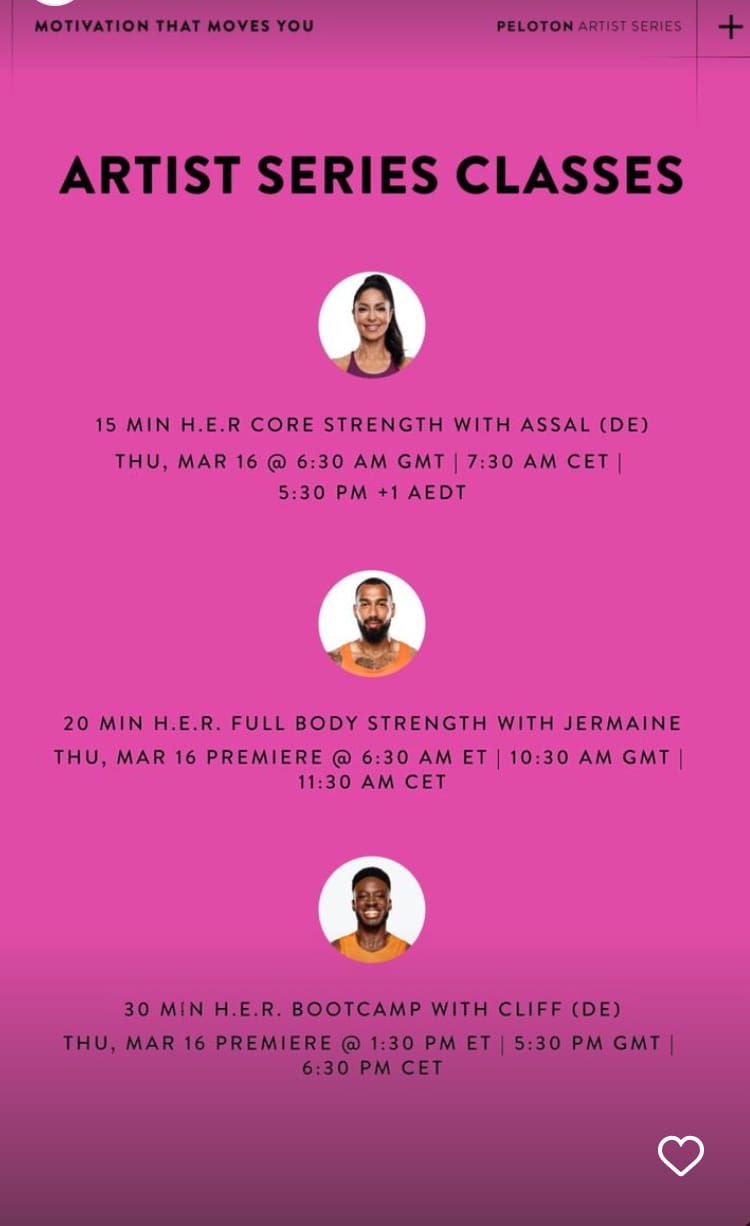 While the majority of the classes will take place live, two will be premieres – which means that the classes will drop in the on demand library at the same time as their first-ever encores.
We first reported this series was on the way last month, when Peloton added new artist series classes throughout the month of March to the studio booking site. However, not all of the above classes were included, meaning that some of the classes will have members in studio and others will not. Members can also anticipate an artist series for Shania Twain at the end of this month.
As a reminder, now that Peloton Studios New York (PSNY) and Peloton Studios London (PSL) are open to in-person attendees from Thursdays through Mondays (instead of the previous Fridays through Sundays), Peloton appears to be shifting their standard artist series day from Wednesday to Thursday.
Members will receive an artist series badge – as well as a 2023 Women's History Month Badge – for completing any of the H.E.R. classes. If interested in collecting additional badges, you can find the complete list via our guide.
If you're interested in exploring previous Peloton artist series, you can always browse the complete list via our site.
Will you be opting into the H.E.R. artist series?
---
Want to be sure to never miss any Peloton news? Sign up for our newsletter and get all the latest Peloton updates & Peloton rumors sent directly to your inbox.