A new feature that was released around the same time as the Bike+ was this fall is the ability for users to manage, or reset, their personal records (also known as PRs, or personal bests, PBs). This was due to the often request of "How to reset a Peloton PR" or "How to Reset a Peloton Bike PR", and other similar questions.
A new "Manage Personal Records" section of the settings menu lets users pick a specific date they would like to use as the starting date for their PRs. We show you exactly how to reset your Peloton PRs on the Peloton Bike or Tread in the video embedded below (or view it here on YouTube). These directions still work in 2023 – the feature has not been changed since it was first released.
There are two ways to access the new manage personal records feature on the Peloton Bike or Tread:
On the home screen, click the 3 dots at the bottom right. In the popup menu, select "Profile Settings". On the new page that appears, click "Personal Records" on the left side menu.
Alternatively, when viewing your profile on the Peloton bike (accessed by clicking your avatar from the home page on the bottom left), you will see a link to "Manage Personal Records" on the lower right side of your screen.
The personal records section of the settings shows you all of your personal records, sorted by class length, and shows you your output for the class, as well as the date you hit that PR. Above the list, you should see a link that says "Manage". Clicking that opens an option menu, allowing you to choose how you want your personal records to be managed. You have two options for this:
"Calculate Based On Full Workout History" – which factors in every workout you've ever taken.
"Calculate based on workouts since MM/DD/YYY" – with an option to Edit date.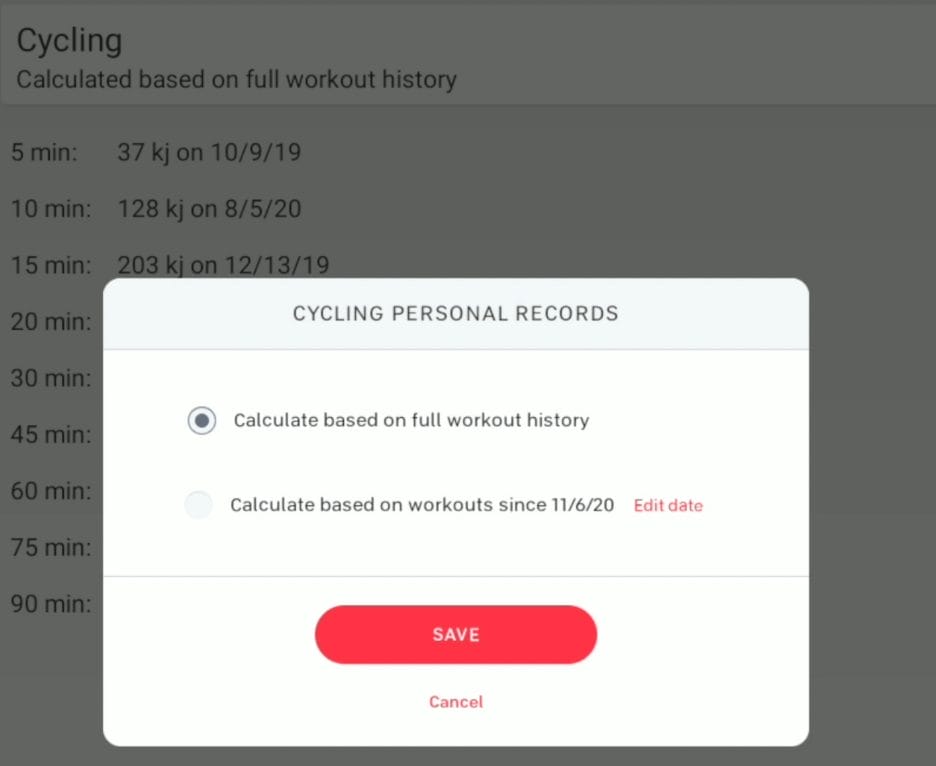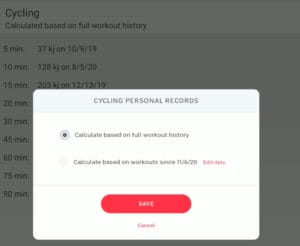 This second option, to calculate based on worouts since a certain date, is the new feature. It allows you to pick any arbitrary date, and have that be the starting point for calculating your PRs. Once you've modified the date you wish to use, you can hit save, and then you'll be taken back to the PR screen, which will now only show you your PRs since that date. You can change the date as many times as you want – as well as swap back to full workout history at any point. Nothing you change here is permanent, so feel free to modify it as much as you want.
This new feature was added to help those users who might upgrade to the Peloton Bike+, only to find out that the bike was calibrated differently from their original Peloton bike. This will similarly come in handy for users who might decide to trade in their Tread+ for a new lower cost Peloton Tread. Now, they use this feature to set the day they got their new bike as the starting date for PRs, and be rewarded for their efforts.
Since the Peloton Digital apps do not have the ability to sync with power meters or power sensors, and therefore have no way to track output, this feature is not available for iOS, Android, or any other Peloton Digital platform.
---
Want to be sure to never miss any Peloton news? Sign up for our newsletter and get all the latest Peloton updates & Peloton rumors sent directly to your inbox.