Peloton teamed up with Spotify to bring a special country-themed weekend to their workouts in collaboration with the "Hot Country" Spotify playlist. The result was 3 different classes: a ride, a run, and a yoga, all of which are now available on demand:
Hot Country Peloton Classes Schedule
While Peloton has been having numerous featured artist series of late, not many of them have featured major country artists, so perhaps this is the start of Peloton trying to add a little more country to their collaborations and playlists. This is also the latest in a series of collaborations Peloton has been having with Spotify. Peloton & Spotify partnered up for some "Housewerk" classes with Jess King and Matty Maggiacomo, as well as some deadmau5 power hour classes. And of course, you are able to save your favorite tracks to Spotify (and with Apple Music) from the Bike or Tread with Peloton's "Track Love" feature.
The Hannah Corbin Country ride was also the final installment of the first season of Hannah Corbin's "Country Happy Hour" – a regular series she'd been having on Friday nights featuring country music on the bike.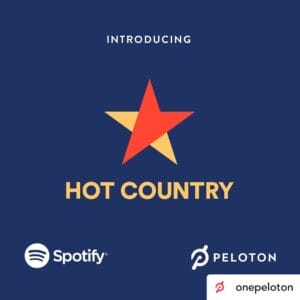 ---
Want to be sure to never miss any Peloton news? Sign up for our newsletter and get all the latest Peloton updates & Peloton rumors sent directly to your inbox.